Inspiration for wedding hashtags
What Is A Wedding Hashtag?
A wedding hashtag is a must-have for your big day! A wedding hashtag generator can be a helpful tool in creating a unique and personalized identifier for your special event.
Your wedding hashtags should reflect the essence of your relationship and can be a simple combination of your names, a playful pun, or a heartfelt phrase. Not only is a wedding hashtag a fun way to announce your wedding on social media, but it also helps friends and family follow along and document the memories of your special day.
With a central location for all photos and posts, your wedding hashtag will become a creative and lasting keepsake of your love story. So, don't forget to put thought into your wedding hashtags and let them be a fun and memorable way to share your love story with the world!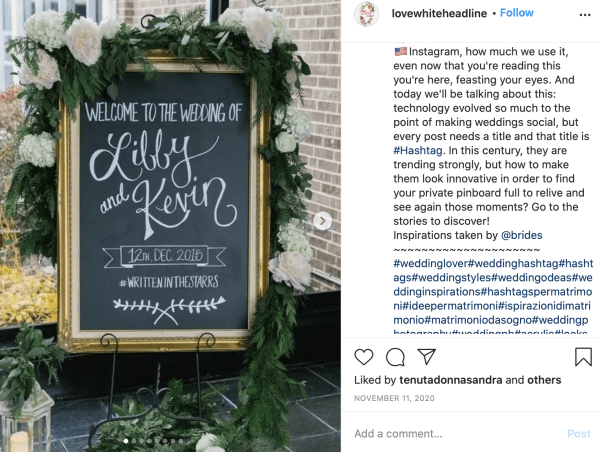 Not only are wedding hashtags effective on social media but displaying your hashtag at your reception is sure to bring joy to you and your guests as well. Sometimes, it's the simple things that truly can make your day special.
How To Create A Wedding Hashtag
Wedding hashtags come in all different shapes and sizes. However, the best wedding hashtags are the ones that are personalized to fit you and your partner's special relationship.
Creating your own awesome wedding hashtag involves coming up with clever ways to incorporate your names, hobbies, wedding theme, or wedding location into one catchy phrase.

Wedding Puns
When it comes to adding a dash of humor to your wedding, puns are the perfect ingredient. They are light-hearted, witty, and can make your wedding more memorable. From invites to personalized decor, wedding puns can infuse a dash of comedy in every element. "Two Become Fun," "Mint To Be," or "Eat, Drink and Be Married" are a few charming examples that can set the tone for your jovial celebration. So, go ahead, put your pun hat on, and create some 'marriage material' puns that will get your guests chuckling.
#SealedWithAKiss
#LoveOnTheBrain
#FallingInLove
#TyingTheKnot
#PutARingOnIt
#ToHaveAndToHold
#HitchedForLife
#RaisingTheBar
#AisleBeYours
#PerfectMatch
#TogetherForever
#VowsAndWows
#WedLongAndProsper
#ToastToUs
#RingsAndThings
Funny Wedding Hashtags
Humor can make your wedding hashtags more relatable and memorable. Playful tags like #WeDecidedOnForever, #RingBySpring, or #FinallyHitched can not only highlight the joy of your union but also entertain your guests. These funny hashtags can encapsulate your love story with a twist of humor, making your wedding social media posts stand out. Remember, a good laugh can make your wedding more enjoyable and your hashtag unforgettable.
#WeDecidedOnForever
#RingBySpring
#FinallyHitched
#MarriageMaterial
#HereComeTheCrazyInLaws
#HePutARingOnIt
#ToLoveAndToCherishAndToAnnoy
#TillDeathDoUsParty
#SheSaidYesAndHeSaidHelp
#WeDidntElope
#GettingHitchedWithoutAHitch
#BetterTogetherButWhoIsBetter
#MarriedLifeBegins
#SayYesToTheStress
#JustMauied
Wedding Hashtag Generator
In this digital era, creating a unique wedding hashtag can be a daunting task. But worry not, as Wedding Hashtag Generators are here to save your day. These ingenious tools combine your names, wedding date, and other details to create a unique and personalized hashtag. Whether you want something classic like #SmithWedding2023, or something quirky like #AdventuresOfAnnaAndAdam, these generators can do it all. So, make your wedding stand out in the crowd with a hashtag that's uniquely yours.
#SmithWedding2023
#AdventuresOfAnnaAndAdam
#JohnAndJaneTieTheKnot
#ForeverWithTheFosters
#EmilyEricEverAfter
#LoveInTheTimeOfCollins
#LopezLoversLeague
#SayYesToTheBest
#MarryingTheMartins
#BelovedBrowns
#WaltzingWithTheWilsons
#DreamDayWithTheDavises
#JoinedAtTheJohnson
#OneDayWithTheOlsens
#ThrilledToBeAThompson
Cute Wedding Hashtags
There's something irresistibly charming about cute wedding hashtags. They can express your love story in the most adorable way. Hashtags like #HappilyEverAnderson, #LoveAtFirstSight, or #ForeverJones kindle a warm and fuzzy feeling among your guests. These cute hashtags can make your wedding posts more engaging, helping you to share the joy of your big day with your loved ones. So, let's make your wedding hashtag as cute as your love story.
#HappilyEverAnderson
#LoveAtFirstSight
#ForeverJones
#TogetherAtLast
#JustTheBeginning
#SweetheartsForever
#BoundByLove
#TaleAsOldAsTime
#MeantToBeMiller
#JoinedInJoy
#LoveLocked
#HandInHandHansen
#DreamsDoComeTrue
#OnceUponAThomas
#RomanceReigns
Rhyme Time
Using rhymes can be a simple way of creating an effective wedding hashtag. Consult a rhyming dictionary to see if you and your partner's names or other personal information can create a catchy rhyming hashtag.
Write down all your potential rhymes and keep workshopping different words until inspiration strikes.
Apply Alliteration
Another poetic technique to create an awesome sounding wedding hashtag would be to use alliteration. Search for words that start with the same first letter as you and your partner's names.
For example, if your last name is Hill, you can use alliteration to create a wedding themed hashtag such as #HillsGetHitched.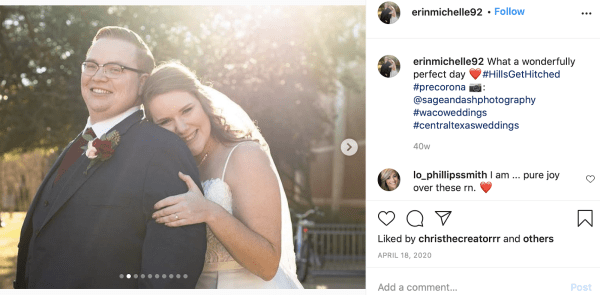 Create A Play On Words
Clever wedding hashtags can also be made from a play on words. Search for common idioms, phrases, wedding themed words, or pop culture references that can be incorporated into your hashtag.
Create a list of words your names sound like. If those common words fit into a phrase or reference, replace it with your own name for a perfectly personalized wedding hashtag.
For example, if you're both taking the last name Kent, a sound alike word would be "meant." By parodying the phrase "Meant to be," you can create the awesome wedding hashtag: #KentToBe.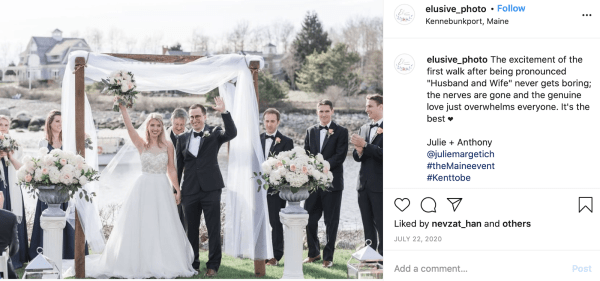 Seek Professional Writers
If even with these tips in mind, you're still struggling to create your own wedding hashtag, luckily, professional hashtag writers can help you out!
The professionals at Wedding Hashers specialize in writing the best wedding hashtags for you and your partner. After a brief questionnaire about your names, relationship, and wedding details, they'll be able to provide you a personalized list of truly unique wedding hashtags.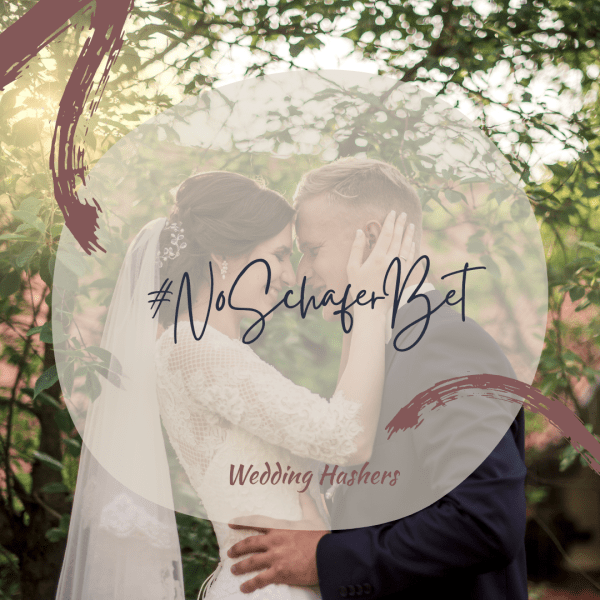 Wedding Hashtag Ideas
Looking for inspiration for crafting the best wedding hashtags for you and your significant other? Take a look at these awesome hashtag ideas!
#PromDateToSoulmate
Incorporate the story of your relationship into your hashtag for a truly personalized touch. If you're marrying your high school sweetheart, consider a hashtag like this one.
#FinallyMyForever
A simple, yet to the point hashtag that expresses your excitement in marrying your best friend.
#MermaidForEachOther
Personalize your wedding hashtag to match your theme. This one is perfect for the couple planning a beach themed or nautical wedding.
#StartingOurOhana
For all the Disney loving couples out there, spice up your hashtag with an adorable Disney reference like this one from Lilo & Stitch.
#APurrfectPair
Stylize your wedding hashtag to include you and your partner's loves and interests. If you both love cats, you'll love this hashtag too.
#TwoSayIDo
A fun, rhyming wedding hashtag that works for any duo.
#WhiteIsTheNewBlack
Referencing traditional wedding attire can also be a clever way to craft some of the best wedding hashtags. This hashtag gives you every excuse to show off that lovely white gown!
#AllOfMeLovesAllOfYou
Love songs are a beautiful thing. Look to your favourite love songs or even your wedding song to inspire your hashtag.
#CelebrationsAndDestinations
If you're having a destination wedding, this hashtag is perfect and could also be used for all the fun trips and celebrations leading up to your big day such as bridal showers, bachelor parties, and bachelorette parties.
And More…
#ToHaveAndToHolt
See if you can use your own names to parody lines from traditional wedding vows.
#PairingUpInParis
French wedding venues can be quite charming and romantic as France is a very popular wedding destination. Consider this fitting wedding hashtag if you're preparing to tie the knot in Paris.
#TodayWasWorthTheWait
Time is such a funny thing. If obstacles postponed your wedding, if your relationship was tested by long distance, or if anything at all kept you waiting to get married, this hashtag says it all.
#WelcomeToOurAdventure
It's time to begin writing the first chapter of your long book of love. This hashtag is for the courageous couple who is ready for their lifelong journey together to begin.
#KnotTiedMountainside
Personalize your wedding hashtag to coordinate with your venue. If a beautiful mountain range is your desired backdrop for your big day, incorporate it into your hashtag too.
#LetsGrowOldTogether
If your vision of marriage always involved imagining you and your spouse on your front porch in rocking chairs together, this may be the hashtag for you.
How To Use Your Wedding Hashtag
Once you've selected the best wedding hashtag for your big day, it's time to put it to good use. The more prominently you display your hashtag at your venue, the more likely your guests will remember to use your special hashtag when they post on social media.
Here are the top ideas for getting the most out of your wedding hashtag.
Put It On A Neon Sign
Light up your venue with an awesome neon sign spelling out your wedding hashtag. This eye-catching decoration will be hard to miss. The sign is sure to stand out to your guests, making it the perfect method for getting your hashtag noticed and used throughout the night.
Neon signs are fun and add some life and energy to the venue they're in. Customize your sign to match your wedding colour scheme. With your sign shining prominently in the background, you'll be able to capture some beautiful photos of your branded venue.
Create Decorative Hashtag Cards For Each Table
Get crafty with your wedding décor by including your wedding hashtag on it. Create some decorative cards with your hashtag written out that can be displayed at every table.
These cards can come in all different shapes and sizes such as in the style of business cards or even a larger glass or acrylic centerpiece with the table number and wedding hashtag carved into each decoration.
The purpose of these decorative hashtag cards is to have your wedding hashtag displayed clearly for the accessibility of your guests. If your guests have the hashtag in front of them to stare at and admire, they can easily reference the card throughout the night for proper spelling when posting.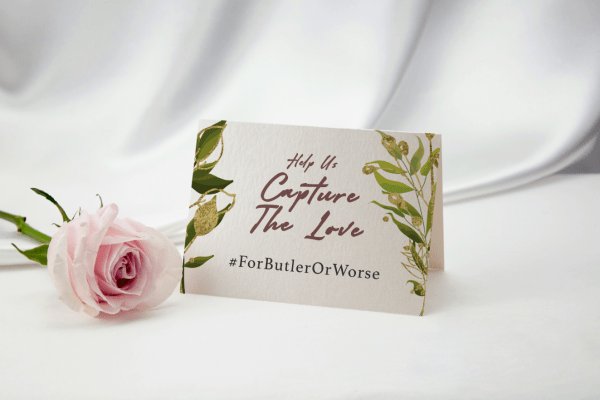 Let Your Hashtag Be A Backdrop For Photos
No wedding is complete without some glamorous photoshoots. With you and your guests all dressed to the nines, photos are simply hard to resist. Celebrate your big day with a designated photo spot that highlights your wedding hashtag.
Display your hashtag on a beautiful backdrop as a wooden sign or written in flowers for you and your guests to pose in front of.
If you're having a photo booth at your reception, make sure your hashtag is written all over various props for your friends and family to hold up and pose with.
With a fun, designated photo spot, your wedding hashtag will be getting a significant amount of screen time. All those joyous memories and candids caught on camera are perfect for posting under your wedding hashtag to be preserved for years to come.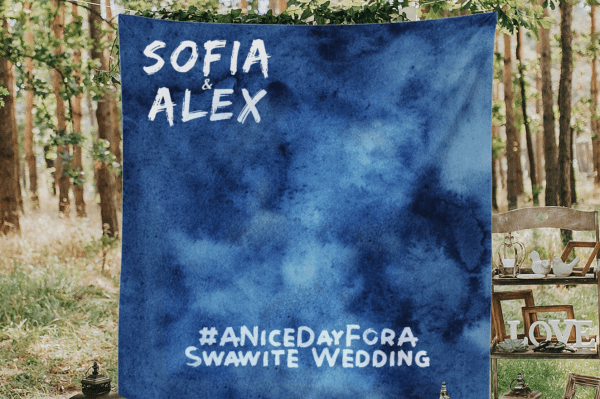 Use It On Directional Signs At Your Wedding
Ensure that the various sections of your venue are clearly pointed out with a directional sign. This sign is also a prime location to yet again display your clever wedding hashtag.
Let your directional sign be a fun and practical prop that accomplishes getting your hashtag seen while also directing your guests to the wedding, reception, and bar.
Display Your Hashtag At The Bar
Wedding reception bars can transform into quite the picturesque set-up. When your guests take a break from the dance floor, they're sure to venture over to the bar at some point whether it's for a cocktail, mocktail, soda, or other thirst quencher.
When they do, your bar becomes a great place to put your wedding hashtag on display. Get your guests to look at and appreciate your lovely décor and your personalized hashtag as they wait for their drink. With your hashtag on display, they'll be posting using your tag in no time!
Feeling Inspired?
With all this talk about how to create and properly use the best wedding hashtags. We hope you've found some inspiration to get started on your own hashtag plans for your wedding day.
Wedding hashtags make for fun phrases to represent you and your partner's brand as a couple. While there are so many different ways to come up with your own fitting wedding hashtag. Remember that the more personalized you get, the more clever your hashtag will be.
Display your wedding hashtag
Impress your guests with your creative wedding hashtag by putting it on display throughout your venue whether on a sign, decorative card, or photo backdrop. The more prominently your hashtag is displayed, the more likely your guests will remember to use it as they post their favourite memories from your big day.
Once your wedding day is in the books, your wedding hashtag is a great way to easily search for. As well as keeping track of all the pictures and memories that can be enjoyed for years and anniversaries to come.
Get your best wedding hashtags from a pro writer not a generator, with the largest network of pro wedding hashtag writers.