Good Morning, today we are opening up to The Study and looking at autumn weddings in France with the help of FWS expert  Fabienne, owner of Elian Concept Weddings and Events, who is a bi-lingual wedding planner. Fabienne will be sharing her knowledge with us today helping you discover top locations and ideas for planning your autumn wedding in France.
Autumn Weddings in France
Autumn is a fantastic season. As much as I love spring for the days getting longer and warmer, the blossoms and nature coming back to life, summer for the warm days and the outdoor life and winter for the warm, cosy atmosphere, log fire fires, snow views and festive feeling, autumn has a special charm mainly due to the colours nature displays at this time of year, when the leaves on the trees slowly but surely change from shades of greens to bursts of sumptuous reds, yellows, oranges and browns.
In my eyes, the natural beauty and the variety of fall foliage is magical. In fact the season offers such a perfect palette, it can be complemented by almost anything and the sunlight is a blessing for photography. Gold, bronze or copper for a more sophisticated look for example in a woodland setting, bright fuchsia, rich reds or berry colours, warm plum or deep blue for an even more dramatic décor, as well as softer tones like blush pink or peach for a touch of elegance in a Chateau garden or a rustic chic setting. So much inspiration, it's hard to choose!
Autumn Wedding Colour: Touch of Bright Pink – Source: Style me Pretty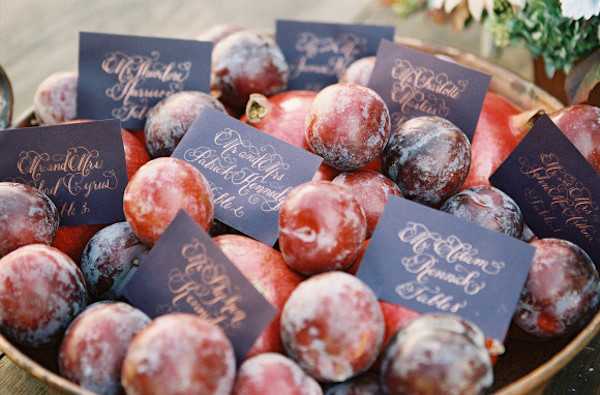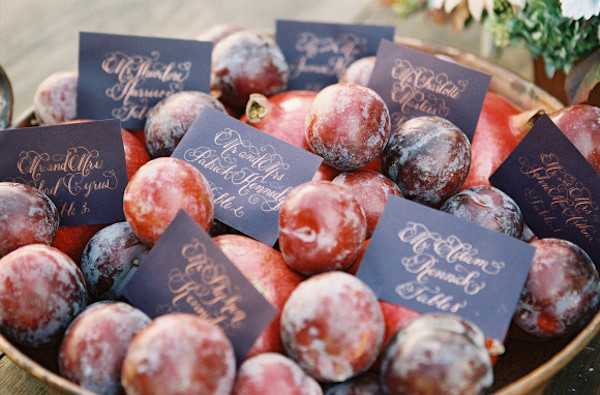 Autumn Wedding Colour: Plum – Source: Wedding Sparrow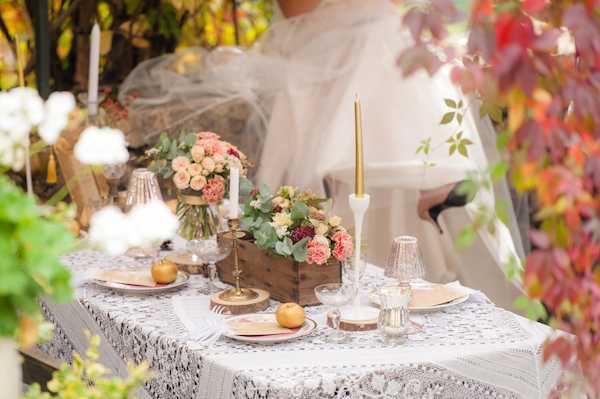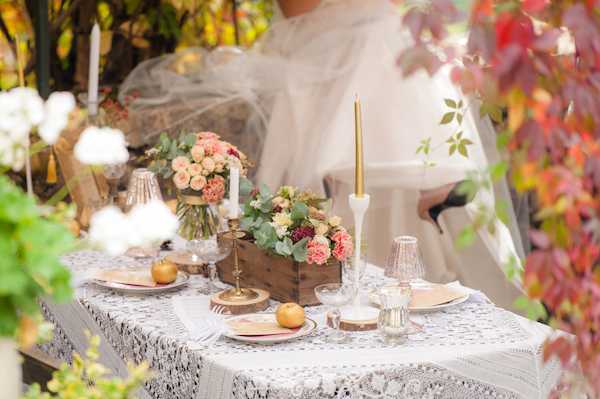 Soft Autumn Wedding Colours – Source: Un Beau Jour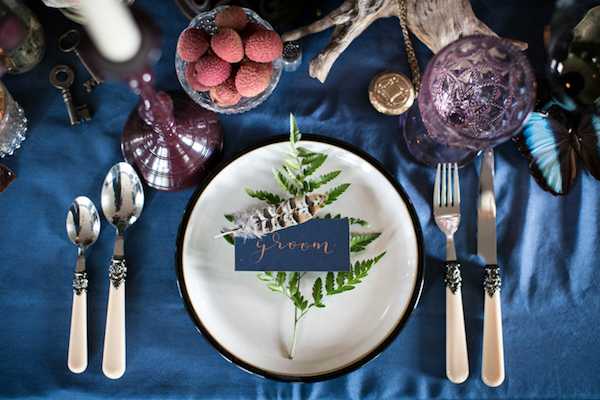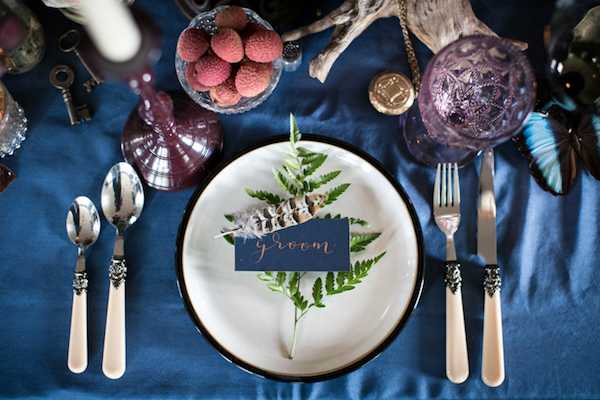 Autumn Wedding Colour: Dark blue – Source: Whimsical Wonderland
Autumn weddings are becoming popular, often being more cost effective as the period is less busy, and therefore giving greater choice of venues in some otherwise sought after areas. Other regions that can be overlooked in the summer are glorious in their autumn colours and will make a wonderful backdrop for weddings.
In any case, the must are locations and venues displaying the best of the season because yes, on top of exhibiting the most gorgeous colours, the other major interest of the season is its range of food. So go seasonal with game, wild mushrooms, apples, figs, or grapes. Fruits and nuts at this time also make interesting, unique décor elements, particularly in tune with the essence of the season. Let nature inspire you!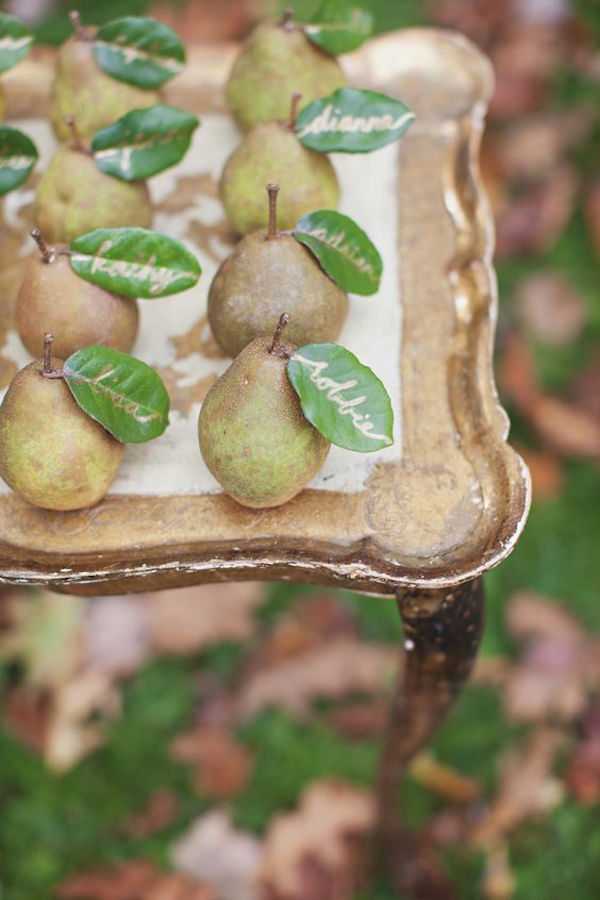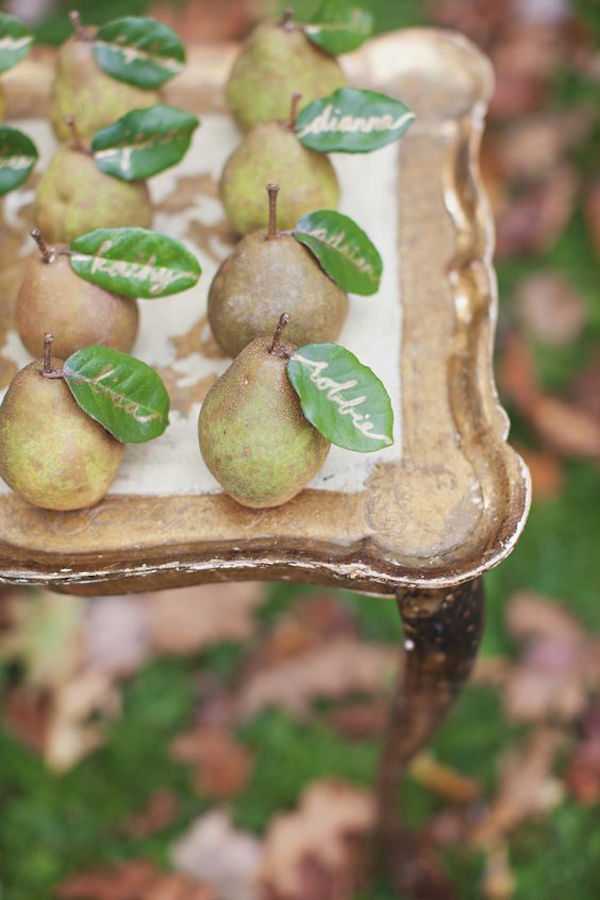 Pears as escort cards – Source: Philosophy Flowers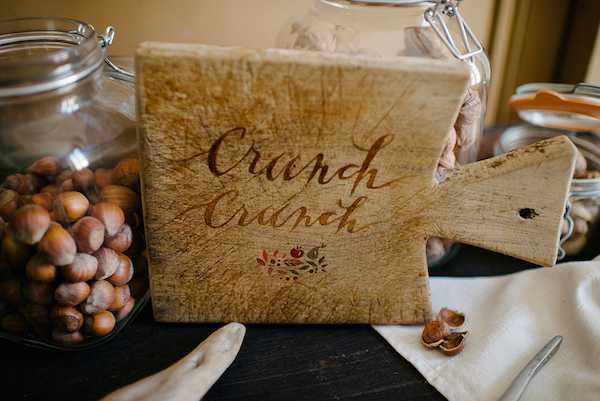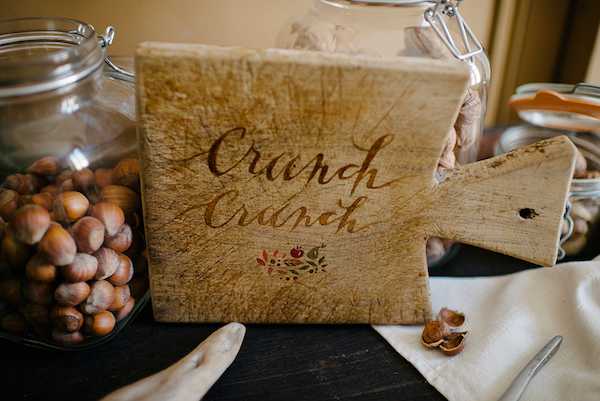 Autumn treat table: A nut bar – Source: La Mariée aux pieds nus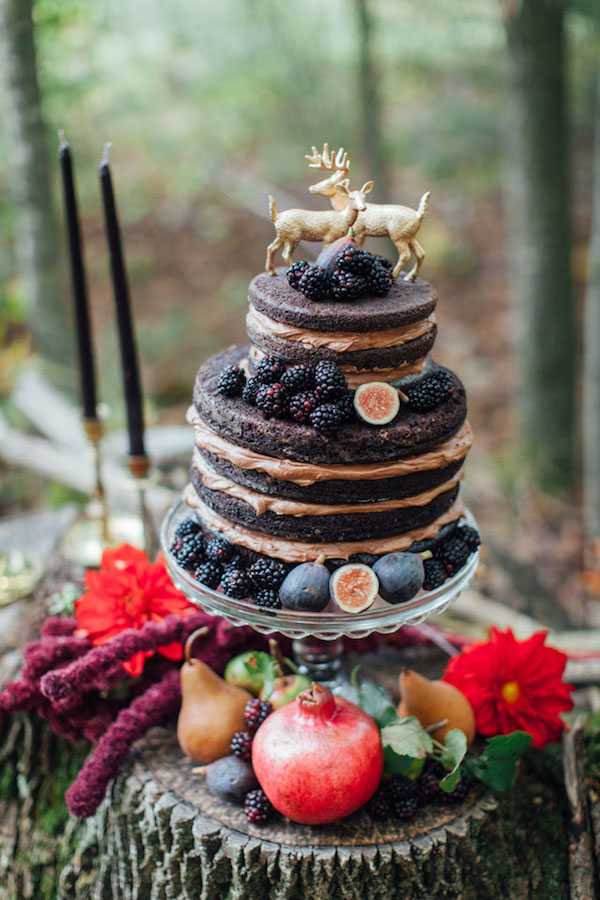 Nature inspired wedding cake – Source: Notey
Looking for the best places to hold a fall wedding in France? Well all the 'usual suspects' will be perfect as long as they allow you to make the most of the season as previously described and there is plenty for everyone's taste.
City lovers
There is always Paris. Its gardens and parks display gorgeous colours, Luxembourg, Palais Royal, Tuileries, Montmartre, you will be spoiled for choice with a great advantage that you are never far from a sheltered place, if the weather does not turn out to be ideal. Cafés, galleries, monuments will happily welcome you for more Parisian treats.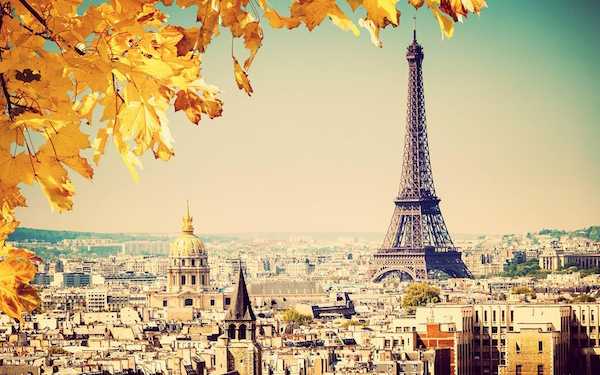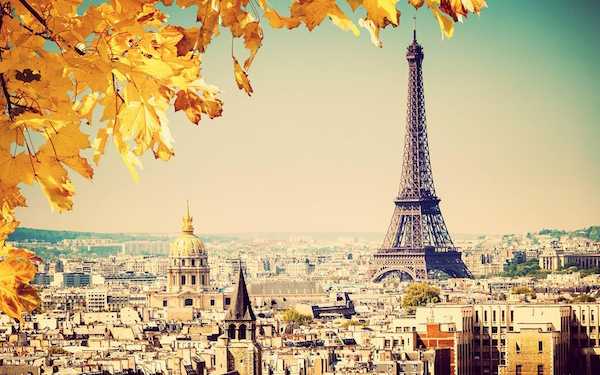 There is always Paris. Source: Hand Luggage Only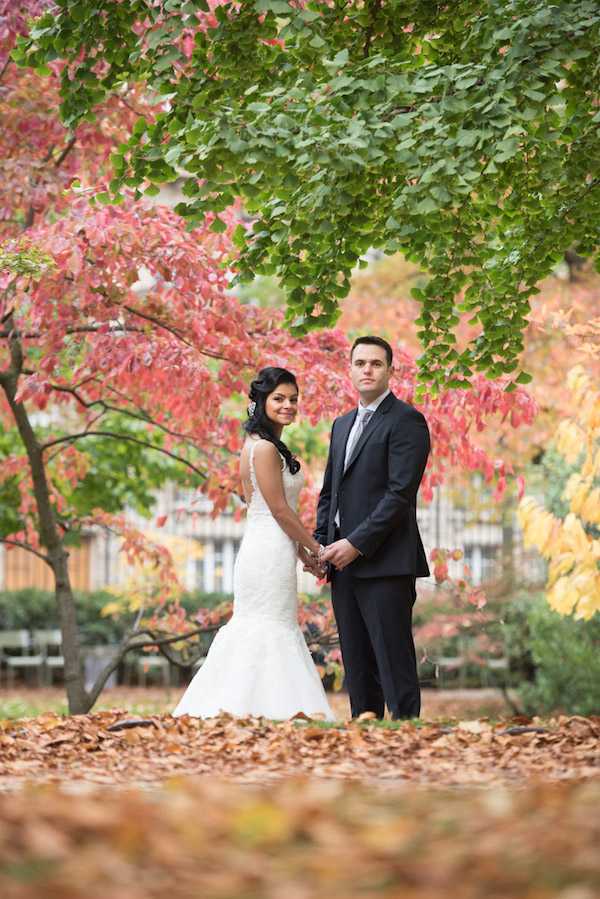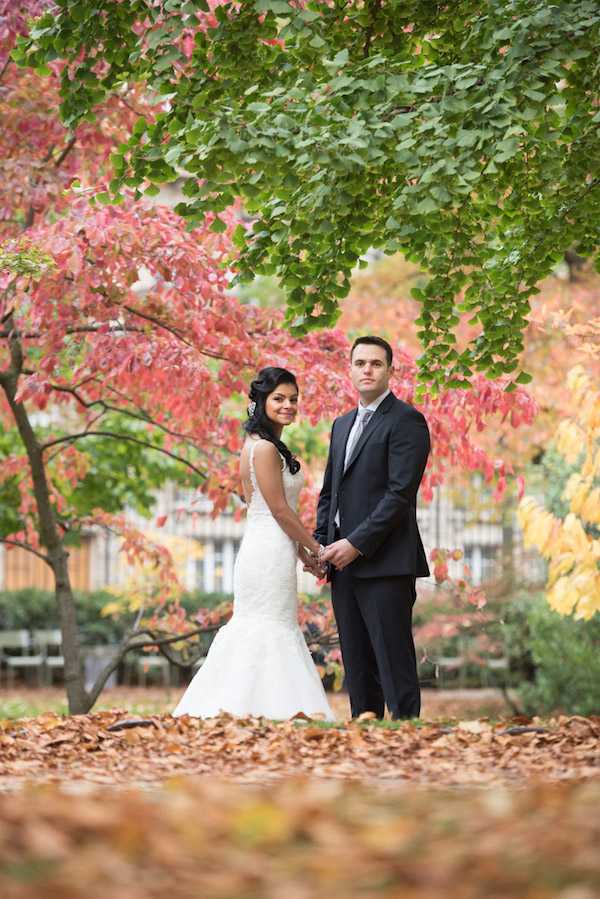 Jardins du Luxembourg – Photo credit: David Bacher
Montmartre Vineyard – Source: Preston Wine
Other cities like Strasbourg, Annecy or Lyon to name but a few will also make wonderful background for a special day.
Autumn Wedding Location: Annecy – Source: Pinterest
Chateau dreamers
The list is long of Chateau venues in France so it is difficult to be specific and fair at the same time. However my tip is to look for the ones that have gardens, parks or vineyards, which would be stunning in their autumnal colours, whilst providing a warm and cosy atmosphere inside. The Dordogne and the South are regions well renowned for their Chateaux, although in the autumn season the breath-taking grounds of the Loire Valley and Burgundy are well worth considering.
Autumn Wedding Chateau View – Source: Chateau de Moissac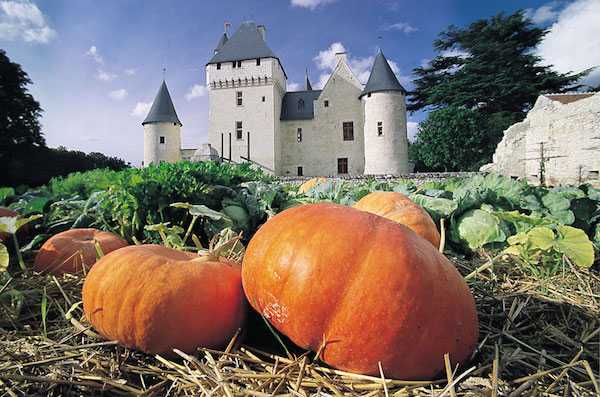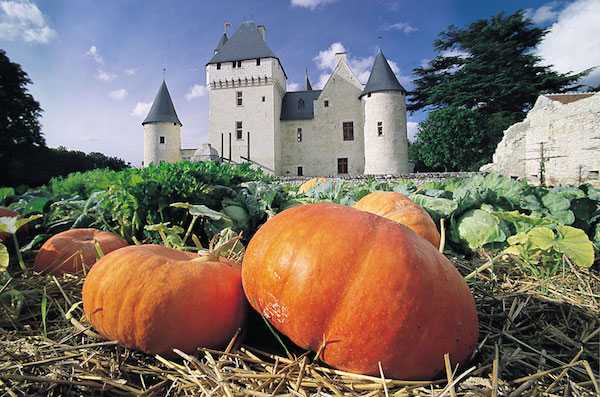 Autumn Wedding Loire Valley Chateau – Source: Chateau du Riveau
Nature enthusiasts:  The countryside with pretty villages and outstanding views may be the epitome of the places for a fall wedding, as well as forests for woodland magic and rustic chic settings. These are plentiful in France. As a guide, look for the mountain areas (Alps, Pyrenees or Massif Central), Perigord and wine regions (Alsace, Champagne, Provence).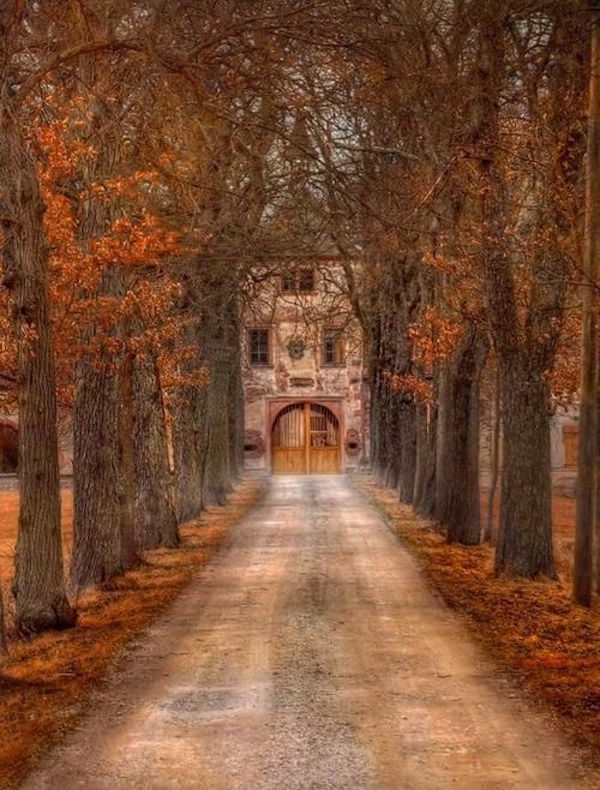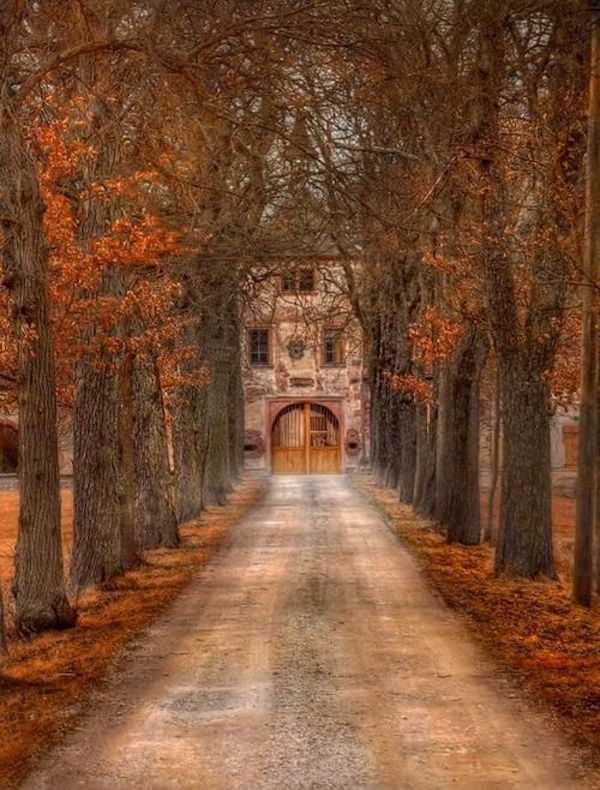 Autumn Wedding Location: Alsace – Source: Audrey Loves Paris
Autumn Wedding Location: Champagne – Source: The Good Life in France
Autumn Wedding Southern Village – Source: Belle and Chic
As passionate as I am for the beauty of the autumn season and the idea of a wedding at this time of year, I won't forget one important piece of advice: keep warm!  Romantic as well as comfortable, a long sleeve wedding dress is particularly suited. Umbrella, warm overlay and appropriate footwear are essential items to have.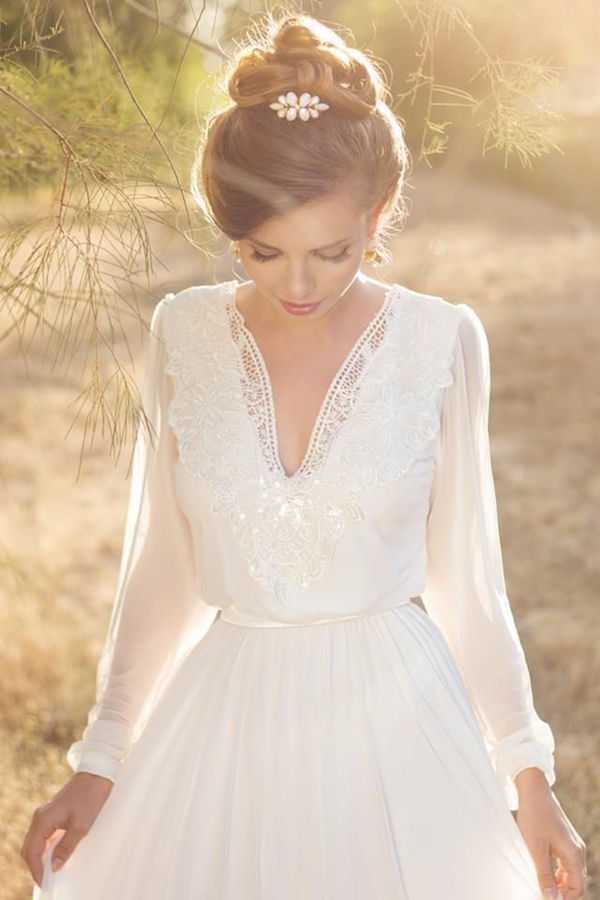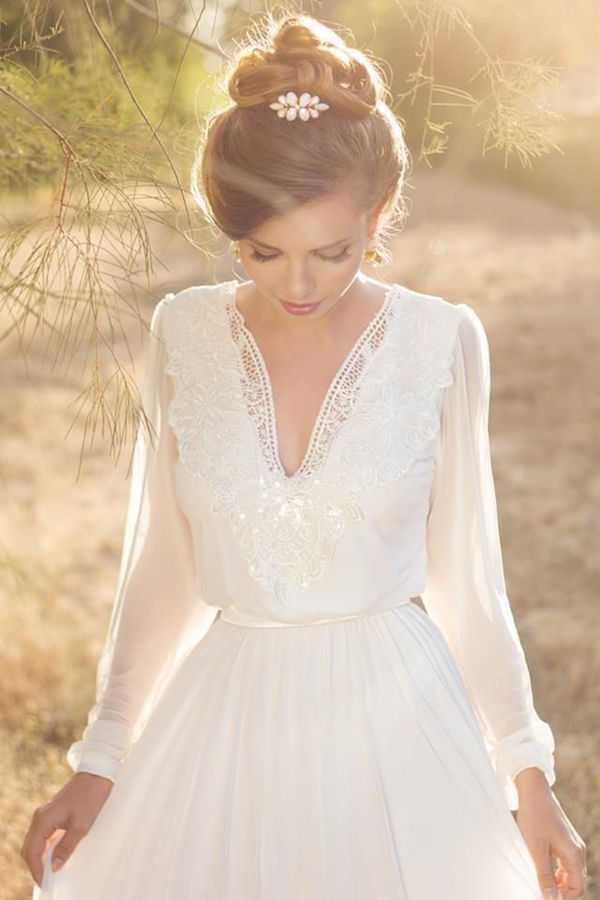 Autumn wedding dress – Source: Glamour Paris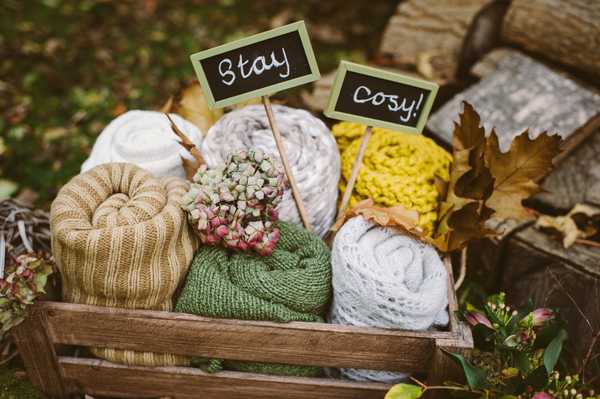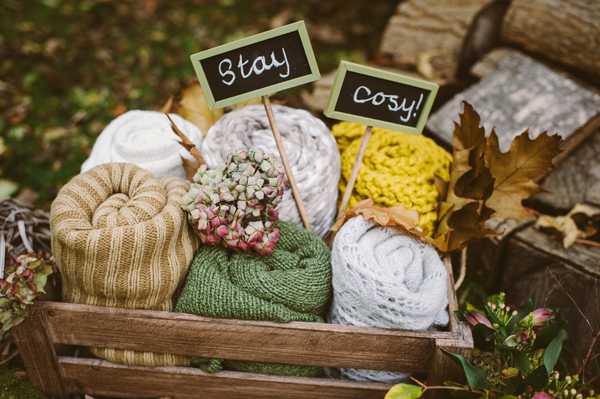 Autumn Woodland Wedding: Keep Warm – Source: Whimsical Wonderland Weddings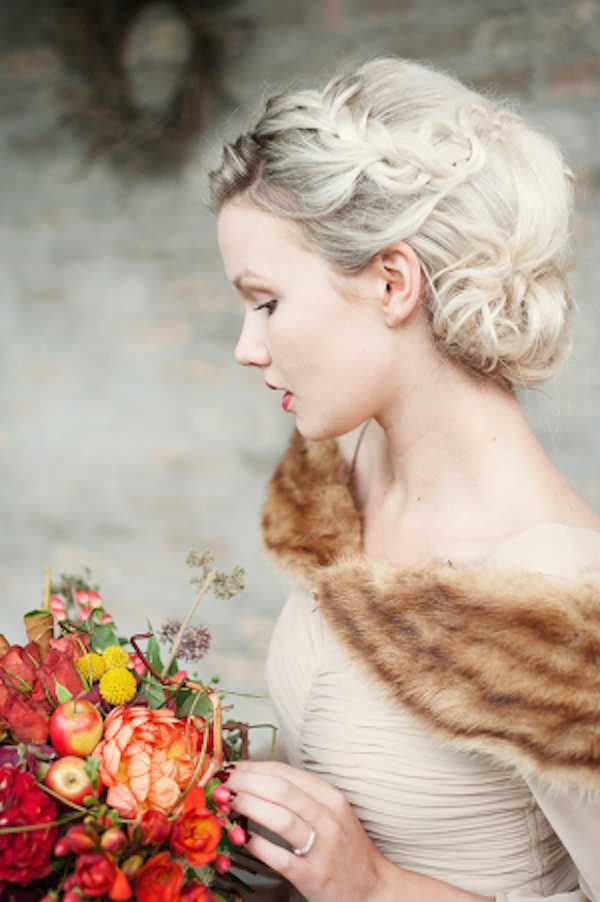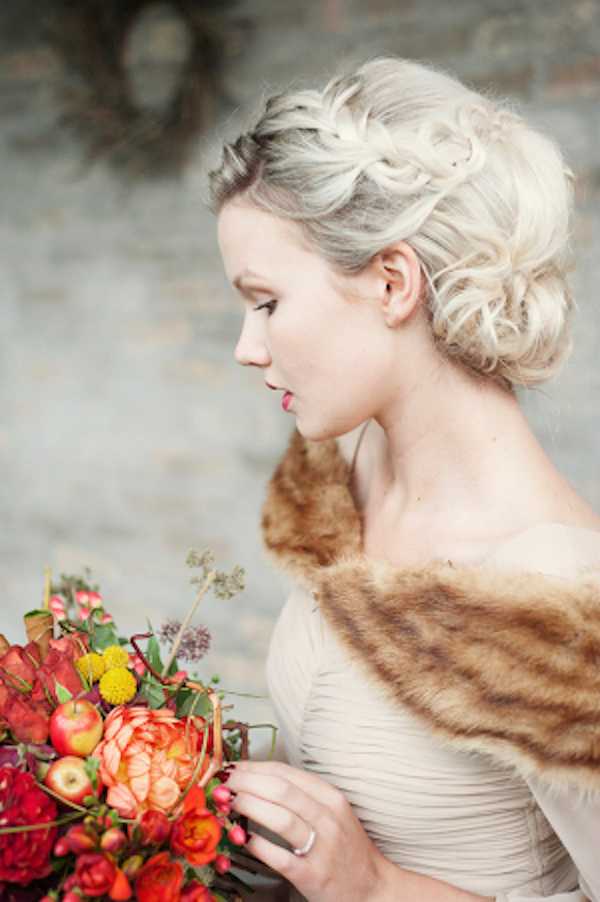 Autumn Bride – Photo: Nicola Inglis Photography via Elisabeth Ann Design
Are you seduced by the idea of a fall wedding? You can also discover your ideal French wedding location with more ideas here.
FABIENNE IS OWNER OF ELIAN CONCEPT WEDDINGS AND EVENTS, WHO IS A BI-LINGUAL WEDDING PLANNER WHO IS AVAILABLE FOR WEDDINGS THROUGHOUT FRANCE.  FOR MORE INFORMATION VISIT: WWW.ELIANCONCEPTWEDDINGS.COM
Top Image:  Photo credit: French Grey Photography – Source: Style me Pretty
Save
Save
Save
Save