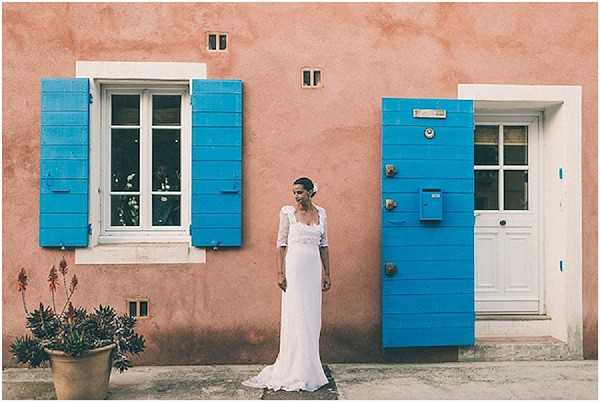 Hey folks, today we are opening up The Study to the very lovely Fabienne, owner of Elian Concept Weddings and Events, who is a bi-lingual wedding planner. Fabienne will be sharing her knowledge with us today helping you discover your ideal French wedding location…
Discover Your Ideal French Wedding Location
Summer time is a busy period for wedding professionals, wedding planners being no exception. Of course the season is in full swing with many week-ends overseeing client celebrations. But it is also a common time for receiving enquiries for future weddings. And indeed I have several of them in my 'inbox'.
Some couples know precisely in which part of France they want to hold their wedding festivities. It could be that they have family or friend ties there, or they have fond memories or merely love the area. Some only indicate their wishes to get married "in France" or "in the South of France" and they are not yet set on any particular region or area. It is part of our services to help the latter identify the 'ideal' location, one that takes into account what is important to them and that suits their budget.
Source: Design Sponge
So whilst I am mulling over my responses to these enquiries, I thought that I could share a few ideas with French Wedding Style blog readers.
France is a large and diverse country. There is plenty to satisfy every taste and fulfil any wedding dreams from Atlantic or Mediterranean beaches and castles in the Perigord to winter weddings in the Alps and romantic elopements in Paris. Each region of France has its own charm. Thus where to start?
Source: Wedding Chicks
For me, it starts with your vision, which is going to drive the quest for the ideal location for your French wedding. What style do you envision for the day? Do you imagine the festivities to last more than a day? Do you want it to be a family and friends gathering, a gigantic party or an intimate romantic event? Some areas will be more suited to one or the other.
A fairy-tale Chateau wedding? Well, you will be spoiled for choice as France has thousands of Chateaux and most French regions have these types of venues to offer. In fact France has become a prime destination for brides and grooms dreaming of a Chateau wedding. The most renowned areas are the Loire Valley, Aquitaine, in particular the Dordogne, and the South-East (Toulouse area for example). But other parts of France such as Burgundy and Rhone-Alpes have great castles too.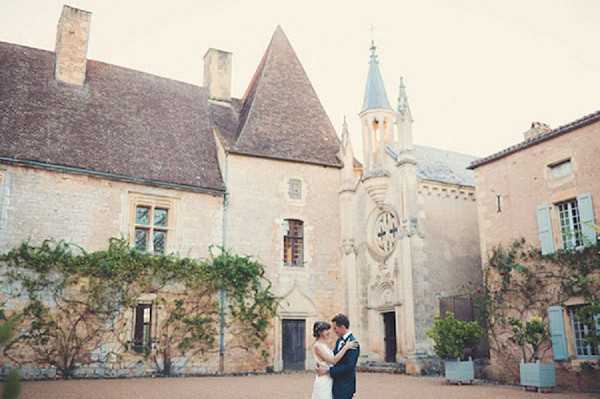 Source: Green wedding Shoes
Manor houses are also a very popular alternative and can be found in regions such as Brittany and Normandy with their typical architectural style that makes very pretty and special settings.
A vineyard wedding? Again most regions offer such a setting, the most sought after being the Bordeaux region, Provence and Burgundy.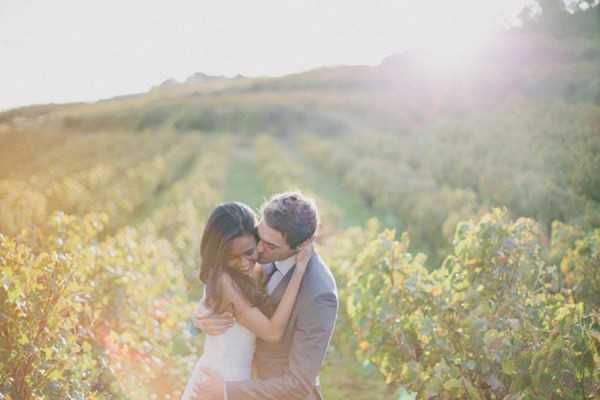 Source: Intimate Weddings
A beach or a seaside wedding? This is again a vision that can definitively be achieved in France. With more than 3400 kilometres of coastlines, there is no shortage of beaches and seaside resorts. Azur blue
Azur blue sea views and luxury villas of the Riviera, long stretches of sandy beaches in Biarritz or Arcachon, rugged coastlines of Brittany, pretty villages and seaside resorts in Normandy (Saint Malo, Honfleur, Deauville) not to mention the multitude of islands along the Atlantic coast (Ile de Ré, Ile d'Oleron, Belle-Ile etc.) and in the Mediterranean (Corsica, Porquerolles).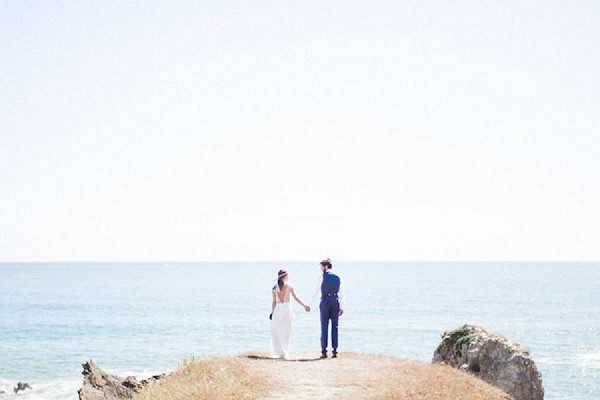 Source: La Mariee aux pieds nus
Tempted by a boat or a river cruise wedding? Paris is of course a fantastic location to hold such an event, but further afield in the countryside, the Canal du Midi is a peaceful and charming alternative.
Will food and gastronomy be a highlight of your day? France is indeed well renowned for its gastronomy and from North to South, West to East there is more than plenty of choices to please the most discerning gourmets. Best amongst the best (in my opinion): Dordogne and the South West – Burgundy – Lyon.
Source: Style me Pretty
Outdoor wedding? The Provence region is the most popular, with its stunning views, lavender fields, pretty old farmhouses ('Mas' as they are called locally) and you are guaranteed amazing outdoor settings. However, the neighbouring region of Languedoc Roussillon is another area to consider with similar sceneries, as is all the countryside in Southern France.
However, the neighbouring region of Languedoc Roussillon is another area to consider with similar sceneries, as is all the countryside in Southern France.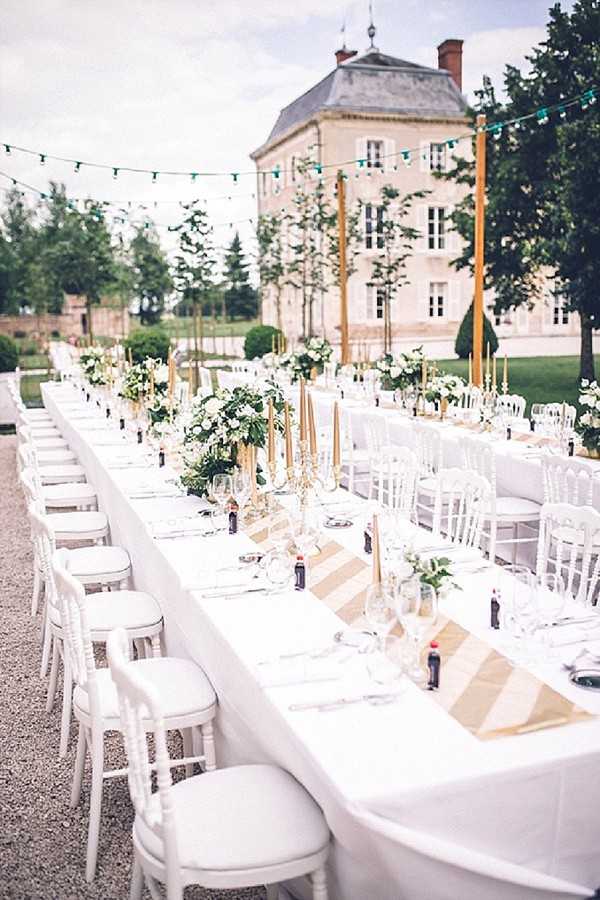 Source: French Wedding Style
Dreaming of a winter wedding? With its typical charming architecture and its Christmas markets, the Alsace region is an ideal location for a Christmas wedding.
The Alps have cosy, wooden chalet venues and snowy mountain backdrops perfect for a white wedding. The Pyrenees in the Southern part of France is also a location to look at for a winter wedding.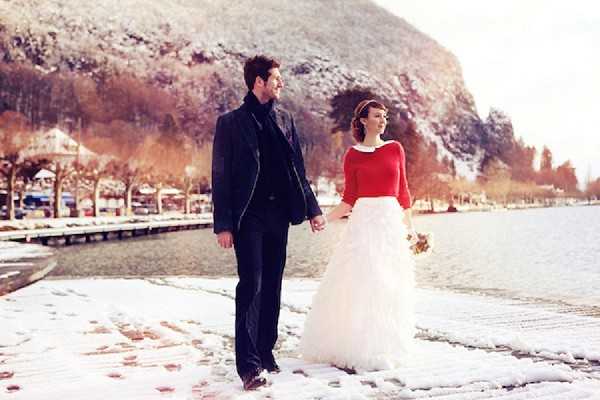 Source: Un Beau Jour
Other elements to consider when searching a location for your wedding in France:
The seasons: some regions have longer periods of sun if an outdoor wedding is a must, though beware that it does rain even in Provence and there can be a cool wind. They are also highly popular destinations for holidays. So in July and August, they can be busy as well as more expensive and venues may be less flexible (e.g. one week minimum booking).
Access from abroad: It is important from your guest's point of view. Saying that there are flights from the UK to a lot of French cities especially in the main holiday region. For guests coming from outside Europe, it's worth knowing that there are frequent flights between the main French cities and Paris airports, as well as excellent train connections (TGV).
The budget. Generally speaking the Northern regions offer more cost effective options, so if budget is an issue, it is worth looking at Brittany, Normandy or Burgundy to name but a few. You will be able to achieve your wedding dreams in a lot of these areas, though you may have to compromise with the weather.
If you definitively prefer a warmer climate, amongst the Southern regions themselves Aquitaine, Midi-Pyrennes and Languedoc-Roussillon may be more suitable for cost-conscious couples than Provence and the French Riviera.
Source: Carte de France
Now I must apologise to all the parts of France that I have not mentioned here. I know that all of them have beautiful landscapes, fantastic venues and numerous points of interest to attract brides and grooms to be. Personally I am certainly taking them into consideration when discussing options with clients.
For couples who prefer looking on their own, the best place to start is the Internet. Use it to get a feel of what the region has to offer in terms of access from abroad, activities (which can be of interest when you come to organise guest entertainment) as well as the settings and the style of weddings that can be organised in this particular location. Wedding blogs are a great source for ideas. French Wedding Style of course, being dedicated to French weddings is likely to be your first port of call and the directory is conveniently organised by region so it helps to get a good sense. But others are also featuring French weddings and usually mention the area where they are taking place. Search for 'French wedding', or 'France' and related posts should come up.
Then, when you have narrowed your ideas down, the next step if it's possible would be to spend some time in the area(s) you have shortlisted (preferably no more than 2, maximum 3 if you are really undecided) and ideally during the same season of your wedding. The purpose is to see how you feel there and to help you decide for sure before searching for the venue although you may want to combine venue visits as well to save time and costs.
Finally, remember you can get help from wedding planners specialised in destination weddings in France, whether they are dedicated to a particular area or they have a broader scope.
FABIENNE IS OWNER OF ELIAN CONCEPT WEDDINGS AND EVENTS, WHO IS A BI-LINGUAL WEDDING PLANNER WHO IS AVAILABLE FOR WEDDINGS THROUGHOUT FRANCE.  FOR MORE INFORMATION VISIT: WWW.ELIANCONCEPTWEDDINGS.COM
Top Image:  Julien Navarre
Save
Save
Save
Save
Save
Save