For many the idea of moving to France, buying a property for renovation and creating a new life immersed in French culture is but a dream, however for a few they have made it a reality.  I will be taking a look at properties in France that have been renovated and are now family homes or open to the public as accommodation and wedding venues. The first property to share it's story is 16th Century Chateau de Fayolle in Riberac, in the area of the Dordogne known as The Perigord Vert and its owners Gerry and Janet de Bathe.
French Wedding Style Blog – Photography Copyright (c) 2011,

French Wedding Style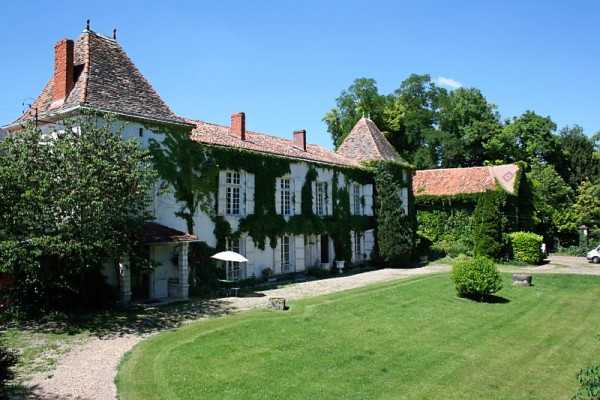 Janet de Bathe shares with us their love affair with a Chateau in France:
"Gerry and I moved to France for the first time in 1982. We wanted an adventure and having explored things like sailing around the world, or moving to the wilds of Scotland felt that our 3 children would benefit most from living and going to school in a foreign country.
Australia and Canada were too far away and France became our destination of choice because of travelling time, cost of property and just because we fancied it!!  With no language other than Bonjour and Au revoir we bought and settled into an old French farmhouse with no water, one electric light bulb and no bathroom. The children aged 7, 11 and 13 settled into the local school remarkably well and within 1 year were totally bi-lingual.
We stayed in France for 6 years until our eldest daughter decided to go to university in the UK. We kept the house, by then slightly more comfortable, and came here for holidays. We bought the chateau in 2005 having seen a handwritten sign at the side of the road during a visit and having had successful careers in the UK since 1988 were once again ready for a change.
The love affair with Chateau de Fayolle began the moment that we walked through the gates.  We did actually look at several other chateau in the area but for a number of reasons they didn't 'feel right'.  We knew that the building was structurally sound and were happy that the room sizes and layout could remain the same during/after renovations, as knocking down and moving walls in a house first built in 1650'ish is a mammoth task.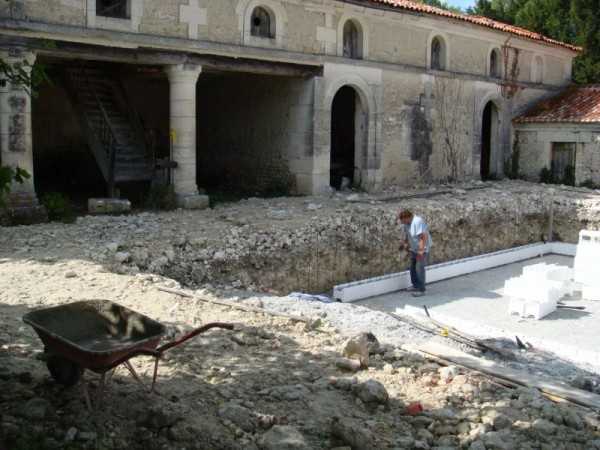 When we bought Fayolle she was scruffy and a bit sad, with acres of 1970's autumnal coloured swirly carpet and everything that was bad about 1970's style, but there was an elegance and magic about the building and gardens that was not pretentious in anyway and her gentile background and lovely proportions shone through.
Chateau de Fayolle is located at the northern part of the Dordogne region found in SW France. With temperatures on a par with Province,  it is hot in summer but never parched. Described by many as Little England it is lush and green with forests, rivers and beautiful old stone buildings that sit solidly in the countryside.
The renovation of the Chateau is an ongoing labour of love, although it has been a mammoth task for Gerry who has done it largely alone, with me as an occasional labourer.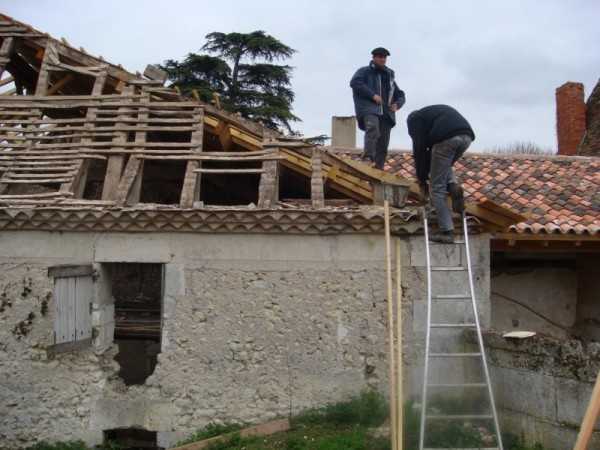 We didn't have a vast fortune to get in builders to do the work but we have paid local artisans where we felt the money needed to be spent. This has actually been a benefit as it has given us time to decide on décor, layout and future plans for spaces.  A chance to review things that would have been lost if definitive plans had been made at the start.
The style has been influenced by the house itself and the 'look' has been put together carefully with lots of help from magazines and an instinctive feel about what we wanted. We wanted the chateau to look like we had lived in it for many years as a family home rather than creating a boutique hotel feel.
Having moved from a large house in the UK we already had a lot of furniture so the look is fairly eclectic. As we still needed more items we have had a wonderful time buying many pieces of furniture from Trocantes, large depots of secondhand furniture being sold by owners on a commission basis. Very few of our purchases would have been affordable if we had bought from Antique shops.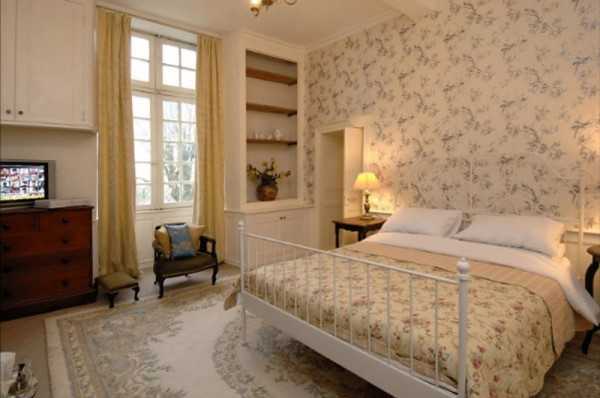 Tapestry's hang on the wall alongside pictures bought in TK Maxx and at Boot sales. Curtains have been professionally made by Blendworth Fabrics in Horndean near Portsmouth but made from fabric bought in their sale at a fraction of the price. One early error that we made over style, was probably the 'miles' of beautiful French damask fabric in all colours that was reduced from £50 per metre to £2 per metre. Needless to say we bought most of what they had and although we love it, and have used some of it (such as having our salon suite reupholstered in it) to great effect it is too formal for our rooms and didn't feel right to us.
The salon suite mentioned above is probably our favourite item in the chateau as it has been such a great purchase and is actually quite comfortable. I bought the suite on ebay for £100 and had it recovered in the bargain French damask that cost £2 a metre. True the upholstery cost a €1000 euros but it looks perfect in the lovely panelled Salon and sits alongside a range of Chinese furniture found in the sale area of a local store.
We recycle and reuse things as much as possible. If things look a little shabby then so much the better. French style is truly about shabby chic and family items are valued even with wobbles and faded fabrics that don't appear to go with anything at first glance.
We also have an eye on the environment and have low wattage light bulbs, turn hot water tanks off when they are not in use rather than having one huge tank for the whole building, use few chemicals when cleaning and have a huge but battered old woodburning boiler that forms part of the central heating system – a carbon neutral option to provide heating as many people will know. We shop locally for all our produce and use local businesses to provide a range of services.
Similarly with the bathrooms, our one nod to modernity, all the ensuites are different and lovely but nothing was bought in high end stores but in shops here such as Leroy Merlin, a French equivalent of B&Q that stocks lovely and stylish tiles and bathroom fittings that don't cost the earth.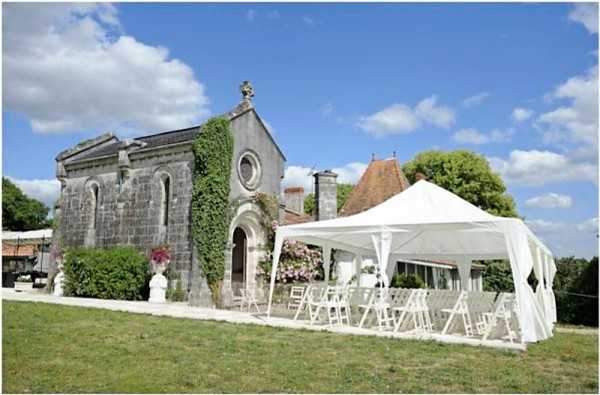 As a wedding venue the chateau is perfect. We only do a very small number of weddings a year and everyone who has been here loves it. Usually couples start the proceedings with drinks on the lawn with access to plenty of chilled water, followed by the ceremony in the little chapel (that seats 20) where guests sit under a marquee on the external terrace. Then the 'vin d'honnuer' and delicious canapés are served on the rear lawn where the shady parasols and gazebos make chatting with friends and family, whilst the more formal photos are taken, a real pleasure.
The summer weather is kind and the undercover dining area adjacent to the pool offers a wonderful shady place to eat when the outside temperatures are in the region of 38 – 40 C.  
Everyone who marries here has exclusive use of the chateau and grounds for the duration of their stay and most people book between 3 days and 1 week and enjoy being the Marquis and his Chatellain with 20 of their closest family and friends.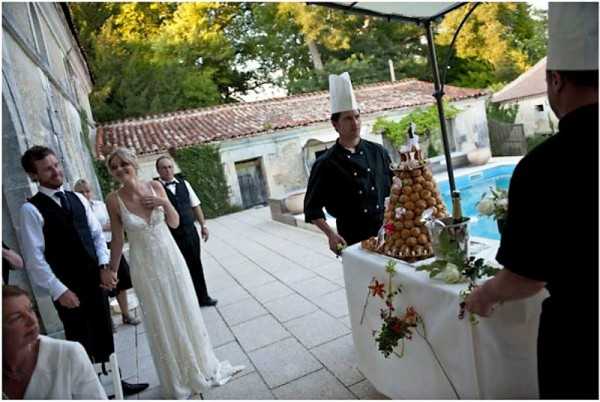 Apart from the day of the wedding when our gourmet chef comes in and caters the chateau and The Lodge are self-catering, unless staff are requested.
Our comprehensive wedding package ensures that all the important items are included in the price so that there are no nasty surprises.
As we do so few weddings here, (8 in 2012) we can provide a high level of attention to every couple and have often developed friendships by the time they leave here.
 Whilst we hesitate to use words that may be difficult to live up to, everyone so far has described their wedding and their stay here as magical and their wedding day as perfect.
Wonderful food, coupled with time spent with friends, family and a wonderful setting is what we offer here. 
We are not saying that our 400 year old chateau is not without problems, we have had the odd water leak, power cuts and an invasion of bees, but as we are always around (very discreetly) we are on hand to deal with the odd emergency so that you don't have to."
Thank you to Gerry and Janet for sharing their renovation journey.
Chateau de Fayolle could be the setting for your dream French Chateau Wedding and is available for wedding ceremonies and receptions, with a dedicated bi-lingual French wedding planner to take care of the details so that you can focus on love, friendship and laughter (and perhaps a glass or three of champagne).
The exclusively yours package at Chateau de Fayolle includes exclusive use of the Chateau reception rooms, the private wedding chapel and grounds and private bed and breakfast accommodation available for up to 20 people within the Chateau grounds.