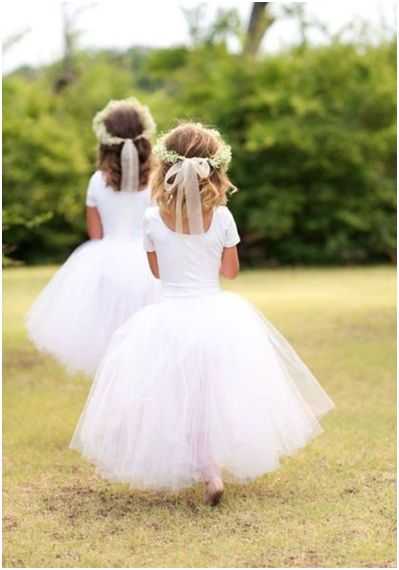 Summer Wedding Attire for Kids
Bonjour!
We are now [almost] in March, which means we have less than six months until the wedding… We are slowly getting round to having the bigger aspects of the wedding organised, which gives us time to focus on the "smaller" details. One of these being what outfits to choose for the children. By August, Siena will be four and a half, and Hugo will have recently turned two and might even be talking! Barry and I are not really ones for tradition, but the children are naturally the biggest part of our life together, and our wedding will be all the more special because they are already present in it. So even though we are unlikely to choose traditional flowergirl and pageboy outfits, we still want them to feel special on the day.
However, the same issue applies to them as it does to the wedding dress and the groom's outfit… The temperature may be anything between mid-twenties up to high thirties, as was the case when we visited last year. Considering that Siena gets hot easily in the middle of winter here, resulting in heat radiating off her and fluffy hair, and both kids will usually be walking around the house practically naked, this is definitely something to bear in mind when choosing their outfits. Especially as I have the feeling they will spend the whole day running round… and round… and round!
For my sister's wedding, I found both their outfits in Monsoon. Siena had a gorgeous Estella Sparkle dress in light gold, paired with gold sparkly shoes (she did request green sparkly shoes but we couldn't find any!), as well as a gold cardigan and a big bow headband (both from H&M). She then added finishing touches herself, accessorising her outfit with some Frozen jewellery she'd received for her birthday.

Image: Kerry Bartlett
We bought the dress a little big, so it might be that it still fits her in the Summer… It is such a beautiful dress! In the meantime, it makes the perfect dressing up and party dress, I wish I could have one!
Should Siena have a (likely) growth spurt or two in the upcoming months, I have some ideas lined up. I have noticed that I have a definite preference: simple with an interesting back, white, cotton dresses. These will be perfect for the hot summer, and Siena will be able to run around as she pleases without having a big dress get in her way! My favourite designs are the following: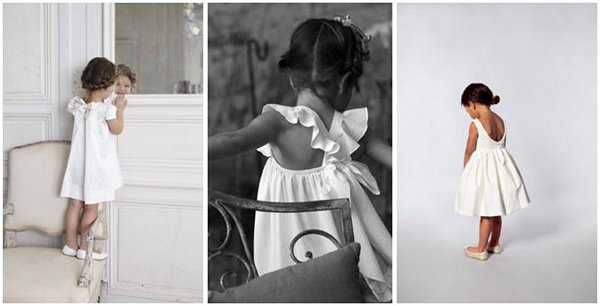 Source: Left, Middle, Right via Etsy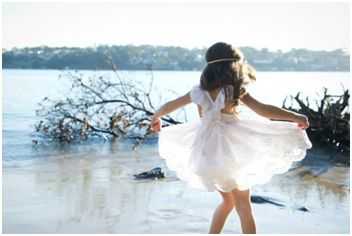 Source: by Ju Ju Creations
Although I do also love a big old tutu, and with Siena currently loving ballet, these might be her perfect dress too!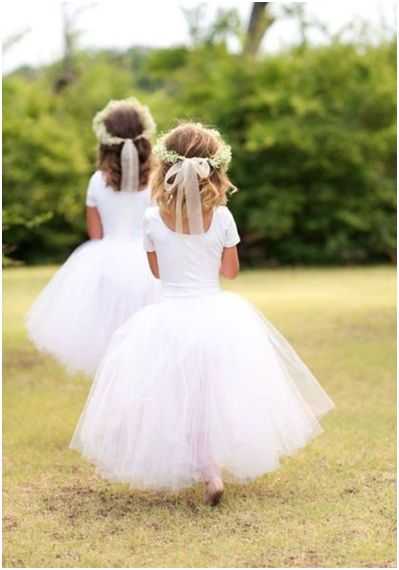 Source: via Etsy
For Hugo, there is obviously less choice, but I am unsure as to whether this makes it easier or harder… For my sister's wedding, I found him a little 4 piece suit from Monsoon which matched Barry's, so I just had to get it! We also found some high top trainers in the sale at Marks and Spencer which went really well with the outfit. However this was a wool suit, so not suitable for the Summer, and it is already too small for him!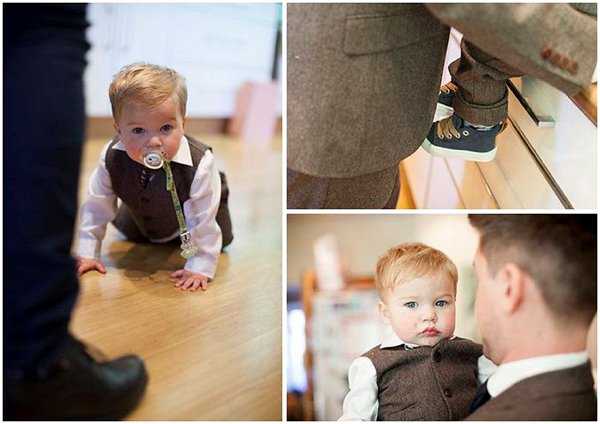 Image: Kerry Bartlett
This little man is growing so quick, there is no way I can buy his outfit now, it will have to wait. In the meantime, I am getting lots of inspiration from French websites I follow, including La Fiancee du Panda and Trendy Wedding. I am not yet 100% sure about shorts, but then again when considering the potential heat, these might be the best solution. I am not a fan of bow ties, but I do quite like the look of Bermuda shorts, white shirt and braces.
As for shoes, I love simple canvas shoes such as the ones Les Petits Inclassables use in their photos, and I am also a huge fan of Pons from Avarcas, which would work for both Siena and Hugo (if anyone can recommend a UK stockist please do let me know! I'm desperate to get some for me as well as for the kids!). I think I would prefer closed shoes if possible to ensure the kids can run around/play football/climb trees/etc to minimise risks of injury.
Did you get married in hot weather? If so what did your flowergirls and pageboys wear? Do you have any UK or French stockists you can particularly recommend for outfits similar to those listed above? I would love to hear from you!
Bisous
Fiona x
Don't forget you can follow  Hollie C and FIona as they plan their upcoming weddings, and you can find all the Belle Brides past and present here.