For Scenic Samedi today  we are visiting L'ile d'Oléron an island off the Atlantic coast of France  on the southern side of the Pertuis d'Antioche strait.  L'ile d'Oléron is the second largest French island after Corsica and is located on the Bay of Biscay.
Marennes-Oléron is  exceptional as far as heritage is concerned with its fortifications, maritime monuments, churches and local architecture.  There are the citadels of Château-d'Oléron and Brouage where Vauban made his mark, there is the Moulin des loges ( a windmill ) in the marsh of Saint-Just-Luzac and moreover the villages are typically quaint.

© MAISON DU TOURISME-CABANES
 © ORA PRODUCTION-COTINIERE
I love the pictures above full of colour and vibrancy and actually remind me a little of Key West.
So on the first day of holiday, hubby and I packed up the rental car and drove over to L'ile d'Oléron.  The drive over was marred by the thick fog and sea mist, especially over the bridge onto L'ile d'Oléron, which was a little eerie and something out of a Stephen King novel as you could only see the car infront of you and not even the sea either side of the bridge.
We ventured over to The Château d'Oléron Citadel, a complex and remarkable fortification. Its function was to protect the River Charente's mouth and Rochefort's harbour. The Citadel was built in five stages over a period of 120 years from 1630 onwards.
Its construction works were initiated by Richelieu in the reign of Louis 13th. It was Vauban who completed this project in the 18th century. Vauban's touch speaks of daring beauty, balance, power. Nowadays the Citadel houses several exhibition rooms.
As it is the start of March, the Citadel and the surrounding areas were lacking the usual tourist hubbub.  This mixed in with the fog that sat eerily low over the ramparts, gave the citadel a mysterious period quality that would have been perfect for a dramatic bridal shoot (will have to keep that in mind). With limited photographic talent, let me present the formidable Citadel.
I had to put in this picture taken on the side of the building…..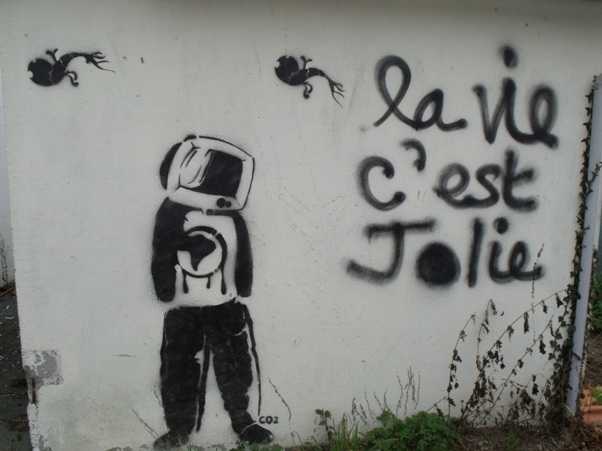 If you are looking to plan a trip to L'ile d'Oléron be sure to visit the Tourist Information site packed with useful information and advice on activities.
Monique x x