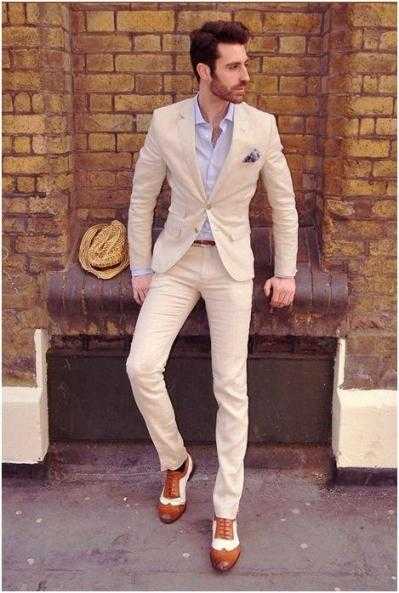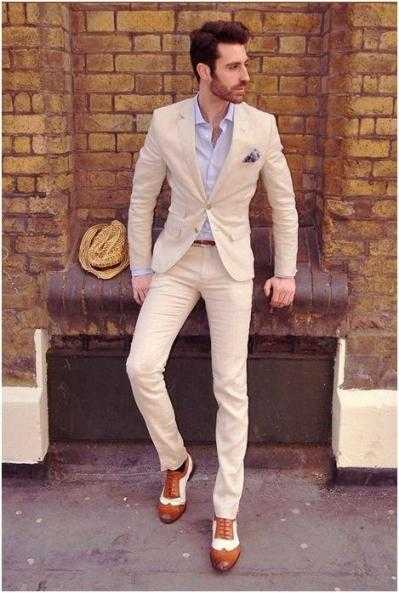 Today bride to be Green Loving Girl takes a look at grooms wear for summer weddings as her and finance Barry, continue planning their wedding in France this year.
When Barry and I considered where to get married, Barry was keen for us to get married in France. He wanted to take advantage of this opportunity to show off the area I grew up in, and where we like to go on holiday, to his family and our friends. We are also big fans of French cuisine (although yes I am slightly biased on this one!) and the area my parents live is renown for its cheese… so what's not to like?! He was also hoping that by getting married in France, we would hopefully have lovely warm weather on the big day.
Indeed, when travelling there last year [http://www.frenchweddingstyle.com/wedding-diary-green-loving-girl/], the weather was on the whole really good and the temperatures went from high twenties to high thirties! (you know I'm used to hot weather when I only considered it "proper summer heat" at 35 degrees!). This will be ideal for the holiday we have before the big day, as I am hoping we will have plenty of opportunities to have barbecues and sunbathe by the pool. However when it comes to the big day, we do need to bear this in mind when choosing our outfits.
When choosing a dress, I made sure I pointed this out to the bridal shops as some dresses made me feel hot just by standing there, so I would have been bound to melt in the summer in them! However it does remain easier for us girls… We have endless choices of type of material, short dress, long dress, slit in the dress, short sleeves, no sleeves… We have ways to make sure we do not get too hot while looking fabulous! But what about the men? They usually have to wear a suit, no matter the weather! And when you know you will be getting married in the South of France, this may cause a little concern as to what one should wear to avoid sweat patches on all the wedding photos…
Barry is currently faced with this conundrum… He definitely has his own style and isn't scared of being a little different (he has been known to wear a white suit at Christmas parties in the past… before my time though!). He also has an interesting taste of shoes which always gets him noticed, especially at work! I love this about him <3 If getting married in the UK, he would most likely have picked a tweed or wool suit of some sort, as he loves this style!
However this won't work for our Summer wedding.
I initially suggested to Barry a more casual look, with perhaps sand colour chinos, a waistcoat and a flowery shirt, a la Ted Baker.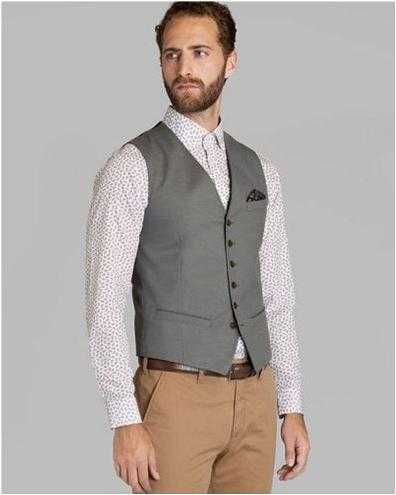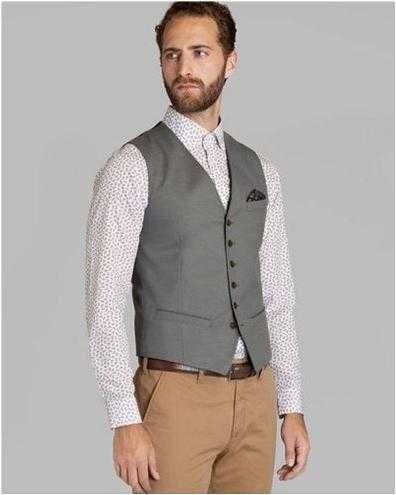 Source
But he would prefer a more formal look. At first I wasn't sure, but I have to say that while I do love this look generally, when looking at wedding photos on Pinterest and wedding blogs, I must agree with Barry in that it does look very different to when the groom wears a suit. And Barry does like a sharp suit and looking smart…
Thanks to the magic that is Pinterest, Barry was able to find exactly how he wants to look for the wedding, which I love!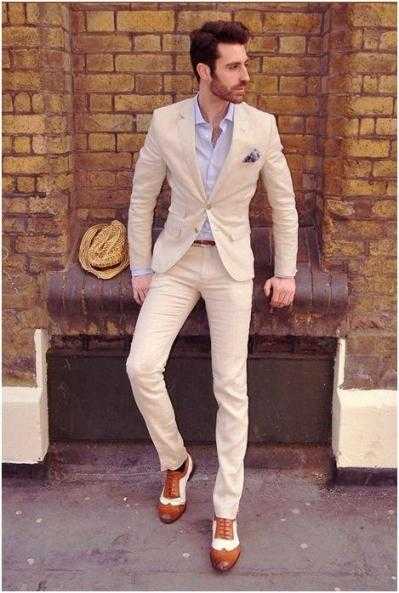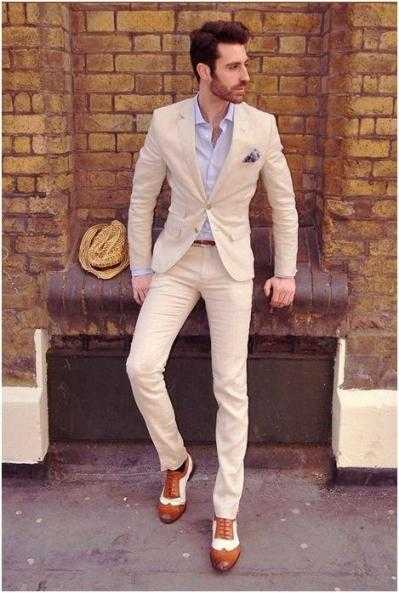 We have seen similar shoes on the high street so they shouldn't be too hard to find (he already has a black and white pair!). However the difficulty always comes down to the suit itself. It seems that most places on the high street haven't yet got their Summer collections out yet, and there is no way to know whether this sort of suit will be part of it.
Additionally, Barry isn't always able to find suits that fit him properly from High Street shops, so I am wondering whether bespoke may be the way forward but he remains unsure.
As part of our quest, I approached some experts to seek some advice as to what grooms should bear in mind when choosing their suit for a wedding in hot climates.
Stephen from Stephen Bishop Suiting, specialises in bespoke suits and advised that natural fabrics are usually the way forward, with linen being a popular request for bespoke suits. However this may have the disadvantage of creasing easily and may also look too "casual" to some grooms' taste. Stephen told me that fabric is key to creating the perfect suit. He suggested going for a fabric with a nice open weave, such as a lightweight pure wool. The advantage of this type of fabric is that it will remain cool and will breathe easily, so the groom will benefit from any breeze on the day.
I was also advised that fit is equally important. If the cut is too tight, the fit will end up being uncomfortable no matter what fabric you go for. Finally, Stephen states that choosing the right fabric for the shirt but also underwear will also make a difference, pure fabrics being once again the preferred option.
I also spoke to Matt Bowen from The Groom's Retreat . Matt is also confident that grooms getting married in hot climates can nevertheless remain stylish, pointing out that locals get married in these countries too and it's hard to think of an Italian wedding where the groom did not look anything less than amazing and stylish, even when wearing a dark suit in summer.
Matt agrees with Stephen that the material your suit is made from is key, and that natural ones are the way to go (think cotton, linen, wool and mohair). Nothing synthetic! He also suggests that being clever with your colours may help.
As an alternative to a suit, Matt suggests a well-tailored jacket with perhaps some light chinos, for a more casual yet elegant look.
When it comes to choosing a shirt, it seems that the general advice is to stick with white, to avoid any sweat patches. I know Barry is planning on having at least two shirts just in case, so he can change throughout the day if need be and remain feeling lovely and fresh.
So hopefully Barry now has more of an idea of what to bear in mind, and I hope this will assist his search. Did you have a summer wedding in a hot climate? If so, did you/the groom go for something bespoke or were they able to find something off the High Street? Is there anything that was particularly good, or perhaps bad about the outfit you wore?
We would love to hear from you as well as any advice/recommendation you may have for us!
Fiona xx