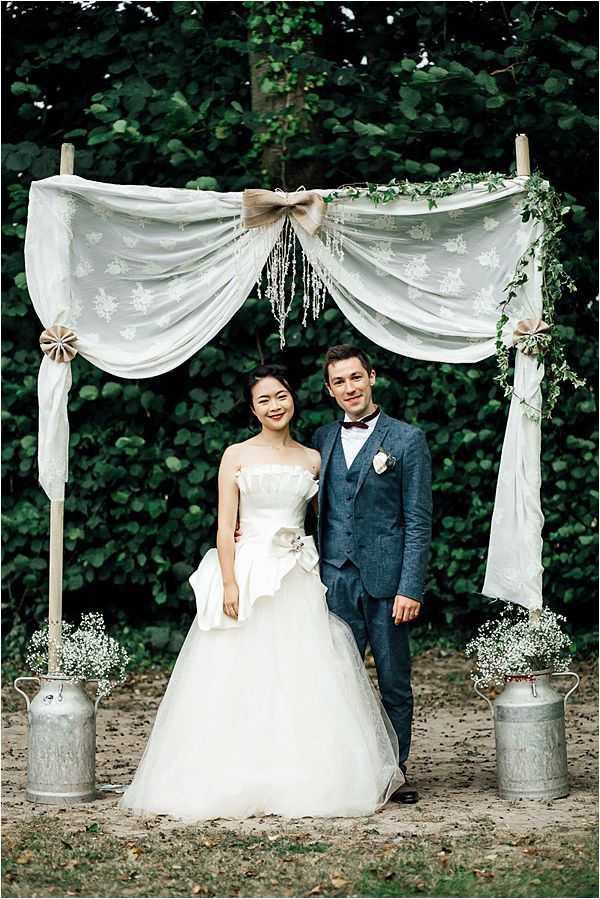 Hello lovelies! We hope you have all the luck and happiness this Tuesday! Let's check out a Chinese and French wedding in the countryside in Normandy. A mix of French and Chinese here and there made the event a beautiful celebration of two cultures. The day was captured by Photographer Elena Decaen.
This international couple showed how two different traditions could produce an unforgettable event. Chen looked radiant in her wedding dress, a pre-loved dress from her cousin in China. "I always consider my cousin as my big sister, I think putting her dress on me can give me more luckiness and happiness," Chen said.
Here's their journey to forever, as told by the bride herself. And she share some tips for couples of international cultures planning to marry in France.
I met my husband in 2015 when he went to Chengdu, China which is actually my hometown to do his research about world heritage. At that time, we had several common friends so because of them, we had chance to get to know each other. He said he fell in love with me the first time he saw me, but I don't think it's true. Haha.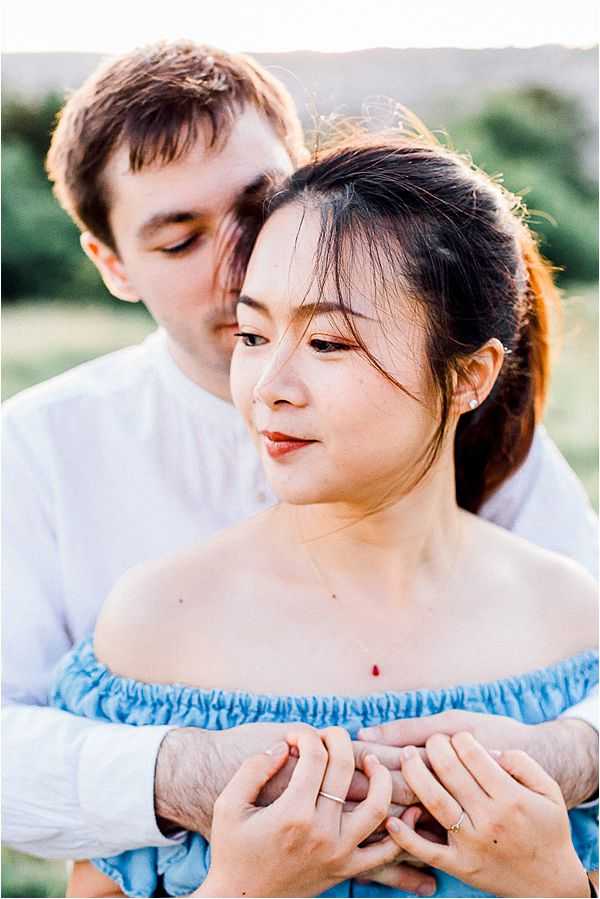 After that, we traveled to Peking with another French girl who did really a lot to make our relation work, because I had no feeling about him at that time. The travel was cool until I said "No" to Quentin in The Forbidden City, but I promised him to give us more time to get to know each other more.
After coming back from Peking, I needed to continue working on my thesis which is about French gastronomy as an intangible cultural heritage, which is absolutely one of specialism of Quentin, so he proposed me to work together and he said he could help me. But now I know that was his trick to seduce me.  LOL. And obviously his trick worked, and we finally got together was on 14, March of 2015.
As I did my master in France, we decided to organize the first ceremony after my master study and then in China. We talked about a lot the wedding but we still didn't fix a date until we knew that if we always hesitated because we wanted to choose a date which can adapt to everyone, we could never get married. And the fact shown that when we go to town hall there were few choices, that was why finally our wedding was on a Tuesday.
So here I suggest that the couple who want to get married in France, fix your date as early as possible, that gives you more freedom to deal with other things.
Before my own wedding I had no idea about French tradition in this issue.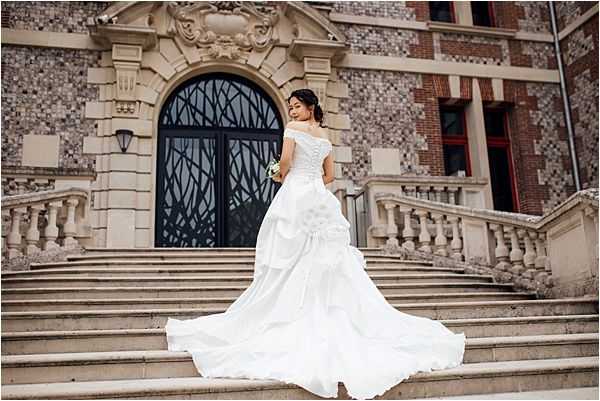 We searched a lot for caterer (the most important for the French guests haha). We finally chose Erisay as our food supplier. Thanks to their excellent food tasting meeting which 100% show their quality, the presentation, and the taste of their food and also their professionalism.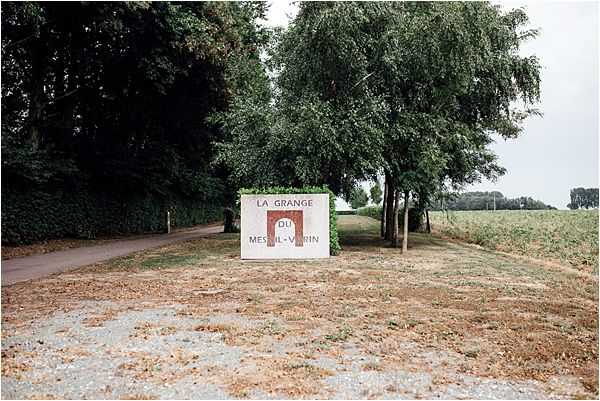 Our florist was Vertige, recommended by one Quentin's mom's friend.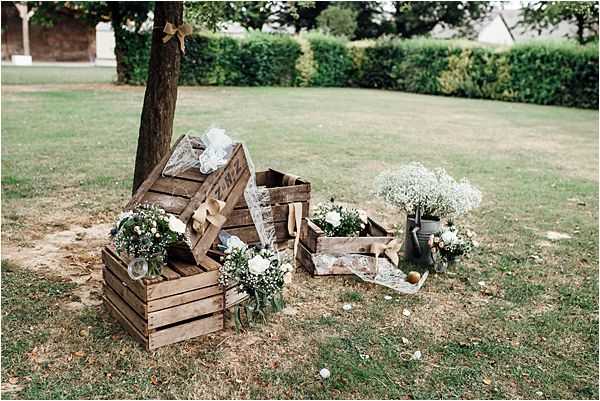 I found our photographer Elena Decaen on Facebook. I love her style: natural and illustrious. We did an engagement session with her, that helped us try some poses and get more familiar with her. We choose the Centre of Rouen, as our engagement location because of its amazing historical city and Saint Catherine's Hill's most popular panoramas of the Seine Valley in the Rouen area.
We didn't choose a theme decoration because we custom designed them ourselves: small belt for ceremony, ring tray, rustic arch, name ticket with both everyone's French name and Chinese name, Thanks card, table plan with a little game and so on. I can't deny that if we have chosen a designer, things could have been easier. But it would have been also less personalized and we'll miss the pleasure in preparation. Finding ideas, discussing, revising – all of those will give a wonderful memory of your wedding. For our wedding style, I have found lot of ideas on Pinterest!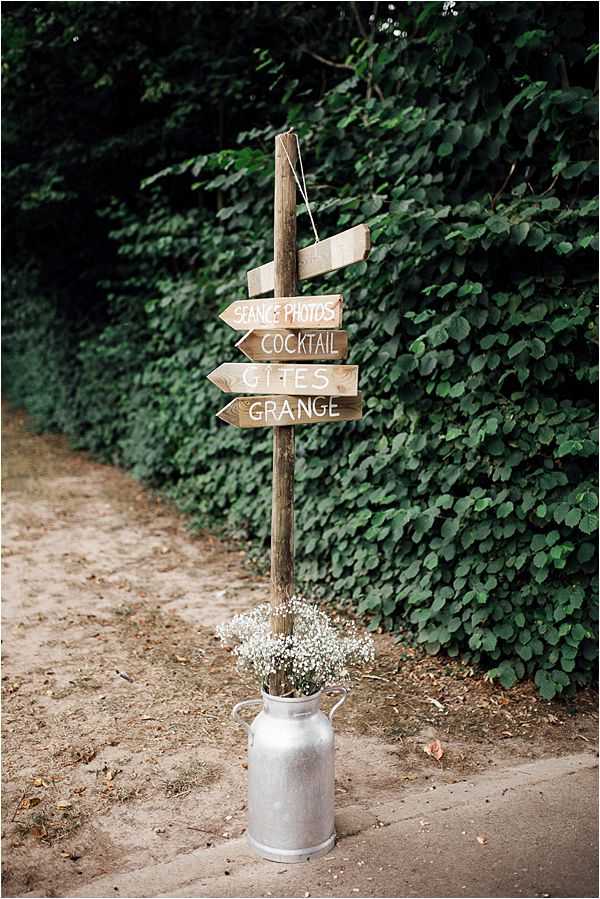 Our couple rings came from a jeweler who collects and fabricates jewelry on his own. All his collections are handmade.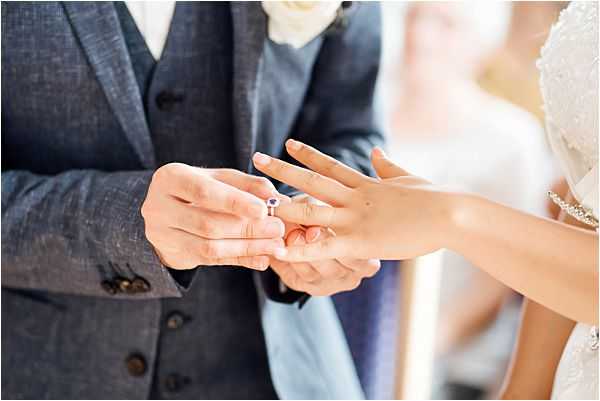 During the wedding, if everything is well-organized, it will go as planned. But still, don't forget to remind your guests the time, because they always want to talk more with friends who they didn't see for long time.
If you want, prepare a speech during the ceremony, share your love story with everyone and don't hesitate to express your gratitude to all those who are important in your life. A wedding celebration is the right moment to express them all!
For couples who are like us, half French half foreigner, I propose the foreigner one to get to know French tradition early if you want a traditional French wedding.
If you have friends or family come from other country or from your home town, inform them every detail, such as ceremony time, photo time, car demonstration time, cocktail time and so on. Because it can help them to follow the rhythm of the day even though they don't know how French wedding goes.
Then for the diner party, plan something you want to do, and you can do. For example, in our opening dance we chose a funny style composed by famous but ridiculous songs because Quentin doesn't dance well, and we didn't have time to exercise We both wanted to dance and show them our couple style through the dance.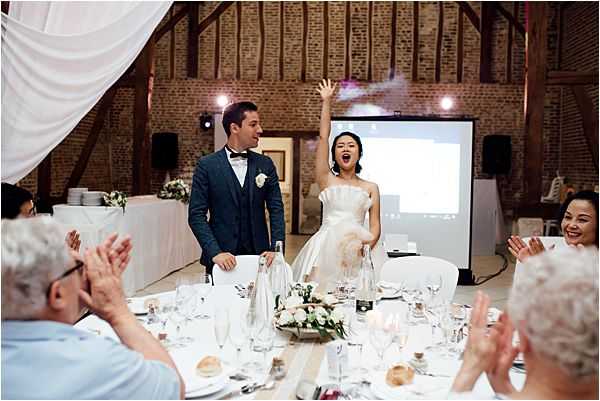 Last thing for those couples like us, don't forget your family and friends who don't know the French language. We had everything translated from French to Chinese, such as: menu, table plan game, game PPT, name ticket etc.. we also tried to add Chinese elements into our wedding, like some Chinese music, Chinese songs for our dance and so on. These littlest things can help your family and friends enjoy more your party, they will feel they are included, they can participate more.
Finally, we hope everyone can have a perfect wedding as you dreamed.
Congratulations Chen and Quintin! x
French Chinese Wedding in Normandy France snapshot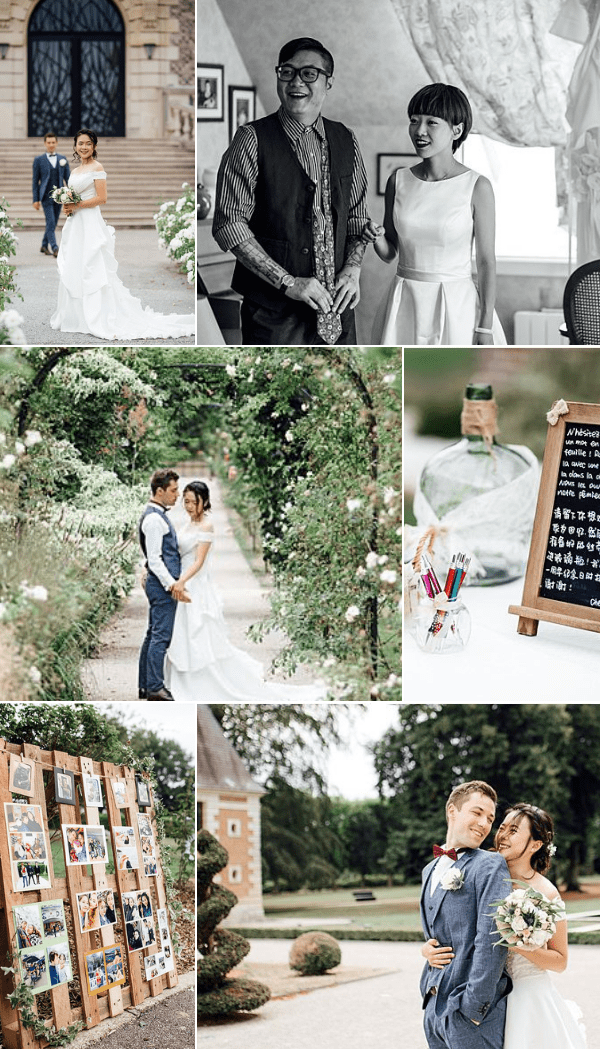 Wedding vendors
Venue: Grange Mesnil Varin | Photographer: Elena Decaen | Florist: Vertige|  Hair and Make Up: Marjorie | Venue: Grange Mesnil Varin | Catering: Erisay |  Entertainment: SK Event