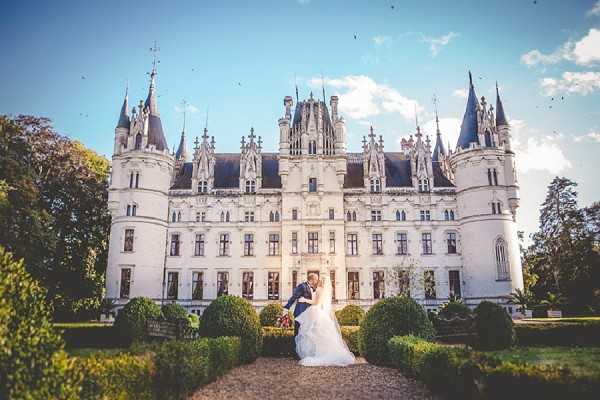 It is time once more to fling the doors open on another French Chateau, this time the fairytale wedding venue Chateau Challain in Loire Valley.  The beautiful Chateau was the back drop for one of the FWS #TeamAmour Styled shoots and it really does take your breath away when you enter the estate!
Fairytale wedding venue Chateau Challain
Chateau Challain is a privately owned french chateau in the Anjou region of the Loire Valley in France, and is home to an American family, who pride themselves on making you feel at home for your destination wedding.
A destination wedding venue where your dreams come true, we pride ourselves on our service and staff, who go above and beyond to cater to all your needs. We really are a one stop shop for all your bridal needs, most of what we can offer you comes from our in-house staff : catering, fireworks, floral design, event planning/organisation, cake design, dj, etc… this enables us to be efficient and consistent with our high standards.
The owner of Chateau Challain, Cynthia has been hosting weddings at Chateau Challain for over 13 years with great success. We can create a bespoke wedding package, tailor made to your every desire.
The church of Challain la potherie is situated just outside our front gates if you require a church ceremony, or you can have a garden ceremony in our beautiful gardens, which are also beautiful spots for photographs, with stone and wooden bridges, a lake and many outbuildings just as beautiful as the chateau itself, there are endless opportunities for great photoshoots.
The construction of the neo-gothic Chateau Challain was completed in 1854 as a family home and remains a family home today. Renovations have been ongoing over the years to improve the capacity and luxurious standards that you would expect in a stately home.
Chateau Challain is also a luxury B&B, you can come by and visit us for a viewing of your destination wedding venue (special price for visiting future brides & grooms), or just enjoy a weekend away, come and have the Chateau Challain experience, be our guest, put our service to the test!
This really is where fairytales begin!
If you think that Chateau Challain may be your dream wedding venue,  then visit their website to find out more information.
Contact details:
Website: chateauchallain.com/
Facebook: www.facebook.com/ChateauChallain
Top image by : In Love Photography
Save
Save