Happy Humpday! We've created a post around Bridal Dresses for your shape not just trends. We know with a lot of brides that trend is top on their priority, but it is also important to some brides what shape makes them feel most comfortable on their wedding day. We've got some top tips on just that by The Mews Bridal.
As every woman becomes comfortable in her own skin, we start to learn what styles and shapes suit and what cuts to avoid. It is easy to get carried away with the current fashion trends but you need to be clever and make sure that the dress you pick is original but also makes you look like a million dollars!
Wedding dress shopping can be a little daunting, especially when you are unsure of what you are looking for!
A tip to making your bridal appointment the best it can be, would be to figure out a basic silhouette that suits your body.  This knowledge combined with your stylists understanding of the dresses makes a perfect match for your first appointment and will help you find a dress that is not only unique but also compliments your figure too!
As a helping hand we have broken down the body shapes and selected perfect styles to suit you.
Hourglass
Think Marilyn Monroe, think nipped in waist. With an hourglass figure it is very easy to achieve a feminine silhouette. As a general rule most fitted styles will really suit you without the need for structure. Any styles lines that accentuate your waistline will be uber flattering making you look even more the balanced 8.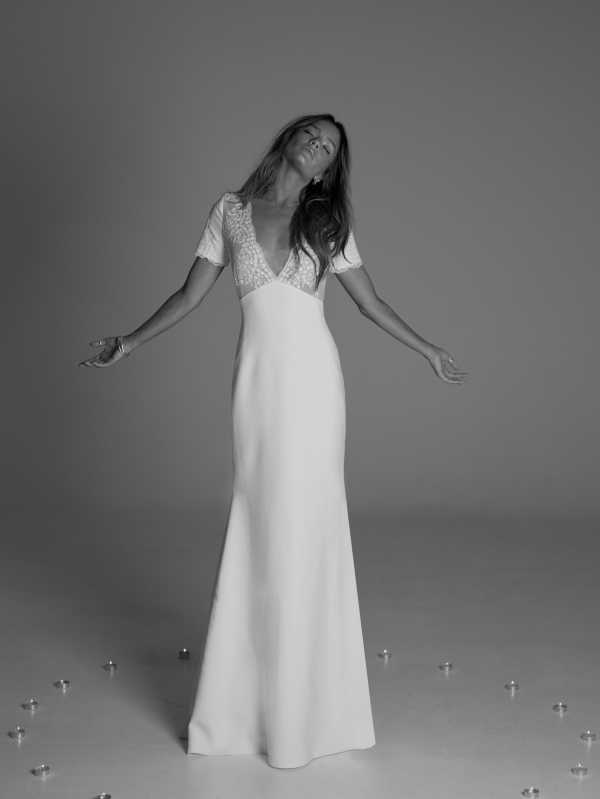 Tasha by Rime Arodaky
Column
With straight shoulders, waist and hips it is all about creating a softer silhouette that creates an illusion of a smaller waist. With a column shape you have a couple of options to work with, A-line or a dress with a contrasting top and bottom with a definitive waistline. To soften your silhouette we are essentially trying to create a dramatic difference from the top to the bottom making your waist a focal middle point.
La Pietra by Margaux Tardits
Inverted Triangle
When your shoulders are slightly wider than your hips it becomes all about re aligning the balance. To create the effect of an hourglass shape we need to focus on adding volume from your waist down in the form of fuller A-line skirts. In addition to this, adding a slight sleeve can take away from the look of strong shoulders to help create a delicate aesthetic.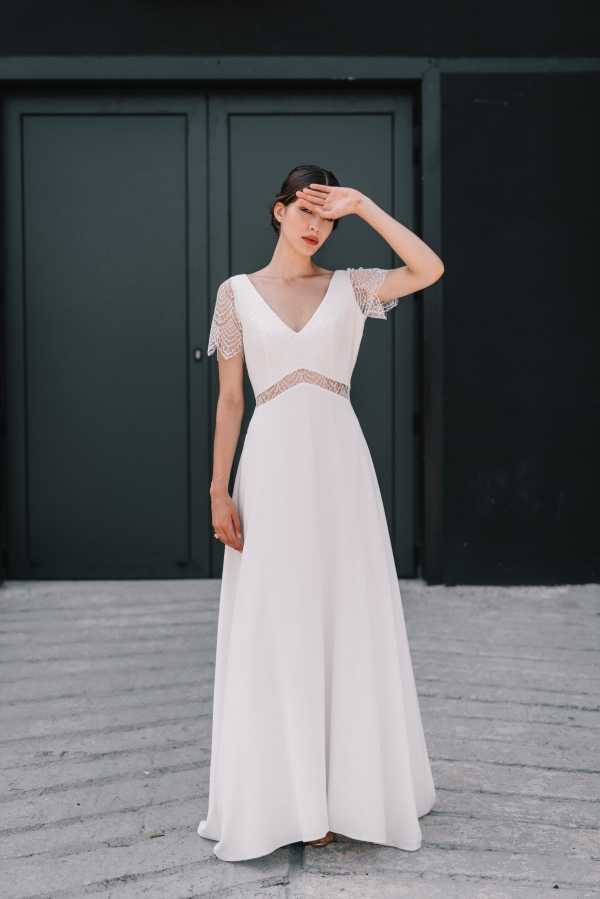 Anthuria by Mademoiselle de Guise
Apple
As an apple you will carry most of your weight on your stomach with your shoulders and hips being generally balanced. The aim for dressing as an apple shape is to eliminate any attention drawn to your stomach region so we want to avoid volume to make you look as smooth as possible. The less fussy the better as we want to keep peoples eye line on your sleek silhouette.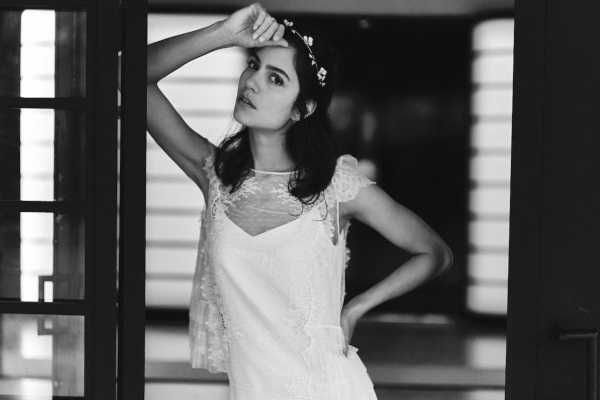 Drieu and Garbo by Laure de Sagazan
Pear
Similar to the inverted triangle we are looking to balance out the proportions and create the effect of a slightly more hourglass appearance, but this time in reverse. With larger hips than your shoulders, we are looking to create a slightly more structured look across your bust and upper body. As a pear has great shape on her lower half, so we really want to accentuate this and show off our fabulous curves with Bridal Dresses for your shape.
Foster by Laure de Sagazan
We hope this post has given you some positive inspiration for what Bridal Dresses for your shape suit best. We'd like to say a special thank you to The Mews Bridal. If you want to keep up-to-date with our blog posts, you can follow us on instagram or sign up to our newsletter here.
Bridal Dresses for your shape not just trends Snapshot