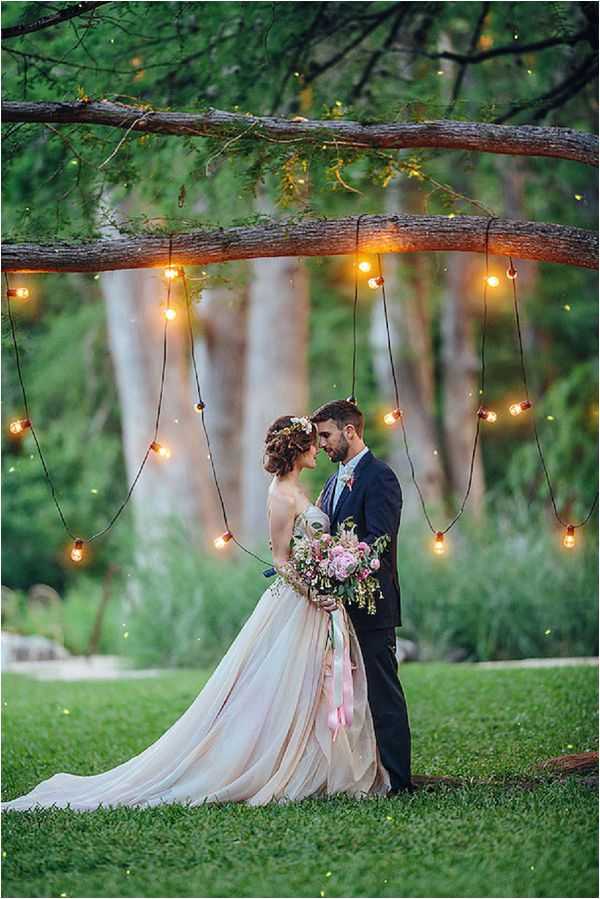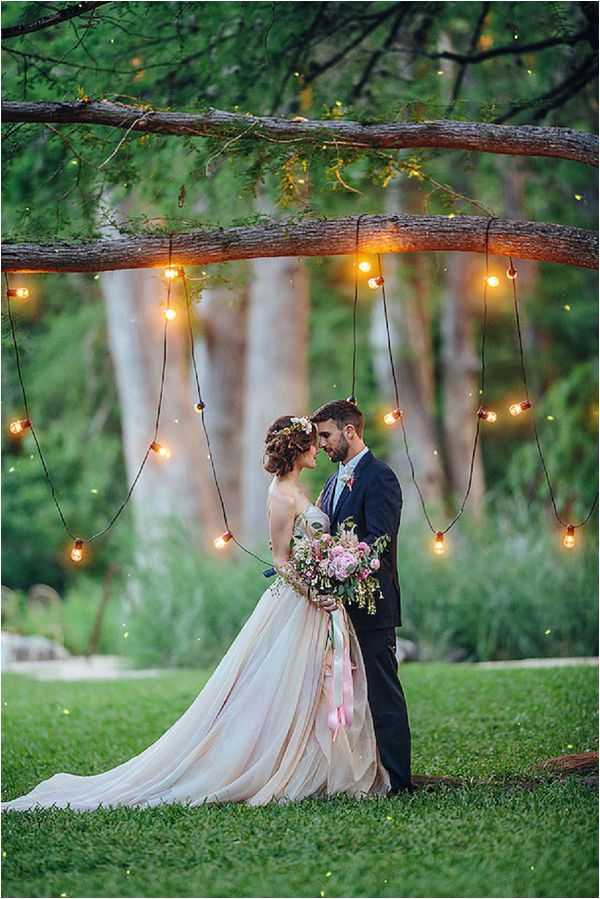 As we slowly approach the Autumn Equinox, and the nights are starting to get that little bit earlier, we start to appreciate the lighting around us both inside and out. Lighting plays an important part in our everyday, so why shouldn't it be included in our special days too? Fabienne, owner of Elian Concept Weddings and Events, throws some light on the options available to you with some French wedding lighting ideas – and poses some questions that may need to be answered during the set up.
5 favourite lighting ideas for a French wedding
Have you chosen to get married in France for the country's beautiful scenery and amazing venues? Is it also to fulfil your dream of an outdoor ceremony and reception? If you have found your ideal venue, whether it is a fairy tale Chateau, a charming stone farmhouse, a magnificent outdoor setting or a barn, then surely you want to make the most of its stunning features and atmospheric lighting can help you achieve this.
Lights have become much more than a way to brighten up a room or light up a dance floor. It is now more widely used to enhance a space indoor as well as outdoor and has evolved to be a decorative element in its own rights, like flowers.
Focusing on weddings in France, creative lighting might even be the only thing you need to do to enhance your beautiful venue further, as the sun goes down. To experience how the ambience develops from dusk and how the space transforms into a completely different scene over the evening is simply magical.
Photo source: Chateau Challain
On a more practical point of view, if you are having your wedding meal alfresco the moon and the stars won't be sufficient to light up the dining area and other key places (pathways to toilets, car park etc.).
Chandeliers
The ultimate lighting feature, and a big favourite of mine. They are statement pieces, elegant and stylish in many areas including outside. Whilst expected in a Chateau style wedding, they are just as stunning when used in more rustic settings in barns or hanging down from trees. Combine them with candlesticks or candelabras, for an even more dramatic look.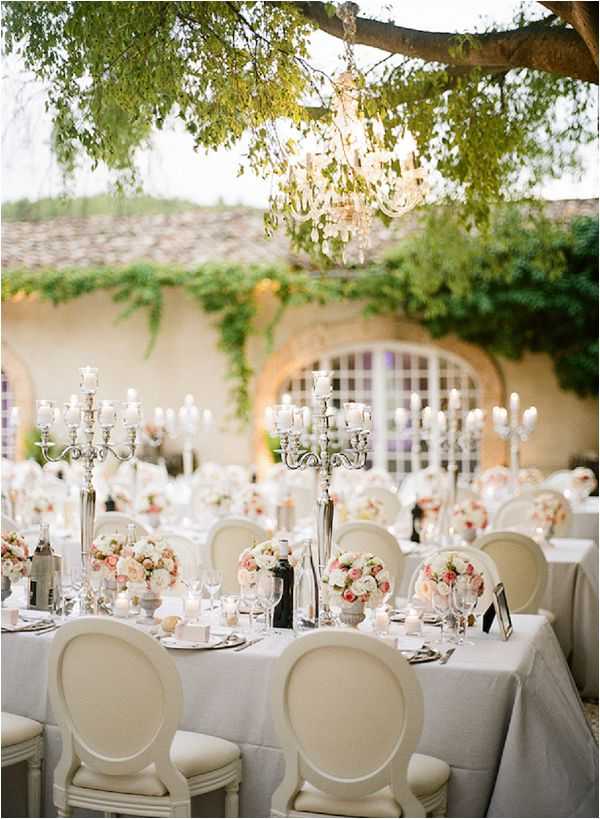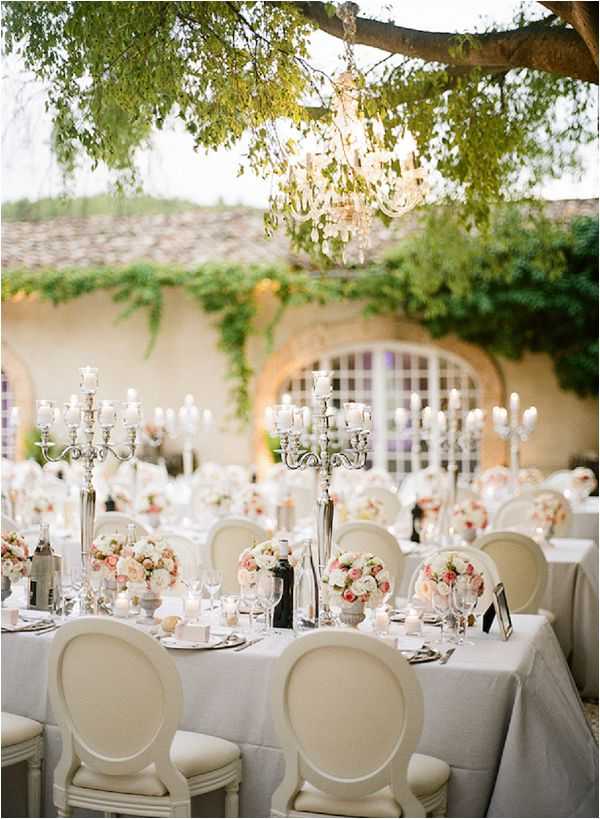 Photo Credit Christina Brosnan | Photo source: Style me Pretty
Festoon lights
In French they are called 'guinguette' lights and they are very fashionable at the moment. A bit like a big version of the always-popular fairy lights, they are just as easy to put up. They are perfect for outdoor lighting and give a relaxing, rustic yet charming feel. They are also very versatile. You can use them inside marquees and barns, hang them along the edges of a tent and to light up walkways. Personally, I love them!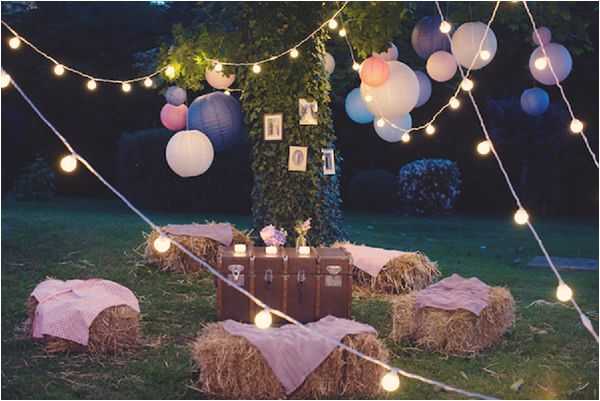 Photo credit: Anne Claire Brun
Lanterns
From paper to wood and metal, from romantic to modern, from sophisticated to basic, there are so many styles of lanterns not to mention shapes, sizes and colours that there is always one which can fit your wedding design.  They look good inside and outside, as decorative items on tables, bars, or specific areas as well as useful to light up dark corners, steps or even driveways.
Photo Credit: Erin McGinn | Photo source: Willowdale Estate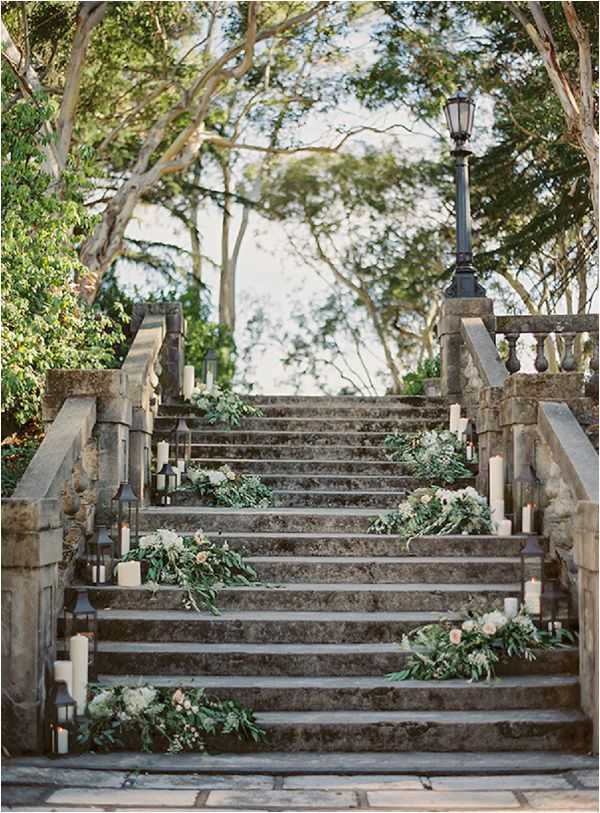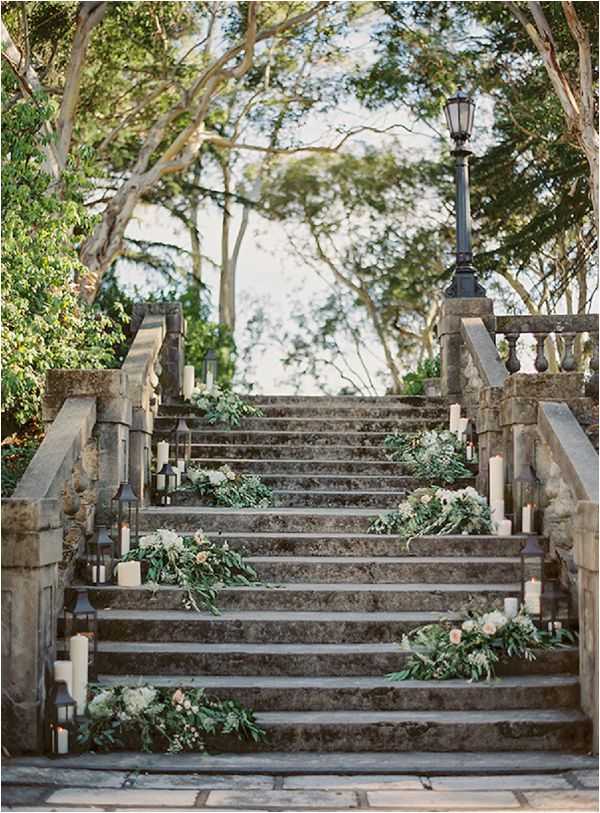 Photo Credit: Hannah Suh | Photo source: Once Wed
Hanging lights
This can be anything really, such as lanterns, jars, cages, hanging glass vases, tins, vintage lampshade, pretty cupcake cases to name but a few, in which you can place a tea light candle (safely) or a fairy light (battery operated). They can be hung in trees, above tables indoor and outdoor, above an area you want to highlight, on shepherd crooks for walkways or aisles. Let your imagination be the only limit.
Photo source: Chateau Rigaud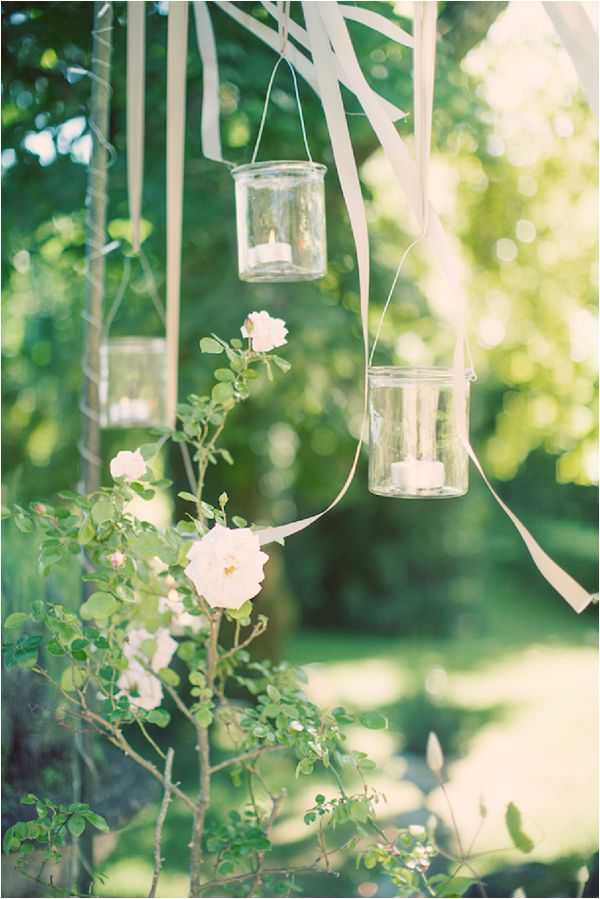 Photo credit: Erika Gerdemark
Landscape lighting
For me this is the most striking. Imagine being in the most beautiful outdoor location, but after the sun has set, it will just be a big black backdrop and the venue beautiful features will disappear in the dark. Uplighters skilfully positioned will emphasise trees and architectural features, and then you have a completely new scene for the evening. Magic!
I strongly recommend that professionals are brought in to handle this type of venue enhancement.
Photo credit: Nicolas Chauveau
To conclude, a few things to keep in mind if ambience lighting is a part of your wedding vision which you have integrated in your design from the start (although this is often overlooked).
First check the following with your venue:
– Do they already have creative lighting in place? If not, will they allow you to add lights to enhance indoor or outdoor spaces.
– Will they allow live candles indoor, but also outdoor (in some regions they may be a fire hazard and will be banned)? This must also be checked with the linen company for tablecloths.
– Is there sufficient electric sockets and power supply for your needs?
Photo credit: Les Histoires D'A
Once you have checked this out, safety should be a prime concern:
– Who will be setting up the lights?  If you go for a complicated design, it will be wise to employ a lighting company or an electrician to do this.
– Will there be visible wires? They will need to be covered and secured to avoid guests or staff tripping on them.
– Pay extra care with outdoor settings, electrical items can be a hazard, as will live candles if placed too close to plants and trees.
Plan the following well in advance:
– The type of lighting you require.  You could take advantage of after Christmas sales, or out of season prices rather than paying full rate at peak wedding season (and risk your most wanted item to be out of stock when you desperately need it).
– The quantity of lights you need? Get as many measurements as possible and map out your desired layout.
– Estimate the duration of your event and when you want the lights to come on.
Photo credit: Anneli Marinovich
– Who will light up the candles on the day/night. Don't underestimate the time required to do so.
Night wedding photos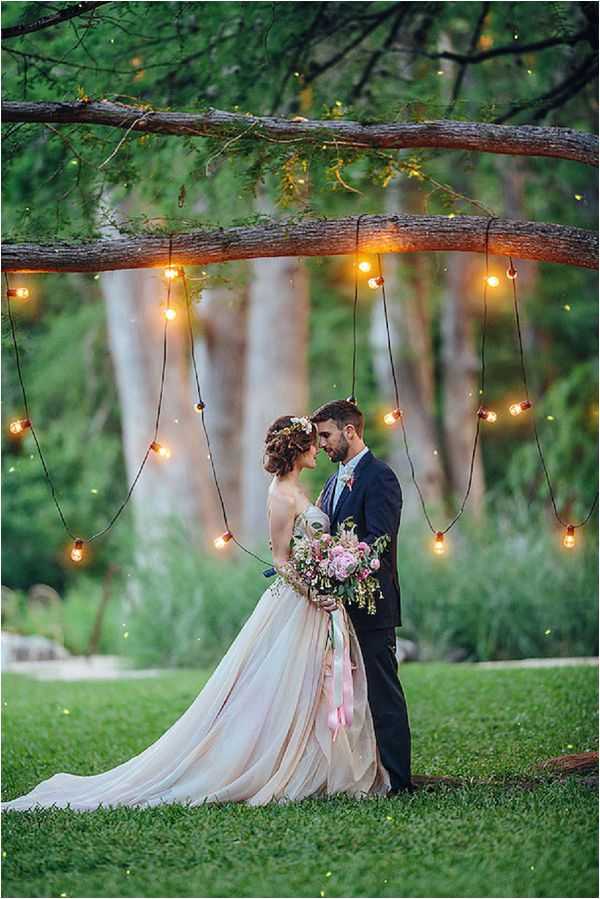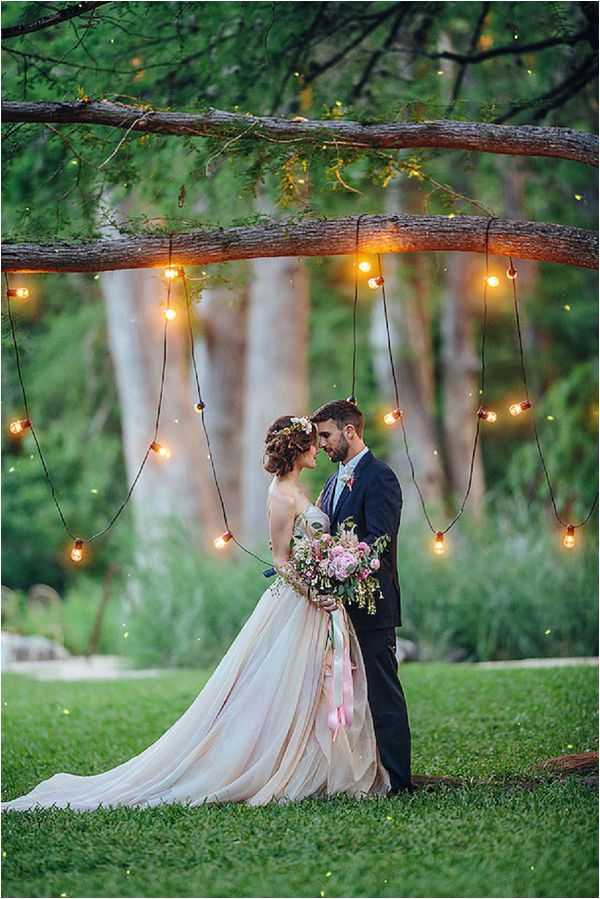 Photo Credit: Christina Carroll | Photo source: Brides of Austin
Finally ask your photographer to take photos of you both at night. It is so romantic and it will look incredibly beautiful with your lighting décor in the background.
FABIENNE IS OWNER OF ELIAN CONCEPT WEDDINGS AND EVENTS, WHO IS A BI-LINGUAL WEDDING PLANNER AND IS AVAILABLE FOR WEDDINGS THROUGHOUT FRANCE.  FOR MORE INFORMATION VISIT: WWW.ELIANCONCEPTWEDDINGS.COM
Top Image by  Christina Carroll
Save