There is no wrapping today's post up simply I need your support with the Top 100 Wedding Blogs list.  The list is open for the 2013 Top Wedding Blogs as compiled by BrideTide, and is known as the ultimate bridal resource for finding tips, trends, advice and inspiration from the most popular wedding blogs on the web. 
I am an active contributor to the Bride Tide, if you haven't visited it is a social bookmarking site where people discover, share, vote and discuss interesting and remarkable wedding content they find on the web.
This list is a highly recognised industry list with some fabulous bloggers creating inspiring and ground breaking work – so of course I am more than a little eager to see if French Wedding Style can join this elite set of blogs.  I am also a firm believe in if you don't ask you don't get, so please:
French Wedding Style  is up against some really tough competition and therefore I really, really, really need your support.  It would mean the world to me if we could get the blog onto the list  so  – Please could you nominate the blog?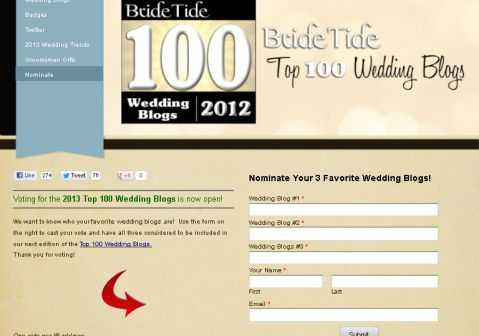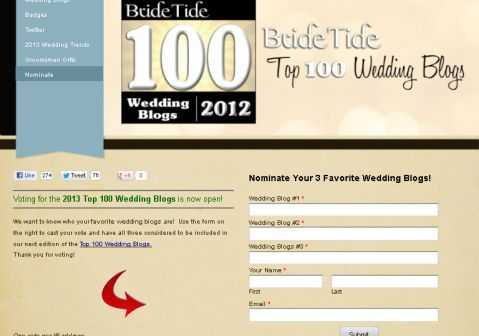 It is open to everyone, you don't need to be a bride and groom and literally takes 2 minutes to complete and would mean so much to me to have your support.
You just need to add in http://www.frenchweddingstyle.com and then your other two favourite wedding blogs.
Thanks so much!
Monique
P.S. If I was being a little too subtle can you please nominate French Wedding Style here