Happy Christmas eve lovelies and what better way to start the day than with this gorgeous winter wonderland engagement shoot, full of rich maroon and navy tones with beautiful winter blooms to feast your eyes on. I love the table decorations as they perfectly set the tone for this woodsy styled shoot.
So how will you be spending Christmas? Everything here is ready for a visit from Father Christmas tonight so this afternoon I'm heading to La Rochelle where the aroma of hot mulled wine fills the air and carriage rides await to give us a tour of the Christmas festivities. My excitement over the years has never dwindled about this magical time of the year, I think I get just as excited now as I did when I was 8 years old much to my husbands despair as I wake him at 7am 🙂
I'll hand you over to Photographer Teri of Myke & Teri Photography who will walk us through this whimsical woodland styled shoot…
"The idea of escaping to the forest is so dreamy to me. I wanted to put together a shoot set in nature that featured tons of french elegance and had a bit of a whimsical feel."
"I split parts of my year doing photography in Paris where I usually stay near the Opéra Garnier. I am not a prima ballerina by any means but I am greatly inspired by ballerinas and the sheer majestic nature of the french performing arts. I approached this shoot with my influences in mind."
"The gowns were handmade and had a ballerina, fairy tale air to them. We were able to add velvet on the back corsets to perfectly tie into our theme. Elena also gave us a variety of tu-tu's to play with different looks in the woods, one even had leaves sprinkled in."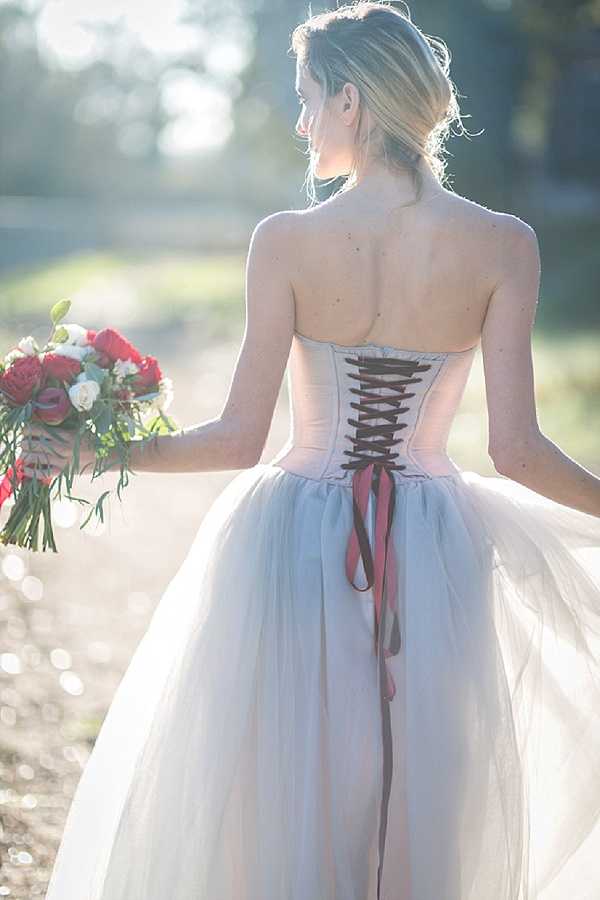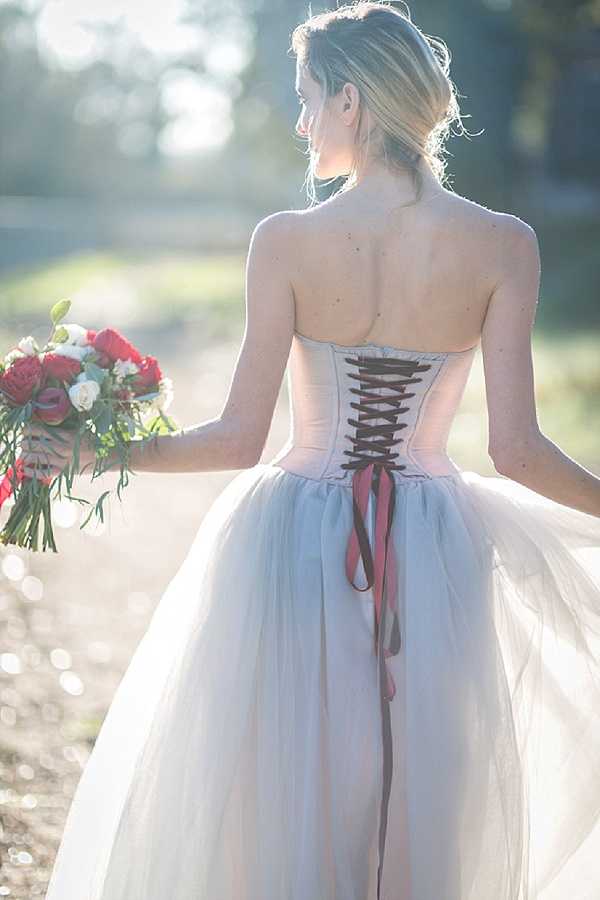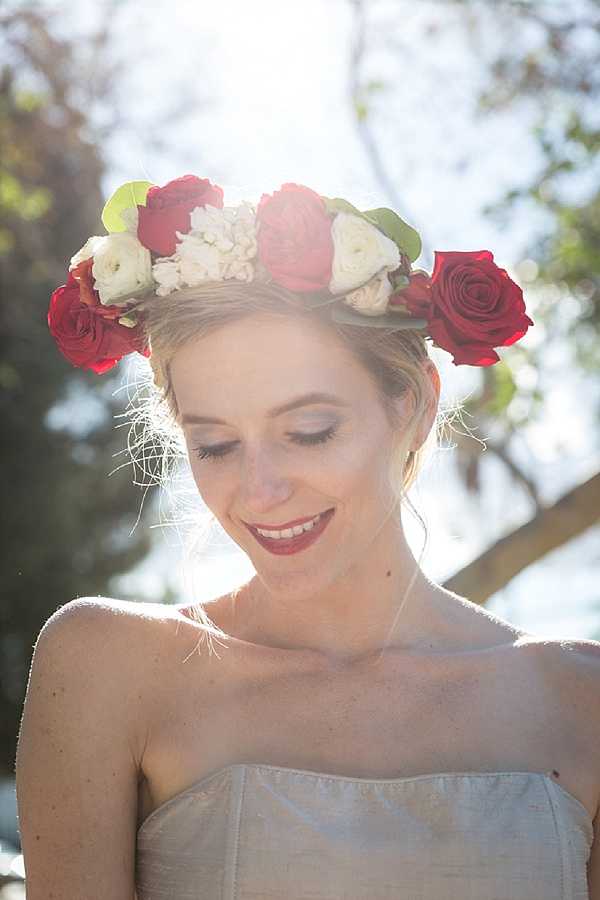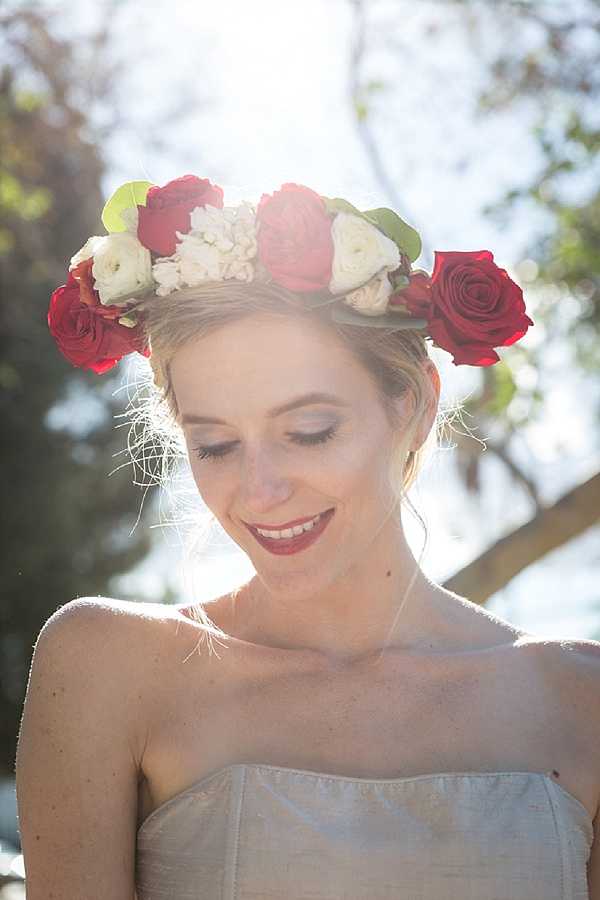 "Moss used throughout the dessert table really made it feel like we where really lost in the woods. The deep, rich maroon cake grounded the table and the macarons accented the cake perfectly."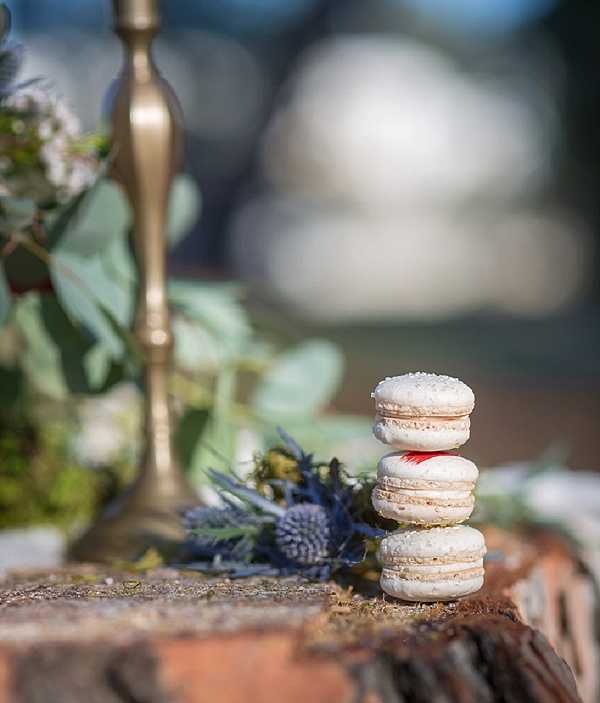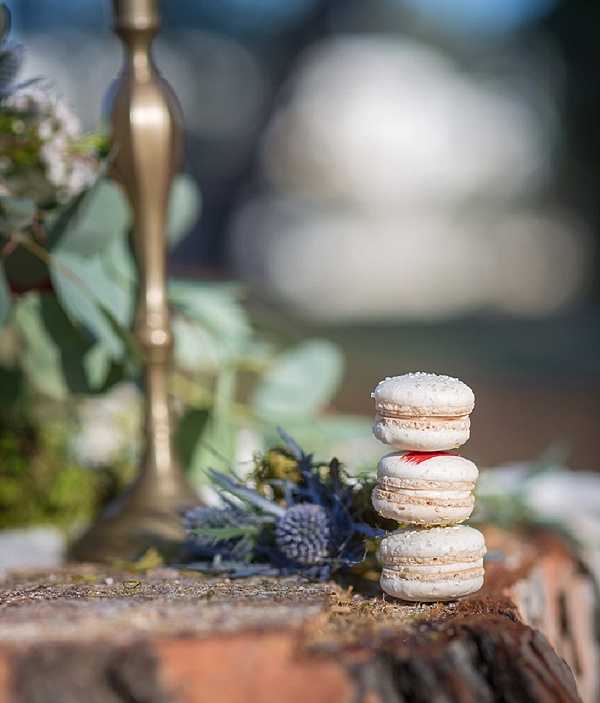 "We used a stump as our dinner table which lent itself toward a picnic feel, which is something I greatly enjoy doing in France. The flowers, centerpieces, candelabra, milk glass, vintage heirloom china and glassware set a graceful mood for the table and created a beautiful world that paired so nicely with the dresses."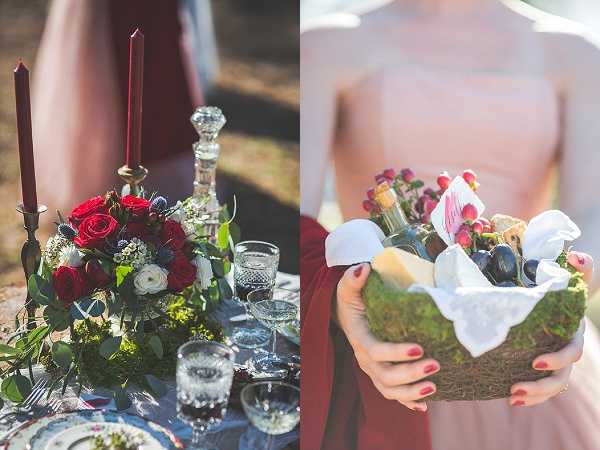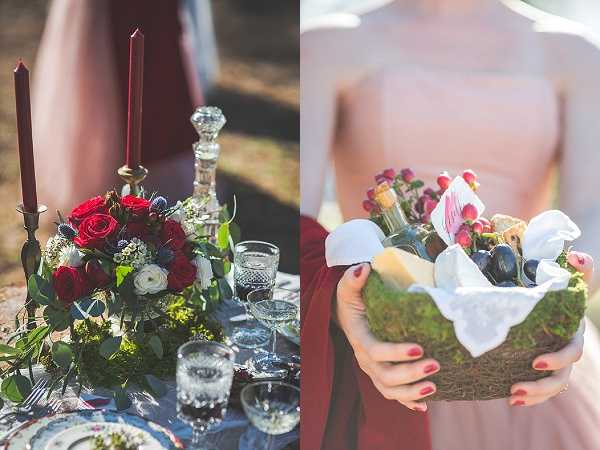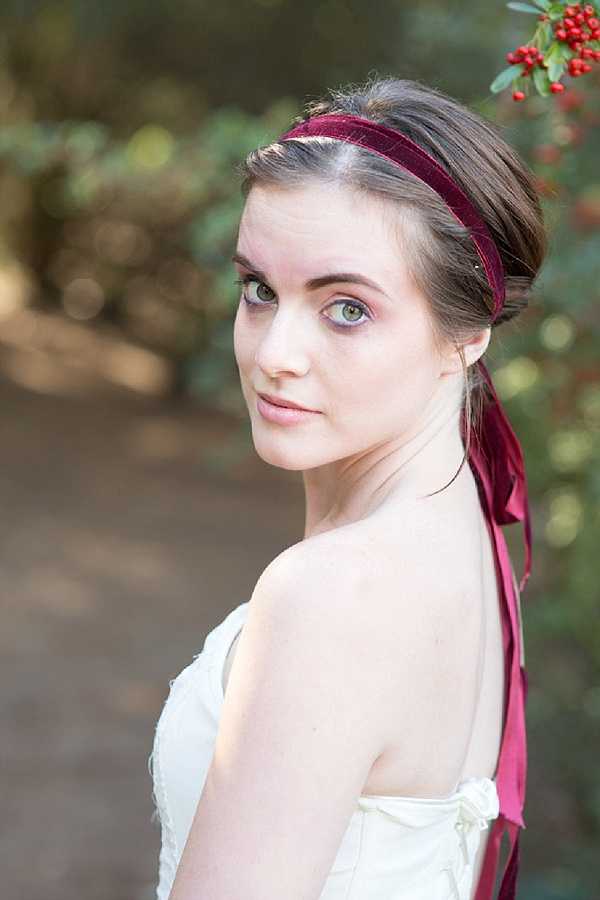 "I started with an initial idea of just red berries and red velvet. Rebecca of Terroir Design came in and helped solidify a lot of my ideas and grounded them into a complete vision. As vendors started to come together this became much more than a shoot with red berries!"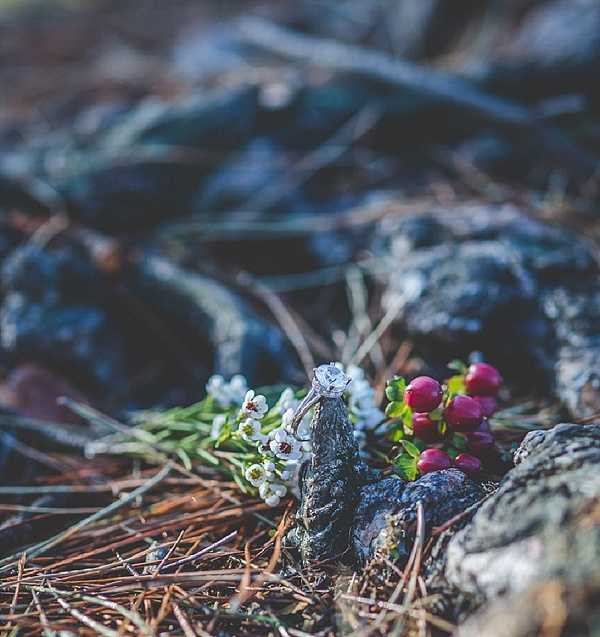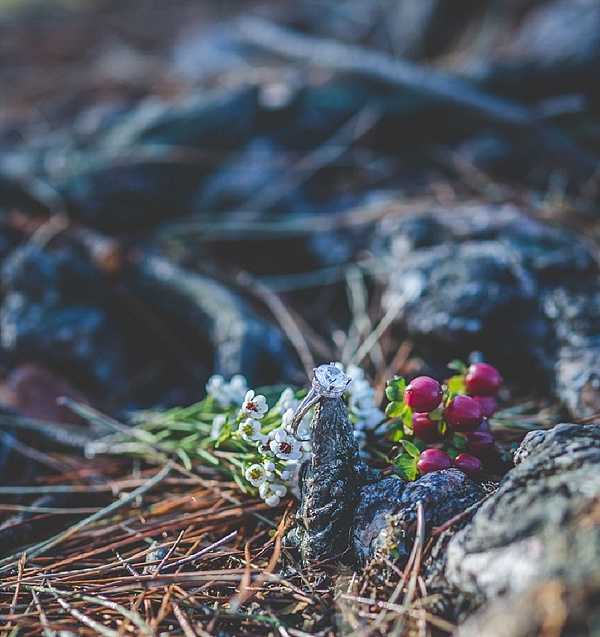 Stylist Rebecca of Terroir Design tells us her vision for the shoot…
"George Balanchine once said "Ballet is Woman"- so this shoot really celebrates that; hyper-feminine, whimsical, and charming. Red anchors the design with its richness and depth, offering a stunning counterpoint to the delicate accents of tulle and vintage china. Moss is another strong design element as it adds an earthy quality which enlivens the overall aesthetic. The invitation design picks up on this concept, with the lettering, paper and watercolor evoking the same effortlessness as a ballerina performing a grand allegro."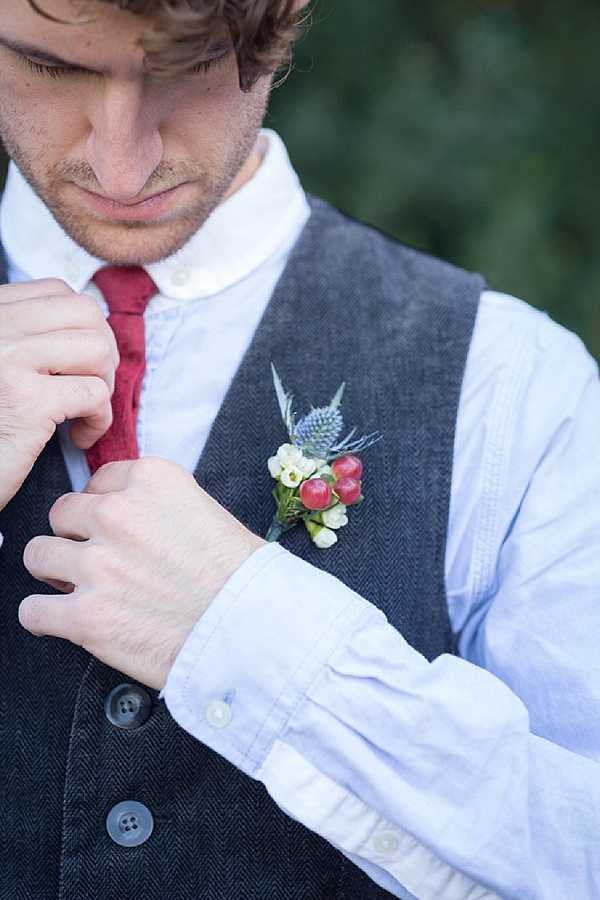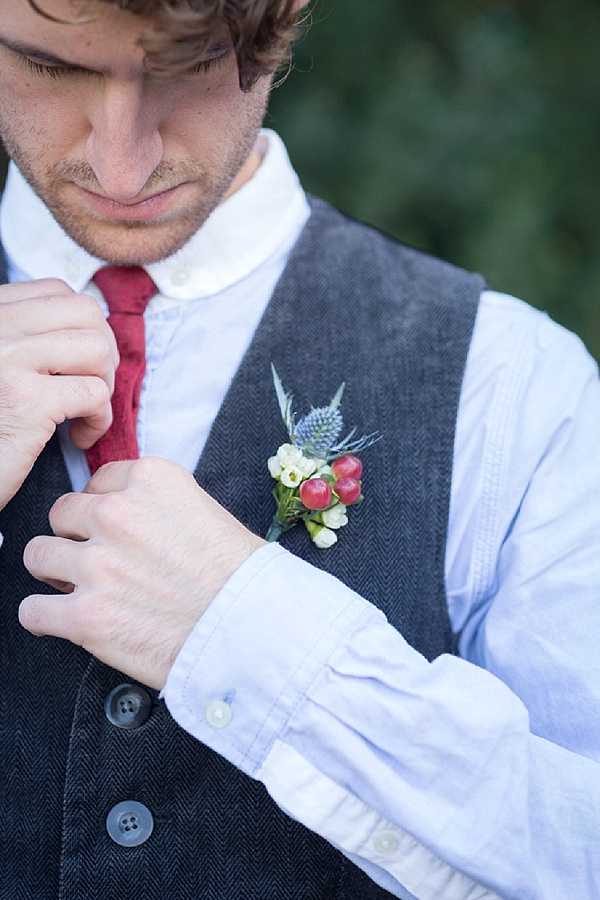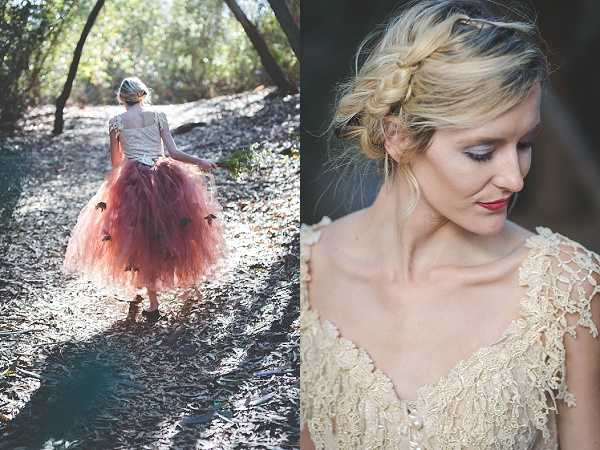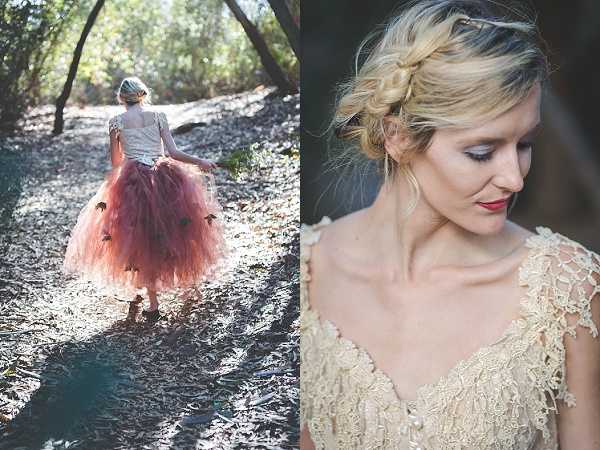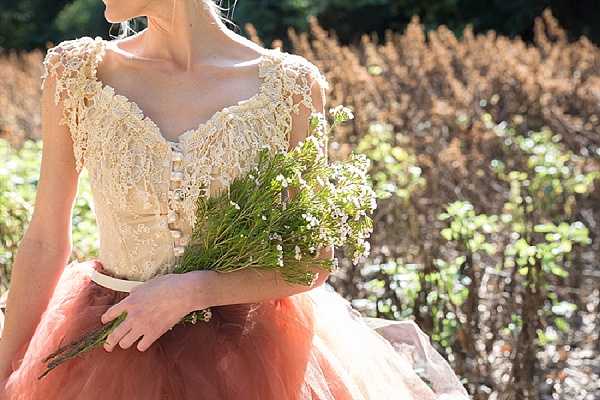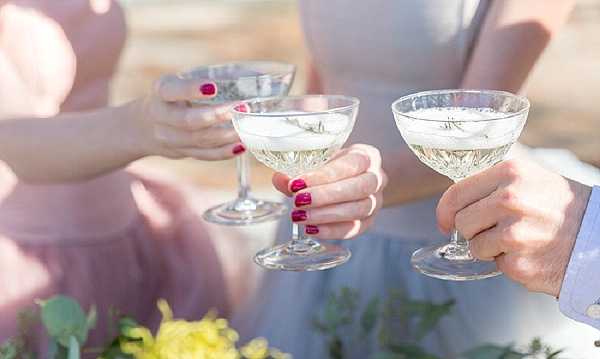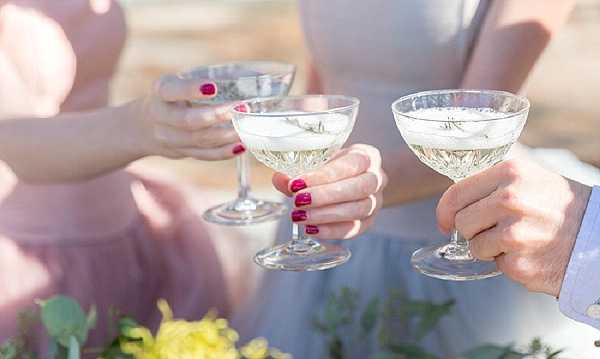 I hope you enjoyed our whimsical start to the day! For more beautiful styled shoots click here.
As the champagne chills in the fridge and mince pies fill the kitchen with their Christmasy aroma, we wish you and yours a very Merry Christmas and remember, enjoy every moment because it's the most wonderful time of the year!
With love,
Christina x
Woodsy Winter Wonderland Engagement Session Snapshot
Wedding Vendors
Photography: Myke & Teri Photography | Styling, Calligraphy: Terroir Design | Floral: Pure Serendipity Events | Cake and Macarons: Nicole Bakes Cakes | Heirloom China: Fern & Bone | Dresses: Elena Collection LA | Makeup: Twyla Matambanadzo