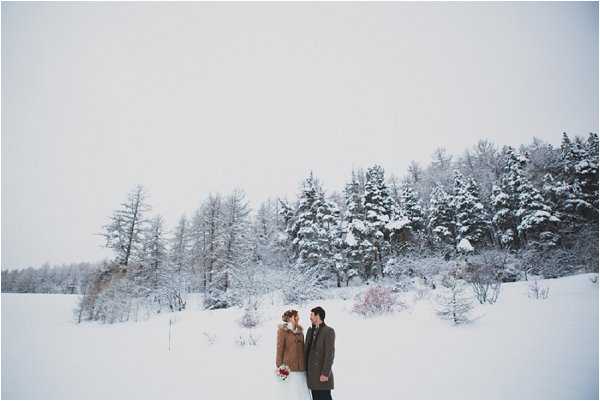 I am feeling super Autumnal today, so why not make the best of it and create a winter wonderland.  That is exactly what our real couple Amandine and Cédric did as they planned their winter wedding in the French Alps captured by Ela and the Poppies Photography.
There is something so super romantic about log cabins in winter and you can almost smell the pine and mulled wine brewing.  Thank you to Ela and the Poppies Photography for submitting Amandine and Cédric's romantic and relaxed winter wedding.
Bride Amandine takes us through their love story: "We met in Caracas, Venezuela in 2009 for business purposes as we were working for the same company: I was based in Caracas and Cédric in Paris. We had a good feeling but the distance prevented us to start something serious. Things changed next year in 2010 when I came back to Paris after 3 years spent in Venezuela. As our attraction was still present we started a real relationship !
When it came to choosing the place to get married, we are living in Spain since 2012 and our families are based in France. We didn't want to be married in our parents cities. I own a flat in Briançon (Serre-Chevalier Valley) and as we are found of skiing, this was the perfect place for a winter wedding! We were very enthusiast to be married there, to have something quite original ! As we didn't want to spent 1.5 years on wedding preparation, we planned our wedding in 6 months with the help of a wonder-wedding planner who is not afraid by challenges !
We wanted something at our wedding style and which represents our lifestyle ! We didn't want something traditional and our choices have been driven by our desires.
The first wedding supplier founded as been our wedding planner, Muriel. As we wanted to be married during the next winter and in France the timeline was tight (6 months) so we knew we will need assistance ! Muriel proposed and contact for us providers for each wedding item according to our "Endless Winter" desires. She succeeded in catching our tastes and our high requirements. For food, as French people, we had quite high expectancies on this! 🙂
We picked a one star Michelin modern and innovative chef of the valley, who combined traditional plates from both region of the groom (Starter: scallop) and the bride (Main course: Roasted lamb with Provencal herbs) in a very contemporaneous way. For us, the use of season fresh product was a must.
For the Champagne; Groom's parents traveled to the French Champagne region to taste and select the best provider " Prestige des sacres" Brut Prestige. The Wine selection has been made with local Wine shop "Astier". We picked a white wine for starter "Mercurey 1er Cru Chateau d'Etroyes" from Burgundy, and a 2005 red wine Cairanne from Rhone valley for the main course."
Amandine: "My first idea was to have a Rime Arodaky wedding dress but unfortunately because of the timeline this have not been possible…Finally the chosen dress came from a Spanish brand (Jesus Peiro) in France: the Spanish welcoming has been quite awful and we decided to buy it through a French boutique. I wanted colorful shoes to complete my wedding attire and I found these adorable Jimmy Choo strawberry heels ! I didn't want some much accessories: I only wanted a floral crown and my blue grandmother's earings."
Cédric:" Regarding the suit, I wanted something different form depressing gray and black suit that we see everyday. Finding the good color was uneasy as for Autumn/winter fabrics and color are quite boring. Happily I found this blue fabric at Samson store in Paris. I decided to go for a tailor made three piece suit, but with a modern slim fit cut. I was already owning the coat and the tie from my personal wardrobe; so I didn't had to make so much more shopping!"
" Our wedding day was even more better day than we were imagining it..It started to snow at midday…Special ambiance over the mountains, really magic. Everybody happy to be here with us. Instead of a religious wedding we chose a laic ceremony which has been a great moment of emotion: everybody was crying !! The guests loved as well the uphill ride with the gondolas and the reception in the ski lodge: so magic to came back to the city during the night with all the trees covered with fresh snow !! On the day after a bluebird sky for the brunch made us a nice surprise!
Muriel (our wedding planner) was very helpful on any topic on planning a wedding in France.  As we are living abroad and travelling a lot for business, we had a lot of phone call or google Hangout sessions to arrange all the details. In the end everything went pretty fine!"
Wedding Suppliers:
Wedding Photographer: Ela & the Poppies |   Wedding Videographer: – Sensor of Emotion prod | Wedding Planner :  Les Rires de Julie |  Wedding Venue : Chalet de Pralong | Wedding Reception Venue: Chalet de Pralong | Wedding Dress : Jesus Peiro for Martine Toledano | Bridal Accessories: Coat: Libertie  | Bridal Shoes: Jimmy Choo – Sorel (outdoor) |  Florist: Marie Claude Rey – Un Bouquet sur Mesure | Hair and Makeup Artist: AxelleB (hair)  / Vaness'Artist (MuA) |  Grooms Outfit: Samson | Grooms Shoes and accessories: San Marina (indoor) – Minelli (outdoor)  | Wedding Rings : Boucheron, Paris (Her) | Caterer: Sharon & Jimmy Frasnais – Le Peché gourmand | Wedding Cake: Sharon & Jimmy Frasnais – Le Peché gourmand | Wedding Favours: Wooden snowflakes – Gauthey |  – www.gauthey.fr | Wedding Band/ Entertainment: Jazzy Lounge – Measy and Adrien Bisset (bride and bridal friend) |  Wedding Celebrant/Officiant: Urielle Baubion |  Wedding Decorations : Marie Claude Rey – Un Bouquet sur Mesure |