.As the owner and creator at Cakes by Beth, I can testify that winter weddings are gaining in popularity and today I am going to look at how to incorporate the winter season into your wedding cake.  Winter is such a beautiful time of year to get married and there are so many ways to bring a wintry feel into your wedding.
With the most notable festival being Christmas, rich reds and bright leaf greens immediately spring to mind. These can be combined into a cascade of roses, the traditional wedding flower, or for a really classic Christmas feel, the poinsettia is perfect. This cake adds a little twist by using a bold red background and pale cream flowers to create a bold yet romantic look.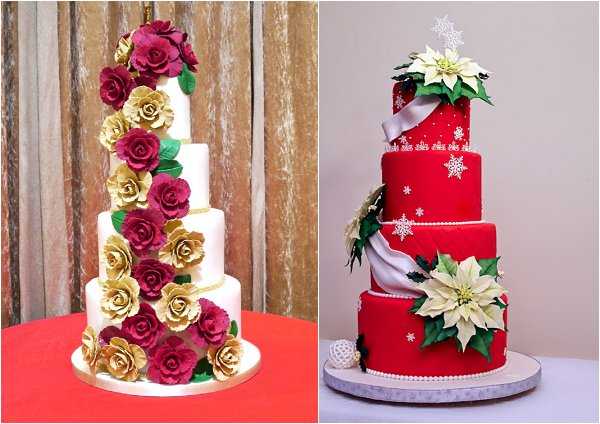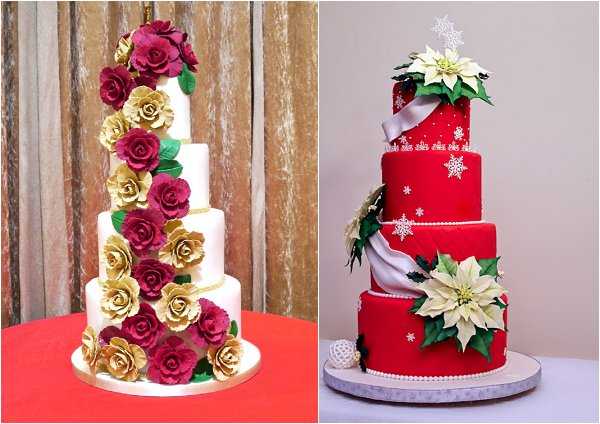 Left: Cakes by Beth | Right: Cakes by Roxanne
Another classic winter theme is snow. From delicate snowflakes to clusters of icicles, the weather can be used as inspiration for really pretty wedding cake designs. Here, I have combined clusters of textured ice shards with sparkling frosty twigs into an all-white design. If you would prefer a less formal dessert display, gingerbread is perfect for winter and can also be combined with your cake to create a fun design with extra layers of flavour.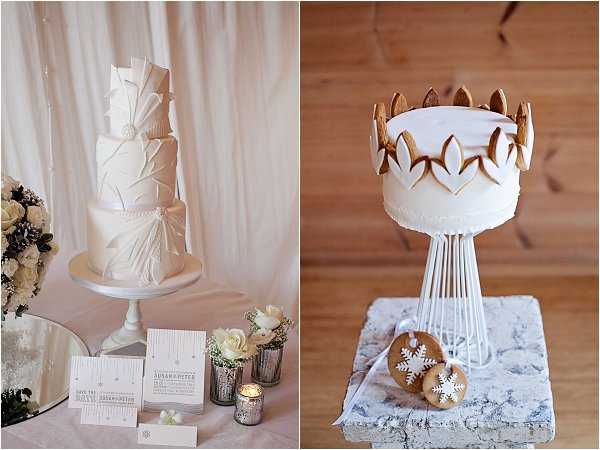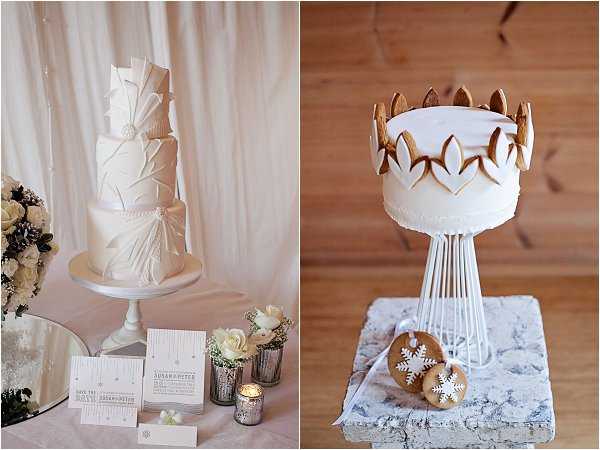 Left and Right: Cakes by Beth, photography by Alexandra Jane Fine Art Photography
Bringing metallic details into your wedding theme is a more subtle way of depicting winter, but with stunning results. I am a huge fan of using edible metallics in my designs and it's amazing how they can add a whole new dimension to your wedding cake. From icy silver fantasy flowers on a cool white background reminiscent of frosty walks through the country, to warm golds and chocolates for a cosy feel by a roaring fire, this is a beautiful way to represent Winter.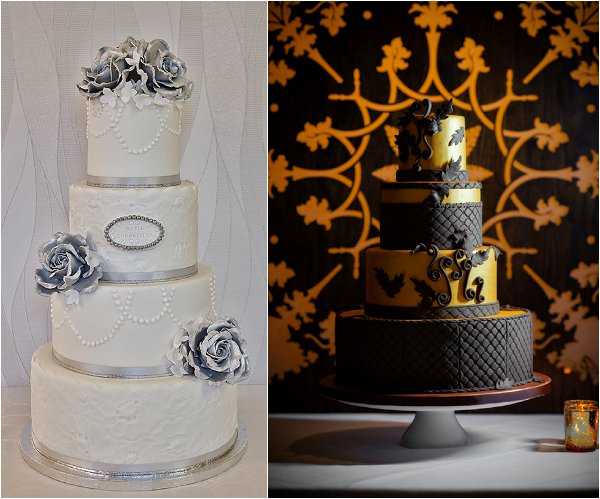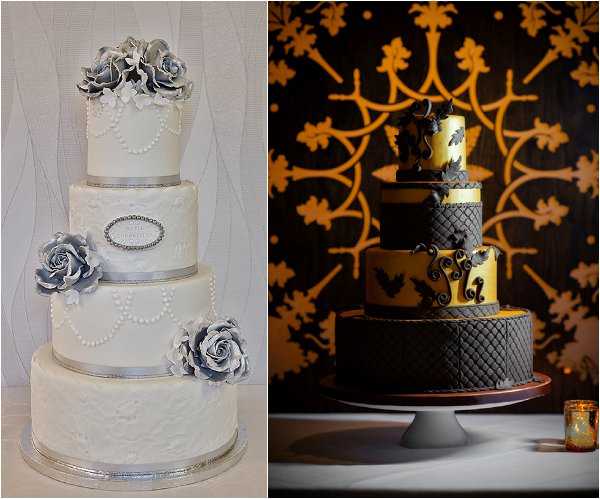 Left: Sannas Tartor | Right: Cakes by Beth, photography by Neil Redfern
All-white wedding cakes are an absolute classic but with soft, modern details, such as billowing ruffles or translucent rice paper decorations, they are given a whole new lease of life and can feel very wintry indeed.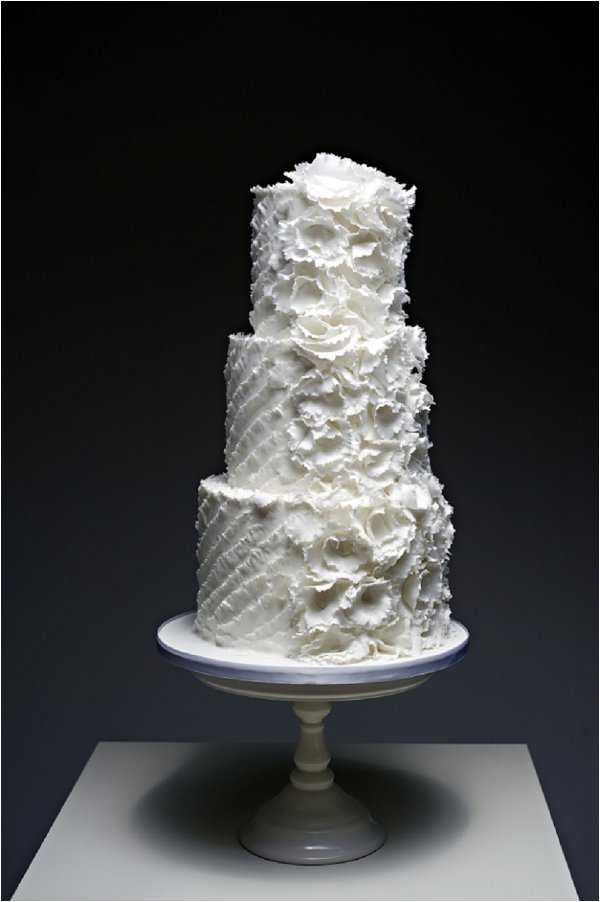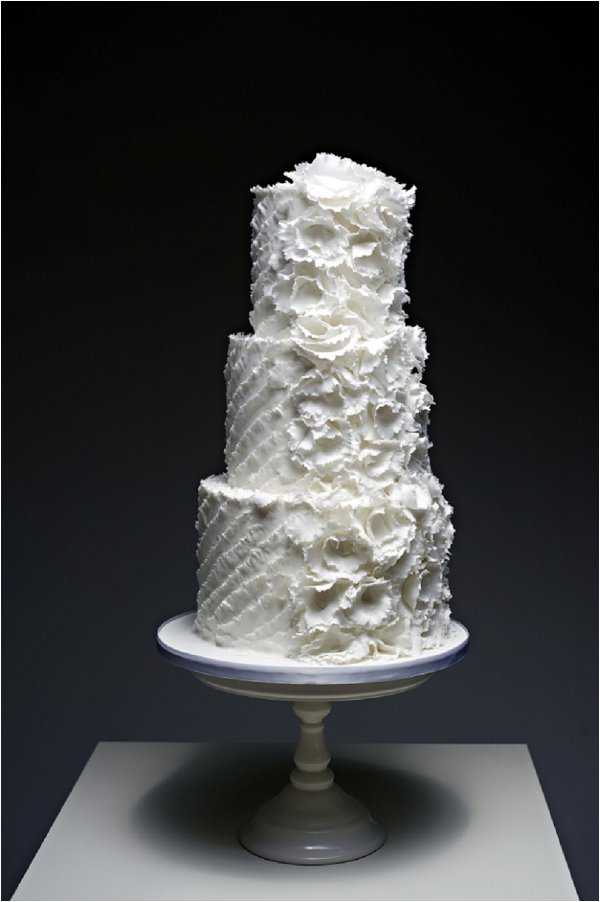 Cakes by Beth photography by Chris Hanley
Cakes by Beth photography by Neil Redfern
Finally, a stunning way of portraying the beauty of winter in a wedding cake design is through the use of crisp, cool pastels. This can be in the form of fresh flowers, such as the pale pink roses that Flowers by Jemma Holmes have used on my hand-piped design here, or with an all-over colour. I particularly love this beaded cake by Connie Cupcake as it has a frosty, sparkly feel.
Cakes by Beth
Connie Cupcake
 To view more of Beth's stunning cake designs visit www.cakesbybeth.co.uk which are available for weddings across UK and France.