From picturesque coastline to chic cities, France has so many options when you are thinking about it as the destination for your wedding.  But if you have ever thought where can I get married, in today's guest post by the lovely ladies at Haute Weddings, they are going to be taking us through the options when considering a mountain top wedding ceremony or reception.
Haute Weddings are English speaking wedding planners living in France and it is Monica who is going to be taking us through her mountain top advice.  Originally from California, Monica has chosen to make France her home for the past 12 years.  Planning nearly 50 weddings to date, Monica always finds the hidden gems to turn any moment into a memorable experience and shares some with us today.
*****
Many couples who choose to marry in the Alps are not only after postcard perfect scenery with amazing backdrops, but also a destination where nature and sport are close at hand. Several of our couples choose to literally 'walk off the beaten path' and have their wedding at altitude! This sometimes entails taking the cable car up the mountain to over 2400m and then a short 'hike' to the ceremony area.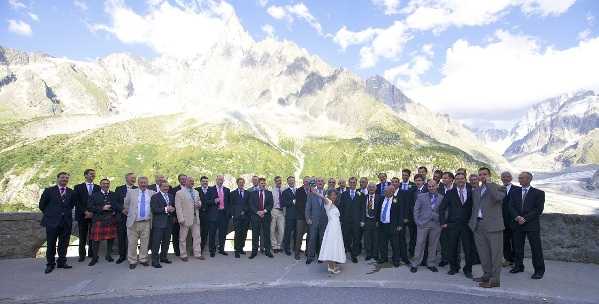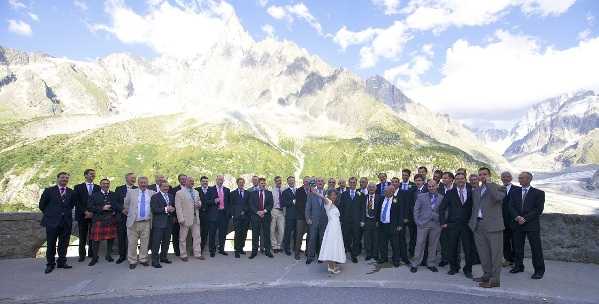 This could also involve taking a cog train up the mountain and having the ceremony on a terrace overhanging a glacier. Some couples even get whisked up the mountain, pronounce their vows and then ski back down! The possibilities are endless but here are just a few ideas from couples who have chosen to say 'I do' in some of the most stunning outdoor mountain locations in the Alps!
Plan d'Aiguille
Elyse & Andy chose to have their symbolic ceremony in a meadow clearing at the mid-station of the Aiguille du Midi in Chamonix. Guests wore their summer dresses, suits & ties, but…with hiking boots! After taking a 5 minute journey in a cable car up to 2317m they then hiked 15 minutes amongst green grass and alpine flowers to a gorgeous secluded location at the base of mesmerizing granite spires.
Elyse changed into her wedding dress at an altitude hut located about 300meters away from the site and then walked down the aisle arm-in-arm with her dad as paragliders flew overhead.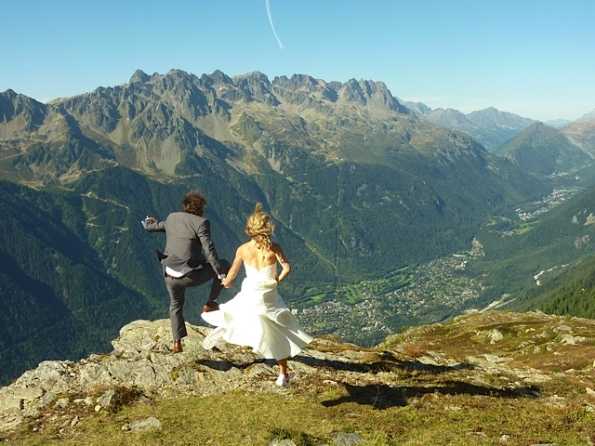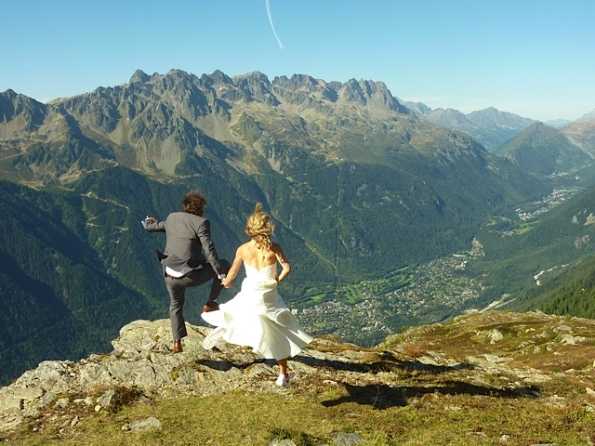 Mer de Glace
Anna-Marie & Ben, along with their 90 guests, embarked on a 20 minute ride in a red cog train with a saxophone player and champagne up to the Mer de Glace glacier. Guests enjoyed a sunset cocktail hour on a terrace overhanging the longest glacier in France before the stars started to slowly sparkle in the summer sky. The beauty and power of nature with the mountains so close you could literally touch them were above and beyond what most of the guests had ever experienced!
Aiguille du Midi
Tara & John's intimate wedding ceremony involved taking a 20 minute cable car ride up to 3842m. After exchanging rings and vows on the highest platform in the Mont-Blanc range at 9:30am the newlyweds and their 12 guests skied down the famous Valley Blanche. Tara even took her bridal bouquet with her down the 17km glacier descent!
Chamonix, Morzine & Megeve are the top three resorts in the Alps where we at Haute Weddings would recommend mixing the beauty of the great outdoors into your ceremony or reception. The accessibility and sublime splendor of these mountain retreats will leave your guests with a lasting impression of your wedding day and the spectaculars scenery you have chosen to share with them.
*****
Thank you to Monica and the Haute team for their first guest post.  I will put my hand up that I am a terrible skier, okay I haven't tried that much since I was a teenager, but I don't think that I was blessed with any god given talent.
I would love to give it another go, but has anyone any tales to tell of learning to ski properly as an adult?  I would love to hear from you.


Guest Blogger: Haute Weddings provide personally tailored wedding planning for couples looking for & loving all things French & Italian. Haute Weddings specialize in destination weddings reflecting your desire for travel, culture and beauty, ensuring your dreams are flawlessly brought to reality.