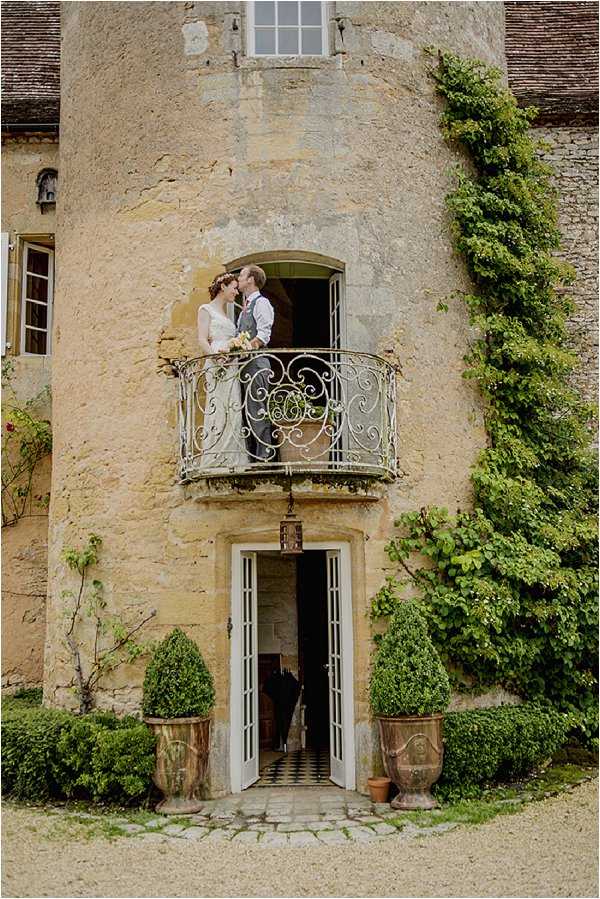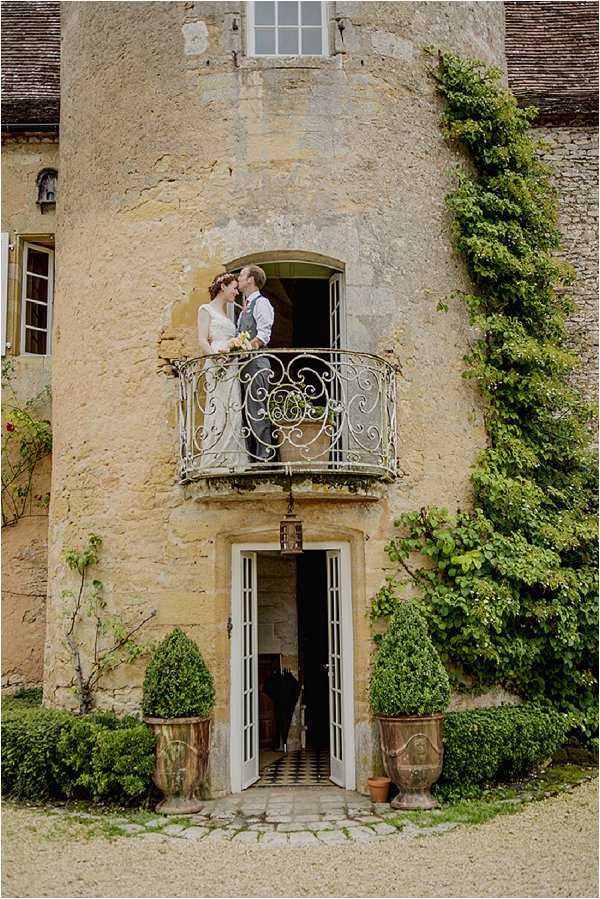 Hello and welcome to Monday! I have a wonderful week lined up for you, starting with the weekend wedding in the Dordogne of Lara and Richard, captured by Claire Morris Photography.  Like many couples, Lara and Richard had the benefit of not being the first in their group of friends to get married.  This gave them the ideal opportunity to ask their married friends their advice for planning a wedding and as a result enabled them to decide on a dream weekend wedding in France.
With a hands on approach from their family and friends, they created their dream wedding whilst having the time to enjoy celebrating with their family and friends.
Bride Lara takes us through her proposal and big day:  "Richard proposed up a mountain.  Whilst we were climbing I was complaining about the weather and wondering as to whether we should turn around, but he seemed very insistent on getting to the top.  He was acting very strange, and very specific about where we should stand at the top of the mountain, meaning that we need to walk to the other side of the summit.  We eventually got there, but because of the slippery ice and snow we had some trips and falls along the way.

So when he got down on one knee, I thought that he had fallen over –  before I realised what was happening! 
For our wedding we decided to get married in France for a number of reasons.  As many of our friends are married, we asked them and they said that their wedding day went past in a blur, and that they barely had time to talk to all the people they had invited.  We thought about this and decided that we wanted to spend lots of time with our families celebrating so a long weekend wedding seemed the answer.  We have both spent lovely holidays in the south of France, and that coupled with the (usually!) beautiful weather, good wine and food made it the obvious choice.
We decided to have a 'DIY' wedding as much as possible, so we found a beautiful old chateau that was self-catering and roped in our friends and family to help.  It was a team wedding effort to get it all done.  My bridesmaid and I turned into cake makers and in the months leading up to the wedding, spent many an evening finding the 'perfect' chocolate cake recipe.  In fact on the morning of the wedding we were up to our elbows in chocolate icing!
We put together all the decorations ourselves, making pompoms and paper flowers to adorn the beautiful barn. The groomsmen put on an amazing BBQ to welcome everyone on the first night, and the ceremony was a real family affair, with my step-dad as the celebrant and Rich's musical family providing gorgeous cello music and a little sing-along to lighten the mood when we were all getting too emotional!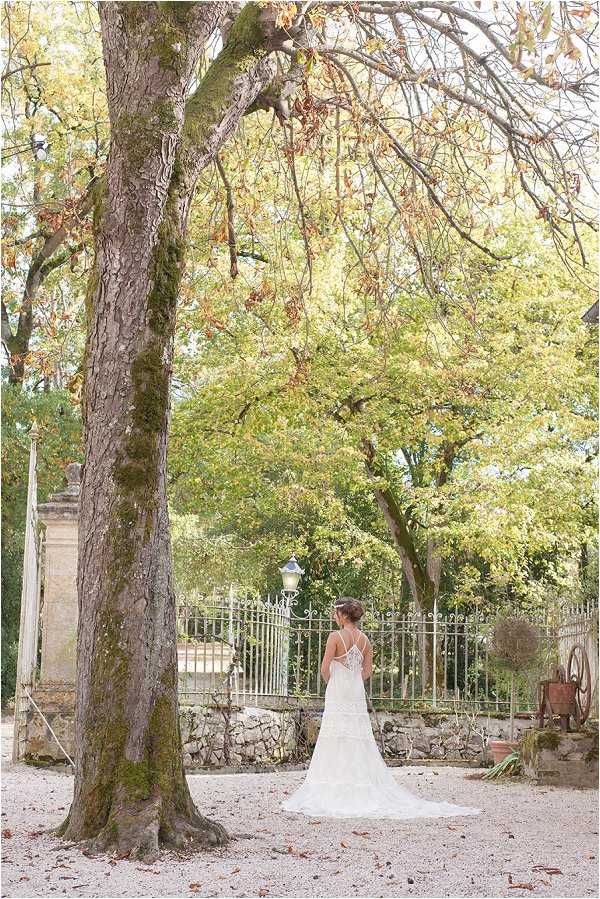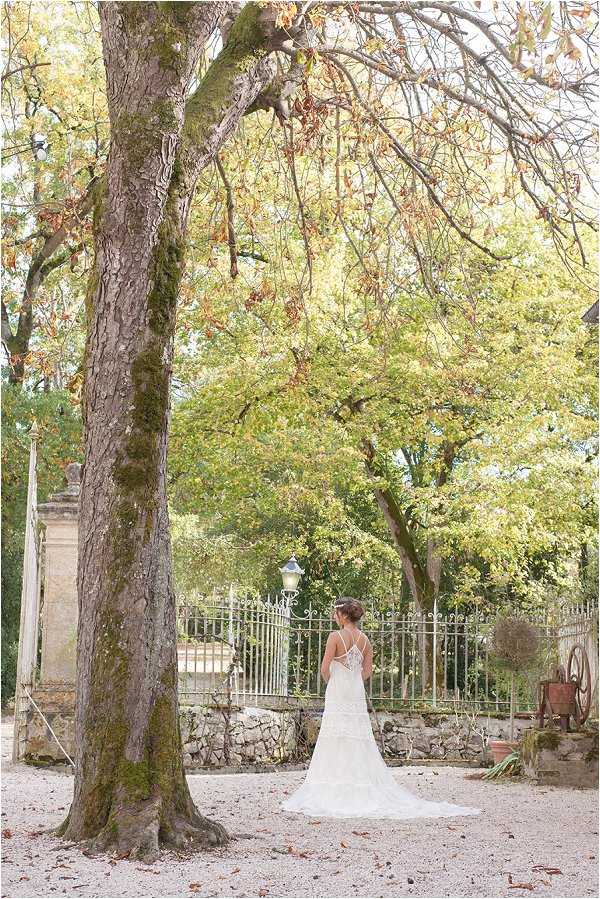 Although we planned the wedding structure and ethos ourselves, we are so glad that we booked a co-ordinate to help up on the day, Beth from Marry Me in France.
She was fantastic, especially when the heavens opened and we had to move the ceremony inside to escape the thunderstorm! I would advise anyone doing a french 'DIY' wedding to make sure someone is there to take the pressure off on the day – you have worked so hard up until that point and you don't want to be carrying chairs and putting out napkins in your wedding dress!"
Wedding Suppliers:
Photographer: Claire Morris | Wedding Planner: Beth Stretton from Marry Me in France | Wedding Dress: Sincerity 3785 | Bridal Accessories: A floral circlet custom-made by Felicite from Noon on the Moon (a shop on Etsy) |  Bridal Shoes: Peacocks | Florist: Local Flower Shops | Bridesmaids Outfits: Peach Maxi-dresses from Miss Selfridge | Grooms Outfit: Suit from Red Herring, TM Lewin Shirt | Grooms Shoes and accessories: Clarks shoes, groom and groomsmen had personalised handmade leather belts from Allan Bruce at Cambridge Market | Wedding Rings: Gold Coast Jewellers, Brighton | Wedding Celebrant/Officiant: my step-father | Wedding Decorations: all homemade.