Hello, and happy hump-day lovely readers! We hope everyone has had a wonderful week so far?
Today we welcome the French wedding videographer team from Airsnap back to The Study with a very romantic love story. Reading about someone's experiences of how they met up until they get married. It just makes us want to go and find our very own loves stories too!
Aside from Airsnap's wonderful video during the wedding which you can see at the end of the article, Loic and the team also got a chance to interview the bride and groom about their love story…
How did you meet?
We first met in New York City in 2011 when we were working at the same company. We crossed paths a couple times before our shared love for food and wine led us to a first date at Victor's favorite sushi restaurant. After that, we dated in secret for several months, which was fun for both of us, especially Victor, who loves to tell a good story and now likes to recount for everyone his scandalous workplace romance with as much dramatic flair as possible.
How did Victor make his request?
Victor loves a good surprise almost as much as he loves a good story, so the proposal was a total surprise. We were living in San Francisco and had been dating for 4 years, and Victor proposed during a trip in December 2016 to New York City and Atlanta (Tiffany still wonders why he didn't wait to propose in Italian wine country, which is where we were headed right after!).
The proposal itself was in Washington Square Park in Greenwich Village.  Unfortunately, the day of the proposal also happened to coincide with the first snowstorm of the season.  We had just flown in from San Francisco and I had not packed appropriate clothing and shoes, so most of the day was spent buying winter clothing. By the time we were done shopping, the sun had already set and Victor was quite nervous after carrying the ring around all day. I wasn't too pleased when Victor insisted that we visit the park at night in the cold with all of our shopping bags. Luckily, my mood quickly changed when I said YES after Victor got down on bended knee.
We then flew to Atlanta a few days after the proposal to visit my family.  Victor had asked my maid of honor, Jessica, to help host a surprise engagement party to celebrate with my closest friends and family.  On the day of the engagement party, Victor told me that we had to visit a friend of his that he had not seen for a long time. I wasn't very pleased to make a detour for this random friend I'd never heard of, "Steve". Victor vowed from that point on that he would find ways to surprise me without making me grumpy first!
What are the details / strongest moments of your wedding day Victor and Tiffany?
Victor:
* The ceremony – Tiffany was amazing when I first saw her walk down the aisle.  We didn't do a first look so that was the first time I saw her.  The personalized vows felt amazing to say and hear.
* The speeches during the reception – The plan was to have 2 speeches on Thursday and 4 on Friday.  Given the rain, we moved all 6 to Friday.  All 6 were entertaining.  I had no idea that our brothers could be so entertaining!
* The weather on June 1 – I was nervous (probably even more than Tiffany!) that we would have to move our ceremony and reception indoors.  During our Thursday welcome event when it was raining, I prayed for a nice day Friday.  The first thing I did after waking up was to check the weather forecast.  Thank goodness for a perfect day as the sun was shining and there was no wind.
* Our guests – I was thinking about how much our friends and family loved us when I was standing with Dejan (our officiant) looking over at the crowd waiting for Tiffany to make her entrance.  I thought to myself – wow what an amazing occasion where our closest friends and family all flew to the South of France to be with us.  Especially because all 99 of our guests live in either North America or Asia and many had to reschedule their logistics given the flight and train strikes.
* The big nebuchadnezzar champagne bottle – its quite difficult opening and pouring a nebu! This bottle became our "guestbook" – we had people write on the bottle and serves as a reminder of the wedding and the good times we had during the reception.
* The dessert bar – everything about the hotel was splendid – the venue, the food, the hospitality…but they really outdid themselves when gave me a sneak peak of the desert bar.  What an amazing assortment of sweets!
Tiffany:
I've always had this image of the perfect moment, when I would walk down the aisle, exchange beautiful vows with my future husband, and say "I do" while surrounded by the people who mattered most to us. I wanted this perfect moment to be exactly as I had imagined it. It's rare that reality is ever as perfect as your imagination, but for me, it was. It is hard to describe the euphoria of having everything and everyone you care about come together in a single moment, so all I can say is that I've never felt so much love and warmth and happiness as I did then.
I loved the little moments when I looked around and saw our guests enjoying the small touches that we spent so much time planning – from the food to the flower crown bar to the wine program that Victor so meticulously planned. Our wedding was my fairy tale come true, and it couldn't have been so magical without the friends and family who celebrated us, so we wanted to make sure they felt appreciated and entertained while they were with us.
I insisted on not seeing Victor before the ceremony, and we spent the week leading up to the wedding in a villa with a bunch of friends, so we didn't have much alone time leading up to the wedding. The morning before our welcome reception, I woke up to a card and a small gift box next to me. Victor had written me a sweet note and gifted me a beautiful pair of vintage earrings. I always berate him for never writing me cards, and while he is often romantic, he is rarely sentimental. So I very much loved reading his – probably first and last – longer than 3 word and quite sentimental note. It was such a sweet and quiet and unexpected moment that felt like a special moment just shared between us two before the big day.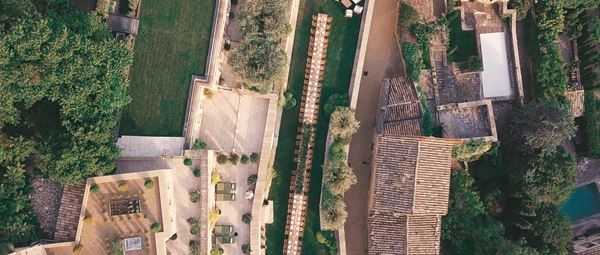 How do you evaluate your experience with Airsnap?
It was a truly wonderful and seamless experience working with the Airsnap team on our big day.  Loïc and the Airsnap team really put us at ease and blended in so well with our guests that we almost forgot that our wedding was being videographed. They were professional yet friendly, and the kind of people we wish we could have a drink with sometime! They even came to our welcome event the night before the wedding, which we really appreciated. The teaser video is amazing!
Wedding Videographer in France: Capturing Memories Airsnap Snapshot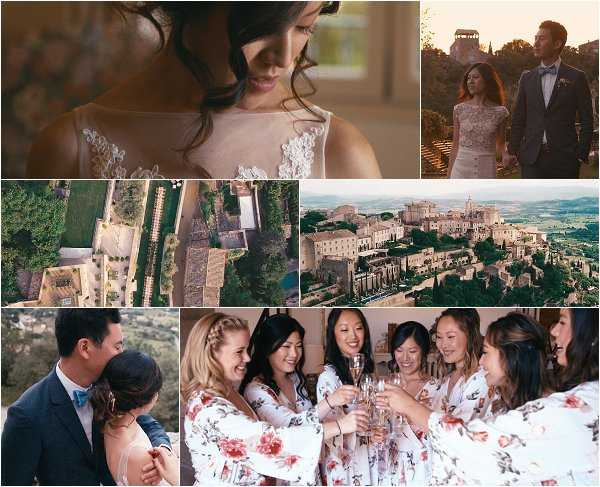 Wedding Vendors
Event planner: Loli Event | Venue: Bastide de Gordes | DJ: Thomas Dusseune | Flowers: Big Day Design | Videographer: Airsnap | Wedding Dress: Lazaro | Bride Shoes: Louboutin