For those in the UK I hope that you are enjoying your bank holiday weekend.  Today's real life wedding takes place at the beautiful Versailles Town Hall where the bride Evelyne wore a fifties inspired Stephanie Allin wedding dress with a bright coloured sash accenting the wedding colours.  Evelyn's entourage included her two daughters as bridesmaids who make some of the most picture perfect birdesmaids that I have seen!
Newlywed Evelyn talks us through her big day: "About 2 years ago, about 8 and a half month pregnant with baby No2, I was enjoying my new role of "ladies who do lunch". While enjoying my fish and ratatouille dish (why on earth do I remember this?!) the friend I was having lunch with told me about "Artis Studios" who were looking for pregnant woman to do nude pics. "Why not!" I told myself so I called them…and the rest is history as we say!
Why France…why Versailles?
3 years ago, my brother got married in Versailles Town Hall. "If one day I'm getting married, I'd like it to be here!" went through my mind. So when David popped the question, on his birthday, in front of all our friends, we both knew where we wanted to tie the knot. Versailles is a fabulous city where I grew up in and have so many lovely memories. (I need to add that unless you are French, come from this city, can prove that you live there and have special permission from the Mayor, you cannot get married there).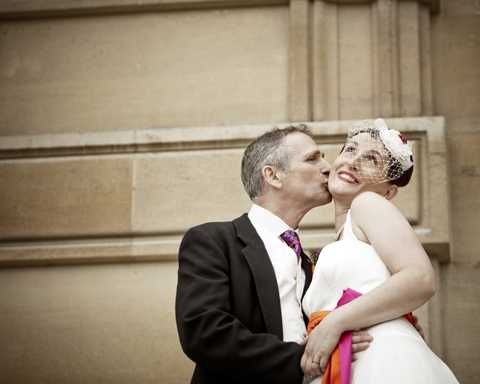 Theme of the wedding:
"Weekend away with friends". 
The dress
Having 2 little girls (grow-your-own-bridesmaids) and wanted to dance all night long, tea-length dress was what I was going for. No train or veil for me!  Wearing jeans most of the time I wanted to be feminine on my wedding day so the 50's spring to mind. The era when ladies were dressed as ladies. Many brides like going to few bridal shop and try on as many dresses as possible…not me! Done my homework and looked at many collections "on-line" and found where I was going to get my dress from…
Stephanie Allin (the London branch) did a fantastic job in helping me finding and altering the dress to suit my needs. Nothing was too big or too small for them. Every single trip there was such a pleasurable experience. I will actually miss a lot all the trips there. It was definitely part of the whole wedding experience.
 Accessories
Having a fabulous dress is one thing but you need the fabulous accessories to enhance it!
Headdress by Victoria Ferguson
Again, looked "on-line" and loved her work so contacted Victoria. Extremely helpful, we've talked a lot on the phone and she customised one of her design to match my dress. Never met her, never tried it on before I've received it. As Victoria said, it was a "leap of faith". I knew what I wanted, she knew what she was doing so there it is, great result!
 Shoes by Emmy
Tea-length dress … lovely shoes a must! 
Nothing wrong with the shiny, satin traditional wedding shoes… but Oh so not for me! I wanted some beautiful shoes for the day I could wear again afterwards. Again, found Emmy on-line so booked an appointment. Very helpful, no messing around, ordered my shoes (after deciding on exact colour, hell height, finishing touches etc.) Where they comfortable? I've partied for 14 hours non-stop…says it all!
How did the day went?
We didn't want any frills, nothing formal, just a good day out with all our friends and family and we did just that! Our eldest daughter was a little disappointed with the wedding part as she had a vision of a church, people seated either side and us walking through the middle. Instead we went for the non formal approach and walked in surrounded with all our friends. We loved it, all our guests loved it. I think we've received more thank you cards than wedding cards.  We've even had request for a 1 year anniversary weekend over there! 
Hum…we'll see!"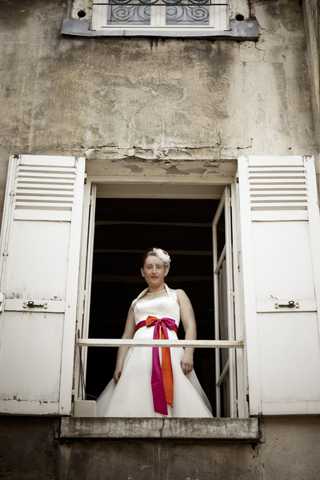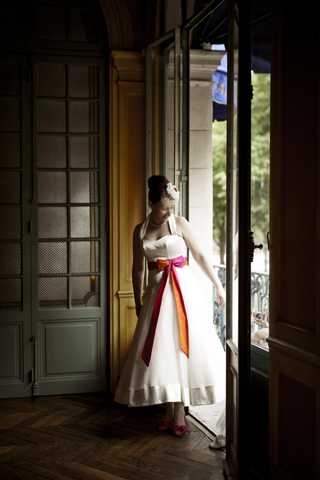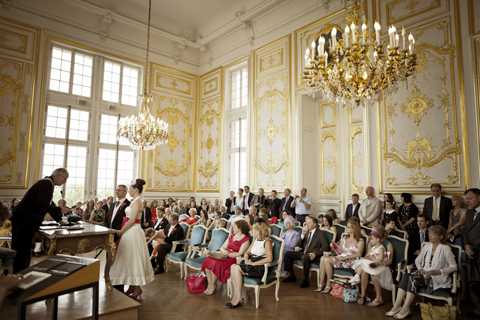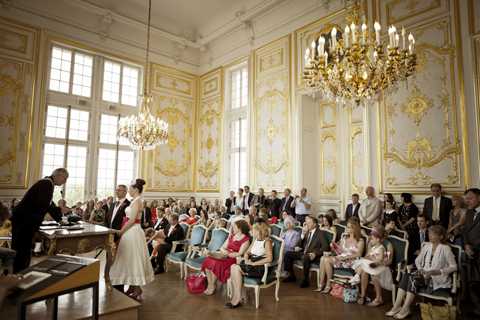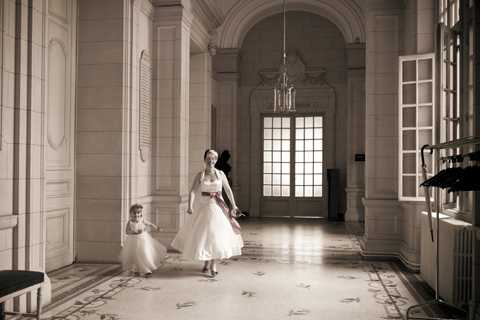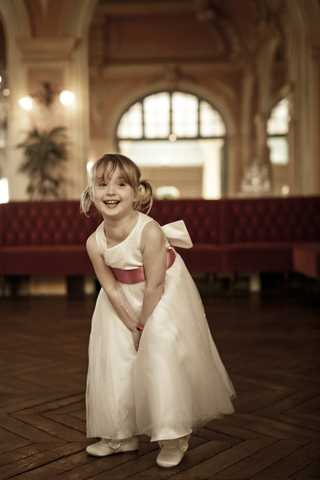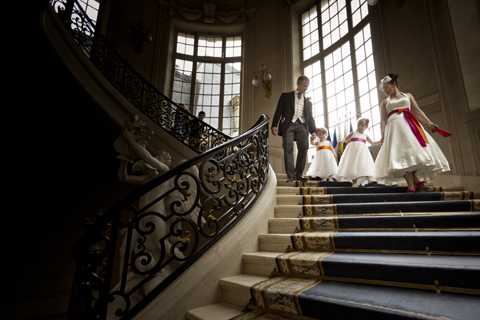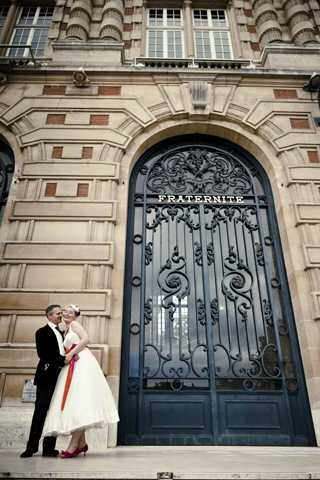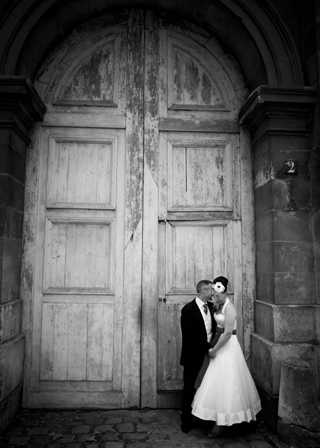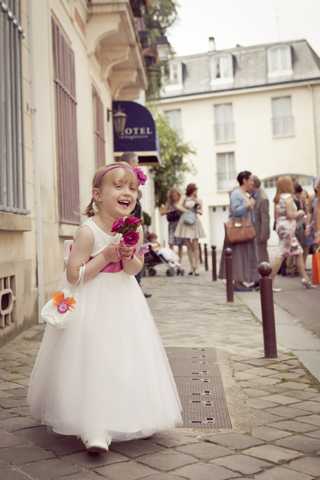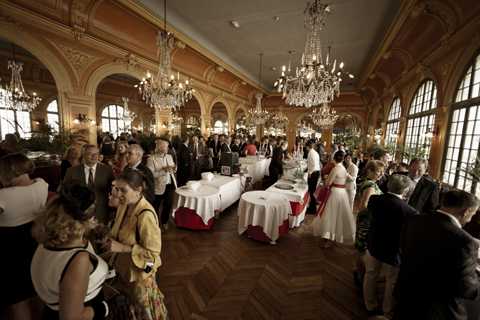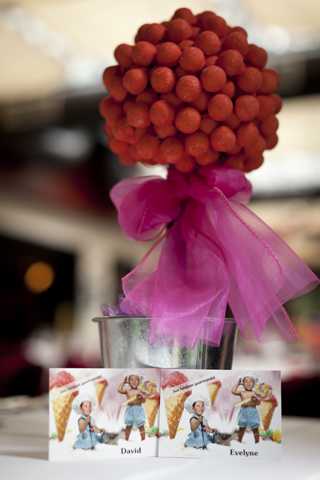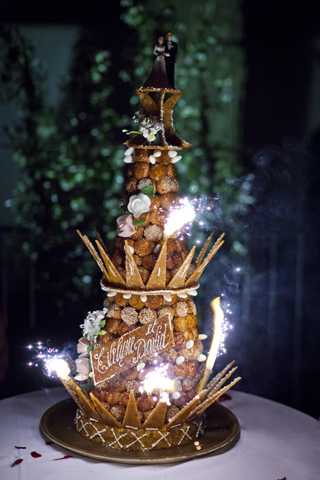 The architecture at Versailles Town Hall is beautiful and even the stairs are dramatic and stylish.
Monique xx
Credits:
Photography: Artis Studios
Ceremony Venue: Versailles Town Hall
Dress: Stephanie Allin
Headdress: Victoria Fergusson
Shoes: Emmy