Since I started French Wedding Style back in late 2011, I have met so many wonderful wedding venues and suppliers in France. I have also had the pleasure of meeting many real couples planning their weddings in France, through our real weddings, Belle Brides and also readers who email in looking for advice.
Whether you are planning a wedding in France or another destination country, finding your dream suppliers for your big day can be a challenge, so today I am sharing my top tips on how to find a wedding venue or a wedding supplier in France.
1. Internet Searches
Most of us head straight to the Internet when we are looking to purchase something or for a recommendation. We head straight to the search bar and we are off, 3 hours later we are still sat there with a handful of ideas, but no real further forward.
It might sound simple and a little boring at the start of your fun wedding planning, but write down exactly what you are looking for. Are you looking for 'wedding venues in France'? This will bring up a huge list of prospects and again you have lost 3 hours, dreaming of beautiful French châteaux throughout France.
As a plan for wedding venues identify the area of France that you are searching in, ie South of France. Then confirm how you would be traveling, ie flying. Now find out the nearest airports that you can get to in your country and where they fly to in France. As an example relative low cost flights from several UK airports including London over to Nice.
Now how long a car journey do you want your guests to have from the airport? It can take 3 hours to drive from the airport in Nice deep into the Provence countryside. Once you have that, your search parameter starts to take shape. A couple of hours journey would mean your search area is the departments of Alpes-Maritime and Var primarily. Starting your search with 'wedding venues on French Riviera' or 'wedding venues Var France' will help to narrow down your search criteria.
2. French Directories
When planning your French wedding, there is a strong possibility that you might employ a French supplier who can service your needs, but how do you find them?
Find a French based wedding directory that you can navigate in French, Mariages.net is simple to follow and then Google Translate is your best friend!
Using the categories on Mariages.net here are some translations for the categories that you might be searching for:
Hair – Esthétique coiffure mariage
Wedding Catering -Traiteur mariage
Wedding invitations – Faire part mariage
Wedding Favours/ Gifts – Cadeaux invités mariage
Other French Directories that can be of use include: Mariage.fr and 1001 Mariages,
3. Venues in holiday letting websites
If you are not a resident in France, your wedding will actually be a blessing and as such you can get married anywhere! If you are struggling to find your ideal venue, whether due to location or budget, search for large holiday lets that can double as your wedding venue.
Companies such as Emotional Escapes, have a wide range of properties available that can sleep over 25. Specialising in the Provence area, Emotional Escapes welcome wedding parties; mention it upon your enquiry and the team are on hand to see how then can help.
Another wonderful resource when you are looking for large properties throughout France is Oliver's Travels.
The site is full of stunning properties, from those suitable for kids to the quirky and the down right luxurious! There is also another big plus in that part of the Oliver's Travels team includes a dedicated wedding consultant, available to help with your wedding requests.
4. Wedding Blogs
Ah hello! Of course wedding blogs was going to be on my list. Seeing as you are reading French Wedding Style and this post, of course you can find wedding suppliers through our real weddings and looking at the bottom of each post for the vendor credits.
There are many other wonderful wedding blogs that can also offer resources, they might not be dedicated to weddings in France, but do provide infrequent inspiration.
Style Me Pretty through their destination wedding blog and the France category, contains beautiful real weddings and inspirational shoots.
Other wedding blogs to take a look through include Belle and Chic, FlyAway Bride and You Mean the World to Me.
5. Domestic Wedding Fairs
Although you are planning a wedding in France, don't rule out the wedding fairs in your domestic country.
Heading to wedding fairs can be a great source of inspiration and you might fall in love with a supplier that you love. If you are mesmerized by a particular photographers work, or fall in love with the personality and style of a hair and make up artist, although they might not state they do destination weddings, just ask!
As creative personalities, photographers, videographers, hair and make up artists and planners tend to love to travel and if they don't they might make an exception for your beautiful wedding.
Do keep in mind that travel and accommodation will be additional and many renowned suppliers get booked up up to a year in advance.
6. English Speaking Directories
They are few and far between, but English speaking wedding directories provide the easiest source of information for your wedding in France.
Part of the French Wedding Style family and designed purely for this, is the French Wedding Directory. The Directory is entirely in English and provides the ability to search for venue and suppliers by area, has a full description of their services, their contact details, check out their social media profiles, a link through to their website, 6 images of their services – oh and if you love what you see, email them straight from their page.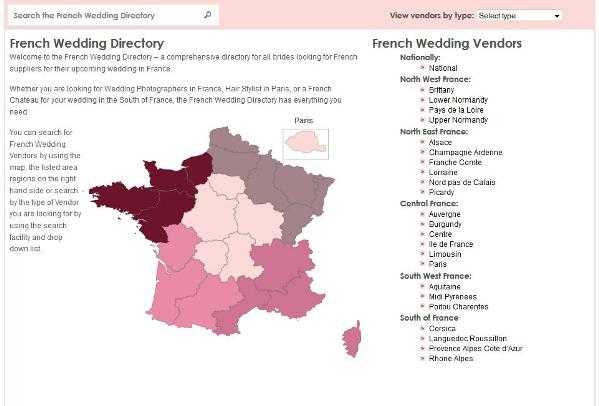 7. Wedding Planners
If you really are struggling, don't have the time or patience to plan your wedding in France, then don't forget that a wedding planner can help you with everything.
Many wedding planners have a range of services from venue searches, on the day co-ordination, to full wedding planning. This can take the headache out of dealing with French suppliers, as they will understand the nuances and potential pitfalls and eliminate them before they happen.
All that is left is for me to wish you a very happy wedding planning and of course you can always email the French Wedding Style team on info@frenchweddingstyle.com