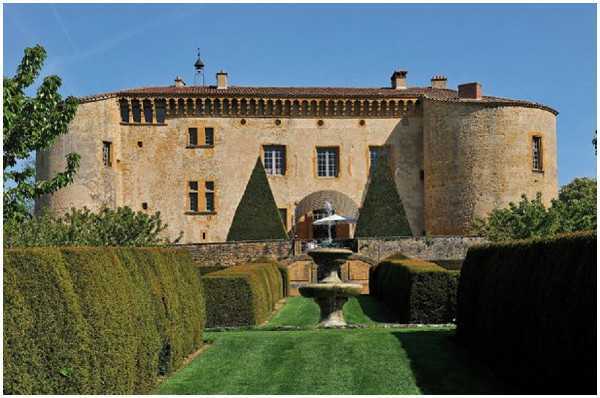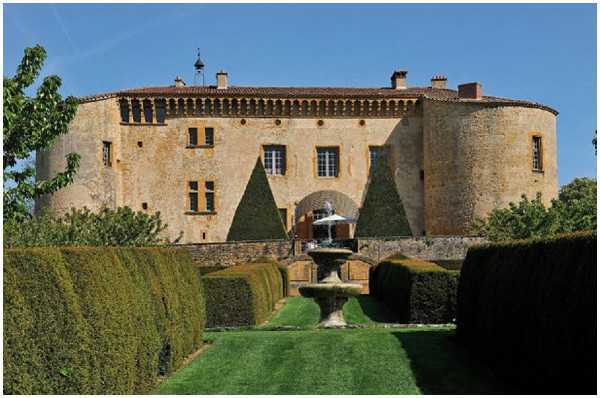 I love exploring French Chateaux and today I have a real treat for our wedding venue spotlight feature, as we go behind the grand doors of Chateau de Bagnols.
Listed as a "French Historic Monument", Chateau de Bagnols is set in the heart of the Golden Stone Country, in the Rhone Alps region of France.  The XIIIth century Chateau complete with its moats, surrounding walls, towers and golden stones highlight its majestic soul and transport you on a unique journey through France's history. Surrounded by vines and set amid splendid French style gardens, the château offers exceptional facilities: a roman pool, a beautiful restaurant and stunning reception rooms.
Originally the castle was built by Guichard d'Oingt between 1217 and 1222. In the 13th century, Geoffroy de Balzac, the lord of Entraygues, rebuilt it and on the 30th October 1490, he welcomed King Charles VIII as his guest to the Chateau!  Since 2011 the Chateau was purchased by Jean-Claude Lavorel, who has embarked on creating the "most beautiful châteaux-hotels of France" that is available to be the setting for your destination wedding!
The Château is also a unique hotel recently upgraded and awarded a 5th star on June 15th 2013. This elegant and intimate castle is now ranked among the very best Hotel-Restaurants.
Château de Bagnols is available for exclusive hire for your wedding celebrations as the main courtyard can accommodate 120 people.
The Château's Restaurant, the majestic "Salle des Gardes", as well as the magnificent outdoor French Garden, are always ready to host your wedding. The outdoor heated Roman swimming-pool , is key to making Château de Bagnols a piece of heaven on earth.
The exclusive use of Chateau Bagnols includes:
21 exceptional 'suites' and 6 more launching this summer for guests
Private lounges
Selection of cocktail hour and canapé menu
Selection of main wedding meal menu
Access to the stunning Chateau grounds
Local supplier recommendations
Guest transfer assistance
Coming soon – onsite Spa facilities
Concierge service for all guests
As well as English, French and Spanish, team members speak Italian, Russian and Serbian.
Have you fallen for the enchanting historic allure of Chateau de Bagnols?
To find out more about how Chateau de Bagnols can be your wedding venue visit www.chateaudebagnols.com or email [email protected]


Contact Details:
Website: www.chateaudebagnols.com
Email: [email protected]
Telephone: +33 (0)474 71 40 00