It is the end of another fabulous working week on French Wedding Style, but don't forget to check in over the weekend as new posts every day.  Today we are off to Tourtour Provence for a bohemian French wedding in one of the most beautiful villages in France.
Today's bride Segolene wore a loose fitting Elise Hameau wedding dress with lace top overlay and finished her look with a floral crown from Libertie is My Religion. The rustic wedding in the hills of Provence was captured by Antoine Photos and thank you for submitting.
Antoine from Antoine Photos takes us through the day: "A steep road takes us to the heighs of Provence, to a lovely village located at the far end of the Var…  The place is called Tourtour. It is known as one of the most beautiful villages in France.
We are in June but summer is already in the air. And love too of course. Kids are playing in the swimming pool, the house is wide open. If heavens exists, you will find it here in Tourtour!
The mother of the bride puts the finishing touches on the decoration. Everything is so smart and tasteful, flowers and vintage items predominate everywhere. Segolene has done a incredible job. I am really impressed.
The church is perched on a hill and looks out over the valley. Like in an old italian movie, the bride arrives in a Fiat! Segolene is a very sensitive person. She really moves me.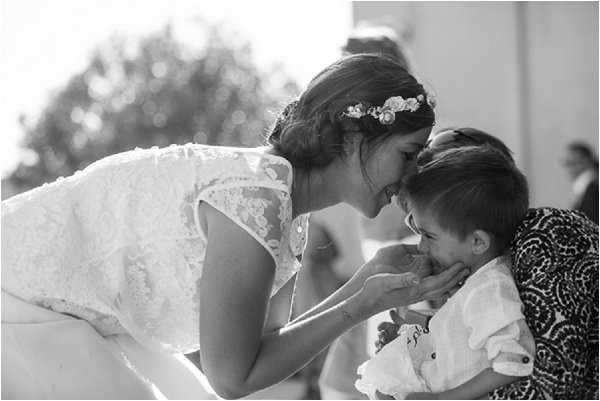 You come to Provence to enjoy the sun, to drink Pastis and to learn to lawn bowl! After the ceremony the 'place du village' turns to be perfect for a game of Pétanque. How fun!
The day ends with an elegant cocktail reception in the gardens and a delicious diner. People will dance all night. Outside I can smell sweet lavender.
'Provence mon amour…"
Wedding Suppliers:
Photographer : Antoine Monfajon | Wedding location : Friend house in Tourtour | Groom: : Les Dandys  | Wedding dress  Elise Hameau | Video : Bubble Rock | Wedding planner : Perles Demotions  | Crown flower : Libertie is My Religion