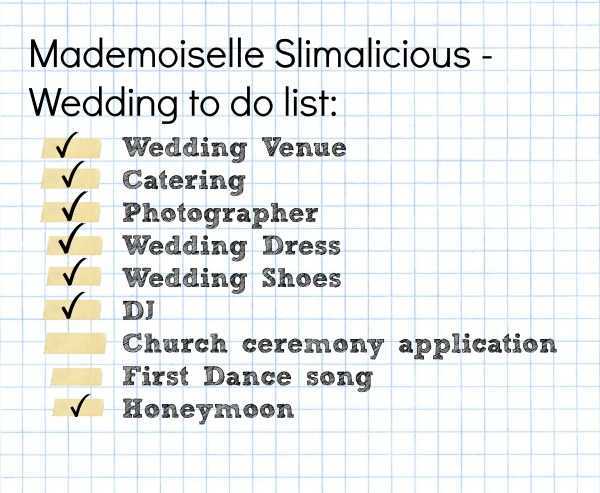 Welcome to the afternoon and it is time to catch up on one of our real brides diaries, Mademoiselle Slimalicious aka Cyndie who is planning her wedding in France, all the way from Australia.  Last time we caught up with Cyndie there was 27 weeks to go until the big day, with many wedding to do list items unticked that were causing Cyndie stress.
I am delighted to say that today some of those items have finally been ticked off, with hard work, research and knowing when something just isn't the one!
Cyndie: "I'm pleased to report that since my last post, I've ticked a few boxed! (Sight of relief)
We have booked our DJ. Hooray! You may not know but in France, DJ also plays the role of MC hence the importance of choosing the right person for the job. Well I have obviously taken a risk here, given that I have not spoken to our DJ, had no recommendation and only exchanged a few emails with him. But I have a good feeling about him. Does that count?
I have to say I have been rather impressed with how pro-active he has been in his approach and communication. He is experienced and what's the worst that can happen? He may play "A la queue leu leu" or "La danse des canards". Well at least we might have a good laugh! On the downside, he doesn't speak English, but I don't expect it to be too much of an issue.
I will prepare a few lines in English for him to make the main announcement in both languages (e.g.: "the bride and groom will now cut the cake"). We will meet with him as soon as we land in France mid-August, to finalise the details of the evening (timing, special requests etc.). This leaves us plenty of time to make a play list.
The next big thing I have ticked off my list is my wedding dress. Hooray! I'll try to cut a long story short: the custom made wedding dress I purchased online, arrived a few weeks ago (it took about 2 months from order to delivery). It is beautiful, exactly like on the photo. I am actually very impressed with the quality of the fabric and the quality of the sewing.
It fits perfectly too. BUT… I find it too "puffy" (meringue style!) and it is not very comfortable to wear (I keep walking on the chapel train). It is quite heavy and I am worried I won't be able to move as freely as I would like to on the Big Day. Once I tried it on, I knew immediately it wasn't "the one". It's not me. Maybe I am not short, maybe I am too fat or perhaps the style is not just flattering on me.  I like elegance but comfort is essential. More importantly, I like 'simple'.
So, I jumped online an ordered another dress, in a different style, 'for comparison'. The second gown was not custom made so it arrived a lot faster. Again it is beautiful, as per the photo and while I was unsure about the 'chiffon' fabric, it looks great and feels a lot lighter than the organza gown. I am lucky enough that the standard small size fits me well around the bust (the back is lace-up, so it is easy to adjust it).
The only alteration I need is for bringing the hem up. I am very short (156 cm) and it was to be expected that I would need to shorten the dress. I have decided to keep this gown and will try to sell the first one.  I have also ordered a petticoat to wear underneath (yet to arrive), to make it more of an A-Line style rather than Empire. I'm undecided as weather I'll wear it or not, to be decided later…
Last but not least, we have finally made a decision in regards to our honeymoon. We have had lots of expenses this year with the wedding and the renovation of our home so while going to Cuba was a dream of ours, we were not really in a position to afford the trip. Instead we are going to my third favourite country in the world (after France and Australia): Morocco.
Image source: CityPictures
I lived in Casablanca for 4 months in 2005 and did extensive travel around the country. I have always kept the most wonderful memories of my time there. Chris and I visited again in September 2007 for a few days when we were living in London. Chris loves it as much I do.
I love everything about Morocco: the friendliness of its people, the flavoursome food, the colours of Marrakech, the diverse landscape as well as the cultural wonders and traditions the country has to offer. It is a very affordable flight from the south of France, so the money we save in transportation can go toward our accommodation and activities. I'm thrilled!
April is just around the corner and I know there is not long to go now. Mum is excited, she has found her outfit. So does dad. What a very special moment it is going to be for them: I am the youngest of two daughters and the only one that would probably ever get married. My parents have never discussed marriage with me before (i.e.: when I was a child or teen), except to tell me I shouldn't get married! Pretty unusual I know, I have an uncoventional family! I might tell you more about it next month. Stay tuned!"
Don't forget that you can follow Cyndie's wedding planning diaries by clicking here.