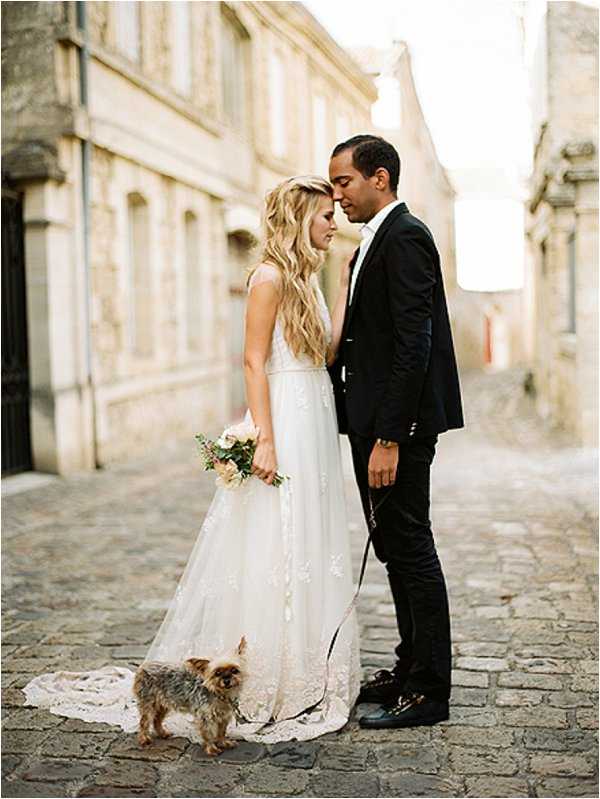 It's only Friday and I have such a wonderful real elopement to share with you today, the intimate wedding in Saint-Emilion of Lili and Thibault.   The couple from Paris, too the train down to Saint-Emilion with their adorable dog Vanille for a wedding elopement in the capital of wine, planned by Laura Dova and captured by Viktoria Samoilova.
St. Emilion is a charming medieval very unique village, world-famous for its wine, beautiful architecture and great monument. A perfect match for an intimate and romantic love escape.
For the avid readers you will remember Laura Dova as my assistant on the last TeamAmour wedding shoot in Provence.  Not only is she a wonderful planner, she is also super lovely too!
Bride Lili takes us through their big day: "There are a few historic villages in France that inspire such passion and romanticism as the Unesco World Heritage St. Emilion village. I'm a lyric singer and always been passionate by the medieval era and when in St. Emilion I feel like it hasn't changed from hundreds of years ago. The narrows streets, small boutiques and french market – I feel like going back to medieval era imagining myself singing and dancing running around this surprising village; a little bit like a disney princess movie. That's why I love it so much."

From the photographer: "Thibaut asked me if they could take their dog, instead of leaving her in their hotel room and also because Vanille is the dog Lili gave to him on their first anniversary, four years ago already.
I absolutely loved to include the dog in this photo session because it gives more dynamic, modernity and intimacy to the whole setting. They wanted a romantic feeling on the pictures but without being tacky at the same time – and that little funny dog definetely helped a lot for that. And she was evening posing sometimes !"
Laura: "Lili and Thibaut are a beautiful couple and team. Walking through St. Emilion with them and Vanilla, has been the most pleasant afternoon. Lili looks amazing in that dress, it was actually tailor made for her by a talented russian stylist, "I loved her style from the moment I saw one picture of her dress on instagram" (social networks are amazing). Her hair just collected with a pin and some waves looked perfect. Keeping it simple always works !"
Wedding Suppliers:
Wedding Planner: Laura Dova Weddings | Photographer: Viktoria Samoilova –   | Hair Stylist: Nadine Baillargues, Expression Coiffure – | Wedding dress: Tatyana Kochnova