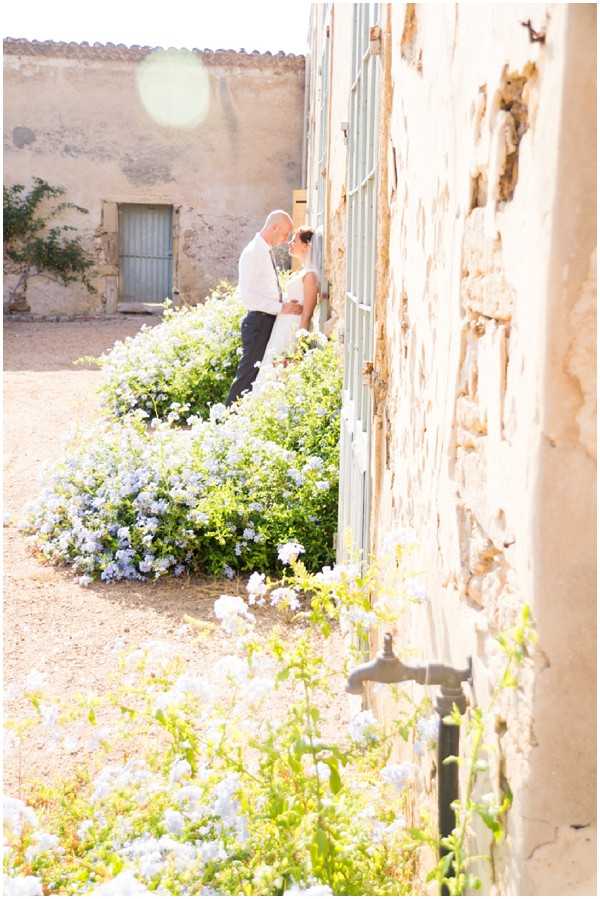 Happy Monday!  It feels like an age since I have enjoyed the beautiful weather in Languedoc and today's sunny real wedding in Languedoc Roussillon is making me yurn to drive along the sunflower lined roads and sit drinking Blanquette whilst Mr Trulove thrashes me at chess!
If you have never been to the Languedoc Roussillon region, then it really is a beautiful place, but don't take my word for it, today's couple Amanda and Ludovic opted to forsake their Paris home to get married there.
Bride Amanda takes us through their planning and big day: "Ludovic and I met 4 years ago, on an online dating website. I immediately fancied him, and our story began really quickly, we moved in together within a couple of months. Getting married was the normal step forward in our relationship.
Despite living in Paris, we decided to get married in the south of France, because it is where our parents are living and we are also attached to this region. 
We visited many venues, and when we saw the Château de la Mogere for the first time, it became obvious that we would get married there. The Château is amazing and we had the possibility to have the whole celebration outside, in the garden and the court.
We didn't want to follow a lead in term of theme, we wanted a bespoke wedding and we took time chosing all the different elements (music, decoration, food…) so we would have the wedding we dreamt of.
It was important for us to highlight the region, and for example, the favours were a pot of honey, locally produced (Miellerie de Clairan).   For the suppliers, we spent a lot of time on the internet looking for the best of the best, and we asked our families and friends to recommend professionals they would know.
For the flowers, we knew for a long time we would chose Au nom de la rose, because of the quality of their creations. Our caterer was recommended to us Cabiron Traiteur, we knew a few people who used their services in the past and they were very happy. Our photographer, Jean-Marc, was recommended by my sister in law and when we saw his pictures, he was the obvious choice to capture our wedding. And now looking at our pictures, we don't regret it at all, soft and natural, very like us!!!!
My bridal dress was made by Veronika Jenvie, and the groom suit was from Smuggler.
On the wedding day, I joined my mum and my bridesmaids in a guest house, so we could all get ready together, while my groom was spending his morning with at his parents'. The ceremony took place in a small church, and it was very emotional, very intense. We then did some couple photos, only us and Jean-Marc, we were in our little bubble, enjoying our first moments as husband and wife, before joining our guests for the cocktail reception. As we imagined it, the cocktail hour and then the reception outside. The cocktail reception was in the large garden and the evening in the court of the castle all with a marvellous weather.
We wanted to go on our honeymoon to Sri-Lanka, and we wanted to go straight after the wedding, but unfortunately it was not the best time of the year to go. So we decided to go on 2 honeymoons, one just after the wedding, we went 2 weeks to Jamaiqua, and then January the year after, we went to Sri-Lanka and the Maldives. We would definitely recommend to go to the Maldives, it's like heaven on earth !
Even if we did plan our wedding in France, we were living quite far away, and it made it quite difficult. But fortunately, having our parents locally was very helpful.
If we could give you an advice, if you wish to get married in the south of France in the summer, it will be to start planning at least 2 years ahead, to be able to book venues really quickly. Some venues are even booked 3 years in advance!"
Thank you to Amanda and Ludovic for sharing their wedding with us, be sure to check out their wedding suppliers listed below.

Wedding Suppliers:
Photographer: 1Chapter Photography
Wedding Venue: Château de la Mogere
Florist: Au nom de la rose
Catering: Cabiron Traiteur
Wedding Dress: Veronika Jenvie
Grooms Outfit: Smuggler