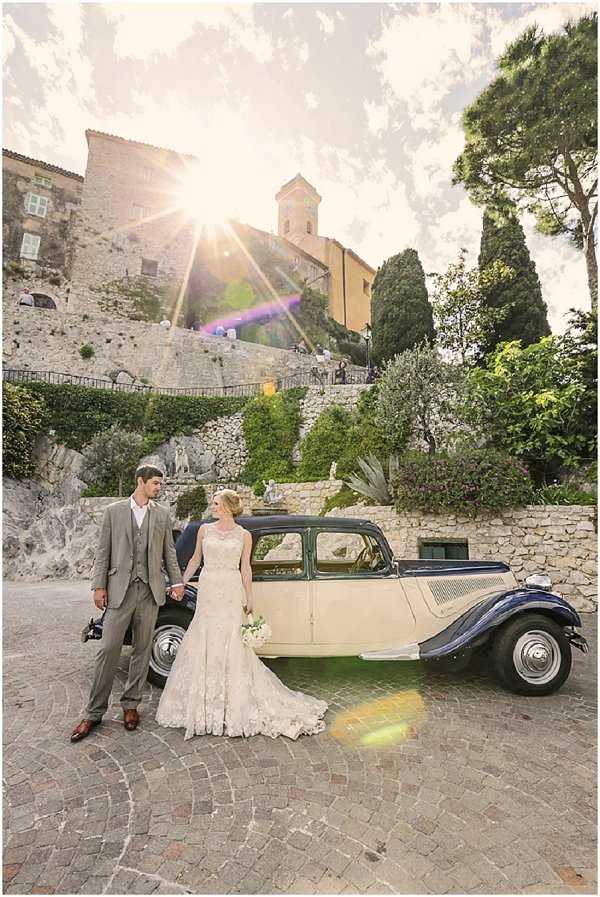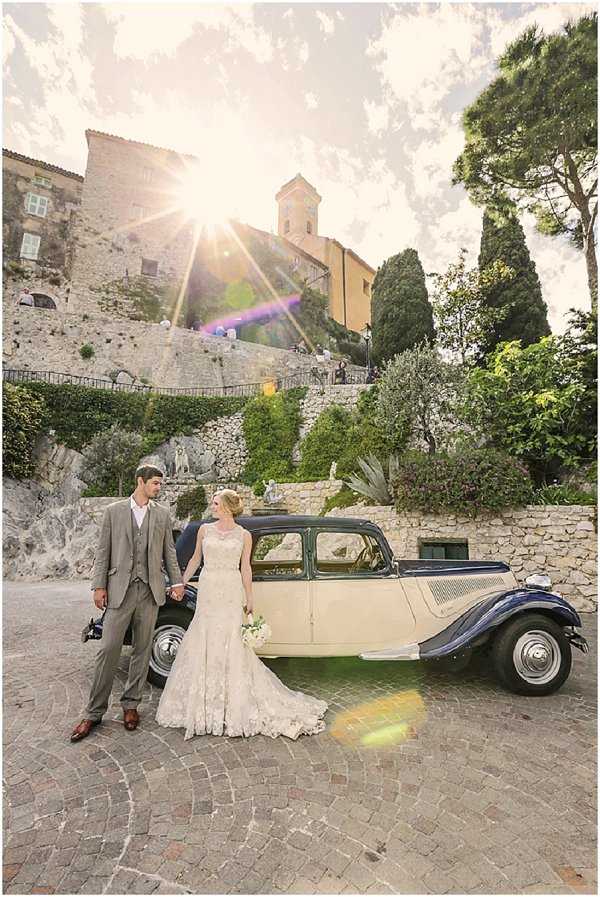 We are finishing off the week with a timeless and romantic wedding in Eze Village in the South of France.  If you have ever had the fortune to visit Eze, you will know that the area is mesmerizing for its beautiful views, charm and tranquility that make it a perfect destination wedding setting.
Today's couple Alex and Josh certainly thought so as they planning their destination wedding in Eze in 18 months with the help of Avalon Events, and with a wedding date just a couple of weeks before the Monaco Grand Prix, timely planning was a must.
Their beautiful timeless wedding was captured by destination wedding photographer Helen Russell, who has truly managed to captured the spirit of Eze and the South of France.
Bride Alex takes us through their love story and wedding planning:  " For our proposal unknowingly I was 2 weeks pregnant and really unwell. I had passed my sickness into Josh and neither of us could speak. Early morning on my birthday Josh gave me my birthday card where he had written my proposal, when I turned to look at him he was holding a blue Tiffany box.. Of course I said yes!
We had gone on a spur of the moment holiday to the South of France and our parents had suggested we visit Eze Village. We immediately fell in love with its charm and I said there and then that "this is where we will get married" (1 year before the proposal).
The views from Le Chevre D Or gardens are breath taking. The charm of the village and the warm welcoming of the locals made us fall in love with the village and there was just no where else we could have even considered. 
We had been together for 10 years when we actually got married. We wanted to unite as a family with our daughter Tabitha and we wanted it to be a big celebration for our friends and family. 
We wanted a relaxed atmosphere and for everyone to enjoy themselves. We wanted to share as much of what we love about the South of France with everyone so we married in Eze Village then partied in a Villa in Monaco. 
We wanted a classic style that was timeless, a style that would fit in with its surrounding. I looked at on Pinterest for inspiration and wedding sites such as French wedding Style, Love my Dress and SMP took over my nights. I looked at every wedding Helen Russell shared on her page. 
We used a wedding planning company called Avalon Events based in Monaco and she arranged everything for us. We used a local florist, Mode and a local catering service. 
My wedding dress was a Justin Alexandra dress from the Signature collection. I had tried several dresses before I found my dress and it just fit perfectly and ticked everything I was looking for. It was a timeless dress that was fitted perfectly for me. I wanted to keep my accessories very simple as there was a lot of detail on the dress. I choose blue as my colour to highlight and I worn a gorgeous pair of Sophia Webster shoes in blue and a small blue diamond drop earring.
The blue complemented the blue on the men's waistcoats and the pastel shades of the girls dresses. The bridesmaid has custom made dress by a designer at home called Katherine a Russell. The dresses were soft and romantic and each bridesmaid had a style that suited their shape and personality.
The groom Josh, our bestman and our dads had bespoke made to measure suits made by the Tailor Higgins and Brown. The suits needed to be light enough to be comfortable in the heat but look crisp and smart. The suit had a very very light blue check which tied in with my accessories and the bridesmaids. The groom had a laid back style and worn a shirt with a open collar and no tie. It was important he was relaxed. 
The day was perfect. The weather was on our side, the sun was shining and there was a light breeze which meant the views from the ceremony were as clear as they could have been. Our daughter and niece and nephews brought the tears and laughs of the day and even though I had learned my vows in french as a surprise I froze and I had to say them in English it could not have gone better.
Our priest recited parts of our ceremony in French which was a beautiful touch, very romantic and the we danced back up the aisle with our daughter to her favourite song Happy.   At the reception I had arranged for our friend to surprise Josh and all our guests by singing a song that meant a lot to us all which really made the day special. The band 'The Bright Lights' played all our favourite songs and had everyone dancing all night. A big surprise was when the band got me and Josh up to sing a song with them, it was amazing and got everyone excited. The night ended with the girls dancing with their wedding favours, their lace umbrellas and the men smoking Cigars. It was everything we had wanted it to be. 
Sabien our wedding planner was amazing, she took all the stress a bride would normally have and arranged everything for us. We would Skype once a month and emailed all the time. We flew over a few times before the wedding to finalise arrangements as it's just my nature to be in control. Close to the wedding the catering company we hired has gone into liquidation and it meant we had no caterers. Sabein arranged another cater for us and we flew out for a tasting and they even designed the menu from the menu we had chosen with the original caterers. It worked out well in the end. 
We ordered 30 lace umbrellas for favours for the girls so we had to send them and our table plan which was made by a friend over in advance as we couldn't fly with them. We had to be really organised to make sure we had everything as we did a lot of things ourselves such as the table numbers, the seat covers, the confetti pouches. 
Our advice for planning a wedding in France – Do not be out of by the language barrier. If you don't know the area well or speak the language we would advise a wedding planner. They take a lot of the stress away. Source as much locally to your chosen town as possible, your guests will get a real feel of the area of you do. "
Wedding Suppliers:
Photographer: Helen Russell | Venue – ceremony- Le Chèvre D Or, Eze Village, South of France. |  Reception – Villa Key Largo, Cap d' Ail, Monaco | Brides dress – Justin Alexander, Signature from Mia Sposa, Newcastle | Bridesmaid dresses – Kathryn Russell | Grooms suit – Higgins and Brown |
Hair – Rebecca Gibson at Glamazon, Boldon | Flowers – Maud Creation Florale, Nice South of France |
Stationery – Invitations – minted.com, name places – Eagle eyed Bride | Men's Favours – Romeo and juilette Cigars | Woman's Favours – Lace umbrellas, Brollies Galore | Entertainment – Bright Lights
| Wedding planner – Avalon Events