You have chosen your dress, picked your accessories and now comes the time when you need to put it all together and consider how your wedding hair will work with the headpiece. What are the options for wedding hairstyles with headpieces and how do you decided what to do?
I asked American born expert hair and makeup artists living in Paris Lexi DeRock for her advice, over to you Lexi.
So for all you blushing brides out there looking for the perfect style for you hair you might want to take into account a couple of thing other than your hair length and the style of your dress.  You might want to consider what type of veil or headpiece you have in mind.
There are so very many different things you can wear in your hair these days and I'm going to help you go through your options and give a little heads up on which types of hair pieces and veils go together like gangbusters and which are little harder to pull off.
For the most part there are three sorts of categories your head piece is going to fall under so here are some of the best styles to go with the the hairpiece you've picked or vice versa.
First up let's start with the traditional veil.  Some times refered to as a fingertip veil in reference to where it generally falls or even the longer ones such as the cathedral length veils. These veils can be anything from simple pieces of tulle to ornate lace with beading, either way I find that if you are looking to wear your hair down this is one of your best options.  Whether you want to wear it all down or half up this is a great way to showcase the veil.  Keeping the hair simple with soft waves or even straight doesn't detract from this sort of veil in the way that a very ornate style of hair might.  Often these veils can be costing nearly as much as the dress and they are such a huge part of your style on the day.  They frame your face and add a lot of romance so why overpower or compete with such a delicate accessory by going overboard with the tresses?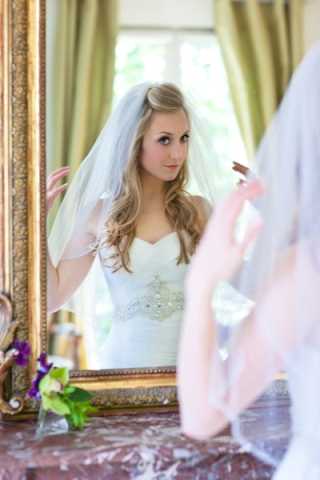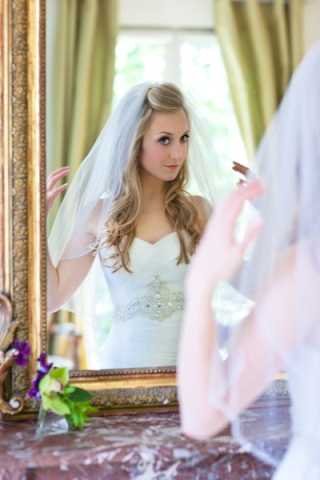 Tiffany and Matt's real life wedding here
But maybe your hair is way more important to you than a veil, maybe a traditional veil isn't your thing or doesn't go with your dress either way if the hair style you are after is very ornate and intricate, perhaps an updo with lots of braiding or a stylised chignon then you might want to steer toward something that is going to show off your hair, rather than hide it like a traditional veil would.  If you are going to go out of your way to bowl people over with a fab hairstyle then this is a great opportunity to ditch the veil altogether and go for something a bit different. 
This is a great hairstyle to wear with a tiara, brooch, ornate headband or a comb with beading or rhinestones.  One or two bigger flowers can also be a nice way to go with updo's that draw a bit more attention.  If you are leaning toward flowers I generally recommend that you aim for fake flowers since they can look so real these days and you don't have the problem of wilting and turning brown (which white flowers tend to do quickly, especially in the heat) plus you don't have to worry about your flower being out of season and you get the added perk of getting to keep them and wear them again.

Birdcage veils or fascinators have made a real comeback in the last 5 years or so and it's not hard to see why.  They are a bit different, and fun and can add a bit of vintage flare or even a dash of color to your hairstyle.  Now personally I prefer a birdcage veil with either a vintage inspired hairdo like a bouffant or some fingerwaves to add to the vintage feel that that kind of veil brings, but it can also work really well with very classic hair styles such as a sleek ballerina bun or a neat french twist.  This veil is also great if you have short hair as it can look just as good on someone with a pixie cut or a chin length bob as it can on someone with gobs of hair.  These are fun too as they often come with a bit more choice of color with colored veils or feathers that can be a fun touch to add especially if you are adding a pop of color in your shoes or dress.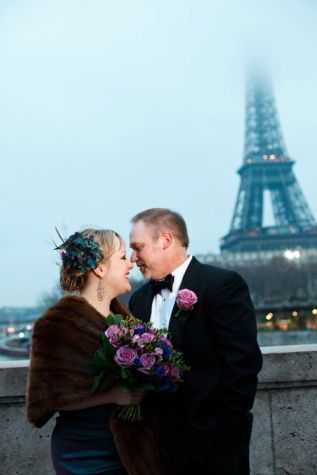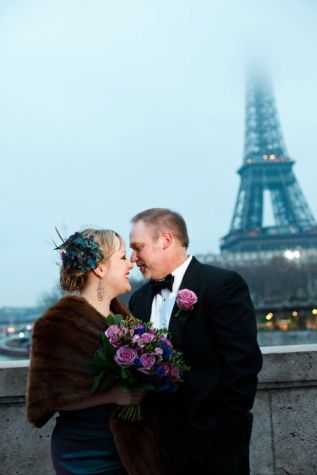 Remember there are no real rules.  It's your day and whatever style you love is what you should wear but if you have your heart set on a certain kind of hairstyle or a certain kind of veil, save yourself a little frustration and try out these combinations and I guarantee you'll love your look on your big day."
Thank you to Lexi for her insightful and practical advice. To find out more about hiring Lexi for your wedding hair and make up visit www.lexiderock.com or find Lexi on facebook