I have a delight of a wedding to share with you today, newly married Carina and Ash who got married at Bastide St Mathieu French Riviera France.  You might actually remember Bastide St Mathieu from a previous wedding stationery illustrations post featuring the work of the talented Gemma Milly.
Making full use of the Bastide's beautiful interior and picturesque grounds, guests were treated to the  the benefits of a summer wedding in the South of France and a beauitful outdoor wedding ceremony followed by lots of fun and merriment.
Newlywed Carina takes us through choosing to have a wedding in France and the preparations for her big day: "The basis of our garden wedding was the venue itself really.  In my mind I had always imagined getting married outdoors in the countryside somewhere, surrounded by greenery and flowers in the sunshine, somewhere with a simple, elegant and romantic feel. We very quickly came to the conclusion that we wanted to get married abroad and the south of France seemed fitting not only due to the good weather, but also as I have family who live in Antibes near Nice.  
We have always loved spending time there; their way of life is so appealing to us with so much emphasis on the gorgeous coastlines, beautiful countryside and amazing food.  We wanted to incorporate our favourite bits of all the wonderful things the Cote d'Azur has to offer and share them with our loved ones in a part of the world that's really close to our hearts.
I did an initial search of wedding venues in the area and with the help of an aunt who lives out there, spent a few days visiting them all, ranging from golf clubs and hotels to private houses and chateaux.  I created a shortlist of my favourite places and went back out there with Ash to show him what I had found.  In my mind the Bastide St Mathieu was my dream wedding venue – we could get married in the olive groves, have reception drinks around the pool and dinner on the terrace.  I fell in love with it the second I set eyes on it, but I wanted Ash to see for himself and love it in the same way I did.  I remember watching him when we got there and seeing the look of excitement on his face the first time he saw it.  The decision of where to have our wedding was made there and then!   We really felt like we'd found our own piece of paradise.
Having decided on our venue, we wanted to create invitations and stationary that really reflected the kind of day we were going to have and gave our guests a taste of what was to come.  I loved the idea of the beautiful Bastide as a sketched illustration and gave that as an idea to the talented Gemma Milly who came up with some designs for us to consider.  She listened to what we wanted and captured the essence of what we were trying to achieve straight away.  Our stationary was so different to anything I'd seen before and very special as its bespoke to us.
Then there was my dress – my favourite part!  Having tried on several dresses but not managing to find 'the one', I decided to look into the option of having one made.  One of my aunts, Laureen, used to be a designer and worked with me to create my perfect fairytale dress which I gave to Shanna Melville to create.  She did an absolutely amazing job; I felt like Cinderella at the ball in it and will treasure it always.  The tricky part was getting it to France – the air stewards were very helpful and laid it out flat for me although it needed a good press when we got the other end!
When it came to dressing the venue, the house itself in its gorgeous setting did all the talking in my mind; the grounds were full of flowers and plants so the only dressing we really did was with a few fairy lights and lots of candles, allowing me to focus on the small details and special finishing touches that I thought our guests would appreciate and remember.  I spent a long time looking through magazines and blogs on the net in the months leading up to the wedding finding inspiration, tearing out everything that I saw that I liked and creating styleboards to collate it all, thinking about colour schemes and style.  Visualising what the overall look of our wedding would be became my favourite pastime!  I pulled together all the best bits of what I found and replicated them to make them my own.  I thought about the venue and what it had to offer in terms of style and ambience and tried to build on that.  I took the 'less is more' approach and kept things simple.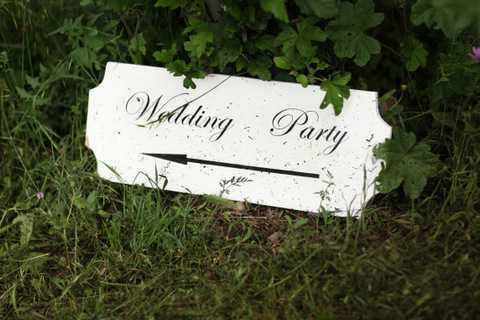 We travelled out to France several times over the course of 10 or so months, making trips to the venue to work out the finer details, to meet with our celebrant, caterer and florist.  We spoke to a local supermarket and set up a sale-or-return arrangement where we could buy our alcohol and return what we didn't use after the wedding which was really helpful.  I spent the best part of 12 months planning our big day and absolutely loved every minute of it.  I tried to be as resourceful as I could by researching for the best deals on things and was able to bounce ideas off family and friends who were keen to help.  The morning of the wedding was spent setting everything up with the help of my wonderful bridesmaids and their partners who were staying at the Bastide with us, various other close friends and of course my mum.  Everyone worked really hard to help us get things ready and the end result was stunning.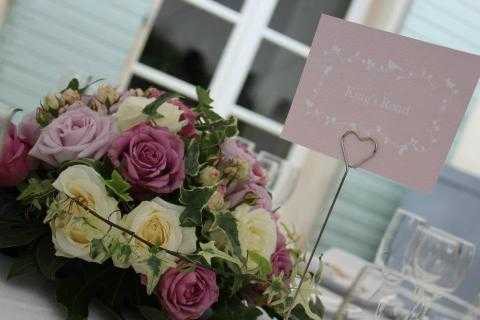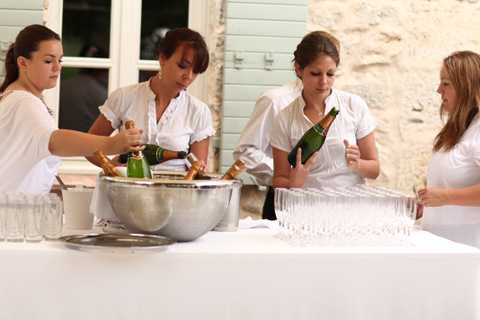 There were various times throughout the day where I made sure I stopped to enjoy and take in what was going on around me – that was a great piece of advice I was given by a friend.  Those moments included a very early morning swim with just my best friend on the day of the wedding before everyone else had got up, watching my bridesmaids and mum getting ready around me and doing each others make up while I sat having my hair done, seeing the look on my dad's face as he saw me in my dress for the first time, seeing all our guests for the first time as I walked up the aisle and of course seeing Ash's big smile when he saw me.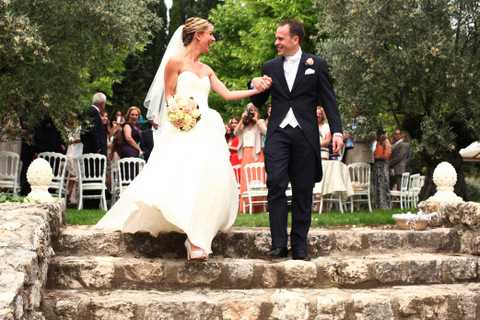 But my favourite part of the day would probably have to be a moment once we were married, when I was stood with Ash at the drinks reception by the pool and one of my favourite tracks was playing.  I remember looking around at so many of our favourite people in the south of France with us, drinking champagne and enjoying themselves and just thinking how lucky we were.  It was the most surreal and amazing time.
If you're lucky like we were and have friends/family at your wedding destination that have a good knowledge of the area then that will make things easier for you where the planning is concerned, otherwise I would definitely recommend having a wedding planner as they will have established suppliers/contacts and be able to alleviate a lot of the stress that comes with planning from a distance.  If you are going to organise things yourself like we did, then I would say one of the most important things is to leave yourself more time to get things done than you would normally need as everything takes that little bit longer.  Allow for any time differences, language barriers and also bear in mind different cultures and ways of working.  That is something that took me a while to get my head around.
The best piece of advice I was given I'd say, was to always bear in mind that you are never going to be able to please everybody all of the time and to remember that your big day is ultimately about the two of you.  It is very easy to fall into the stressful trap of trying to think of everybody else and what those you care for will want, rather than what you want.  You'll go off all over the place with your train of thoughts and planning, but if you always keep asking yourself 'what do we really want?' then you should be able to make what can sometimes be difficult decision making, much simpler and enjoy the whole process."
The dress is just beautiful and I love the photo of the bridesmaid at the ceremony looking pensive that someone was going to jump up and say "I Object".  Bastide St Mathieu is truly one of the beautiful wedding venues in France, with a grand french farmhouse feel.
Monique xx
Credits
Photographer: www.marcdegroot.co.uk
Caterer: www.chef-adomicile.fr
Venue: www.bastidestmathieu.com
Tent: Ten by Fifteen
Furniture/Euipment: www.aktuel.fr
Wedding co-ordination: www.lavenderandroseweddings.fr
Florist: www.roni-fleurs.com
Wedding dress: www.shannamelville.com
Wedding stationary: www.gemmamilly.com
Hair: Maresce Rouessart, www.jammhair.com
Celebrant/Music equipment: Peter Madan, www.petermadanmusic.com