Hello lovelies!  It is the start of a rather exciting week for the blog and I am starting it off with a fabulous real wedding at Abbaye de Talloires in the stunningly beautiful area of Annecy.  Annecy and surrounding area is fast becoming one of my top travel crushes since I first featured a wedding from the area and today's wedding with the images against the picturesque lake has only heightened this.
Today's real wedding of Sally and Marc has a wonderful mix of the must have elements for a truly timeless wedding; a stunning location in Abbaye de Talloires, the artistic talents of a fabulous photographer Gill Maheu, a chic and elegant wedding dress designed by Reem Acra and most importantly a truly family gathering to celebrate the new union.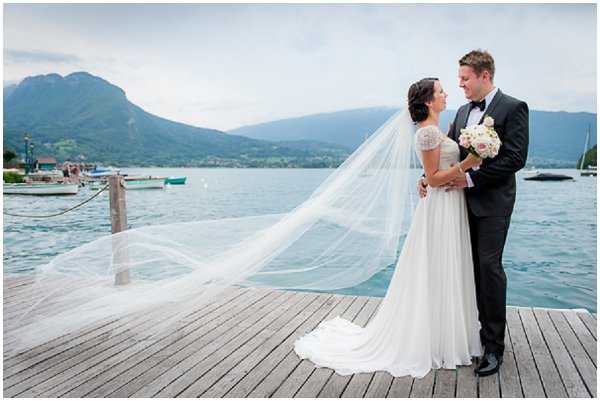 Bride Sally takes us through their big day: "Marc and I met when we were 11 and 9 years old.  Our families knew each other through mutual friends, nothing happened until some 10 years later when a chance meeting at a nightclub lead to a kiss and from that moment we never stopped kissing!

Prior to meeting Marc, I was on a university trip to Annecy for the annual Animation festival (My degree was Film and Animation at Bournemouth Arts Institute); from the moment I arrived I knew it was a special place. For one I had never seen such a beautiful lake before and secondly you had the backdrop of the Alps, large and grand yet unimposing and peaceful. It was love at first sight. Instead of attending the animation lectures and shows, friends and I spent the entire week roaming the lakes and town so that by time we had to leave, it was a home away from home –I knew it so well.
As my Mum mentioned in her wedding speech, I had been planning this event for a long time – since I was 4years old! Of course back then it didn't matter who the groom (sorry Marc) but it was all about the dress and flowers.
So the problem I had when I came to finally decide on a colour scheme and general feel of the day, was I had so many ideas it seemed impossible to choose. Instead I looked at it from the approach of what would be timeless, what would my children or my children's children think when they saw a pictures of it – would it stand the test of time? I think that drove me to choose predominately white and natural greens for the flowers, with a slight hint of dusky pink to capture the romance of it all. To be honest when you have a venue like L'Abbaye I'm not sure you need to do too much more with it.
When it came to choosing the suppliers, the venue was very helpful with recommendations but my biggest find was Gill Maheu our photographer. I had looked on the web of weddings at L'Abbaye and noticed Gill's signature on a lot of the pictures, but when I looked on her blog and realised she was English it was like striking gold.
After a lengthy Skype session I knew Gill was the right person for the job, but not only that she was also influential in recommending Jean-Pierre and his amazing jazz band – they were sensational and even learnt 3 Irish songs for my predominately Irish family. The florist again recommended by Gill and the hotel. From the moment I stepped into their shop I knew they could create special things….and they did just that, they created our dream.
The choice of wedding dress and grooms attired was driven my my love of the Hollywood golden era and I had always wanted Marc and his groomsmen to wear a tuxedo. Being a proud British man he had always thought of wearing a bespoke tailored suit. After months of quietly pestering I think Marc came around to the idea, especially given that he'd never worn one before and again they look timeless. But in all fairness it was Marc's idea to buy them from M&S (I didn't think they'd be nice enough), but I take my words back, they looked Fabulous!
My dress was more of a headache; it took 67 dresses to find the one. Now that sounds like I was being a premadonna (and maybe I was) but I found it very difficult to find the balance of a dress that felt bridal without being too structured or too simple.
One the last day of my appointments (I had 10 overall), my mum and I stepped into Browns bridal and found it, as cliché as it sounds instantly I knew it was the one. The embellished caps brought the glamour, the layers of silk brought the romance and the plunging neckline made me feel sexy. The designer Reem Arca is based in NYC and I had an upcoming trip at New Years, so to say I had the most amazing experience stepping into the store on Madison Avenue was an understatement. The start had been stressful the ending was a fairy-tale.
On the actual day itself I can sum up that, we luckily have fabulous friends and family and for us they were the key ingredient to making it a fabulous day. All 106 people travelled from aboard which was hugely humbling, so this was a wedding for all.
In both of our immediate families we have brother and sisters that live in Australia so this was the first time we would all be together again in 2 years, that alone made the day magical. For me having my wonderful mum walk me down the aisle to join my equally wonderful husband to be will be a moment I never forget (and the picture Gill took of this is probably one of my favourites).
The only other thing that was very important to us both was making sure that those with kids that the opportunity to relax and enjoy themselves as well. We invested in nannies to monitor the babies and had a children's entertainer for kids, was it worth it – 100% YES!
Although it was a wonderful day we did have some isues with planning our wedding in France! Now I realise why I should have listened to my French teacher at school when she said, 'Please pay attention, you never know when a language will come in handy in the future'. Not speaking the language fluently was a pain, but thankfully the hotel staff and photographer were fluent in English and with a little help from a French friend in London we navigated the florist discussions impressively well. Everyone we met went above and beyond to be helpful, so my experience on the whole could not have been better.
My main piece of advice to any couples getting married in France is invest in French lessons! If not for the ease then for the sheer fact of not feeling incredibly ignorant 90% of the time! Otherwise make sure you trust all your suppliers, but I think this is the case in any country!"
Classic, timeless and just picturesque dreamy real life wedding – congratulations Sally and Marc!

Wedding Suppliers:
Venue – Abbaye de Talloires
Dress – Reem Acra
Shoes – Manolo Blahnik
Headpiece – Jenny Packham
Photographer – Gill Maheu Photography
Jazz Band – Jean Pierre Verdolini Jazz Band Productions