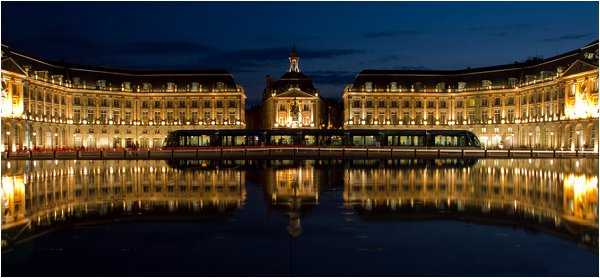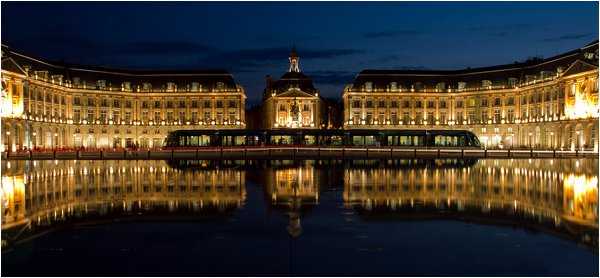 Ah Bordeaux, I loved when I visited what seems like a lifetime ago, but we get to go back today as we are visiting Bordeaux in our wnaderlust series with the assistance of Diane Kenyon-May from  DKM Luxury Rentals.   If you missed any of the wanderlust series from last year, you can catch up here.
Visiting Bordeaux
What to Visit in Bordeaux
Bordeaux, elected best European Destination 2015, hides many treasures of architecture and culture. There are so many places to visit within the town that it's difficult to know where to start.
The Commercial street "Rue st Catherine", long of 1, 2km, is the longest shopping street in Europe. It goes from the well know Place de L'Opera to the place de la Victoire. (I would recommend not to go until the end.., the best part & neighbourhood being the first part from the Place de l'Opera to the Rue des Trois Conils – half way). Perpendicular to this street, you also have to most Chic Street, Cours de l'Intendance, with Louis Vuitton, Hermes…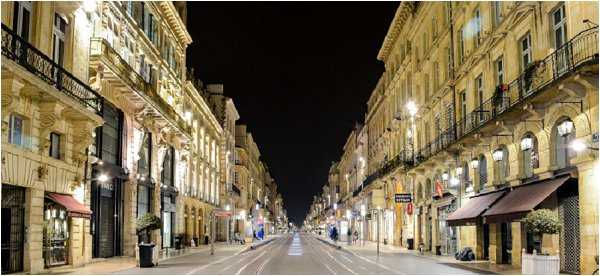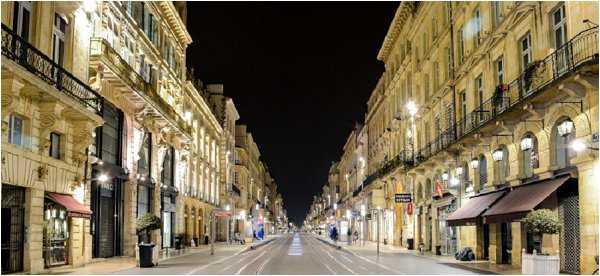 If you are looking to do some shopping, those are the best streets, but if you fancy loosing yourself in the little romantic streets, I suggest you take a right from the beginning of St Catherine and visit the Quartier St Pierre. Typical, charming and good ambience with its restaurants, cafés and pubs, multi-cultural, all in paved path (NOT HIGH HILLS FRIENDLY!) which leads to the famous Place de la Bourse ( in picture here below).
Also, go and pop your head in UTOPIA cinema, very interesting architecture.
If you have the occasion, go and see a Concert, Ballet or Opera at the Grand Theatre de Bordeaux. The Opera, built in the 18th Century by the architect Victor Louis, same architect that designed Paris Opera, is just beautiful & majestic. The stone staircase, the ceiling paintings, the seats… A " Not to miss" activity! And, by the way, The brasserie"le Quatrième Mur" next to it is ran by the Famous star Chef Philippe Etchebest, and just in Front in the Grand Hotel, there is the Pressoir d'Argent restaurant, ran by Gordan Ramsay!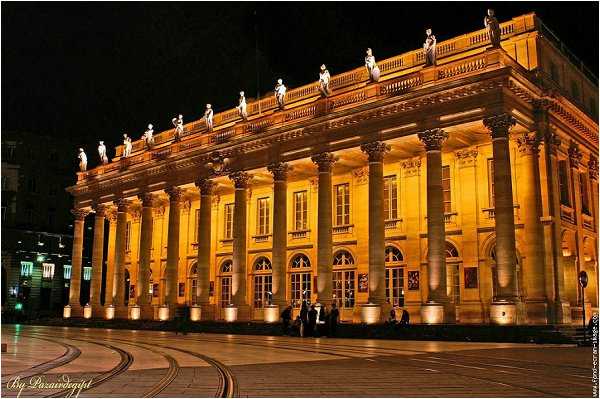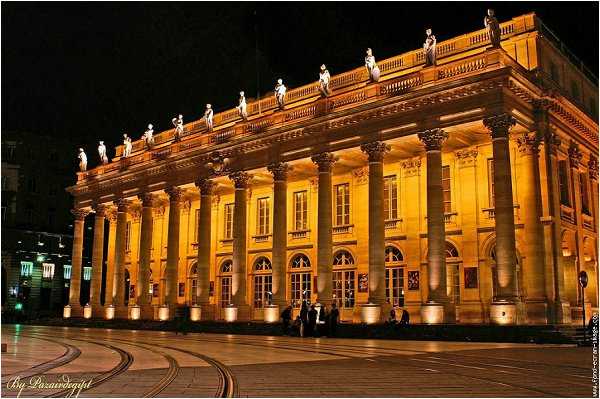 Photo Paris Expat
Photo Bordeaux Decouvertes
Are you looking to get married in a church?! Go and check out the Pey Berland Cathedral. Just Beautiful for a dream ceremony.
Why not now leave the heart centre, and discover another "Quartier"(neighbourhood) 10 min walk along the river from the Opera Square, the Quartier des Chartrons. The Antiques shops, chic boutiques, Market square makes it alive with it's own heart and feeling.
And of course, don't miss the river walk with factory prices shops and nice restaurants!
Transport around Bordeaux and Gironde Region
Finding your way around town or a region when traveling is not always easy. Of course, the best is to rent a car with GPS and off we go!
If that option is not possible, there are many other ways to move around. Bordeaux has an excellent Public transport system. Very clean, on time and efficient.
There is the good old Bus, the nice modern Tram , the city Bike (called V'CUB) but also the electric car & BOAT!! Yes, you read well! The "BATCUB" which goes from the little square on the river up to the shopping walk way further along, or up to Lormont , the other side of town & river for the price of a single BUS fare!!
The electric car is also a very good & simple way to move around from 1 point to the other. They have special car park for them all around town which is very useful.
The Bus, Tram & Boat are all linked by the town group CUB, and with 1 ticket you can access to the 3 services! No need to look for parking!
Talking about Car park, just to let you know, if you go on the shopping walk way on the Quays, "le quais des Marques", and buy anything, you get 1hour free car park!
If you have no car, from the airport, there is the Liane 1 Bus which runs directly to the city centre in about 30minutes or to a Tram connection in Merignac. The fare is only approx. 1€50, so don't take the other private bus lines which charge 3 times more!
Be aware that if you take a taxi in Bordeaux, even for 50meters, they have a minimum charge of 10€!
Fancy visiting Bordeaux outskirts? The train runs to the major cities around Bordeaux like Libourne, La Rochelle, Royan… and also in some small villages like famous St EMILION (to be seen)!!! You are also only at 3hours from Paris!
The tram runs from the city centre to the train station.
Bordeaux Train station is the Europe Biggest glass structure with 300meters long.
Just know that if you have an accommodation in the countryside… It can be difficult. Best way is to take the train then a taxi or ask someone to come and pick you up.
Where have a drink in Bordeaux
Bordeaux has of course several nice places spread over the town. Little hidden, interesting bars. I won't be able to name them all but here are a few nice places you would like to check-out.
Bordeaux, being reputed for its wine, you of course cannot avoid the wine bars!
3 most interesting ones with completely different atmospheres are in the city centre.
The CIVB, very elegant and sophisticated place, where all the Bordeaux famous & rafined wines can be tasted. It's owned by the "Interprofessional Bordeaux Wines Council".
l'Autre Petit Bois, situated in the charming Quartier St Pierre, is also an elegant place but with character and a magic touch to it with its tree in the middle of the room, Baroque style decoration. Concept: Take a bottle of wine (or a glass!) and you will have a free plate of Cheese, Charcuterie or half/half (as you wish) served with it. This place is often full so don't go too late- no reservation accepted!
And my 3rd pick is Les 4 coins du Vin, more relaxed, with stand –up tables & high seats. The concept here is that you take a card that you introduce in wine machines, then choose the wine and the amount of wine you wish to taste. So you can go all evening and taste a bit of each wines! Staff is also there to help you in your choice depending on your tastes. Platters are also served à la carte (in extra).
There is also other cool lounge bars in Bordeaux! L'IBAIA, situated on the river with view on Place de la Bourse, is a Posh Relaxed lounge bar, winter like summer. In winter, they put a cheminee inside , and in Summer, enjoy your feet in the sand, drinking a cocktail on a wine barrel on the terrace on the river quay with cool music and really nice international cuisine (tapas, sushi's, Thai salads, burgers, entrecotes, ..
In summer, discover the Night Beach, new Roof Top terrace of the Grand Hotel de Bordeaux!
Wonderful view, lovely Champagne, little snacks, a perfect mix for a romantic evening.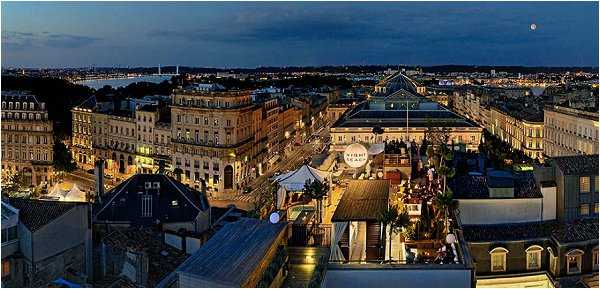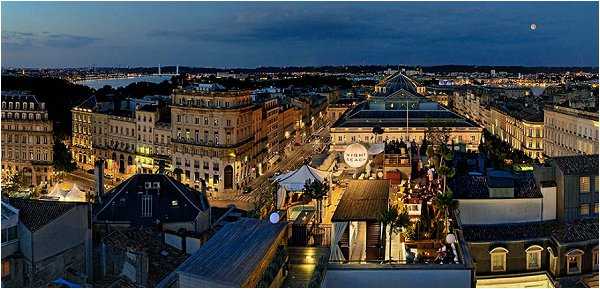 Another cool place, but more of a Music/ Dance place to go after diner, is LIFE. Good music, good ambience, very big and nicely decorated, situated in the quartier St Pierre. They also have Finger foods.
And to finish this small suggestion list, L'EMPIRE DES SENS, beautifully decorated, very original bar and chic where you can dance after a certain time. They also have a restaurant with a nice menu.
Voilà, I hope you will enjoy your time and don't hesitate sharing if you discover new interesting places!
What to see outside Bordeaux
Bordeaux being very well located, you have the choice between Sea, Vineyards, countryside, Mountains or Spain at 1 or 2 hours drive!
Fancy visiting famous vineyards and taste some of the most delicate worldwide wines?! Off you go to St Emilion, Pomerol, Margaux at only 35min drive!! Fancy trying some sweet white wines (which goes perfectly with Foie Gras!)? Then go towards Sauternes. Each Chateaux offers wine tasting, some also offers a visit of the cellars & Gourmet food for around 15€ to 35€. Check the Tourism Office for more details and maps.
St Emilion is classified UNESCO. A very charming village which kept all its original features from the 13th century; paved streets and stone monuments. (High Hills to avoid!)
Just next to it, you also have Libourne. Little town with a small shopping street and a main square with arcades where a local market take place on Tuesdays and Fridays.
Here is the list& days of the local markets in the region.
Fancy going to have a splash or surf?! Go to Lacanau! Worldwide surf competitions are often held there. A very very long beach, snack bars and big waves. If you wish somewhere more elegant, Arcachon or Cap Ferret is "the place to be seen". All the Bordelais and Parisien escape there for the week-end. You have a "lac side" and "sea side". A newport beach boat rental can bring you from one point to the other.
Don't miss visiting around that area all the oyster farm villages where you can taste fresh oysters & sea food with a glass of white wine, feet in the water! A unique experience with a view on the European highest sand dune, "le Pila"!
Biarritz & St Jean de Luz, situated 2 hours' drive from Bordeaux, are also very well known. Biarritz for its Balneo/ Thalasso activities & elegant town, and St Jean de Luz for its Basque atmosphere & culture. The Spanish Border is only 30minutes away then! Why not go and visit San Sebastian for the day!
In a total other style, Bergerac, in the Dordogne region, is only 1hr away from Bordeaux. You can visit the Truffle farms, and taste the regional rich food!
Snapshot of Visiting Bordeaux