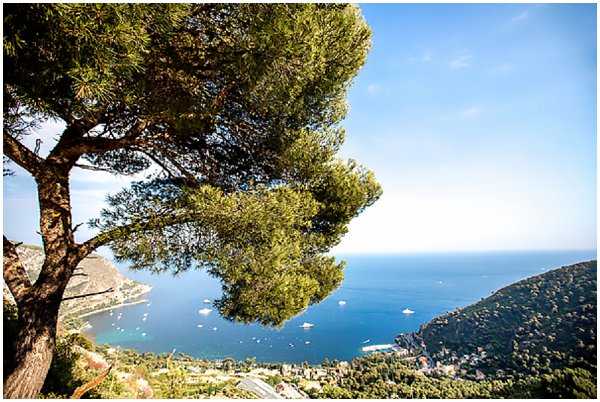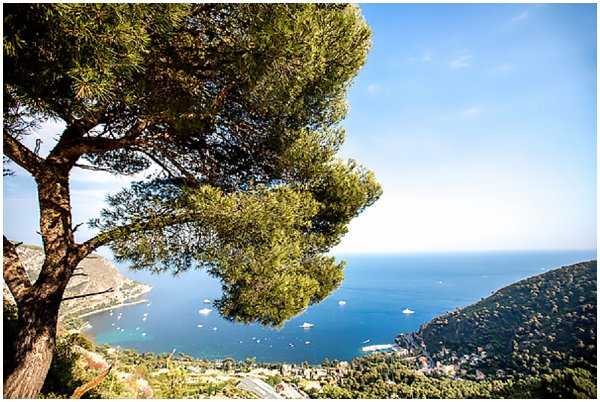 Wednesday means that is is time to put on your wanderlust aspirations and today we are exploring Eze in South of France with the assistance of Yana Audas from Yana Photography.  Don't forget if you've missed out on any of the wanderlust series so far you can check them out here, and if you love the South of France, be sure to check out our Cannes feature.
Exploring Eze
There are many places which call themselves "the most romantic place in the world", but only one has spectacular panoramic views over the Mediterranean sea; Michelin star cuisine; ancient castles; luxury hotels; the all around glorious weather; the exotic gardens; the luxurious sent of jasmine and lavender everywhere, the mysterious windy sun-drenched stone alleys; impressive military history (for the boys) and exquisite jewellery and art shopping opportunities (for the girls)…. and all of that in the space of little more than a postage stamp. Bienvenue à Eze.
Eze is a little medieval village spectacularly set atop a rocky mountain 1400 feet above the Mediterranean sea between Monaco and Nice.  It is easily accessible by car and also by the local bus, however if you choose to arrive by train, you need to be prepared for a serious hike from Eze Bord de Mer to Eze village.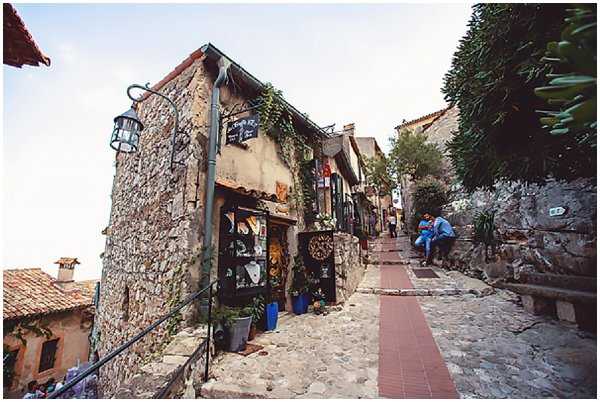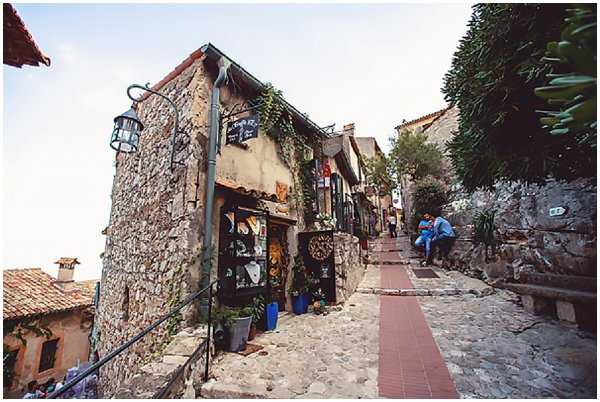 You really need to be quite fit for this hike and wear appropriate hiking boots. Having said that, we saw a group of gorgeous Japanese girls wearing something which could only be described as party gear (sequence dresses and platform shoes!) descending down the windy goats path of the "Nietzsche trail". I hope they reached the bottom of that rocky path safely!!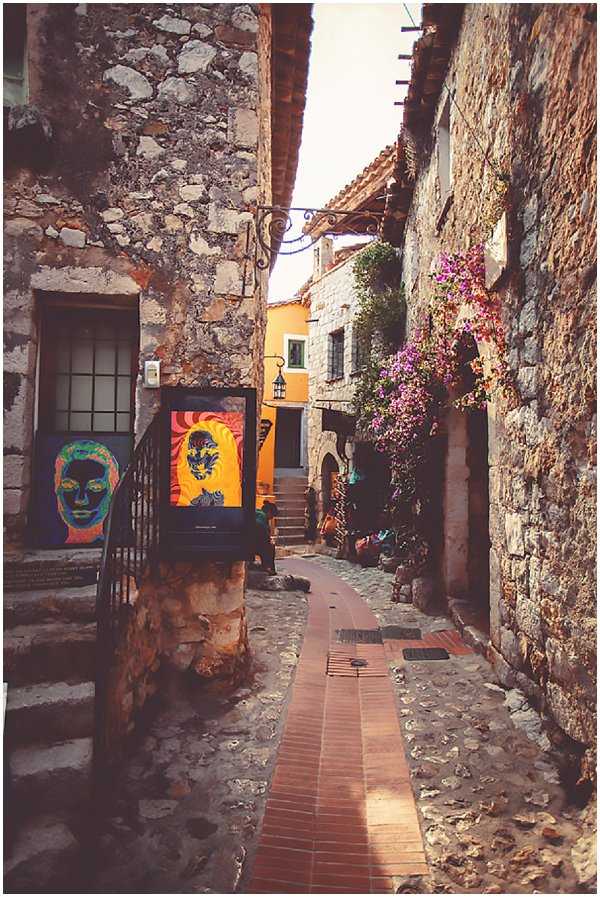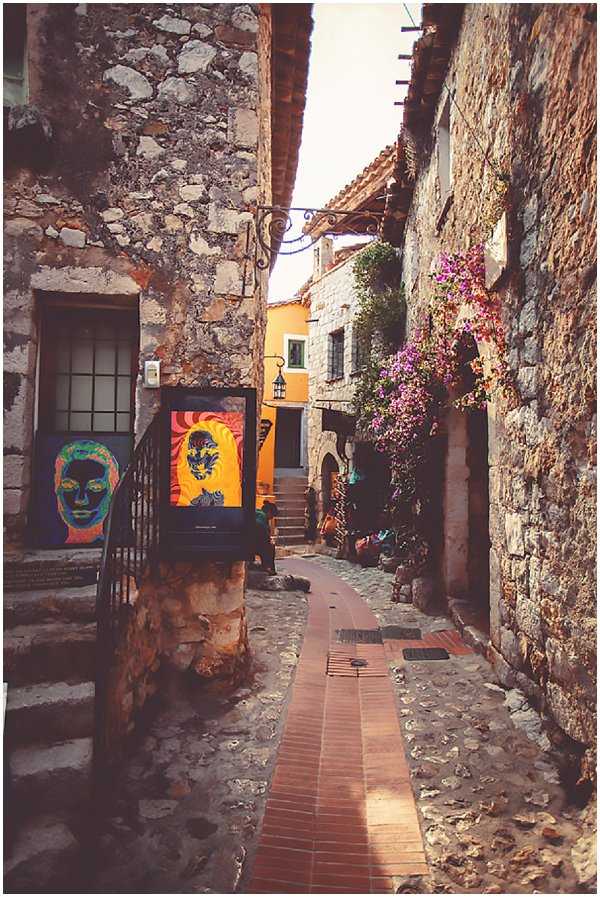 A taxi service to nearby Beaulieu will set you off approximately €40 for a 6 mile ride. We had to resort to this service after one of our late evening stays in Eze, and although the taxi was a top of the range S-type AMG Mercedes, we felt the fare was a bit excessive!
Once in Eze, leave the car in the car park – your journey through the village will be solely by foot.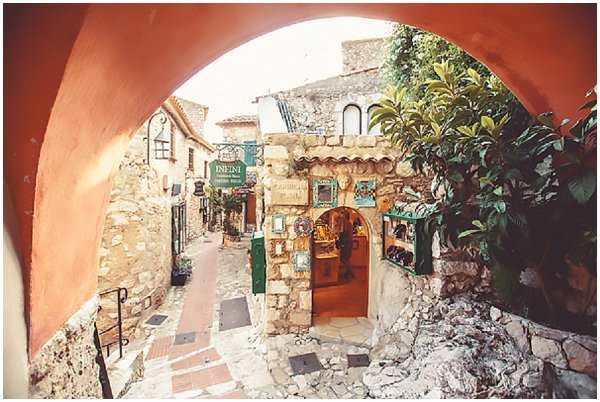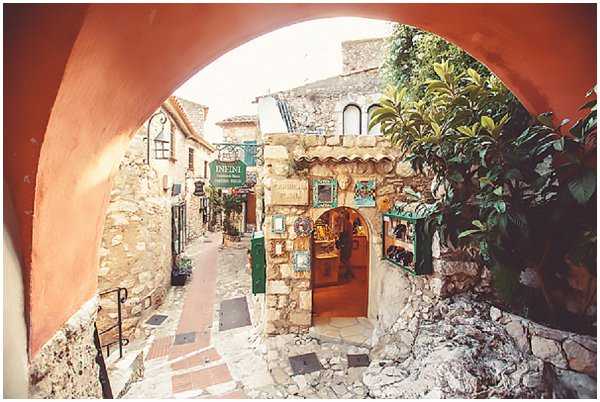 Stone paths wind their way up into Eze village and take you past over 20 art galleries, whose painting and sculptures spill out from the cavernous shops on to the squares and paths. It feels like walking through the outdoor museum of top quality modern art.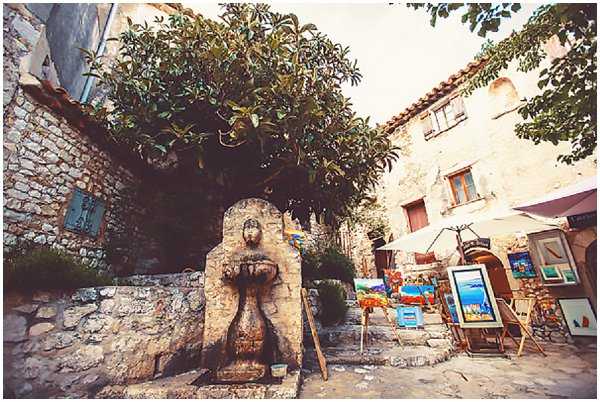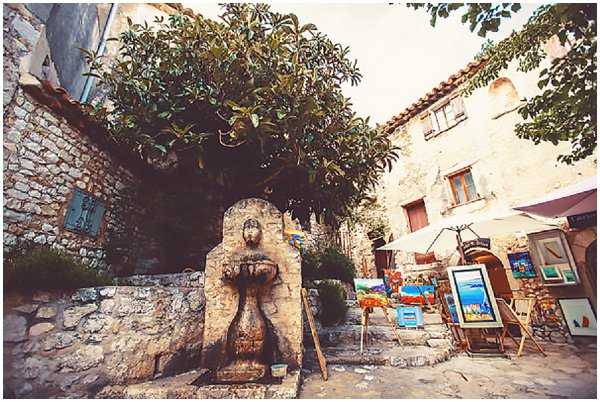 Locally inspired hand-crafted gifts are generously offered in Aladdin-cave-like boutiques: jewellery, clothes, Provence scents, tapestries, gorgeous lavender home fragrances, ceramics and linen.
 What to do in Eze
If it's not an art-gallery or a gifts boutique, than it must be one of the gorgeous cafés and restaurants that occupy rooms behind the medieval doors. There are lots and lots of little cafés to stop by before you reach the top of the village.
One restaurant which I would recommend for top quality food and spectacular views is Le Nid D'Aigle. Their "saumon tartare avec glace lavender" was heavenly. And how would you like to dine with the view like this….
or perhaps in the garden under the welcome shade of an ancient tree with oh-so-welcome vapours of fresh water mist thoughtfully provided for clientele who are perhaps ever so slightly wilting in the summer heat.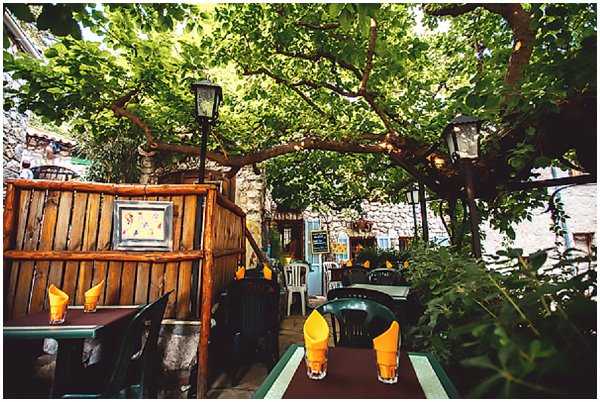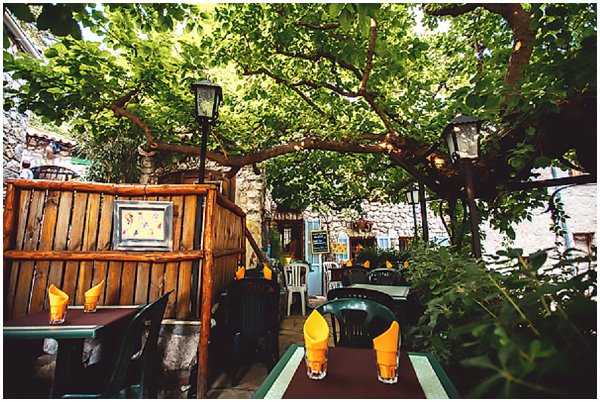 Another great value place for lunch is Deli' – Salad Bar & Olive Oil Shop. Mind you, it's only open in the warm months, which are March to January.
If you are after something really quite special in terms of food and stay, you can't help but be impressed with what Chateau Eza and Chateau de la Chevre D'Or have to offer.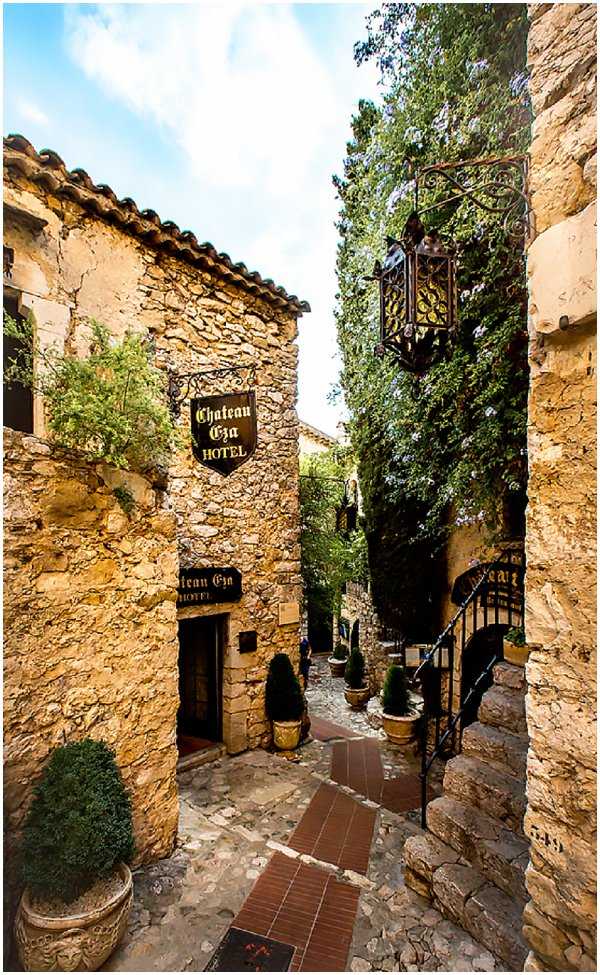 Both are luxury hotels, both offer opportunities to stay, dine and even to get married. If you would have to choose between the two, I would say that Chateau Eza looks a little more like the hill-top castle one could imagine, whereas Chateau de la Chevre D'Or has particularly impressive gardens in addition to the spectacular views which both places offer.
Talking about the gardens. Once you are at the top of the Eze Village, make sure you visit the Jardin Exotique with it's arid Mediterranean gardens, caves and water cascades. Not only does it offer a fantastic collection of hundreds of cacti, succulent plants and truly exotic sugared almond plants, it also, in true Eze style, gives you the pleasure of art in the fluid and elegant forms of female statues by Jean Philippe Richard. The gardens close at 19.30 just as the sun sets behind the overlooking mountain.
If you are seriously considering Eze as a place to join your hands and hearts in an official ceremony, you have a choice of a civil ceremony on a balcony of a Medieval Chateau or perhaps you would like to explore the possibility of a local church ceremony.
You will find the local church set at the top of the village. The summer shade of yellow facade of the Eglise Notre-Dame-de-L'Assomption contrasts with the baroque decoration of the nave, while the mellow sunlight floods the square outside of the church at around 7pm and makes even ordinary tourists look romantic and picturesque.
Before you leave Eze Village, take a moment to stop at the Fragonard Parfumerie. If you have more than just a minute, you can take a free guided tour of the factory and see for yourself how the essence of Provence is transformed from the local flowers into intoxicating fragrances. I can't possibly imagine anyone can leave the parfumerie without at least one gorgeously presented little package to remind you of the romance, love and pleasure which this region offers!
Where to stay
Chateau Eza www.chateaueza.com
04 93 41 12 24
Chateau Chevre d'Or  www.chevredor.com
04 92 10 66 66
Eze Hermitage www.ezehermitage.com
04 93 41 00 68
A Votre Eze – www.avotreeze.fr
04 93 53 50 03
La Masa B&B (Chambre d'Hotes) [email protected]
06 4024 42 85/ 04 9708 32 23
Where to eat
You really can't have a bad meal served in France…
However, we particularly recommend:
for Pizza amongst other things – La Taverne d'Antan
6, rue Plane , 04 92 10 79 61
for artisan fish and meat dishes – Le Nid d'Aigle
1, rue du Chateau (right by the entrance to the Jardin Exotique) 04 93 41 19 08
for Michelin star dining experience – Chateau Eza (pre-booking highly recommended)
04 93 41 12 24  [email protected]
Eze Village Tourist Office (right by the car park)
04 93 41 26 00
Open on Sundays during hight season and during school holidays.
City Hall
Avenue du Jardin Exotique, 06360 Eze
www.ville-eze.fr
Snapshot of exploring Eze