We are starting the week off with a relax and fun vintage themed DIY wedding in Normandy.  Rachael and Mark had their hearts set on getting married abroad and through hard work and careful planning, created their ideal eclectic vintage themed DIY wedding at Chateau de Blavou whilst keeping an eye on their budget.
Bride Rachael talks us through their big day with photography by Susie Lawrence: "We were excited about the idea of getting married abroad – but also didn't want to go to a far flung destination where there would only be us and a couple of guests. So Northern France seemed like a great solution. We also were surprised by the cost comparisons – we had a quote for a tipee in the UK for one day, which was more than the chateau for a week! We both love our food and drink, so the idea of French cheese, Normandy Cider and wine from the Loire valley got us quite excited! The French attitude to weddings was also great – we were frustrated by venues in the UK saying no to our ideas. The chateau gave is complete flexibility – when we asked when the music would need to end (could we push it to 1pm), they laughed and said why not 5am!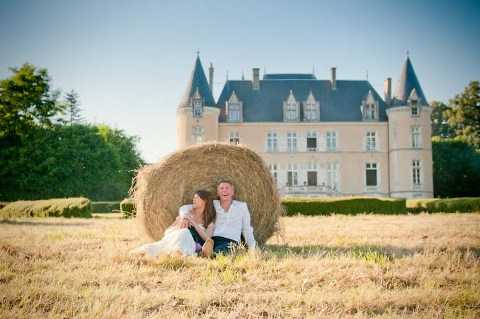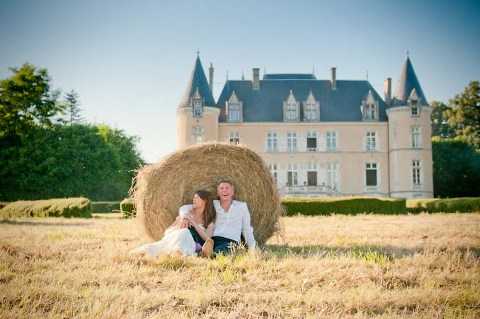 "We aren't the colour-coordinated type of couple! I got very bored of people saying you have to have an accent colour! We went for an eclectic, vintage theme which we felt fit with the chateau style. My dress wasn't vintage, but it had that feel, and we collected vintage platters/cake stands, and even used vintage Mills&Boon books for the order of the day. I loved the outdoor weddings they have in the USA, so we hoped having the wedding in France would give us a better chance of good weather so we could do everything (the ceremony, food, band etc) outside.
We also both wanted a wedding where guests had more time to mix and get to know each other – so we invited guests to join us for up to a week. We organised lots of things around the wedding, from a big dinner at the chateau, to a jazz night at a local bar, and had a relaxed BBQ with a DJ the day after. Oh, and a trip to the Tour de France!"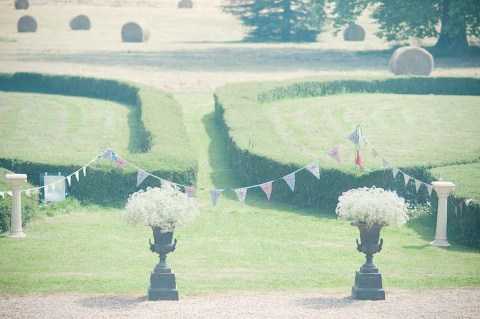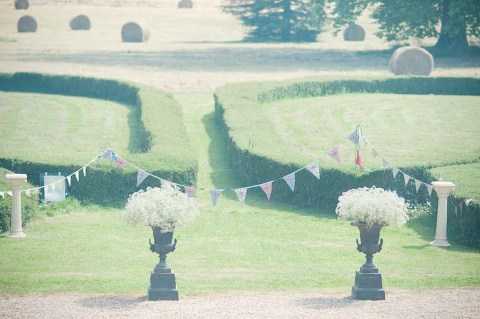 "When looking for a wedding venue we got a few quotes from chateau's who are set up as wedding venues, and these were astronomical. So we changed tack and looked at holiday hire venues. All but one didn't have the space, or equipment needed to hold a wedding. Chateau de Blavou runs local cultural events and was set up with a theatre school, so although the wedding was very much DIY, they had everything we needed. The fact it had 2 towers and and fairytale feel helped! We were sold when we saw the vaulted cellar which turned out to be an excellent place for our DJ friend to keep us dancing into the wee hours. The space was also amazing – we had over 30 children at the wedding, which could have been quite noisy in a traditional indoor venue. But the chateau grounds, with boating lake and fields, meant the children could run riot! We had 120 guests so we also needed a venue that was close enough to a town/s so there was plenly of accommodation."
"We were so lucky with the weather; France had a really poor summer like the UK, and when we arrived a week before the wedding, the weather was distinctly average. But as the week went on, the jet stream moved and by the day of the wedding, the temperature was about 75 degrees -perfect. However, been English, this was actually quite hot, and we struggled to get all the guests from the shade and onto the seats set out for the ceremony in front of the chateau, where there was no shade, so we could start! We then had to be flexible and change the plans for eating, moving the tables under the trees in an area we hasn't considered using before – it ended up working brilliantly and noone knew that we hadn't always planned to do that."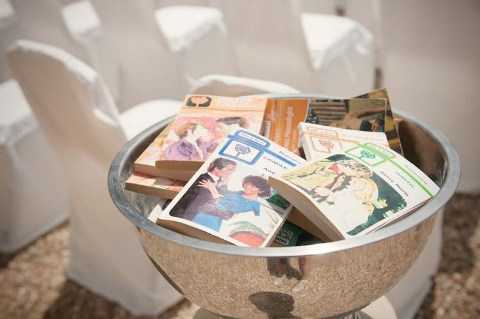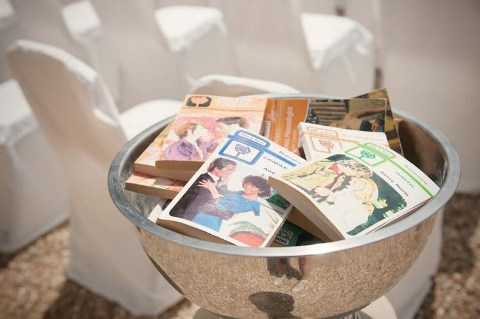 "We had no really mishaps but our lack of French didn't make for easy wedding planning, but you can still plan a wedding with a little determination. Google Translate was brilliant, for emailing suppliers, to sitting in the back of a local charcuterie with the shop owner and us typing in questions and answers! And Pinterest was great for sending pictures to florists/caterers. We were lucky to have a French speaking friend who came at the end and confirmed a number of things for us which helped calm the nerves."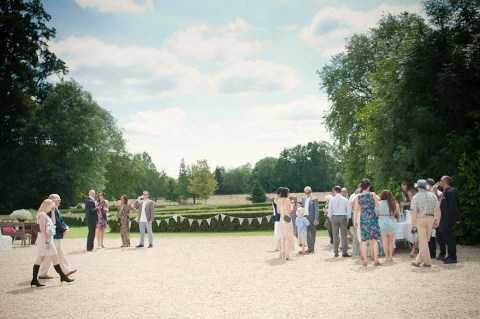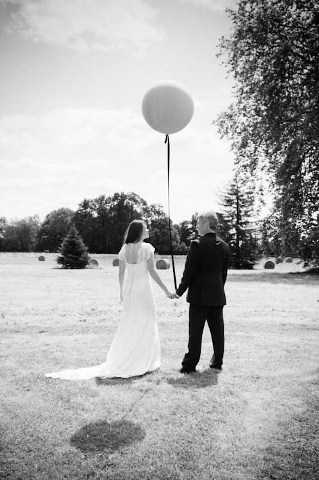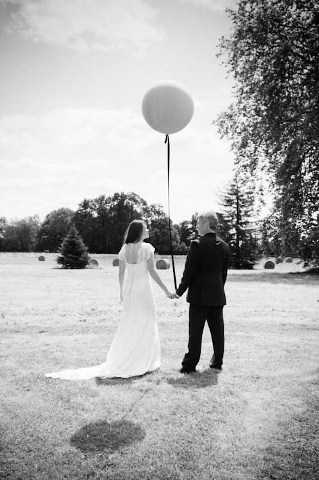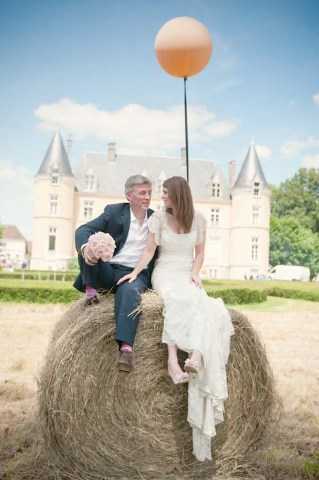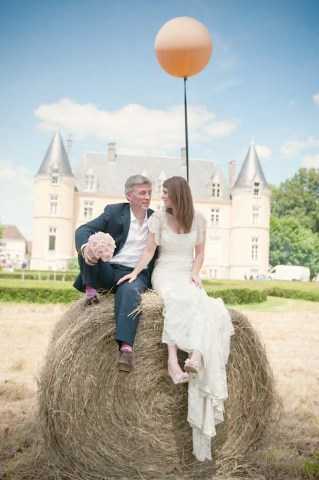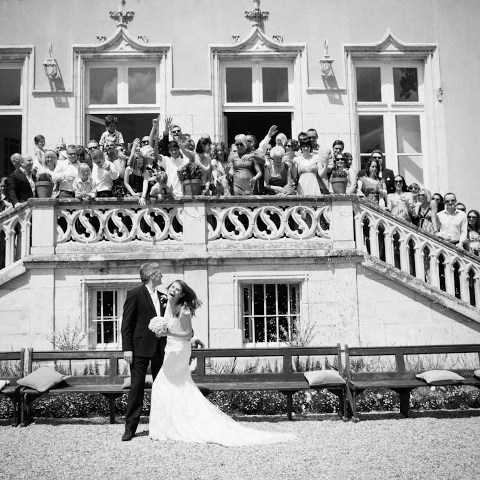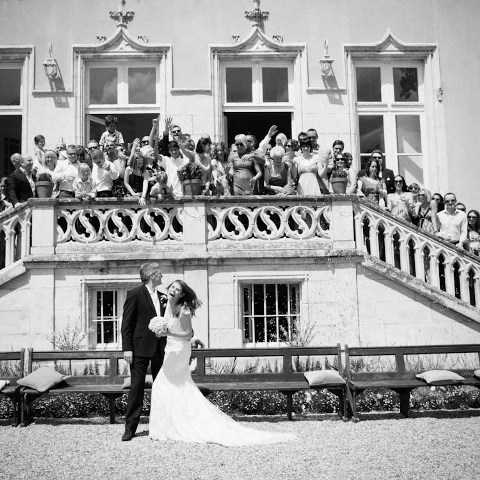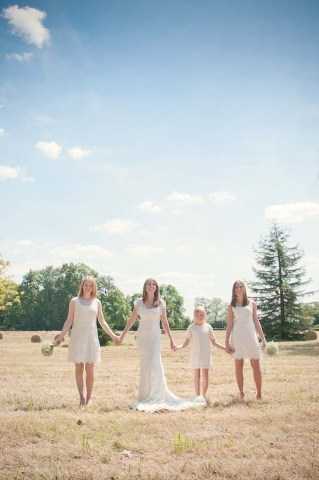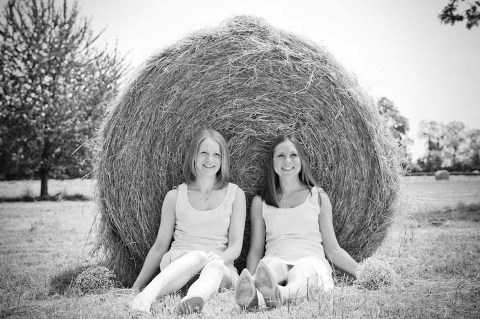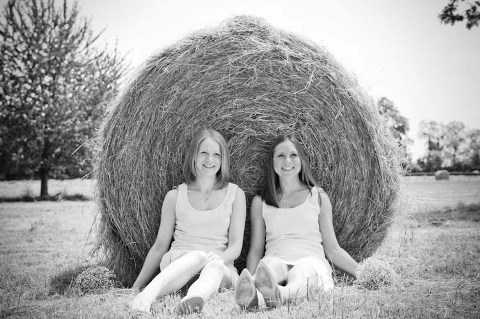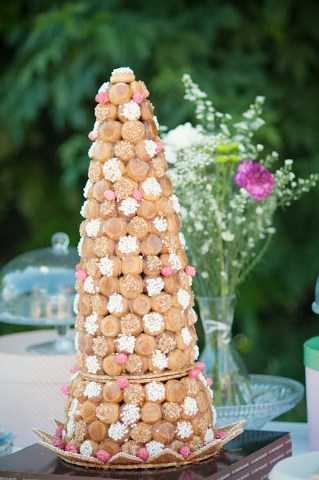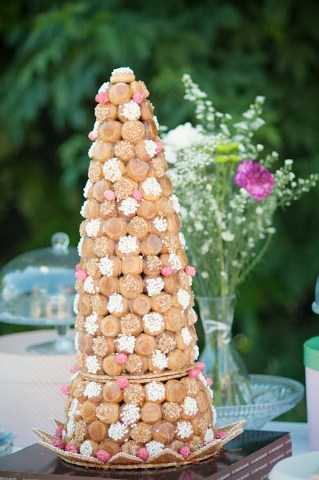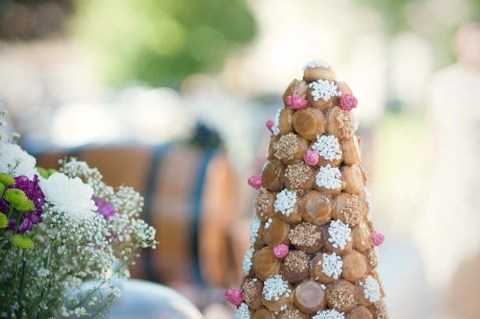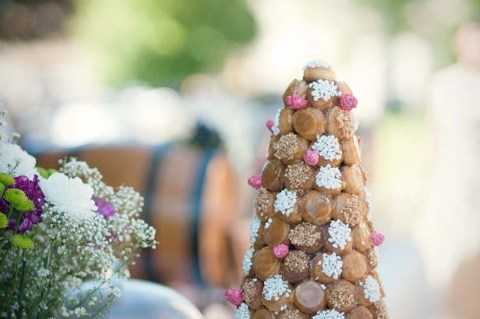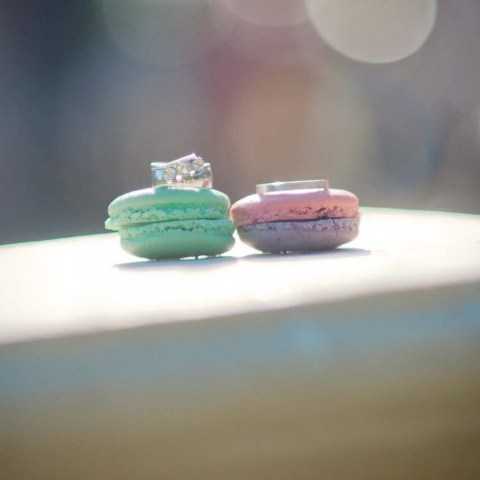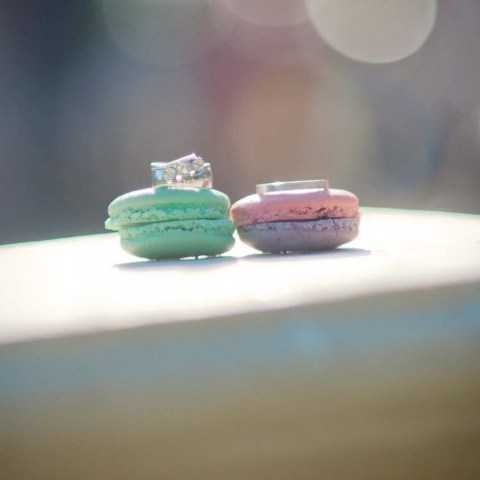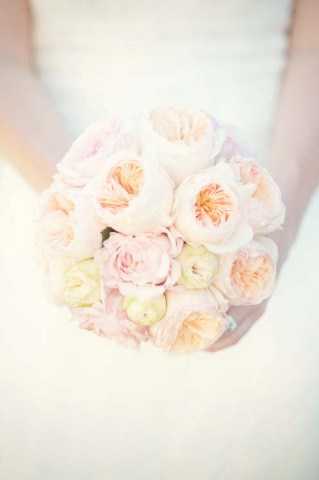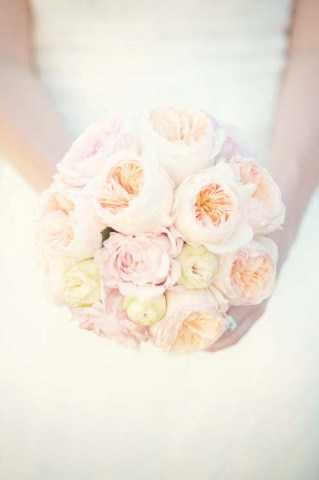 "My advice if you are thinking about getting married in France is don't be put off by quotes of £20-30k from the wedding chateaus that you'll find with a quick google search. We found Chateau de Blavou on a holiday home website. Do the maths – we believe we would never have got the wedding we wanted in the UK for the price we put in together for in France. Food and drink is much better quality, and just cheaper.  Do factor in the cost of visiting your venue – we went to France 3 times before the wedding, first to view the chateau, 2nd to source suppliers, and finally a few weeks before to reassure ourselves all was OK! But hey, these were mini-breaks!
One thing I discovered was that you have to be flexible if you are having a wedding in another country, when you don't speak the language, in a venue not used to holding weddings, without a wedding planner. It was impossible to ensure my wedding vision became an exact reality on the day, without me orchastrating the staff which I obviuously couldn't do. I wanted to enjoy my day, so had to relax when, for example, I saw the French staff compleyely ignoring my beautifully set up vintage dessert table and putting out the deserts on another table. If you do go for a DIY affair, don't underestimate the time and people you need to get everything done.
We were in France for 2 weeks, with the wedding on the middle weekend. It look most of the first week to get though the mountain of chair covers that needed ironing, chairs and tables that needed finding from out-buildings (we were driving a mini tractor around the grounds!) etc – help from family and friends was invaluable. However, this was great and really just added to the whole event and really helped everyone bond."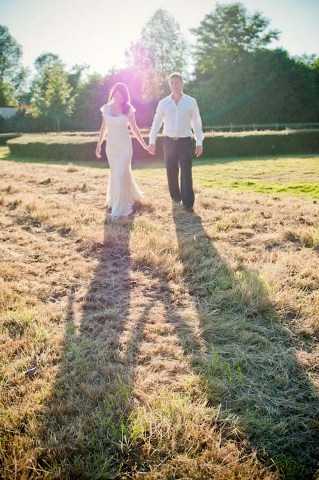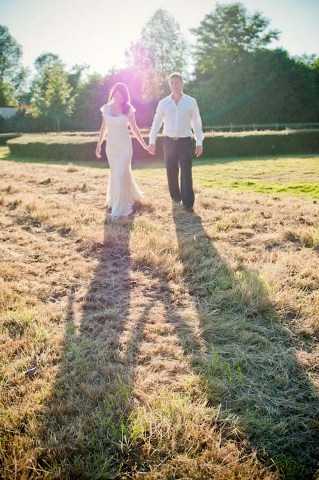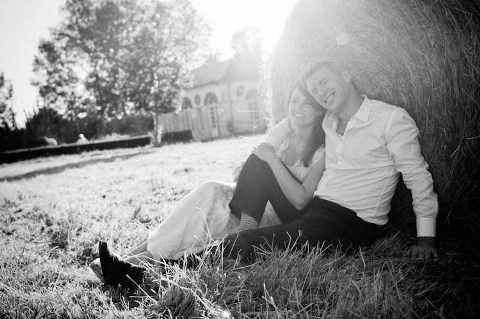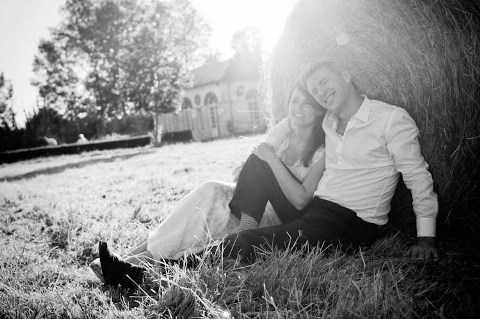 How calm and relaxed does this wedding feel and some great words of advice from Rachel if you are planning your wedding in France.


Credits:
Dress: Suzanne Neville Maiden dress. Sourced from Preloved at a fraction of the RRP.
Venue: Chateau de Blavou, nr. Belleme, Lower Normandy, France
Venue finder: Holiday Castle Rentals
Wedding Photographer: Susie Lawrence Photography