It is another real wedding Wednesday and today we are off to the Parisian countryside for the vintage style wedding of Claire and Stephane. A long term couple, Stephane surprised his girlfriend of 9 years Claire,  with secret proposal that left her speechless.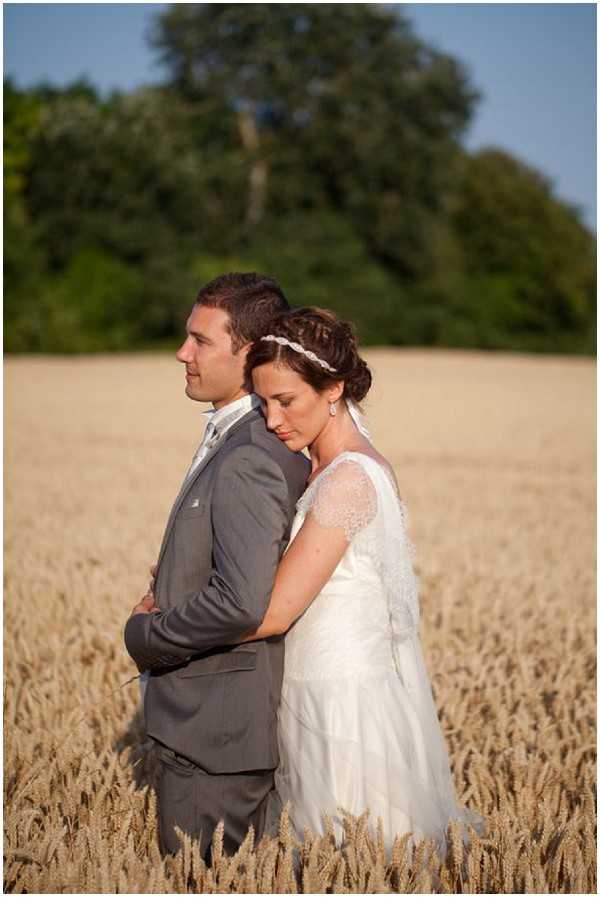 As lovers of all things vintage the couple choose this as their wedding theme and styling for the big day.  Keeping with the vintage theme Claire choose a French Wedding dress by Marie Laporte with lace overlay and capped sleeves, finishing off the bridal look with a simple and elegant vintage style headband and floor length veil.
French Wedding Style – Photography © Freddy Fremond
A traditional French wedding the civil ceremony was actually conducted by one of Stephane's closes friends.  The couple and their guests then departed for a religious ceremony at a small church in front of their friends and family.
Whilst their guests appreciated a cocktail hour, the couple and their photographer Freddy Fremond took some time out for a photo session.  A pause in the day, the session took advantage of the rustic and picturesque surroundings.
For the wedding reception Claire and Stephane used their love of all things vintage to decorate each table to represent a room in an old house. Sourcing items from antique markets and having great enjoyment in looking for hidden treasures in Grandma's and other relatives houses.
Thank you to Claire and Stephane for sharing their day!  I love the idea of finding hidden treasure to decorate your wedding with, are you planning on incorporating any family or personal items into your wedding decoration?

Wedding Suppliers:
Dress : Marie Laporte
Accessories : Etsy
Caterer : Thomine Traiteur
Venue : L'Orée du Plessis
Photographer : Freddy Frémond