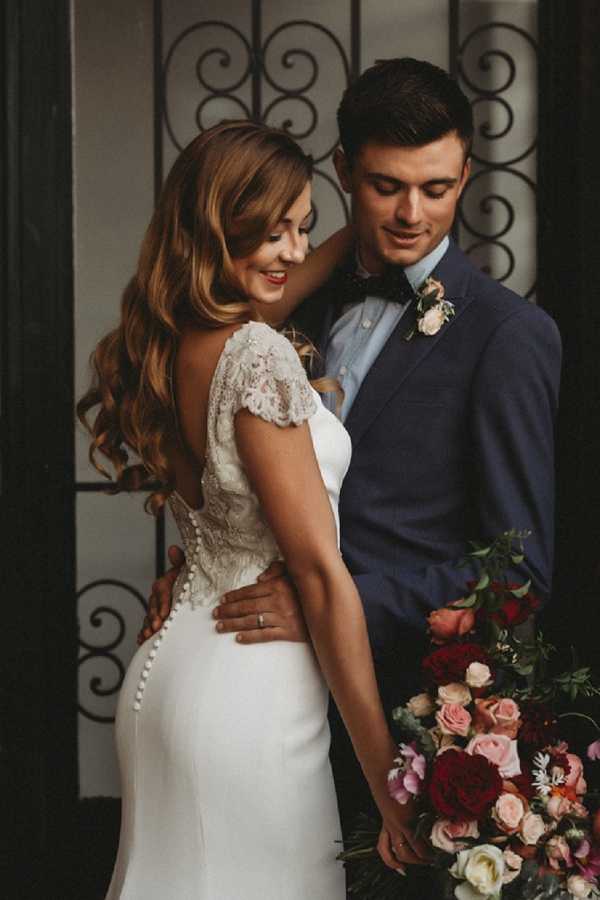 Are you ready for a touch of Gatsby inspiration in todays wedding at Chateau Terre Blanche. We can't get enough of our brides statement Rosa Clara gown which oozes vintage glamour and her bridal bouquet created by Sarah Menager which incorporated antique roses.
FWS vendor and talented photographer Pattie Fellowes was there to capture all the fabulous inspiration created by the team of vendors who came together to create this vintage inspired wedding photoshoot at Chateau Terre Blanche. We feel Pattie's artistic and timeless photographic style compliments this shoot wonderfully.
We'll now pass you over to Pattie who will be walking us through today's photo shoot at Chateau Terre Blanche…
In the foothills of the Pyrenees, in the medieval village of Chalabre, there is a charming chateau, Chateau Terre Blanche. The chateau is beautifully renovated, maintaining it's early medieval style. Today, Chateau Terre Blanche has become a stunning wedding venue and luxury hotel. We especially loved the chateau's vintage floral wallpapers. Their bold colours and patterns create a unique style for each room, keeping a luxurious and harmonious look throughout the chateau.
Our team was inspired by the traditional and elegant style of Chateau Terre Blanche. We created a vintage glam wedding editorial, featuring Rosa Clara wedding dresses and local products and suppliers.
The bride looks stunning wearing her vintage glam make up. Porcelain skin, red lips and defined eye line were carefully applied by a talented local Make up artist, Deb Stewart. Soft peach eye shadow and subtle blush finish the elegant and feminine look.
Our bride is wearing two Rosa Clara dresses, selected by Emilie Delorme from Les Rubans de Leopoldine. The first gown, for the formal ceremony, is a Gatsby style, elegant figure hugging dress. The dress is perfect for an elegant and sentimental bride. A bride who knows her style and loves tradition. Thousands of beads and hand made embroidery make it an impressive masterpiece in every tiny detail.
To complete the vintage glam look, we choose delicate rose gold and diamond jewelery set from Bijouterie Mohedano: earrings, necklace and a matching ring. The floral style of the jewelery adds a vintage and feminine touch.
The groom is getting ready in the 'Lastours' room. It is a spacious, luxurious bedroom with a statement wallpaper of red flowers and impressive vintage oak furniture.
The beautiful bride and handsome groom were both styled by talented hairstylist Annette Carr. A deep side parting with cascading, glamorous waves, fitted perfectly with the bride's vintage style dress. A touch of elegance was added with a delicate, fresh flower comb carefully placed to enhance the look.
A celebrant, Robert Hendry, from Wedding Words & Wishes, runs a personalised ceremony for the couple. Rob tells some sentimental stories of the bride and groom, and adds humorous anecdotes to relax the newlyweds and the guests. He also reveals interesting, wedding related stories, for example the symbolism of the wedding rings. The celebrant can also add symbolical rituals during his service. For example, to make it even more special, bride and groom can sip champagne from one glass, or light a candle together.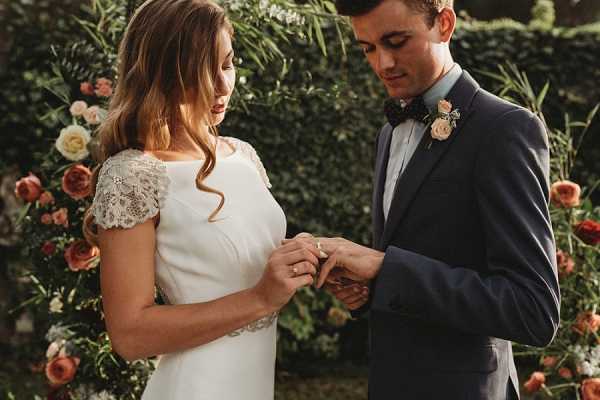 The chateau garden is a beautiful place for a wedding ceremony. The bride walks down the aisle shaded by trees. She passes an ancient fountain and fragrant flower beads. The groom waits by a beautiful flower arch – a ceremony set up centerpiece made by Sarah Menager. The florist used roses and foliage for a poetic and romantic, but natural look.
For the cocktail hour, a local distillery La Distillerie du Sud provided artisan gin. To add a personal touch, the gin bottles have custom made labels.
Dotty Kitchen Catering prepared a selection of beautiful looking, delicious canapés. Using only local and seasonal ingredients, the caterers make magic with food.
To add a vintage and luxurious feel to the wedding, Sarah created the stunning floral decor and bridal bouquet using burgundy antique roses and foliage.
The wedding reception takes place in the chateau's orangery.
Sarah suggested two possible table set ups for the room. Firstly, a romantic table decor with fresh grapes, figs and roses. The fruit and flowers on a bare, black table have a still life painterly quality, especially together with an antique dinner set and crystals. The beautiful table stationery made by Promesse Graphique finishes the look.
Chateau Terre Blanche is a perfect place for a charming small to medium size wedding in Southern France. We love how the newlyweds and their guests can use the chateau and it's gorgeous garden for the occasion and their holidays.
For even more from this vintage glam wedding at Chateau Terre Blanche check out the beautiful wedding film created by Kevin Major:
Vintage Glam Wedding at Chateau Terre Blanche Snapshot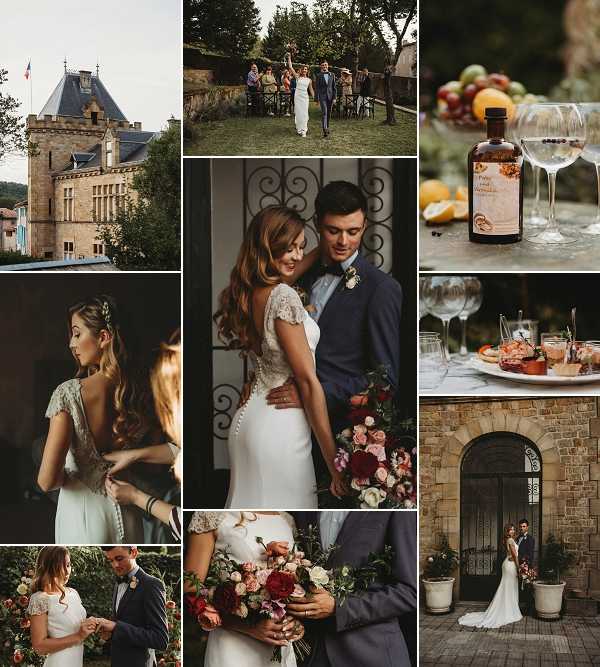 Wedding Vendors
Photographer Pattie Fellowes | Venue Chateau Terre Blanche |  Brides Dress Les Rubans de Leopoldine | Catering Dotty Kitchen Catering | Florist Sarah Menager | Hair Annette Carr | Make Up Deb Stewart | Stationery Promesse Graphique | Videographer Kevin Major | Celebrant Wedding Words & Wishes | Accessories Bijouterie Mohedano | Accessories Distinctly Caitlin Designs | Favours La Distillerie du Sud