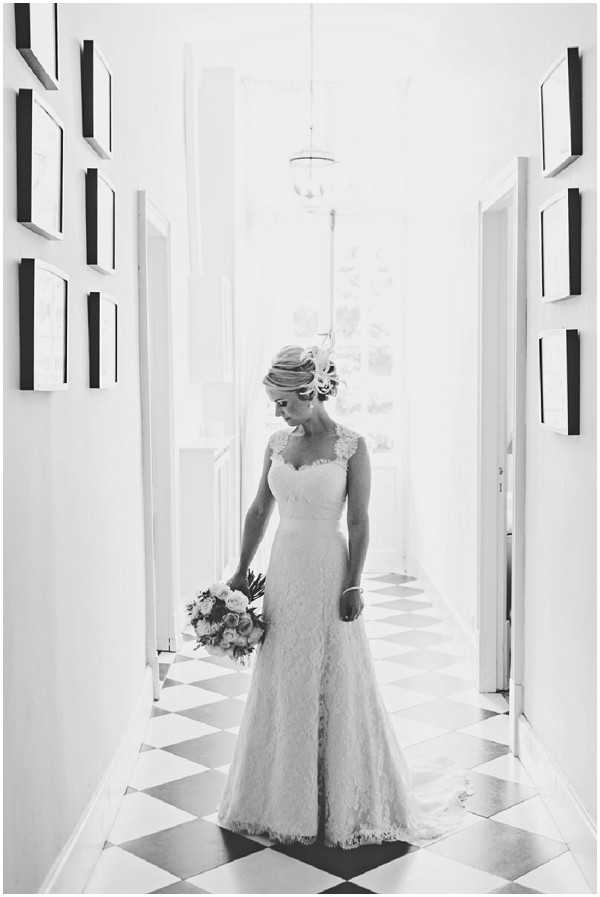 Good Morning Trulovers!  Today starts with a relaxed, rustic and utterly charming real villa wedding at a historic vineyard in the heart of the Dordogne in South West France captured by Claire Penn Photography.  But be sure to check back later as I have something exciting to reveal!!
Nicolas and Amy met through a mutual friend during the England vs. France Rugby game in Paris. The two of them spent entire game scoffing hot dogs, sipping cheap beer and Nico trying effortlessly to teach Amy the rules of rugby.  With the majority of their friends and family traveling from afar and because Nicolas is French they wanted their friends and family to experience a beautiful setting, yummy food and delicious wine. SW of France was perfect for all three!
French Wedding Style – Photography © Claire Penn Photography
Beautiful bride Amy takes us through their big day:  "When it came to the wedding, we didn't have a strong preference at first on the type of wedding we wanted to have. We knew we wanted an intimate location…somewhere we could host our closest family and friends and really just celebrate being together. We also knew we wanted to get married in France, since Nicolas is French, preferably in an old chateau. This is exactly what we did. We had a short ceremony in an old 14th century converted barn, followed by dinner and dancing in another part of the chateau.
As for the ceremony itself , we decided early that Nicolas would walk me down the aisle – a symbol of us taking this step together. We also wrote our own vows and had our best friends officiate. It was a very special, heartfelt ceremony that we will forever keep in our hearts.
For our suppliers we took a bit of a gamble at first. Because we weren't set on any style, location, exact requirements — we were open to leaving a bit of it to chance. I started googling venues in France and up popped Marry Me in France. Much to the surprise of our friends and family, we paid a deposit before even seeing the place. The photos looked beautiful, the MMIF coordinators were very helpful and that was all it took.
The rest was easy – most of the suppliers were recommended by MMIF and I have to say, I was thoroughly impressed. I felt grateful for their services but I also just loved having them there as part of the day. They were all very professional and lovely people to work with.
As far as the photography went, we initially contacted a photographer recommended by Beth at MMIF but she was booked and instantly suggested Claire Penn, who works out of the UK.  Within the next few days, I'd had an initial discussion with Claire (availability, style preferences, logistics) and another day or so later we had her booked!  Claire even suggested meeting up in London when she was down here so that we could get to know one another a little before the wedding.  She was brilliant…so accommodating and a real pleasure to work with… and the photos are absolutely amazing!
I purchased the very first dress I tried on. Again, we felt we could either get bogged down with the detail, or we could keep an open mind and see where the planning took us. The dress was from a Canadian Designer called Paloma Blanca and I purchased it at a small shop in London. It was a champagne colour with Chantilly lace and had cap sleeves with a key hole back. It was perfect.
The men all wore black suits with black/white checkered shirts and black ties. To have Nicolas stand out a bit, we put him in a 3 piece suit with a pink bow tie, which complimented the wedding colours. He looked amazing 🙂
The day really was something out of a story book. 22 of closest friends and family members stayed with us in the Chateau and the day started the same way all the days started ; with fresh baked croissants and pain au chocolat – hot from the oven.
We all spent the morning getting ready…hair, makeup, the works. Once everyone was made beautiful, the photos began and started with our 'first look'. Because we wanted to do this pre ceremony so that we had more time to spend with our guests afterwards, Claire our photographer helped us plan the special moment.  It was perfect … I will never forget the look on Nicolas face when he saw me for the first time , in a wedding gown, about to become his wife. It was incredibly moving … even with the lurking thunder clouds ahead.
Once the photos were complete the guests started arriving for the 5pm ceremony. They were greeted with a welcome drink that they enjoyed while finding their seats. The ceremony lasted 20 mins and was officiated by our best childhood friends. Each of us had 2 additional attendants.
After the ceremony, we had a cocktail hour on the back terrace with some of the most stunning views I've ever seen. The weather did everything that day… rain, thunder, sunshine. Luckily, just before the wedding was about to start the clouds parted and the sun came out for the rest of the evening. It made for some really beautiful photos , many that you will see here.
Once the cocktail finished, everyone took their seats in the reception barn and we enjoyed 4 courses made up of local treats from the region. For the next 6 hours, people danced the night away until the early hours, at which time they were bussed back to the chateau down in the valley where the majority of the guests stayed. It was truly a story book wedding and we are so thankful for everyone that helped us celebration the special occasion!

We didn't have any issues with planning a wedding in France. I do not exaggerate when I say that Marry Me in France was incredible. All the logistics, recommendations, coordination was taken care of. I am a project manager by nature so it felt good always knowing that things were under control and progressing.
My advice for couples planning a wedding in France  but are living somewhere else, I would suggest taking a more laid back approach to planning. It is not necessary to plan everything to the nth degree of detail. You can't really go wrong with the scenery, food and/or wine in France and the less you worry about the small details, the more you have time to focus on what really matters.
For our honeymoon we are planning to take a 2 week trip through Italy in the Spring. We wanted to plan it a few months after the wedding so we have something to look forward to while facing the cold English winter!"
The style, the scenery, the rustic chic decorations and the beautiful location, what is not too love about Amy and Nicolas' wedding!

Wedding Suppliers:
Photographer: Claire Penn Photography
Assistant Photographer – Samantha Jane Photography
Dress – Mirror Mirror Bridal Couture
Venue: Vineyard Villa
Hair & make up – via planners
Flowers – Jenny Moss via planners
Catering – Laurent Iribarne
Planners – Marry Me In France