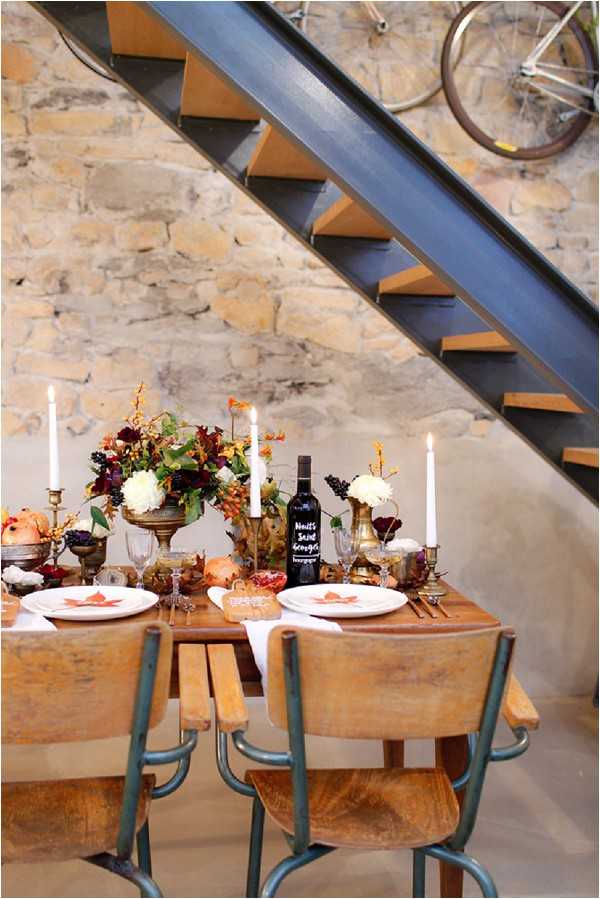 It might seem like autumn is a long time ago, but the crisp chilly breeze brings it right back and this urban Autumn wedding inspirational shoot from Majenia is a delicious ideas filled treat.  Not one to be pigeonholed I love the mixture of urban, retro and rustic elements that give this inspirational shoot real depth.
Natalie from Majenia talks us through the shoot:  "Autumn is generous in warm colors : burgundy, orange, brown, marsala thus giving a special tone to a wedding party decoration.
However, these hues are not often used on such an occasion which prompted us to meet the challenge of resorting to the facets of this season in an inspirational shooting.
The shoot took place in a loft in Lyon to combine modernity with a few retro touches and we chose a bare wooden table to create a warm atmosphere. Two schoolroom chairs emphasized the contrast between the rustic table and the modern background of the house.
Since autumn also spells seasonal fruits in their mellow fruitfulness: apple, pear, pomegranate, nut, hazelnut and chestnut, we deliberately made them part of the decoration in a subtle and appetizing disposition.
In order to match the decorations, we added extra elements to pre-existing fixtures like bike wheels on the walls set up by Jaune Pivoine with garlands.
Floral arrangements were entirely made with seasonal flowers and plants: dahlia, anemone, branches, autumn leaves, berries, buttercups and chrysanthemums.
To heighten originality, the table name was inscribed on a bottle of wine, messages in a calligraphic handwriting on small wooden boards beside plates and guests' names on real autumn leaves.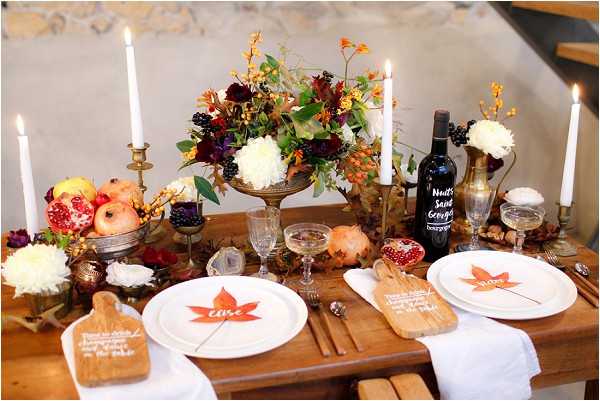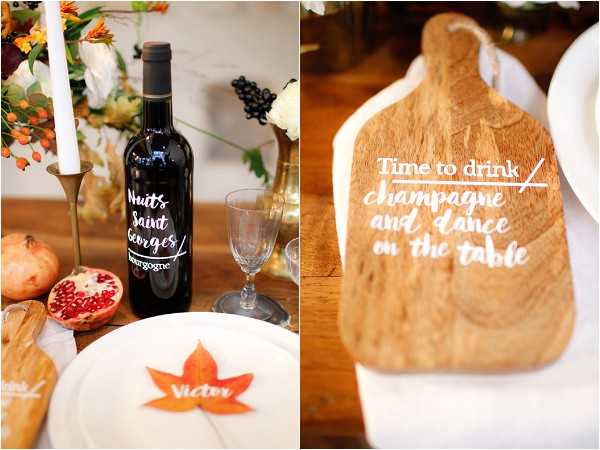 I love Majenia to fit in every print available for a wedding announcement with a wedding party decoration to reach a complete consistency with the menu, the table names and place marks. As gilt harmonizes very well with warm colors, we opted for gilt candlesticks on the table.
As the loft used to be a printed works, we felt like exploiting the window front: a magnificent plate-glass window still in its original condition.  Models were displayed on the threshold of the flat and the dichotomy wedding versus old works is successfully highlighted in the snapshots by Acacia Piks.
Choosing the wedding dress was crucial and fashion designer Aurelia Hoang managed to bring out the balance between elegance and modernity.  To enhance the beauty of the bride, Virginie Debourg did the making up and the hairdressing in a casual style suiting both the place and the shooting.
At the end of the day, we finished by a snack and champagne party with a chocolate coulis and nuts and hazelnuts cake, madeleines, black chocolate bars and a dish of fresh fruits."
Urban Autumn Wedding Inspirational Shoot Snapshot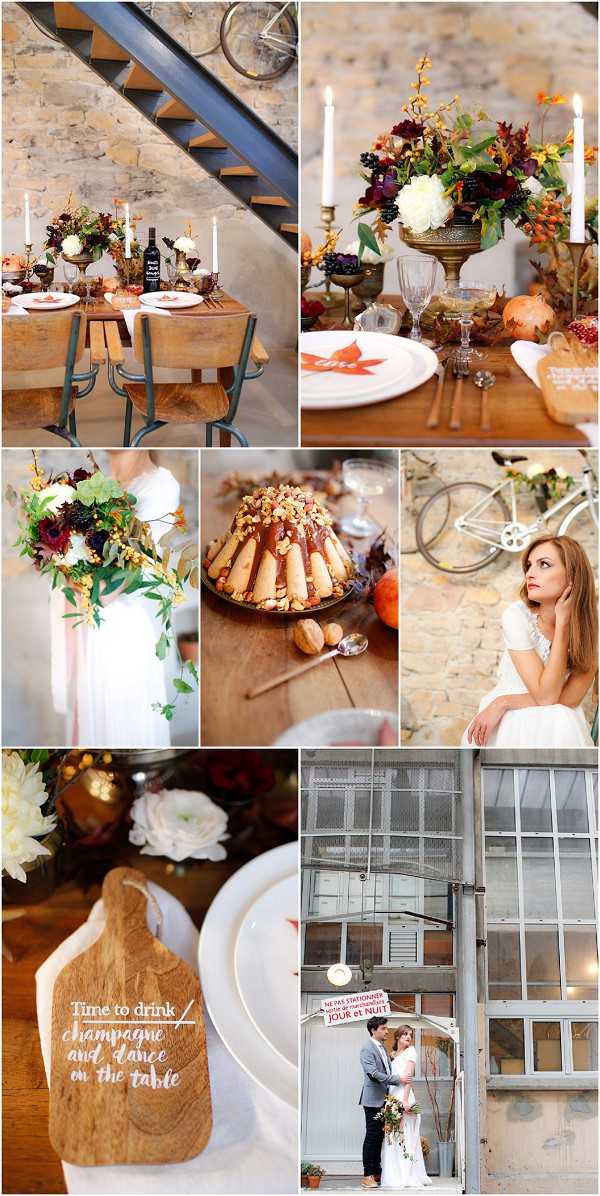 Wedding Vendors:
Photographer: Acacia Piks |  Styling: Majenia | Flowers: Jaune Pivoine |  Dress: Aurelia Hoang |  MUA: Virginie Debourg |