Unconventional Romance: France's Standout Wedding Destinations
One of the biggest topics of questions that come into French Wedding Style from brides to be, is regarding wedding venues. There really are so many wedding venues and locations to choose from in France, today I thought it would be fun to look at the some of the top unique wedding venues in France that could be the location for your wedding.
Don't forget that you can look through our wedding venue spotlight features to take a closer look at specific venues.  But let the fun wedding planning commence with some unusual wedding venues to spark the imagination.
Paris Abandoned Railroad
Image from Messy Nessy Chic
I couldn't put together a post on unique places to get married without mentioning the wonderful abandoned railroad tracks in Paris, La Petite Ceinture.  The line was officially closed in 1934 and is off-limits to the public, so this is purely for inspiration, but set in the heart of Paris what other hidden gems are in the major French cities that could act as a location for your wedding.
Chateau de la Chevre d'Or
There is one reason why Chateau de la Chevre d'Or made the list and it is simply the stunning view!  Located in Eze on the French Riviera, the Chateau is situated high up on a cliff top and offers a panoramic sea view garden for ceremonies.
But the Chateau also has the service level to back up its wonderful view, catering for luxury intimate weddings for up to 50 people.
Musée de Montmartre
If you are looking to get married or blessed in Paris and looking to bring out your bohemian side, one of the oldest buildings in Montmarte, Musée de Montmartre might be for you.   The museum is very different than other stylish and chic locations in Paris, for this is the former meeting place of artists such as Suzanne Valadon and Auguste Renoir.   In fact one of the old artists studios has been restored and you can imagine yourself just as Renoir might have done.
Image by © Thomas Dupaigne
In the Renoir gardens is a leafy oasis in the centre of Paris in the courtyard of the Demarne Hotel, the neightbouring house on the grounds, which you can actually hire for events and weddings.
Check out this Musee de Montmartre wedding in Paris
Bespoke Yacht Charter
Weddings don't have to be on land – how about a luxury yacht as the basis for your wedding celebrations  – and the best part you don't have to decide on one location.  Bespoke Yacht Charter can cater for weddings from 20-300 guests in ports such as Antibes, Beaulieu, Cannes, Cap Ferrat, Monaco, Nice and Saint Tropez.
A yacht also offer the opportunity to get married in a ceremony at sea, a truly unforgettable experience for you and your guests.
Villa Ephrussi de Rothschild
Yes there are many wonderful and magnificent locations to get married in France, but with its stunning grandiose architecture Villa Ephrussi de Rothschild simply had to make the list of unique wedding venues in France.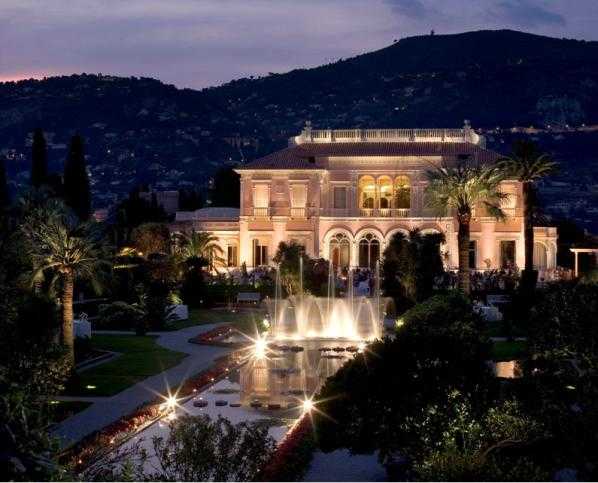 The villa is located in Saint Jean Cap Ferrat between Nice and Monaco and oozes extravagance whilst retaining a French Riviera charm, or being too formal.   With a very limited number of weddings per year, Villa Ephrussi really is an exclusive venue, but you can visit the villa as a tourist and wander around the magnificent gardens.
Check out this Dream Wedding at Villa Ephrussi de Rothschild
The Alps
You certainly don't need to worry to much about wedding decor for your ceremony when you plan a wedding in The Alps.
Image by Erlend Haugen and planned by Haute Wedding
If you are unfamiliar with the area then I would certainly recommend engaging an experienced planned such as Haute Wedding who can help recommend the best ceremony locations and also reception spots.