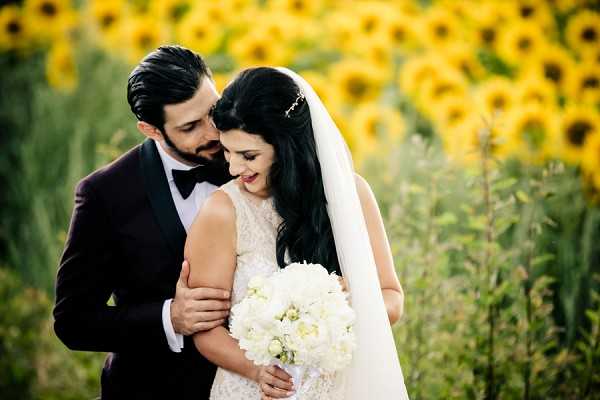 Hello lovelies, today we are whisking you off to this stunner of a unique destination wedding venue – Chateau Challain.
FWS vendor Chateau Challain is a glorious French Chateau located in the heart of the Loire Valley. With its neo-gothic grandeur this fairytale French castle is the perfect venue for an enchanted affair. Which is exactly what our gorgeous bride and groom thought too. They'd never been to France before but when they came across this enchanted French Chateau they just knew that this was the place they would say "I do" along with their closest family and friends to celebrate!
Cynthia and her team created the most beautiful day for Bashir and Shirin who had traveled all the way from San Francisco for their destination wedding. The memories of their perfect day where captured by photographer Flavio Bandiere who will be walking us through this unique Chateau Challain destination wedding…
"Ten years earlier, Bashir and Shirin met through a mutual friend in the city of San Diego. Love grew gradually from a friendship they forged early on and within a year, they had moved in together. They lived another four years together until they split with Shirin moving to Florida to pursue dentistry and Bashir moving to San Francisco to delve into the tech startup scene."
"They remained friends and in contact for the next three years and upon graduation, they decided to give their story another chance. Shirin moved to San Francisco and they were convinced that the best pages of their story is yet to come. Bashir proposed on the island of Santorini, surprising Shirin by placing the ring behind them, taking a selfie and having her notice it in the picture."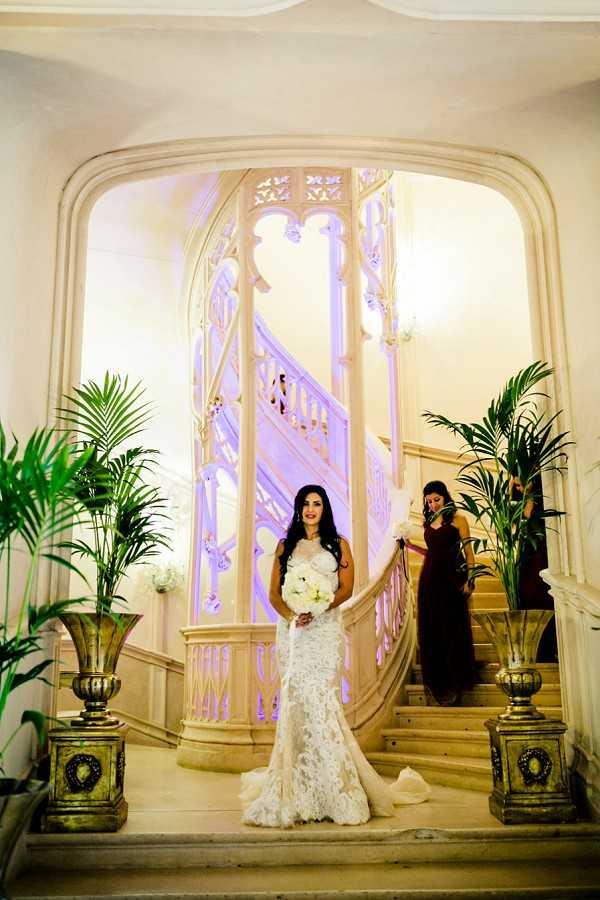 "Shirin and Bashir always valued unique experiences and when it came to planning their wedding, they decided that they wanted to have a destination wedding to have a chance to mingle with their closest friends and family and have a unique experience together."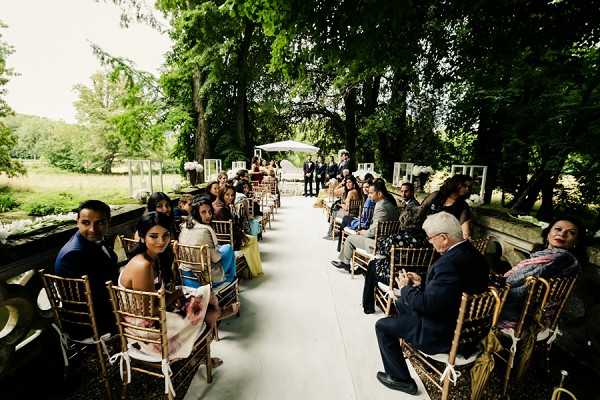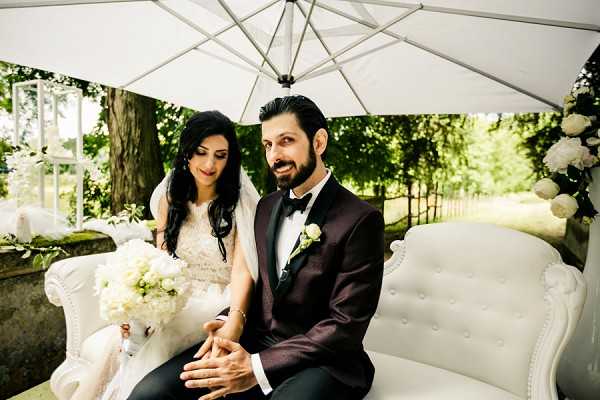 "They also wanted a romantic wedding and to travel somewhere they've never been before. When they saw Chateau De Challain and read about the wonderful weddings Cynthia and team put together, they knew they had found a gem. Most people do not take risks with their wedding, but Bashir and Shirin put all their faith in Cynthia and Chateau Challain, some 6000 miles away and they couldn't be happier."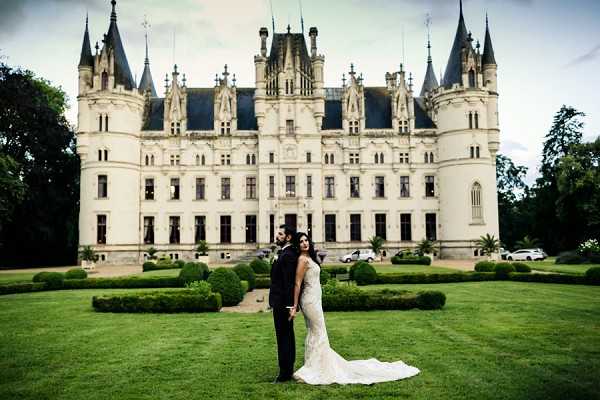 "The Chateau was much larger than they had anticipated and missed it a couple of times driving by. Chateau De Challain provided the perfect romantic backdrop and getting married on an old bridge under the canopy of trees was perfect. Cynthia and the team at Chateau Challain made everything work and always added a touch of magic and delivering many unique experiences."
"Cynthia is the loving, devoted, hardworking and pragmatic proprietor of this magical kingdom which truly made our wedding unique and special. Our friends and sometimes even people we've never met come and talk to us about how magical our wedding was. Thanks to Flavio Bandiere, we've some extraordinary images of our time at the Chateau and the surrounding beauty to reminisce for years to come."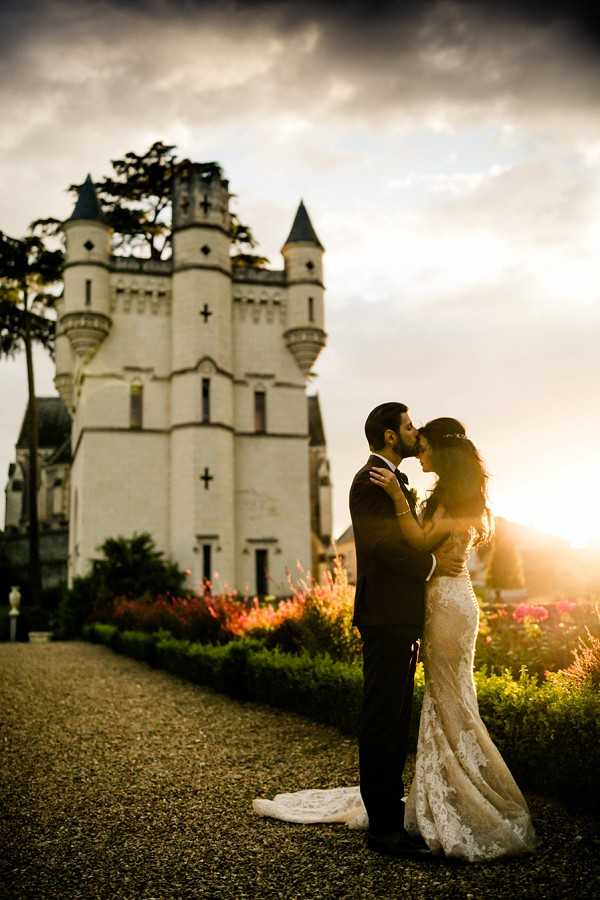 Congratulations Bashir & Shirin from everyone here at French Wedding Style!
For even more Chateau Challain wedding inspiration check out this wanderlust inspired wedding.
Unique Chateau Challain Destination Wedding Snapshot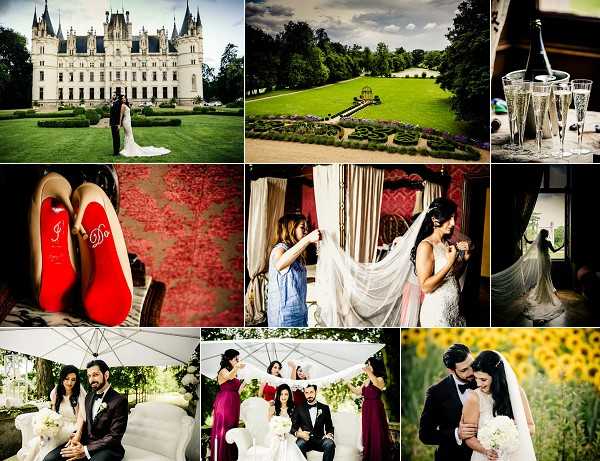 Wedding Vendors
Venue: Chateau De Challain | Photographer: Flavio Bandiera | Planner: Cynthia Nicholson | Cakes: Dealicious Gateaux of Chateau Challain | Decoration: Cynthia Nicholson | Brides Dress: Pronovias | Shoes: Christian Louboutin | Accessories: Nadri | Grooms Outfit: Ted Baker | Shoes: Hugo Boss | Bridesmaids Dress: Watters | Bridesmaids Dress: BHLDN | Bridesmaids Dress: Lulus
Save
Save