Good morning lovelies, we thought we would help ease you into the weekend today with a traditional French Chateau Giscours wedding that includes two wedding dresses and a French tradition or two.
Today's real wedding takes us to St Emilion near Bordeaux and features a beautiful lace wedding gown from Confidentiel Creation, a rather dapper De Fursac suit, wine from the family wine estate, yes you read that right and a truly touching moment for our bride as she is walked down the aisle by her Grandfather. We are sure you will agree that this French affair is full of emotion, from the ceremony at the beautiful church of St Emilion through to the wedding reception in the grounds of Chateau Giscours.
The whole wedding was wonderfully captured by talented wedding photographer Helen Abraham, who, along with our bride, will be walking us through today's traditional French Chateau Giscours wedding…
"Caroline and Anthony met five years ago whilst working at Moet Hennessy in Paris – for them it was a sign of destiny.  Their wedding took place in Bordeaux where Caroline's family own a vineyard and they were first married at the nearby Mayor where Caroline's mother who is a member of the city council was able to conduct the ceremony – an especially emotional moment for everyone."
"After a casual and very French lunch back at the vineyards the more formal ceremony took place at the grand Church of St Emilion where Caroline's grandfather walked her down the long aisle.  The reception was back at Chateau Giscours – firstly with a sun kissed drinks reception on the lawn and then moving into a large barn for dinner and dancing."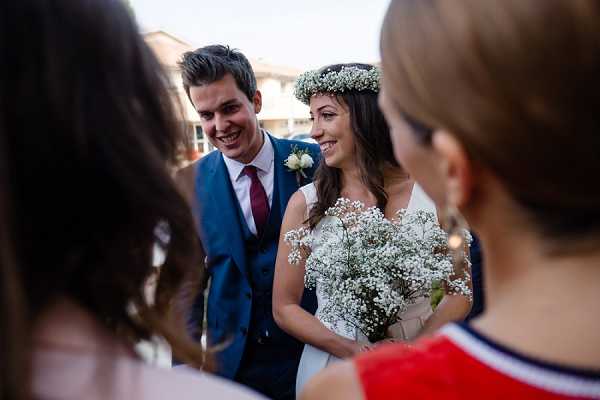 A few more words from our bride…"In December 2016, Anthony asked me to book a Saturday evening in January pretexting it was for my Christmas gift.  This weekend he finally woke me up at 6 in the morning to take a plane to Rome. At this moment I had no idea it was anything else than my Christmas gift.  After the sunset, we walked to the Vatican and Anthony choose the St. Peter's Square to propose."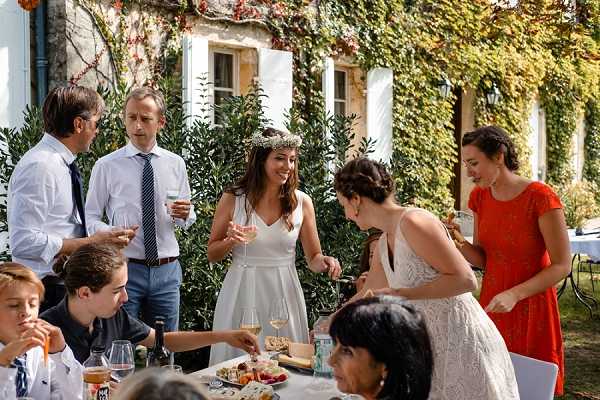 "We wanted to be married close to Bordeaux because it was my native region but also because we both loved a lot the atmosphere and the landscape of this region in September (just before the harvest!). We fell in love with Chateau Giscours and decided to be married in my village (Saint Sulpice de Faleyrens / Saint-Emilion) before going to Chateau Giscours for the reception and the Sunday Brunch.  Château Giscours is a beautiful place which perfectly fitted with our expectations."
"After trying 60 dresses in 4 different Parisian shops I wasn't able to make a choice. For each dress, something wasn't working (either the neckline or the back or the train). Against all odds, I decided to meet a dress designer in Saint-Emilion, my native village and finally opt for a 100% tailored made dress, created by hand by Marjorie from Confidentiel Creation. It was not only the beauty of her creations but also the feeling I had with Marjorie which helped me decide."
"Marjorie also provided me an incredible Calais lace veil. I had no jewels except earrings (Discreet golden leaf). I had the feeling the dress and the veil were enough. For beauty (Make-up and hairdressing), I wanted something very natural. My hair was wavy and simply attached in a waterfall braid. My Make-up was nude. Hairdresser and makeup artist were both local ones and we have a very confident relationship. I finally added a flower crown to my hair to complete the outfit."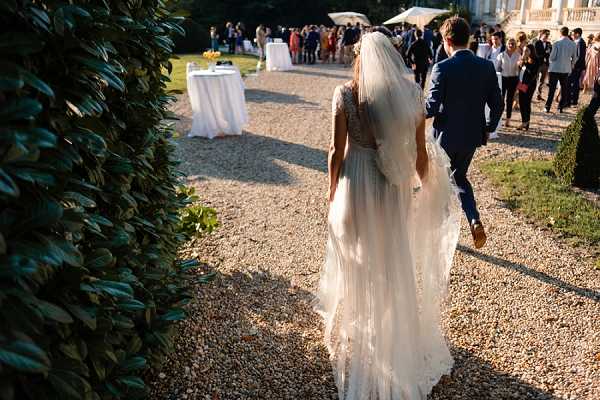 "We first danced on Edith Piaf "Plus bleu que tes yeux". It is a waltz.  It is an old French song telling there is nothing more beautiful than the blue eyes of her beloved man. I was tailored to the circumstances 😉 but also a tribute to my godmother who first danced to this song 15 years before."
"The reception started in the Chateau garden with an aperitif (Foie Gras, Oysters and Pata negra) and a moving toast from Anthony's father.  Then we entered the reception room: Our guests and we were so excited that we jumped for few minutes on the dancefloor all together. After my brother and Anthony's sister toasts, Anthony's witnesses revealed a video and my witnesses and friends sang songs. Meanwhile we had a very good meal by the caterer "Dulou", mainly a duo of beef and duck and a selection of French cheeses. We paired it with two red wines from my parents estate Château Mauvinon, one was from 2009 and the other one from 1990. It was particularly important and meaningful for us to have Château Mauvinon for our wedding diner."
Congratulations Caroline & Antony from everyone here at French Wedding Style!
To learn more about French wedding traditions for your own nuptials check out our 10 French wedding traditions post here.
Traditional French Chateau Giscours Wedding Snapshot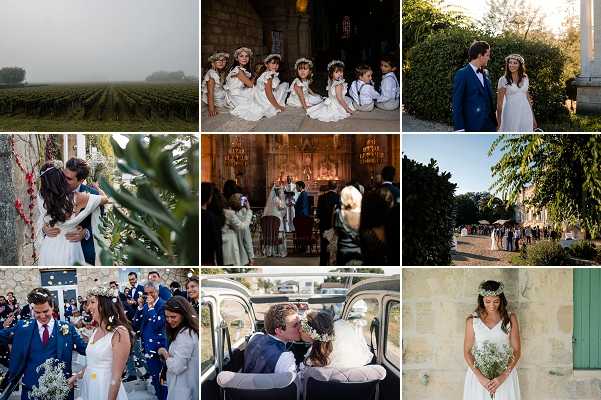 Wedding Vendors
Venue: Chateau Giscours | Photographer: Helen Abraham | Wedding Planner: Carole Marvier from Mademoiselle Loyale | Dress: Marjorie from Confidentiel Creation | Grooms Suit: De Fursac | Wine: Château Mauvinon | Church: Saint-Emilion