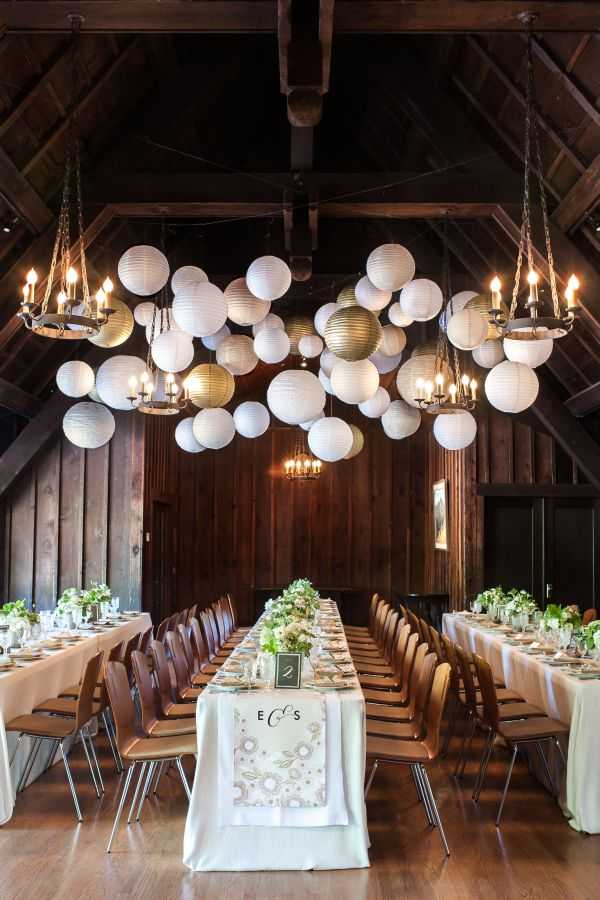 At the beginning of each year, it is usual to look at the trends that will dominate the wedding world. Though 2015 is now well underway, there are fabulous style trends that we wanted to share with brides and grooms as they prepare their wedding in France.
So today our resident wedding planning expert Fabienne Slater owner of Elian Concept Weddings and Events and member of UK Alliance of Wedding Planners takes us through her Top Wedding Trends for 2015!
Fabienne:
So what do I find inspiring in French wedding design? 2015 brings us gorgeous colour palettes and 'mix styling'. Whether you opt for Rustic/Chic, Garden/Glamour, Outdoor/Modern or any other combination that works for you, it offers so many varieties for wedding decoration and a perfect foundation to personalise your wedding and make it unique.
An elegant table design for a 2015 French wedding – Photo source:Kayla Barker Fine Art Photography via  Style me Pretty
Deep rich colours such as Marsala, scuba blue or classic blue, more subtle hues of strawberry ice, lucite green and aquamarine, or the ever elegant grey the 2015 bride is spoiled for choice.
2015 Wedding table colour trends: Marsala and Grey– Photo sources: [left] Mark Martinez Photography via Style Unveiled [right] Elisabeth Millay Photography via Style me Pretty
Now let's take a look at my favourite décor trends.
Flower walls
This must be the most gorgeous of the new trends.
Modern Garden Décor and Floral wall – Photo sources: [left] Maple and Elm Photography via Ruffled Blog [right] Elizabeth Messina via Ruche
Use it to embellish a barn wall or brighten a wood. You will not need much more to make a stunning backdrop for your ceremony or your top table.
Another popular look for flowers is the "just picked from the garden" bouquets and flower arrangements and they are perfect with garden or backyard sceneries.
'Just picked from the garden' look – Photo sources: [left]Taylor & Porter  via Wedding Sparrow [right] Just for You Photography via Wedding Chicks
Hanging flowers and decorations
Particularly appropriate to add touches of colours in a garden or to bring texture and volume to your table décor.
Twigs with Hanging Votives and Hanging Décor in gorgeous green – Photo sources: [left]Brandon Chesbro via  Project wedding [right]  Paige Lowe Photography via 100layercake
Wooden décor
This is a more rustic style and it mixes elegantly with long table settings, which is also a big, big thing this year.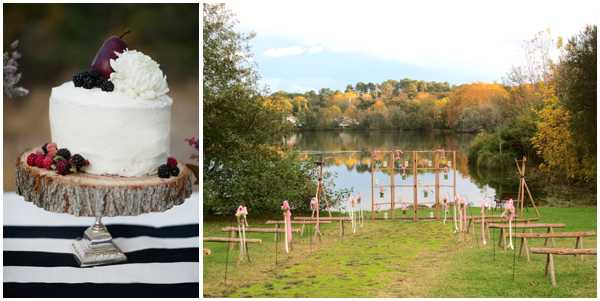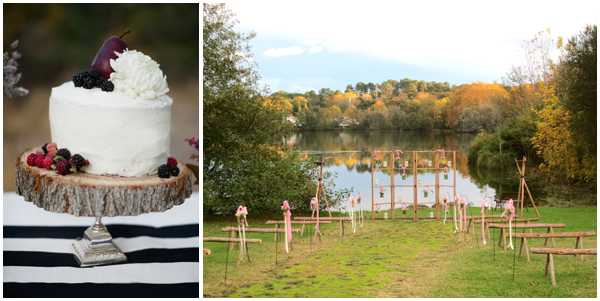 Wooden cake stand – Photo Source: Elisabeth Anne Designs and Wooden bench ceremony by Elisabeth Delsol – Photo credit: Elian Concept Weddings
 Metallic
Interestingly metallic is not as 'cold' as it sounds. The tones are warm and gold or copper are gracing 2015 tablescapes. They are as perfect in an indoor Chateau wedding than in an outdoor garden setting.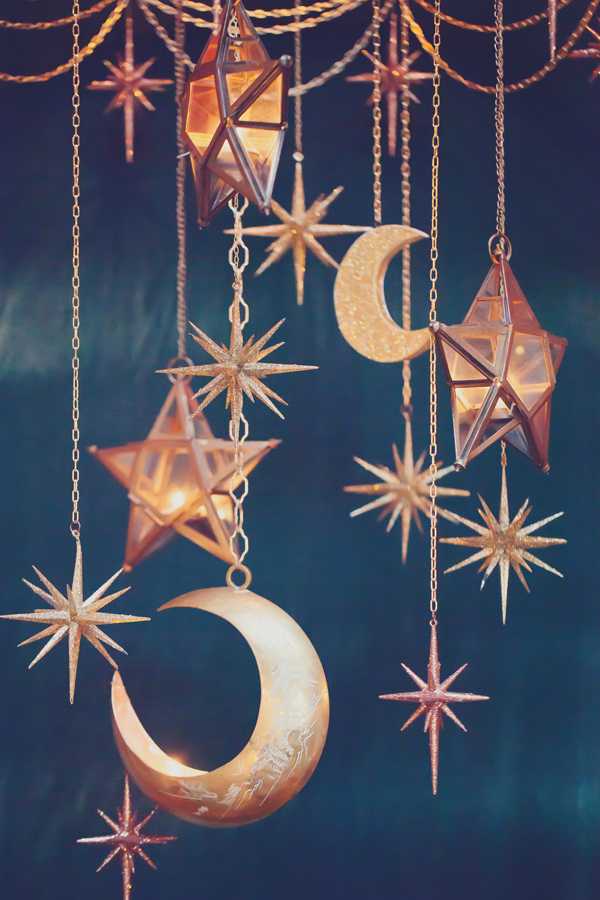 Metallic Hanging Lanterns – Photo source:Marilyn Nakazato  via Ruffled Blog
Modernity
Whether it's chairs, lightings or flower arrangements, modern touches are appearing in the most traditional wedding decors and make wonders in a French chateau wedding or a rustic setting.
Modern chic wedding décor – Photo source:Catherine Mac  via The Pretty Blog
Calligraphy Design
A fantastic and beautiful way to personalise your wedding stationery and décor. The sky is the limit really when it comes to create monograms and hand-letterings which will be unique.
Calligraphy stationery [left]: Written Word Calligraphy – Photo source: Once Wed | Wooden table names [right]: The Weekend Type – Photo source: Modwedding
I hope you will find inspiration in these ideas and I would like to conclude with this table décor which for me is a perfect mix of my favourite 2015 wedding trends.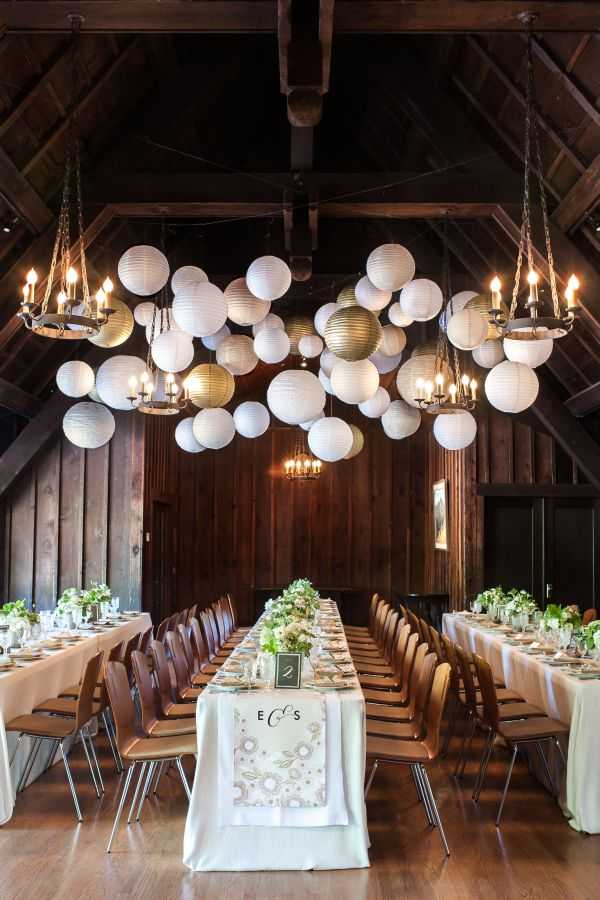 2015 Wedding Décor Trend – The perfect mix – Photo source: Melanie Duerkopp Photography via  Inspired by This
Which one is yours?
Fabienne
Fabienne is owner of Elian Concept Weddings and Events, who is a bi-lingual wedding planner who is available for weddings throughout France.  For more information visit: www.elianconceptweddings.com