It is a first today as we open the doors to The Study for top class wedding magician Herve Troccaz, and member of the Magic Circle and member of the Inner Magic Circle!  It all sounds very exclusive and at French Wedding Style we love that!
So without further ado I am delighted to welcome our first magician into The Study Herve Troccaz:
•How did you become involved in magic?
I started magic at the age of ten, like many of my colleagues. Then I practiced ardently this art of 10 to 18 years, notably by being trainee in a magic shop. Subsequently I started studying journalism and I left for a time aside my passion for conjuring. But very quickly the virus took over and from my first contract of indefinite duration, I re-enrolled in a magic club, where I became friends with other magicians. During these 5 years I have attended many conferences and I have perfected myself. Then, for ten years, I followed up the benefits in companies or for weddings. So much so that I created my professional magician company in 2017. I worked for companies like Cartier, Samsung or Shell.
What skills do you think that it takes to be a fabulous magician?
I sometimes differ somewhat from my colleagues on this subject. Indeed I think that the first quality of a good magician is not his technique but his empathy. One must be friendly and know with the spectators. The latter must laugh, be astonished. An illusionist must indeed be a good manipulator, but above all do not forget to please people. This is essential to me! Pleasure, poetry and wonder are communicative. Moreover, a good conjurer must master the notions of sleight of hands and diversion of attention. It is by mastering this art that the magicians will seduce a large audience!
Where has your magic taken you across the globe and for what type of weddings?
I practice magic in English and French. I am fluent in the language of Shaekespeare and part of the Magic Circle.The Magic Circle of London is claimed to be "the first organization, in the world, for magicians." Many famous illusionists include Dynamo or the Frenchman Etienne Pradier. The latter are "Gold Star members of the Inner Magic Circle". Throughout the year, I run events and prestigious weddings. My approach to magic is high-end. Mentalist and magician for more than twenty years, I intervene as well in France as in Switzerland. I am able to perform a complete English course. I also animated international events such as the Salon de la Haute Horlogerie in Geneva.
•How does working with a destination couple differ from a domestic couple planning a wedding in France?
I take great care and attention to achieve quality services! I personalize at best my services of magic for a wedding by referring to the history of the couple, the place of their meeting … I make appear flowers, I make disappear and then reappear rings … These are attentions and A refinement that are highly appreciated by my clients.
Everyone can now put a blog online and claim to be a professional magician. But the best way to verify that he is a referenced illusionist and to verify that he is part of the FFAP, the Federation of Artists Magicians or the recent networks Magic Pro, created by Alphonse Rebmann. Another good idea: check out all the video clips and comments you can find on the internet on sites like Magic Elites and Star Of Service! The videos will show you how the magician performs his tricks. Comments are also helpful.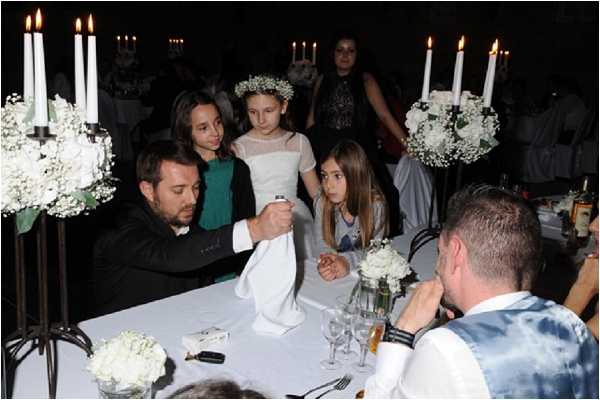 What is your favourite part of magic for weddings?
I love doing magic tricks during a wedding. The world of conjuring and marriage are complementary! On the day of a wedding, the guests are well dressed, in a good mood. I bring real added value with poetry and magic tricks playful and attractive, which give a magical touch to this great event!In addition, magic affects all generations. I do not forget the children!
The illusionist will offer unforgettable moments to your guests, friends and family. An experienced professional magician will be perfect. It will cost you a tiny budget in terms of the total amount spent on your wedding budget. In view of this low cost, it will bring you a real touch of poetry during the day. If you are thinking of hiring a magician wait for you to be surprised! Welcome to the dream world!
What is the funniest story about being a magician?
Often the spectators try to catch me or to trap me, to discover my tricks, in vain. You must know how to make a cold blood bath, to be sure of your gestures, so as not to betray the secrets and the know-how. Magic is not only a chain of effects, but must also be a moment of poetry and humor. I try as much as possible to play on words, make people laugh and interact with them. Many comments on Google Reviews put forward my character funny and kind, friendly. So much the better!
What is the best thing about being a magician?
It is a demanding trade that requires a lot of rehearsal time, like other artistic disciplines such as piano, dance or ice skating. Paradoxically, for a movement to appear natural, it requires many hours of repetition! But the rewards are multiple. First the incredible reactions of the audience, which laughs and marvels. Then, the great human encounters with exciting spectators. Finally we have the pleasure sometimes to practice our profession in prestigious places!
What 5 things are little know facts about you?
I am a close-up magician for more than 20 years, member of the Magic Circle in London, the first organization, in the world, for magicians. My style of delivery remains unique: it uses ordinary, borrowed objects, making them twist, bend, appear and disappear at will. Magic is a poetic moment, which reveals a sort of truth. It is a form of self-expression.
I wish my magic makes sense. People should enjoy magic, of course, but they must also feel connected to others through it. My main performance style is close-up. Tickets, cards, bottles and tickets change before your eyes. But my cute sins are, of course, the cards. A pack of 52 poker cards that open the doors of another world!
Empathy is paramount in the art of magic, much more than the magic trick itself. For one to two minutes, the magician opens the hearts of the spectator and makes him rediscover his childlike soul. The aim is not so much to establish a link of superiority between the magician and his audience, but rather of connivance and poetry. All my tricks are based on the art of diversion, psychology and manipulation. I find it much more exhilarating to realize impossible effects without rigged material.
Tell me about your services and packages
I could present magic ricks in small groups. A walk that leaves an unforgettable memory and will break the ice within the audience! This conjuror can intervene during the wine of honor or the photo session for example, to make wait your friends and your family. I bring a touch of class and magic to your union! Another solution if you are part of the immediate family: offer an illusionist to the bride and groom! Laughter, applause … the guests love and ask for more! Make the biggest day of your life a unique moment by recruiting an illusionist.
The magician is the ultimate link between all these people from different walks of life, difficult to find a common point for them all. During the meal, guests may end up with people they do not know at the table, it's time to create cohesion. The magician is a federator and it is a magical moment that your guests will probably remember all their life of such an animation.
I intervene especially during the wine of honor by wandering from group to group to create a friendly and friendly atmosphere between the guests. The whole brings a touch of welcome magic at the wedding!
VIEW MORE ABOUT OF HERVE TROCCAZ ON HIS WEBSITE AND EMAIL HIM TO FIND OUT ABOUT AVAILABILITY AND PRICES FOR YOUR BIG DAY.
CONTACT DETAILS
Website: www.magicienh.fr
Tel : 06 03 11 60 54
Save
Save
Save