You may have read the title and wondered what is a mini moon?  A mini moon is where couples choose a brief holiday close to their wedding location after their wedding and then have a delayed honeymoon overseas to capitalise on better weather or cheaper deals.
The ABTA Travel Trends report for 2012 reports that foreign honeymoons aswell as minimoons are expected to grow in popularity in 2012 and I wanted to find out more about mini moons and the french possibilities.
Newlywed Katie explains their reasons for their mini moon:
"Just under a week after our summer wedding, my husband Leo and I went to stay in a cottage in Cornwall with our dog, Shea. This April, we are going on our 'proper' honeymoon to Cape Verde.
"We decided on a mini-moon for a variety of reasons. We had asked for money towards our honeymoon so wanted to decide where to go once we knew what our budget was. We also felt that we'd have another few months to save, plus something great to look forward to once the wedding excitement had died down! Another reason was the fact that we wanted to be able to chill out without the stress of packing and airports straight after our wedding. We also had family who had travelled from other countries to be with us, so we wanted to be able to spend time with them after the day itself was over. We were able to come home, sleep, open all our presents, eat in our favourite restaurant, see our friends and family, all before we left for our mini-moon.
Cornwall was my year-in, year-out holiday destination with my family when I was small and I hadn't been since I was about 10. I had many happy memories of it and had always wanted to go back. We loved the idea of taking our dog with us and going to the beach. We took champagne we'd received as gifts and had a fabulous week in a beautiful cottage.
As for our main honeymoon, we were looking at the Caribbean but as a teacher, I can only go away at certain times of the year. The Caribbean was so expensive when I was on holiday that we couldn't justify the money so we popped into a travel agents, having spent hours and hours trawling the net for a holiday. Quite literally, the only place we could go in the designated week, flying from Manchester was Cape Verde, a place we'd never even heard of! But, having found out more about it and realising it was much more affordable, we are heading there in April. It has been noted on our booking that it's our honeymoon so we're hoping the resort will be kind and leave us a towel in the shape of a swan or something!!"
For all those couples who have got married in France I thought that I would look at the top 5 mini moons across France.
1) Le Chateau de la Chevre d'Or
If you are looking for a mini moon in the South of France  Chateau de la Chevre d'Or is located between Nice and Monaco and offers the perfect combination of rest and relaxation, superb views and Michelin-starred food.  Chateau de la Chevre d'Or also comes with high recommendations as being one of the top 5 Overseas Leisure Hotels by Condé Nast Traveller.  Part of the Relais et Châteaux group, the facilities at Chateau de la Chevre d'Or include Bar with panoramic views from the terrace, Heated swimming pool with sea views and outdoor Jacuzzi and of course being located near Monaco!
2) Orient Express
Make your mini moon memorable with a two day train experience on the Venice Simplon-Orient Express departing from romantic Paris to the ever so lovely Venice.  Just before dinner you will depart from Paris for your overnight journey to Venice, where you arrive late afternoon the next day.  Throughout your journey you will be attended by your own personal Steward. After you have settled into your comfortable private cabin it will soon be time to dress for dinner. Why not sip a pre-dinner cocktail before making your way to one of the magnificent restaurant cars. Here you will be served a delicious four-course dinner, prepared by our skilled French chefs.
After dinner you may want to linger in the bar car, listening to the sound of the baby grand piano. When you are ready, retire to your cabin, which has now been transformed into a cosy bedroom.
Day 2 – You awake to the magnificent scenery of the Swiss Alps as breakfast is served in your compartment, at a time to suit you. Enjoy a leisurely three-course lunch served in another of the beautiful restaurant cars. While away the afternoon relaxing in your cabin admiring the spectacular scenery as the train travels through the Italian Dolomites.
Later afternoon tea is served in your cabin as you travel through the Brenner Pass. All too soon it is time to prepare to disembark as the train crosses the Venetian Lagoon and pulls into Santa Lucia station.
3) Four Seasons George V Hotel, Paris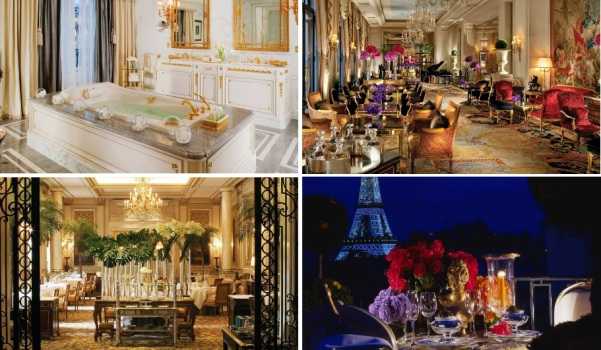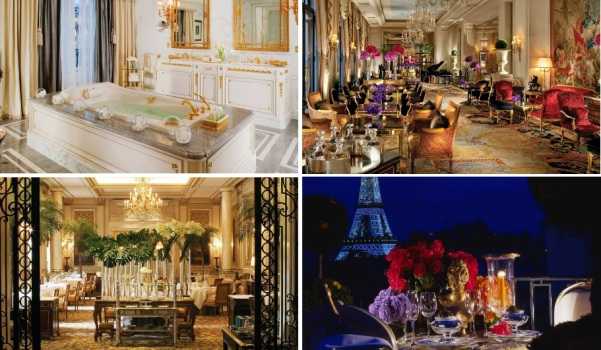 I could not put together a list of mini moon destinations without including romantic Paris.  When it comes to Paris there are many wonderful hotels but for the perfect mini moon in luxury treat yourself to a stay at the George V Hotel just off the Champs-Elysées.  The historic 1928 building has many unique design details and including private terraces overlooking the city, ideal for a romantic newly dinner and has the benefit of being part of the Four Seasons group, excellent service is guaranteed.
4) Hôtel Hermitage and the Monaco Grand Prix
If you happen to be getting married in France around the last weekend in May, then what better excuse than to check into the Hôtel Hermitage and book tickets to the Monaco Grand Prix.  As my father is involved in motor racing I was brought up on F1, but have never been to see the Monaco Grand Prix live (it is on my bucket list).
The F1 Monaco Grand Prix takes place between 24th – 27th May in 2012, but if this does not coincide with your honeymoon plans then any time of year the Hôtel Hermitage can provide your own private palace overlooking the Mediterranean for luxurious rest and relaxation.   Of course once you are suitably relaxed then why not stroll through decadent Monaco and venture in to one of the Casinos and try your newlywed luck!
5) Hotel De Charme Les Airelles

For those who are planning a mountain top wedding then retreat to the Hotel De Charme Les Airelles within the wooded jewel of the Jardin Alpin, at the edge of the slopes.  After you have finished your ski-ing you can enjoy spa treatments, exquisite meals in the restaurant, an array of massage and relaxation treatments or a drink in the lounge bar.
I hope you enjoyed my whirlwind mini moon tour and I would love to hear if you are planning your own French mini moon.