J'adore Paris – I mean how could you not! Paris is the playground, artistic canvas and home of the wonderful photographer that I am introducing you today in our Meet the Experts series – Fran Boloni as The Paris Photographer.
Moving to Paris was the catalyst for Fran's love affair with photography and I always love when Fran sends me images. Fran has a real artist streak, a sense of fun and around his photography and not forgetting flair for the dramatic especially around his evening shoots.   Using the city as his backdrop, Fran works with fashionable couples who want their love story in Paris told in a ridiculously cute and fun way.  I am also delighted to say that The Paris Photographer has been nominated amongst the BEST engagement photographers in the world by June Bugs Weddings.
Let's find out more about the creative mind behind the lens: "
Moving to Paris inspired me to get into photography and capturing this city's architecture and every day scenes seemed so attractive to me. Then at one point, destiny intervened and I assisted a well known European destination wedding photographer during a photo session with a bride and groom in Paris in 2011.
I was holding a light in one hand and the camera in the other. At that moment I got so attracted by taking pictures of couples and show their connection through beautiful images, that I started to learn everything about engagement and wedding photography and started The Paris Photographer.
Being a wedding photographer requires wearing several hats,but the skill that makes you a fabulous wedding and portrait photographer is to truly care about your couples. This is why we spend so much time with our couples by Skype, over e-mail and prior to their event we always have a hot chocolate or wine together in Paris. This allows to get to know each other better and when we start taking their pictures we already feel like friends.
The other reason we care about our couples is because every single couple is different and they have different expectations of their pictures in Paris. Some of our couples want simple pictures, others want romantic and cute images, while others want more fun and silly pictures. Even if I have my own artistic vision and style, I adapt to every couple, by understanding precisely their expectations and work with them throughout the photography process to create pictures that matter to them as a couple.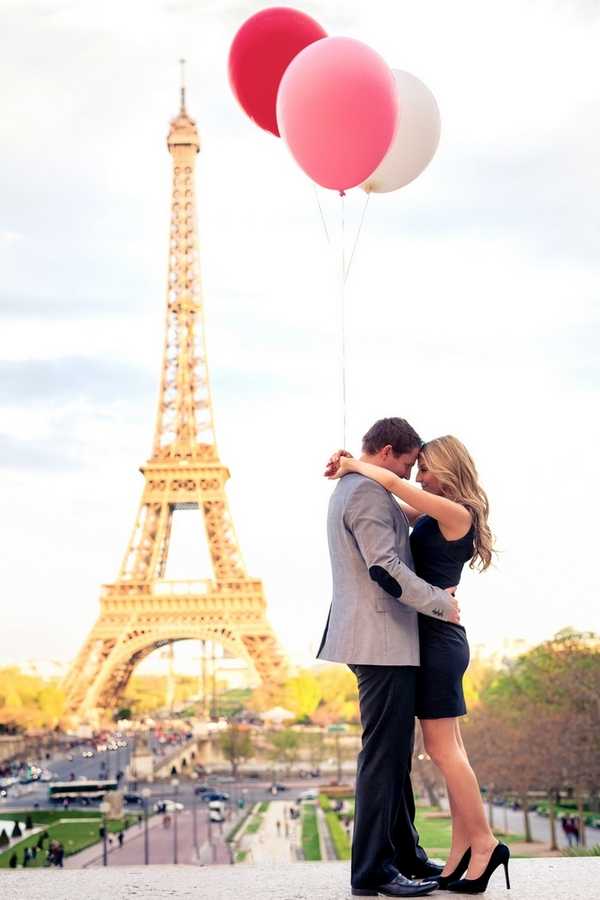 I haven't gone through the process of choosing a wedding photographer but that's as it is early to think about  for my girlfriend and me (yes, I'm still waiting for my girlfriend to propose!).  We know that we want a photographer with a modern artistic vision and who is prepared to take us beyond the cliché.
That being said, we are already getting ready for our wedding photos. We we did an experiment and had a fellow photographer take couple pictures of my girlfriend and me at the Eiffel Tower. This allowed me to realize just how much the photographer should be involved in the process and what directions he should provide. It's not easy to let go and get comfortable instantly, especially if you are a shy person. That's why a good photographer should constantly communicate and encourage his couple to get comfortable and have fun during the photography process.
We specialize in intimate destination weddings in Paris as that is where we are based, but also in the rest of France. We are sought out by stylish and fashionable brides who want to have fun and get pictures that they'll cherish for the rest of their lives.
Working with a destination couple doesn't differ much from a domestic couple, just that all the preparation takes place online (via Skype and by e-mail). We focus on perfect preparation to enhance the flow on their big day. We always encourage our brides to evaluate the connection we have during our conversations and exchange inspiration images to make sure we provide precisely the type of images they dream about.
We also encourage our couples to book an engagement photo session in Paris, offering them a unique opportunity to discover the city of lights from a different perspective, have fun, get comfortable with their photograher and take photos that will charmingly complement their wedding pictures.
Depending on what type of event we are capturing, our favorite moments are different. For photo sessions, our favorite part is when during the taking pictures process, the couple becomes totally comfortable with us and let's their inner child come out to play. That's when they have the most fun and when we take the best pictures !
Our favorite part of a wedding from the photographers point of view is the reveal. It is one of the moments richest in emotions during a wedding and I personally believe men are the most expressive when they get emotional.
The funniest story that happened to me is from a 25th wedding anniversary photo session we captured last year of a fun couple from Florida, US. The bride  wore her mothers wedding dress from 1949 (see the picture below) and it was very fragile, so every time she accidentally walked on it  the dress was tearing apart. When moving from one location to another in Paris, she needed to sew it together. It was one of our most fun photo sessions and that couple gave me the best lesson for my love life.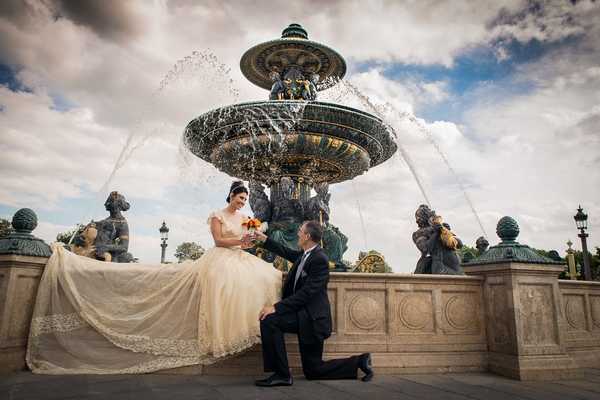 The best thing about being a photographer for destination weddings in Paris is that we meet so many interesting and fun people and at the end of the day we become friends. I just wish we had enough free time to pay a visit to every couple inviting us over to their country.
We create real photographs of remarkable people and we are best known for our creative Paris photo sessions like engagements, honeymoons and love anniversaries. We also specialize in intimate destination weddings and wedding vows renewals in Paris.
Here at The Paris Photographer we like to have perfect preparation, that's why we spend a lot of time with you on Skype and by e-mail.  We also look for inspiration to understand precisely what are your expectations from your Parisian adventure.
We want to make sure that on the Big Day you are completely relaxed and that you'll enjoy fully your photographic experience in Paris. We also take you on a tour in the most romantic city in the world and allow you to experience every possible emotion, while telling your story with photos that matter to you as a couple and that you will cherish forever.
We would be honored to take your pictures in Paris, so get in touch quickly !"
Fran offers his wedding photography services throughout France so if you are planning a wedding in Paris or in rural France be sure to view more of Fran's work on his website.

Contact Details:
Email: [email protected]
Website: www.theparisphotographer.com/
Facebook:www.facebook.com/The.Paris.Photographer
Twitter: //twitter.com/FranBoloni
Pinterest: www.pinterest.com/parisphotogr/
Google Plus: plus.google.com/+TheParisPhotographer/
Instagram: //instagram.com/theparisphotographer/