Good morning folks, we are once again heading to the city of love for the real wedding of American couple Craig and Summer. Their wedding features a bridal outfit that all came from Etsy and the Groom's attire from J Crew.
Our couple pulled out all the stops when it came to ensuring the memories of their special day were perfectly captured by enlisting the services of destination wedding photographer Imani Fine Art Photography and the wonderfully talented skills of wedding videographer and FWS vendor Zen Film Works.
Throw in a wonderful venue like Sacre Coeur, hair and makeup by the talented Harold James and top things off with another FWS vendor in the form of wedding celebrant Aude Abadie and you have all the ingredients for a beautiful, loved filled wedding in the city of lights!
To not keep you in suspense any longer we shall now turn things over to wedding videographer Zen Film Works to guide us through todays City Of Love Real Wedding…
"Craig and Summer met in the Spring of 2014 during one of Summer's business trips into the Bay Area. Introduced through a mutual friend during pub trivia, they hit it off and their friendship was immediate. A couple of months later Summer decided to move to the Bay Area where she immediately made friends with the same group, and became even closer with Craig."
"During the first weekend Summer lived in the Bay, a group of friends met at an old dive bar, where Craig chose one of her favorite songs on the jukebox. (Rich Girl – Hall & Oates). Craig and Summer immediately started dancing, which caught his eye, so he bought her a drink. A couple of weeks later, Summer asked Craig on a date to Cafe Van Kleef. He enthusiastically accepted."
"In the Spring of 2017, shortly after purchasing their house, Craig and Summer were sitting on the couch celebrating another successful weekend of house DIY projects. With wine in hand, they discussed how everything seemed to be coming together for them. Somehow the conversation flowed into the idea of marriage, as Craig admitted he had recently been trying to figure out a way to propose to Summer. Summer suggested they agree together to get married (yay feminism!), which they did, and spent the next hour embracing with eyes full of tears. They ended the night slow dancing to Frank Sinatra in their living room."
"The next day the couple shopped together for a ring and set an Engagement Date for a few days later. The date started with oysters and wood fired pizza. They then walked over to Cafe Van Kleef, the location of their first date. Despite being completely full of patrons and standing room only, there was one table empty – the same table they had their first date. Sitting in the exact same seats as their first date, Craig quietly told Summer there was no way he could wait any longer, pulled out the ring, and asked "Bunny, will you be my wife?" Of course she said yes."
"We wanted our ceremony to be about our love – nothing else. We didn't want any normal wedding day stress to take away from the magic of the ceremony and our vows. And where else to get married than the city of Love? Paris is one of Craig's favorite cities, and Summer has been dying to visit for her entire life. Our wedding became an adventure! Bride's attire all came from Etsy and the Groom's attire was from J Crew."
"When planning a destination wedding, sometimes the different time zones and language barriers make it difficult communicating with vendors. Also give yourself plenty of time to plan. Ask your vendors for recommendations on other vendors. Take a few days at a time off from planning for rest."
"For our honeymoon, as we were already in Europe, we decided to do a little sightseeing throughout France, Belgium, Portugal, and Spain. Lots of yummy food and wine!"
Congratulations Craig and Summer from everyone here at French Wedding Style!
For even more Paris wedding inspiration check out this Paris Celebrity Wedding Extravaganza!
The City Of Love Real Wedding Snapshot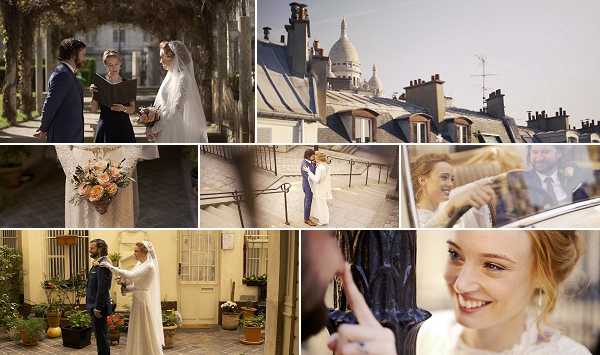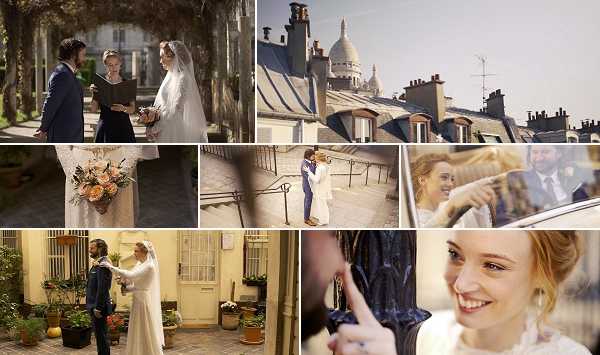 Wedding Vendors
Wedding Venue: Sacre Coeur | Wedding Photographer: Imani Fine Art Photography | Wedding Videographer: Zen Film Works | Wedding Dress: Etsy | Bridal Accessories: Etsy | Bridal Shoes: Etsy | Florist: Christian Morel | Hair and Makeup Artist: Harold James | Grooms Outfit: J Crew | Grooms Shoes: Just Boots NY | Grooms Accessories: Nordstrom | Wedding Rings: Etsy | Celebrant: Aude Abadie | Transportation/Wedding Cars: Demande Paris Automedon Services – Vintage Bentley Rental