Happy Sunday Trulovers! This week has been all about changes, starting with our wonderful Intern Fiona spreading her wings to new creative projects and thus leaving the blog.  Whilst it does always make me a little sad that she is leaving, I am so thrilled for her as she continues her journey and launches into a new career.  Don't worry though Fiona will still be sharing with us her wedding planning journey right up until her summer wedding in her monthly Belle Bride post.
This has led me to think a lot this week about the need to let go and the need to acquire.   In your wedding planning or your business, what can you let go of?  It might be old habits, being fixated on the 'perfect' colour of wedding flowers, limiting beliefs of what is possible etc.
In order to make room for all of your wonderful wedding planning ideas and tasks, why not take 2 hours out of your schedule to let go of the things that are holding you back or are in your way.  This might include sorting out your wedding planning folder, deleting all of the unwanted bookmarked wedding research websites or writing a journey of your wedding worries.
After all it is always easier to move forward with a clear head.
And yes this week was also about acquiring things that I and FWS needed, more on that next week!
We fell head over heels for this super romantic wedding in South West France on the blog on Monday by Caught the Light – see full wedding here.
Wednesday's real wedding captured by Victoria Phipps combines the best of rustic charm and bridal chic – see full wedding here.
Where are you planning to go on your honeymoon? Our real bride Fiona discusses this on the blog on Thursday!
Friday's editorial by Bowtie and Belle and Kate Cullen Styling is the style that fairytale weddings in France are made off! – see full shoot!
Other fabulous weddings and French inspiration on the web this week:
Travel Ideas & Visiting France
Etsy Favourites Finds:
At FWS we LOVE Etsy and here are a couple of our favourite finds, for a little Sunday afternoon shopping.
Loving the vivid colous in this rustic woodland water colour wedding invitation set!
To add a super easy and special touch to wedding decorations this white lace washi tape is fabulous!
Coming up on the blog next week: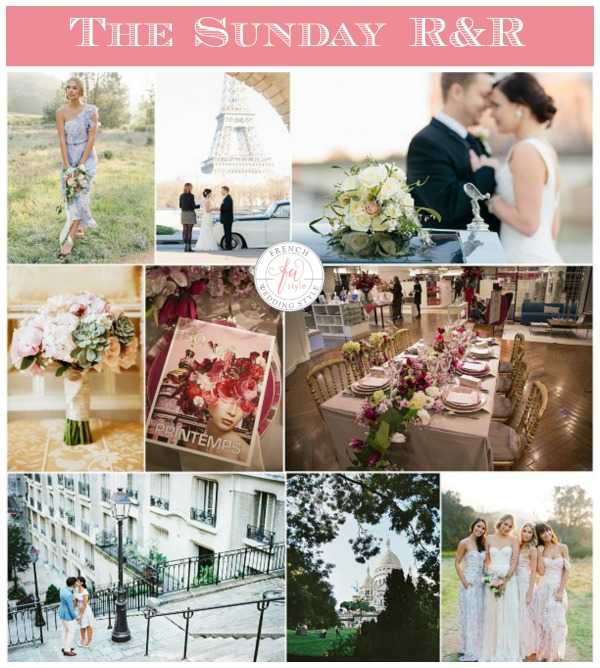 Have a great day