Hi folks, Christmas may be well on its way but we are heading back a few months to the beautiful warm sunshine for a summertime French wedding in a Tuscan villa.
This French wedding was held in Tuscany in Firenze for our sweet couple Virginie and Pierre. With their beautiful ceremony held in a historic Italian church it was then back to the Villa for a French/Italian cocktail in the magical garden. The evening commenced with emotional speeches, the best ones were these best man speeches, lots of dancing and a very talented saxophonist!
Photographer Sylvain Bouzat was there to capture all the emotions of the day "Personally, I loved this wedding because of the mix of the classic French touches and the Italian places. It makes sense to combine these two ways of life to have a really amazing wedding."
"We met in Shanghai. Pierre made his proposal during a trip to Mauritius. He had organised everything, I thought to go on vacation and I was far from suspecting what was waiting for me. He asked me to become his wife for life during a drink in our villa for the week. I said yes right away! The days that followed were out of this world, magical, we felt alone in the world, at the other end of the world with our secret."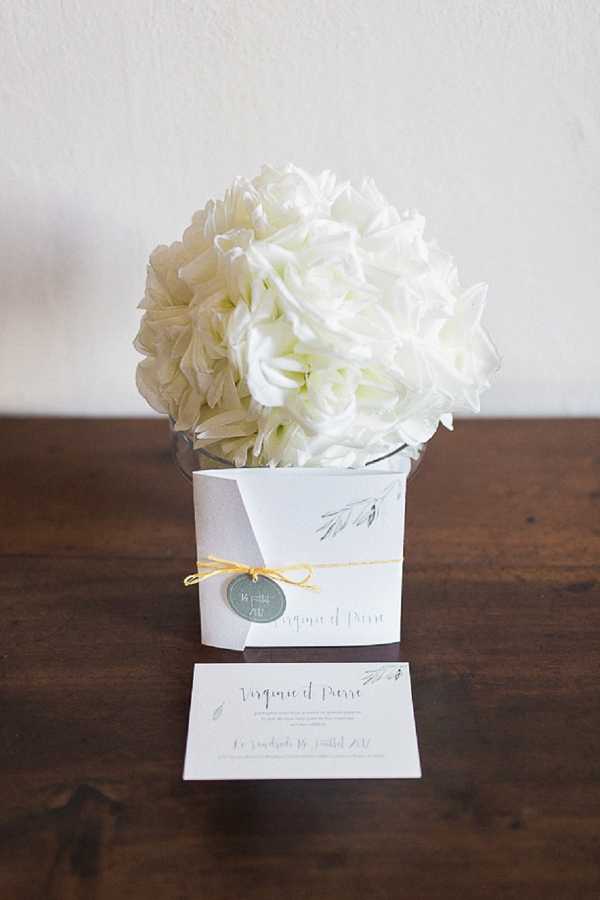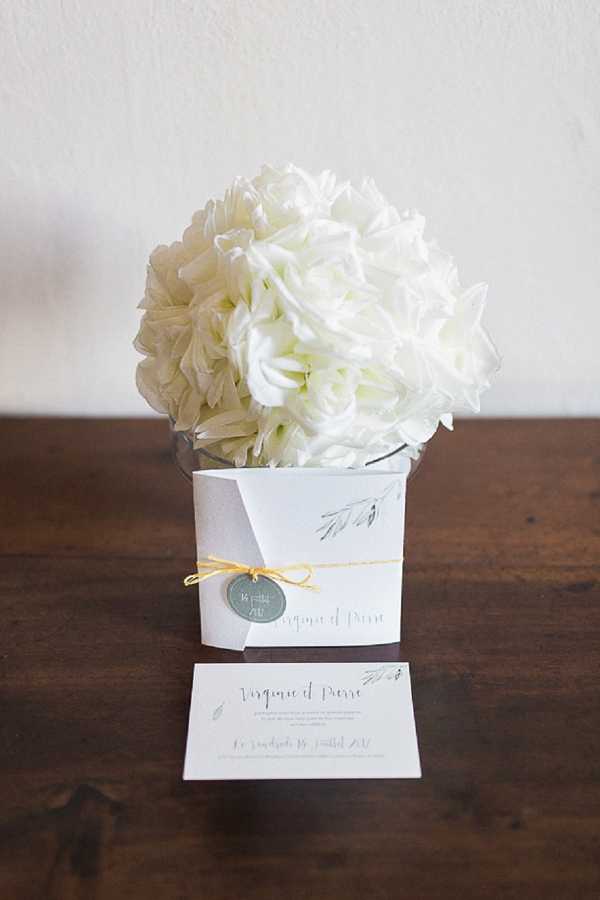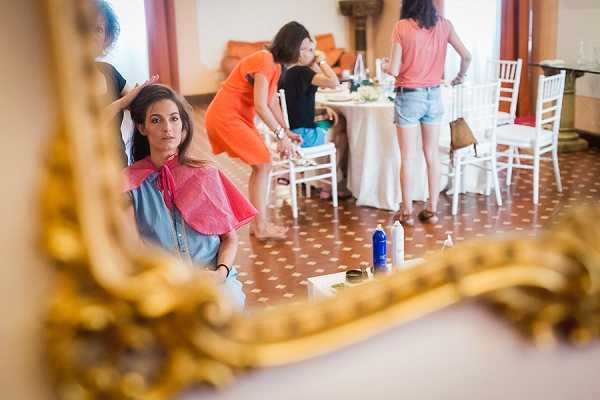 "Surroundings was important for us, we wanted the preparations to be stress-free and everything was perfect on D-day. So we chose all our service providers at the heart of the place, as well as the photographer, the florist or the creator of the wedding dress."
"We were immediately seduced by the venue, beautiful and in perfect condition, which corresponded exactly to what we wanted: a superb outside place for the cocktail, a large room open for dinner, a typical Tuscan building, a hotel on the place… We also immediately clicked with Gaia, who was our interlocutor during the months preceding the wedding but also the day until late at night. Always smiling, friendly, available, with her everything was possible, it was really nice and reassuring."
"For the photographer, we had a crush on the work and personality of Sylvain Bouzat. Afterwards, we were delighted! The photos are beautiful, more beautiful than we expected and they reflect the spirit and atmosphere of our wedding. Sylvain was very discreet, he knew how to capture the smiles, the laughs, the moments by sneaking without even being seen. It's perfect for people, like us, who do not like to be photographed or pose… He was also able to push us to go take photos at 2 during the cocktail, when the light was perfect. In short, he was at the top."
"For the dress, after full fitting and a clearer idea of ​​what was going well or not, I was lucky enough to be able to create my custom dress… What a pleasure! I chose Nicolas Fafiotte and I do not regret it for a second. Speaking of my dress, I'm still very emotional today and I want to put it back on! He is a true designer, a designer who loves his job, beautiful materials etc… It takes into account the place of marriage, style and morphology to make a dress that perfectly highlights each bride. Every step of my dress, from drawing to canvas, fitting and final delivery, was a unique, magical experience."
"I wanted to do a lot of things "myself", to have nothing to do on site and I surrounded myself for that precious help with my family! Together, we did a lot of evening "workshops" (Announcements, bracelets, bottles of water for the release of the Mass, favours, limoncello della nonna, menus etc…). These moments will remain engraved in my memory as much as the wedding, they are great memories all together."
"We spent the whole week before the wedding in Italy, to be on vacation first of all but also to be there in case even if everything had been set earlier in the planning stages. These few days allowed us to meet at 2, to rest, to tan a little 😉 and gradually find our families and friends who were gradually arriving in Italy. The day before the wedding, we dined with each family, our witnesses and some friends. It was a very nice and stress free time where we enjoyed our friends before the wedding."
"Arriving in the church, I was stressed but seeing all these smiles of my family and especially Pierre, the stress fell immediately; from there, we could enjoy! It was gone, we could now savor every moment, capture those smiles, those sparkling looks, this look of Pierre on me and make unforgettable memories. The ceremony was filled with emotion and joy, part of Peter's family animated Mass, his godchild and his brother were altar boys, the priest is a friend of Peter's family. We chose cheerful songs and rhythms so that the mass is also a happy and festive moment."
"The speeches of our families and witnesses were also moments rich in emotions, laughter, tears… words and looks forever in our memories. One of my best memories is probably our entrance (and the 2 minutes of calm just before), to see all these people we love smile, dance, be happy and the rendering of the room with all the glittering lights and garlands, it was magic. Everyone joined us on the dance floor!"
"We had taken waltz lessons and prepared a little choreography to open the ball, it was a secret, a surprise, nobody knew it. Taking these classes together and rehearsing the chore a few days before was a highlight. D-day, I think we did pretty well, it was our moment, it launched the evening!"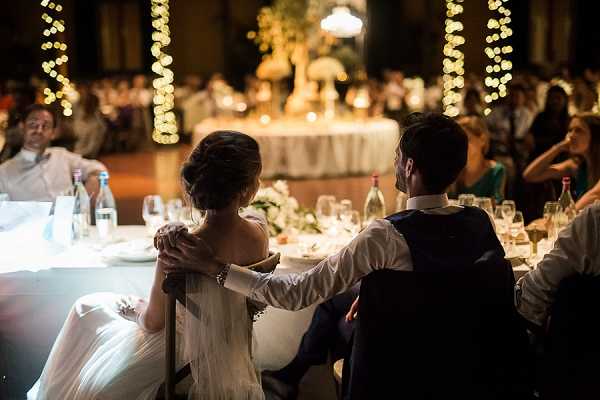 "The next day we had a brunch at Villa Stanley, a hotel and a place we like a lot and we discovered a few years ago during a holiday in Tuscany. This place was perfect because there is a large park, a large pool, a tennis court and hotel rooms. So we were able to make the wedding last until Sunday and enjoy more of our friends and families. A wedding over 3 days was our dream and we do not regret it, it was great!"
"From start to finish, everything went as we imagined, and maybe even better, we had a dream weekend. Being surrounded by those we love for 3 days, in beautiful places, is truly a magical moment. 
It is important to feel comfortable with each person who intervenes before and during the wedding and that the feeling goes well. If you do not feel like a person or do not see things like you, it's better not to work with them. It's your wedding. I also recommend doing the maximum ahead of time and having almost nothing to do on site, the day before or the same day. The days before the wedding are perfect to relax, enjoy your loved ones and rest a bit.

For even more from this French/Italian dream check out their wedding slideshow created by Sylvain Bouzat
Summertime French Wedding In Tuscan Villa Snapshot
Wedding Vendors
Photographer: Sylvain Bouzat | Reception Venue: Villa Castelletti | Brides Dress: Nicolas Fafiotte | Hair: Un' Idea per Capello | Florist: Boutique del Fiore Empoli | Catering: Villa Castelletti | Entertainment: Public Address