Summers in the South of France are a glorious spectacle of endless rows of lavender, hazy sunsets, and crisp rosé. This styled engagement shoot planned by Claire of Maison Bounon and photographed by Kristin Sautter Photography is an ode to summer in Provence.
We can't think of anything more romantic than a visit to these famous lavender fields for a picnic in the glorious south of France sunshine! Have you ever considered a photo shoot amongst these sweet scented lilac blooms…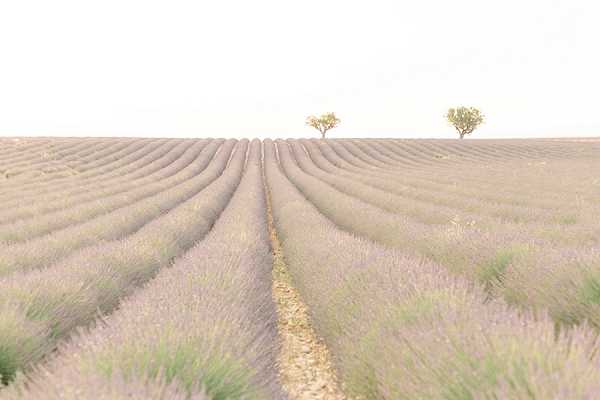 On a warm June evening, we visited the famous fields of Valensole, Provence, France a region known for its lavender and beautiful sunlight. The name "Valensole" actually comes from the Latin "vallis" and "solis," and means "valley of the sun." One visit to the region and you'll see quickly how it lives up to its name.
We roamed the fields, taking in the sweet summer air and savoring the dreamy light one finds only in the South of France. As the light faded and the sun set, we opened a bottle of local rosé and enjoyed a picnic as the evening came to a close a perfect way to end a summer evening in Provence.
This styled shoot was all about blending romantic style with whimsical light-heartedness. It's a sheer celebration of young love and summer romance. Our couple, Anne and James, were dressed in classic attire with a hint of whimsy. Anne wore an elegant lace top paired with a tulle pastel skirt, both by Cleophina. A delicate engagement ring by Agnès Pellegrin graced her ring finger.
Whether you are planning a shoot to celebrate your engagement, anniversary, honeymoon, or you're just looking to celebrate your love, this styled love story shoot gives quintessentially Provençal inspiration to help you plan a perfect summer shoot in France.
What to do in the area:
Valensole is at the heart of Provence, and has so much to offer in addition to its famous lavender fields. The historic city center is a classic Provençal village with quaint streets filled with shops and cafés.
Directly to the west is the Parc Naturel Régional du Luberon. Not only does the region have a stunning landscape to explore, but it's filled with other treasures to visit, including the Abbaye Notre-Dame de Sénanque, the Musée de la Lavande, and the picturesque hilltop village of Gordes.
For a trip to the sea, head south through Aix-en-Provence down to Parc National des Calanques. Hike along the cliffs and take in the magnificence of the mountainous coastline.
And if you have your heart set on seeing the lavender fields in full bloom, make sure to visit the area from mid-June to mid-July. It may be a busier time to visit, but the beauty of the lavender will be worth it.
If you love Summers in the South of France and you fancy an engagement shoot in the famous Provencal lavender fields then check out this:
CHRISTOPHE ALEXANDRE DOCQUIN BRIDE IN PROVENCE
Summers in the South of France Snapshot
Wedding Vendors
Photographer Kristin Sautter Photography | Planner Maison Bounon | Brides Dress Cleophina | Accessories Agnès Pellegrin