Hello lovelies, to help remedy those Monday blues we have for you a relaxed Summer wedding in Languedoc France.
There are so many regions of France to choose from when planning your beautiful French wedding. Why not check out our Wanderlust series for some in-depth information on areas including The French Riviera, The Vendee, Paris and so many more. Each area has something unique to offer you, so research is key and we've made it much easier to choose with our Wanderlust Wednesday series.
Let's enjoy some Languedoc sunshine at today's Chateau wedding, FWS member Chateau Du Puits es Pratx! Just before we pass you over to our beautiful bride Kate, photographer Emily of Em J Photography has a few words to share…
"We are already a few weeks into 2016, how time flies. My couples always say how quickly their wedding flies by. To me, this is why photos are so important for every wedding and why I try to capture the love, romance and fun of the day, so they'll be able to look back for years to come. This wedding was very close to my heart, as it was my brothers. I was very honoured when he asked me to be their photographer and this is what my now sister-in-law Kate had to say about their French Wedding…"
"It all started when Chris and I met through a mutual friend in a bar only to find out we had already met before. We were together for four years before he finally popped the question while we were skiing in Val d'Isere in France. He got down on one knee at the top of a mountain and asked me to marry him, it was very romantic. We skied down to the bottom and opened a nice bottle of Champagne to celebrate with our close friends who had joined us on holiday. It only felt right to carry on the romance and get married in France as well."
"The day started with all the ladies having a champagne breakfast together, while Chris and the rest of the guys were at the other end of the venue having cooked breakfast."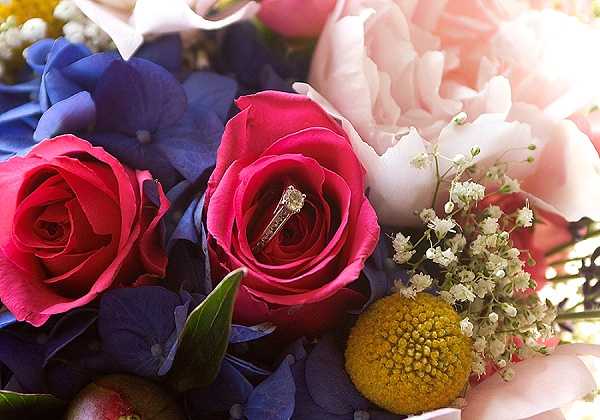 "While we started to get ready for the big day, it felt very relaxed having Emily as our photographer in the room. Being Chris' sister there may have been extra pressure, but I knew she would get the shots that we wanted."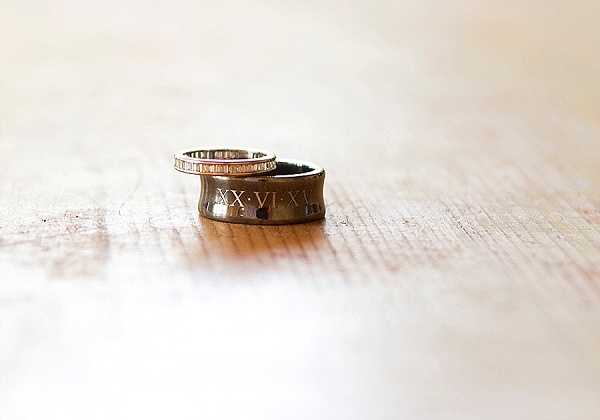 "We both have very fond memories of France. My father has lived out there for many years and Chris as a child would always have family holidays there. After looking at many different Chateaus we felt that Chateau Du Puits es Pratx would be the one. The hotel was so beautiful and romantic, it felt like exactly what we wanted. Chateau Du Puits es Pratx is surrounded by trees, flowers and vineyards for miles."
"With just handful of our closest friends and family, it was the dream wedding that I had always wanted. The venue was a family run business that sorted everything out for us, from the food right up to the flowers. The fact that we could have the Chateau to ourselves made for a very relaxed few days."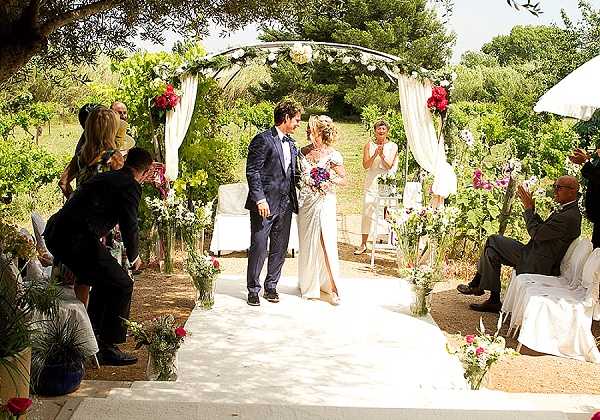 "Once we were back in the UK, Emily came round to show us the images and the day came flooding back to us, it was a magical day and we were so happy with all the pictures. Thank you Emily."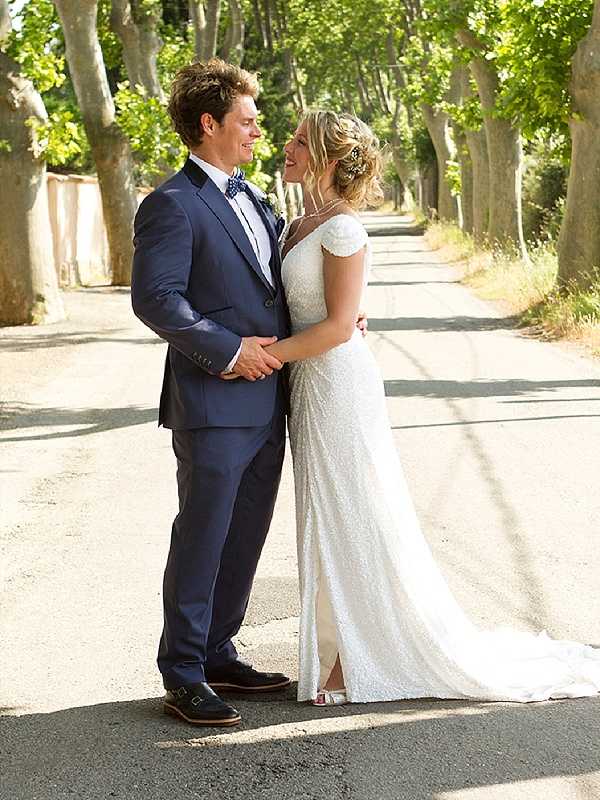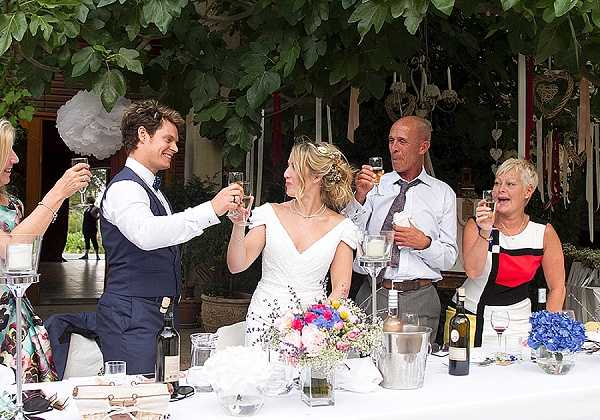 "The best part of the wedding day was when everyone went to bed and it was just Chris and I. We both sat outside having a glass of Champagne and a cuddle, and didn't want the day to end."
"If anyone is planning on getting married in France, I would say you need to be pretty organized. Using websites for ideas like French Wedding Style, Pinterest and getting advice from other people really helps. I loved my wedding in France and wouldn't want it to go any other way. Happy planning love Kate and Chris."
Great advice there from our bride Kate, for more information about the Languedoc region click here.
With love,
Christina x
Summer wedding in Languedoc France Snapshot 
Wedding Vendors
Photography: Em J Photography | Venue, flowers, food and cake: Chateau du Puits es Pratx | Dress: Morgan Davies Bridal | Hair: Chantal Salvatore | Suits: Purple Menswear | Grooms shoes: Purple Menswear | Bow Ties and Tie: Alexander McQueen