One of the highlights for me writing French Wedding Style Blog is featuring the real wedding, trash the dress and style shoots.   As the blog grows I have  been contacted by planners, photographers and brides as to the criteria that I am looking for and how best to become featured on the blog.
So I thought that I would put together some guidelines from http://www.sportsandsafetysurfaces.co.uk/, that can apply to most wedding blogs, but are specific to French Wedding Style and what I am looking for.
3 Day Chateau Wedding – © Janis Ratnieks
Subject
In terms of actually subject matter of a submission, I am looking for destination weddings in France from a magical Chateau, Parisian elopement to a rustic wedding in the french countryside.  In addition to destination weddings I am also looking for  domestic weddings in any country that can be:
country or rustic inspired
shabby chic
styled outdoor wedding ceremonies and celebrations
modern and chic styled
french or Parisian inspired
However I am not limiting it to just weddings, I am also looking for submissions on:
trash/ cherish the dress
engagement shoots
anniversary shoots
french style photo shoots
love shoots (any photo shoot of a couple in love)
Vintage Shabby Chic Wedding – © Javon Longieliere
Permission
In order for a wedding to be featured on the blog you must have permission from the copyright holder, which usual resides with the photographer.  This does not stop a planner or bride from sending in a submission, but this will need to be gained and it is best to do this before submitting to avoid disappointment for you and for me!
It is also important to find out if the submission has been featured on any other blog or in a print publication.  This is especially important if the publisher has an exclusive deal, where the content can't be featured on another blog.
Glamorous Elopement to Paris – © One and Only Paris Photography
Providing Inspiration
We all have browsed through magazines and blogs and seen something that we like, that has no credit and means that we can't work out where to purchase it.  I don't make credits a requirement to be featured on the blog as I do know that it is difficult for a photographer to find out all these details, but do remember that brides and grooms are looking for inspiration and resources of how to add these elements to their special day.
The inspiration and list of suppliers also forms part of the crediting process for weddings/ engagements/ photo shoots/trash the dress and in addition to the photographer can include:
planners
florists
caterers and cake designers
Hair and Makeup
legal and ceremony venues
dress, shoes and accessories
grooms attire
decoration
transport
Some of the nicest submissions that I receive include summaries and descriptions from the couple featured in the wedding/ engagement/ anniversary/ trash the dress.  The length and detail from the couple can vary, but I love having that insight and feel that couples can pass on their wisdom to the next class.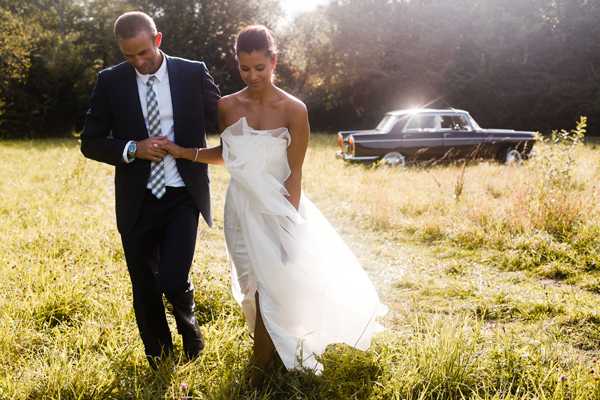 Biarritz Wedding – © M&J Photography
Range of Pictures
There has been many debates as to the level of detail that photographers capture at weddings, are they shooting for the couple or in consideration of blog submissions.   This is not a debate that I am looking to reignite on this post, but in the real weddings/ engagements/ trash the dress/ anniversary I am looking for a narrative of the day.  This narrative can include setting up the venue the day before the big day, meeting guests, preparations on the big day and what happens after the last shot.  The narrative of any great film also include elements of detailing that add to the overall ambience and styling of the day from decorations to wedding cakes.  And if you follow the blog you will know that I am rather partial to pets being included  in the celebrations.
I have featured a wonderful trash the dress shoot by Juliane Berry in Paris which ends with the bride emerged in water.  I often have wondered what would be the shot after the last one featured?  Did the bride walk through Paris in a wet wedding dress trailing water behind her – now that I an image I would love to feature!
Images
All blogs are different but I am looking for images 480px wide.  The best method of submitting images is through a file sending method either YouSendIt, We Transfer or Dropbox are best as large files on email can get lost or grind my poor inbox to a halt.
I know that couples, planners and photographers put their heart and soul into their work, but sometimes the submissions that I receive are just not right for French Wedding Style.  Do not take offence or think me rude, it is purely that the submission is not right for FWS readers.
I look forward to receiving your submission.
Monique x