Many inspirations can be found in french culture for your chic wedding favours, from gourmet delicacies to chic gifts that will delight your guests as they sit down for the wedding meal.
Favours have traditionally been placed in the table setting allocated for each guests, but as wedding evolve a favour is now considered to be any gift or token given to guests throughout the course of the day.  When trying to achieve a Chateau Chic style for your wedding theme, the presentation is important to achieving the overall chic impact desired.   If you are not having a sit down meal or distributing your gifts during the course of the day, the signage and presentation of the gifts needs to be designed to reflect your wedding theme.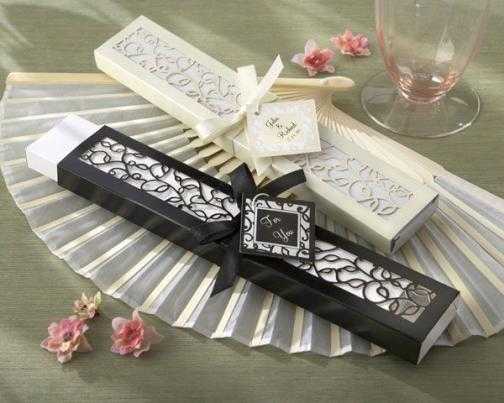 Chic Fans as Wedding Favours
In keeping with the vintage chic style of many French Chateaus, you can incorporate vintage crockery into your wedding theme and then have vintage cup wedding favours.
For those who are planning a relaxed outdoor wedding in one of France's many Chateaus, I love the sunglasses concept below, adding humour and functional gift for your guests.  Your guests will also love these paper wedding parasols, perfect for shading them from the beautiful french sun and a delightful keepsake to take home from the wedding.

Sunglass wedding favours
If you are planning on taking your guests outside for the evening celebrations to watch fireworks or to enjoy the sunset, wedding pashminas and blankets can be a toasty treat.
I would love to hear if you are planning your Chateau chic wedding favours.
Monique Mariage x x